How to Host the Perfect Brunch
If you're wondering how to host the perfect brunch with less stress then continue reading! I recently hosted a 40th birthday brunch for my family. Eight people, nothing fancy, but put together to be a little more special than your every day brunch. In this post I'll include tons of simple and delicious recipes for your next brunch, along with some helpful planning tips and tablescape ideas. Great for Easter or spring/summer wedding and baby showers.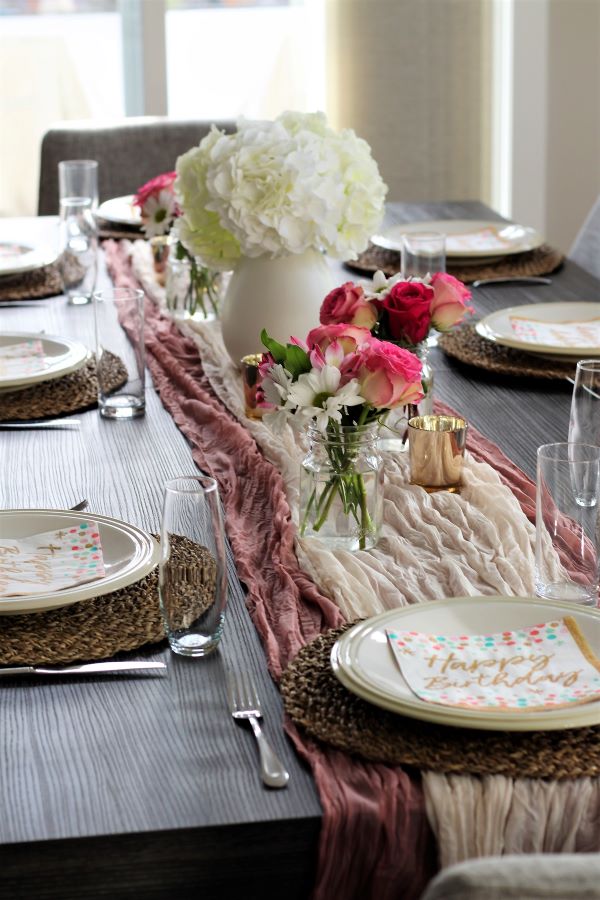 The Tablescape
I have a variety of colors of this cheese cloth from Amazon. They make perfect table runners. I recommend getting a neutral that can then be layered with a color that fits your brunch vibe. Don't worry about the length being too long, you can fold in half because they are very thin.
The other staple I keep on hand for centerpieces are votive candle holders with battery operated votives. Then I just purchase a couple variety bouquets of fresh flowers from the local grocery store and split and arrange them in mason jars.
I used my everyday plates and silverware, but added a charger and festive paper napkins to jazz up each space. I set this table on the Friday before Sunday brunch to check it off the to-do list.
The Menu
Here's what I served at this particular brunch, but I'll include tons of additional great options below.
Four Cheese Hash Brown Bake with Ham I assembled this on a Friday, baked it on a Saturday, and re-heated in the slow cooker on Sunday morning for serving. This easily checks off a main dish from the do-to list day-of, and in my opinion is even more flavorful when re-heated.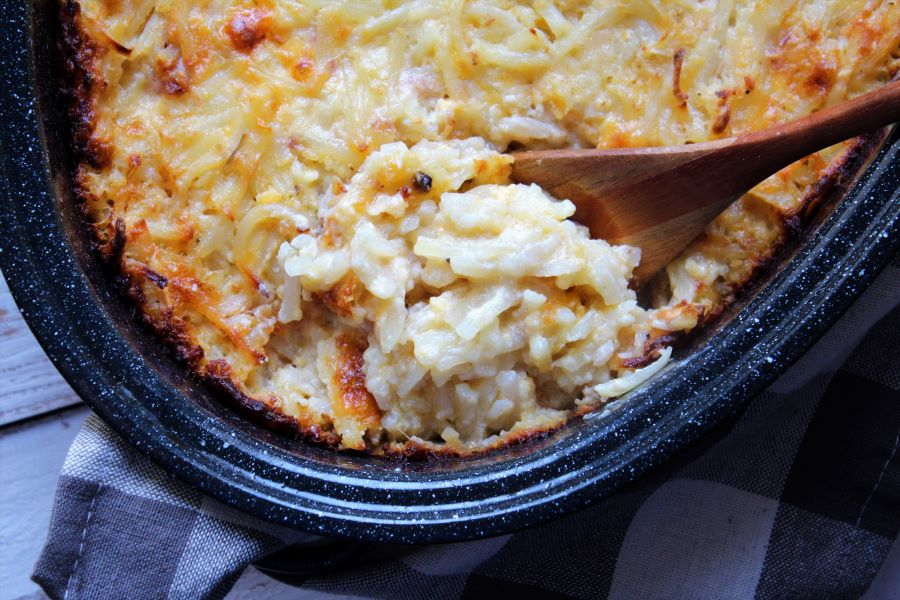 Lemon Poppy Seed Bread/Muffins I made these on the Thursday before and popped them in the freezer until Sunday morning. Could really be make the night before as well, but I was trying to spread out the work as much as possible.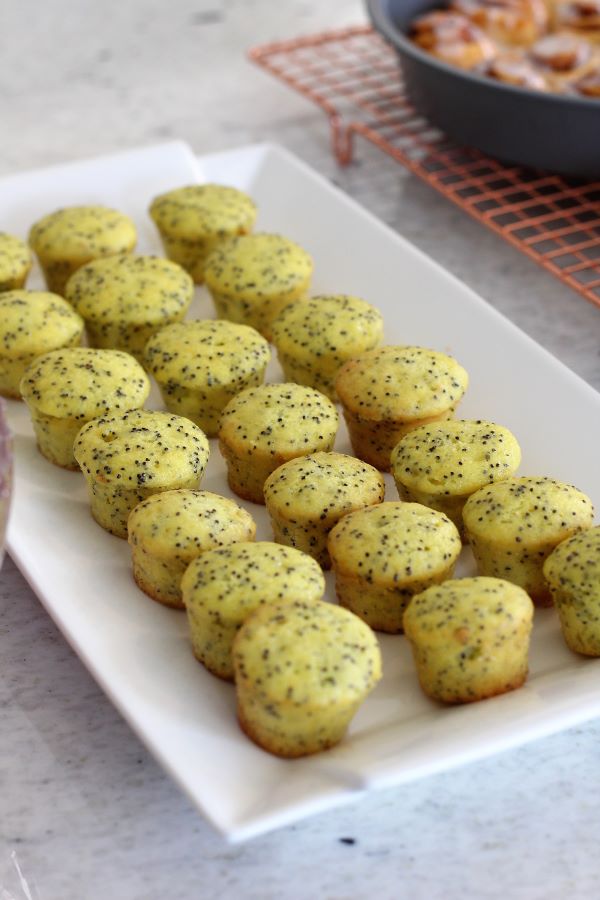 Cini Minis & Raspberry Lemon Cini Minis I made these the morning of (just before serving) because there's nothing better than fresh cinnamon rolls! My original recipe uses almonds and almond extract flavored icing, but if you want just a traditional cini mini, leave the almonds out, and sub vanilla extract in your icing. For the raspberry lemon ones, just spread raspberry preserves instead of butter and cinnamon/sugar before rolling. Then I just used lemon juice when making the glaze, and garnished with fresh lemon zest.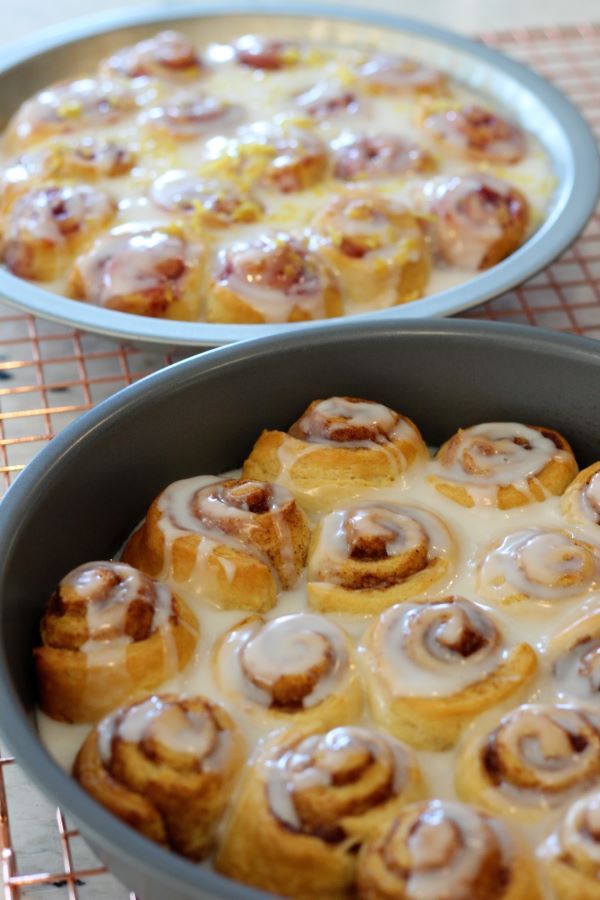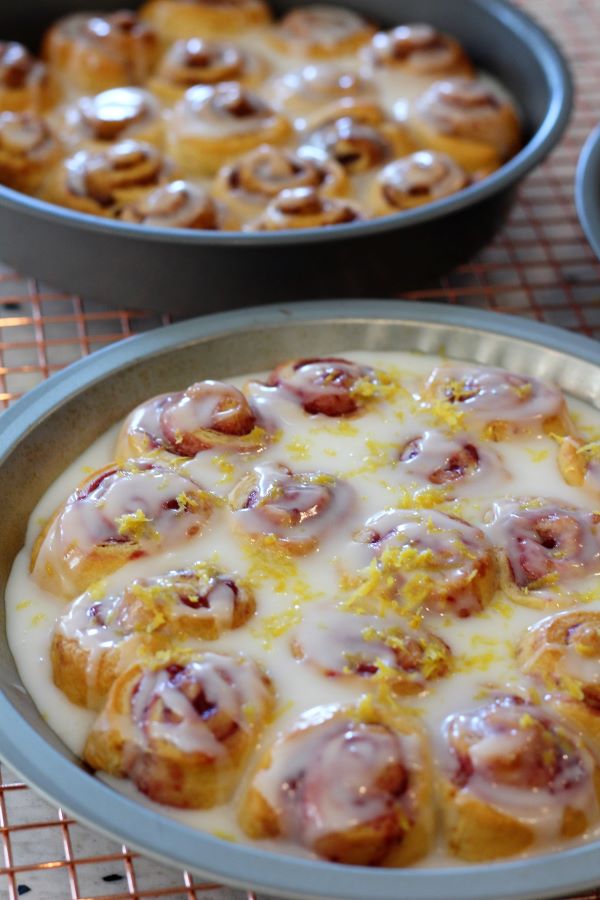 Fresh Fruit…no recipe needed here! This is a great way to delegate if you have guests offering to bring a dish to share. It's easy, transports well, and everyone loves something fresh at a brunch.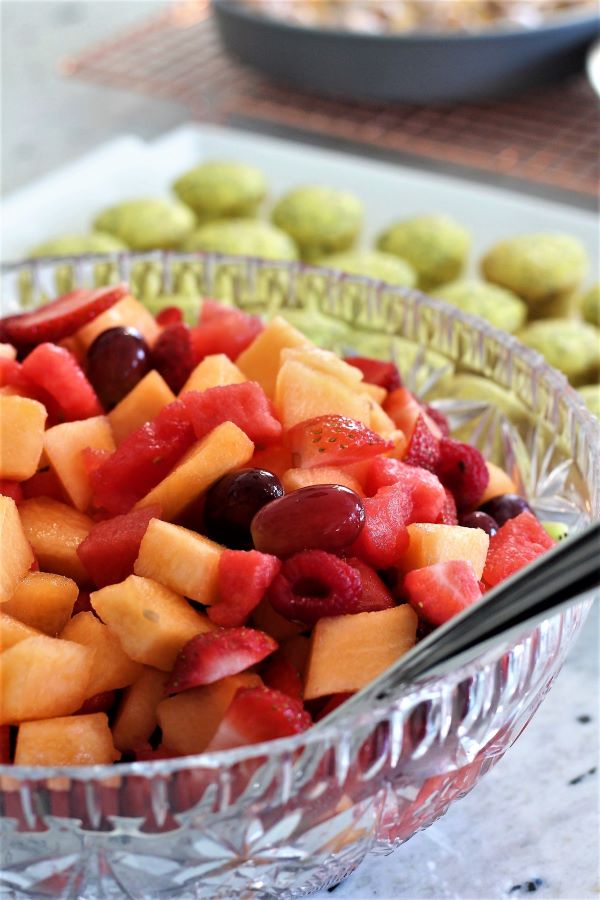 Sausage Egg Bake-I don't have this recipe posted on my blog, but I'll write it out here. It's also posted in one of my Instagram Reels if you want to watch a mini tutorial with the recipe typed out.
1 tube crescent rolls
2 cups cooked ground sausage (or cubed ham)
6 eggs
1/2 cup milk
salt & pepper
2 cups frozen hash browns
1 1/2 cups shredded cheddar cheese
Preheat oven to 375 degrees. Arrange crescent dough on the bottom of a 9×13 baking pan. Press to cover the entire bottom of the pan, press seams together to avoid cracks. Sprinkle cooked sausage over the crust, then hash browns. In a medium bowl, whisk together eggs, milk, salt and pepper. Pour over hash browns, top with shredded cheese. Bake for 35-40 minutes or until set and cooked through in the center. *can be assembled the night before and baked just before serving.
I like to slice this in smaller pieces when serving on a brunch buffet with lots of other options.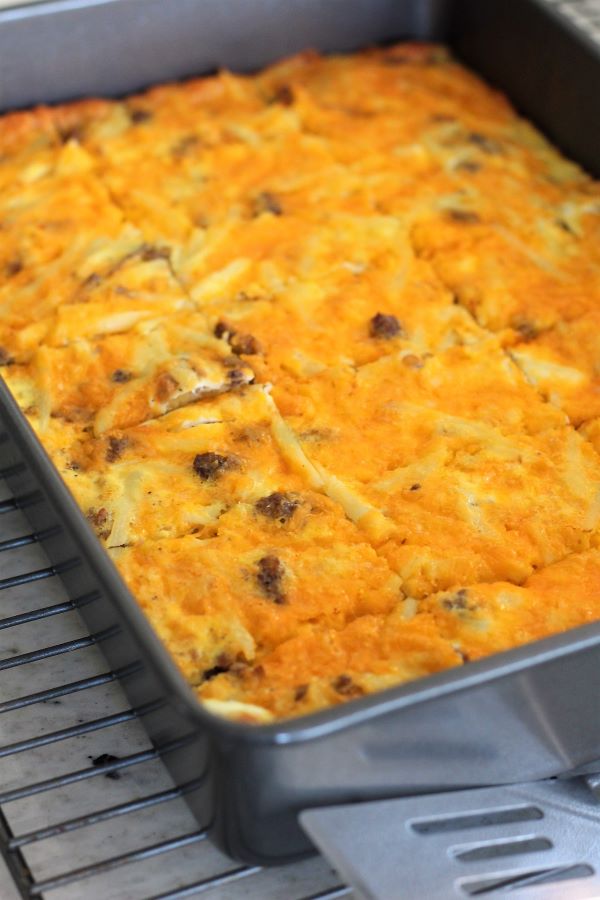 Quiche Lorraine This is a classic brunch dish, and great for a buffet because it's just as tasty at room temperature than it is pipping hot. The bacon, onion, spinach filling can be made a couple hours ahead of time so it's ready to throw in when assembling. Another way to cut down on last minute to-do list items.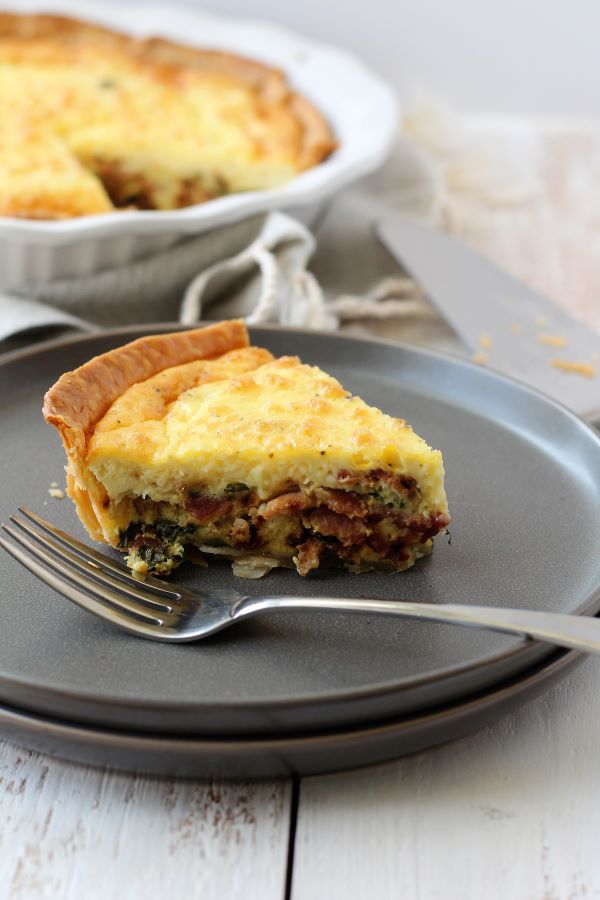 Holiday Punch is a festive and delicious beverage to serve that can be both non-alcoholic, or spiked! A fizzy punch is a must at my family holidays and is super refreshing.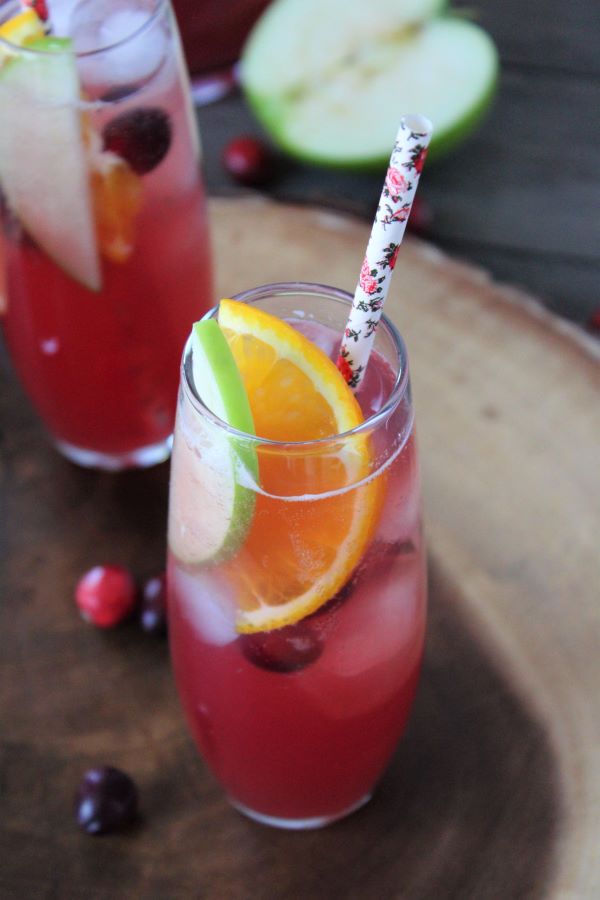 Strawberry Kiwi Cream Cheese Tart This is a crazy delicious and super festive sweet treat for a spring or summer gathering. You could leave fruit off of the top, and just serve with mixed berries on the side, or add your favorite fresh fruit toppings. Such a beautiful display to have on the brunch buffet!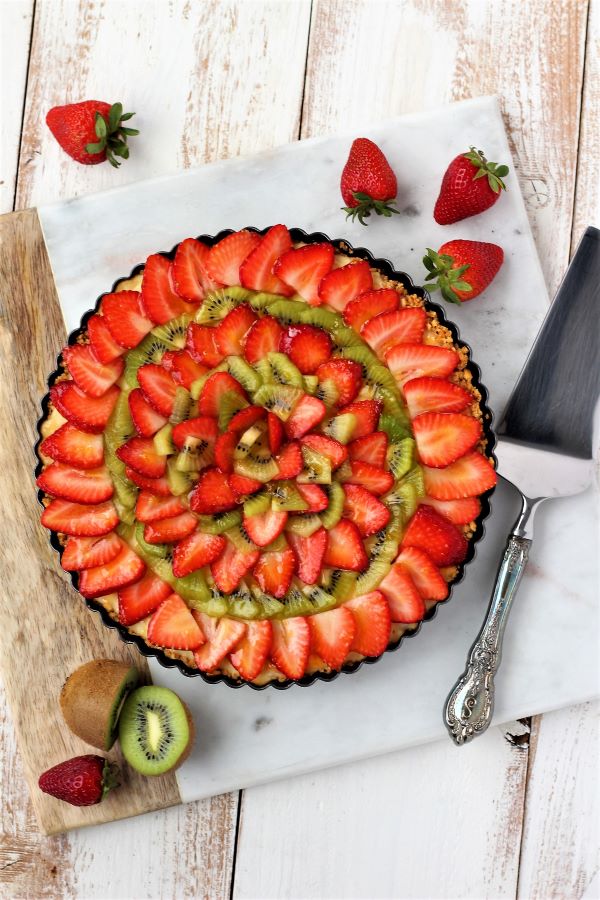 Other Tasty Brunch Menu Options
Planning Tips
Delegate! Some people may offer to bring something, take them up on that! Fresh fruit or baked goods are great items for someone to bring.
Make lists! Write down your menu. Then you can make note who is bringing what, and what is left for you to plan out. I often write the day I'm going to prep or make the dish next to the name of the dish. Then I even narrow it down to timing of when things need to go in the oven based on cook times, and what time we are eating. I love having bite-sized items on the buffet so everyone can try a little bit of everything without feeling overwhelmed with portions. Write out your to-do list. Table setting, grocery shopping, grocery list, food prep, etc. What things can be done days in advance to check them off your list? Setting the table, setting out serving dishes, and prepping food can all be done days in advance.
Food Prep! Spending some time in the kitchen a couple days ahead can be a big help. Simply slicing ham and grating cheese for the hash browns ahead of time makes throwing everything together a breeze. Pre-cook your sausage for the egg bake. Wash and cut up fruit. Wash and prep any veggies.
These tips go for ANY party planning, not just how to host the perfect brunch. I often have my menu planned a few weeks ahead of time, then really narrow in on it as it gets closer. The number of guests may change your menu slightly or at least the quantity of dishes.
Shop this Post
This post may contain affiliate links which won't change your price but will share some commission.