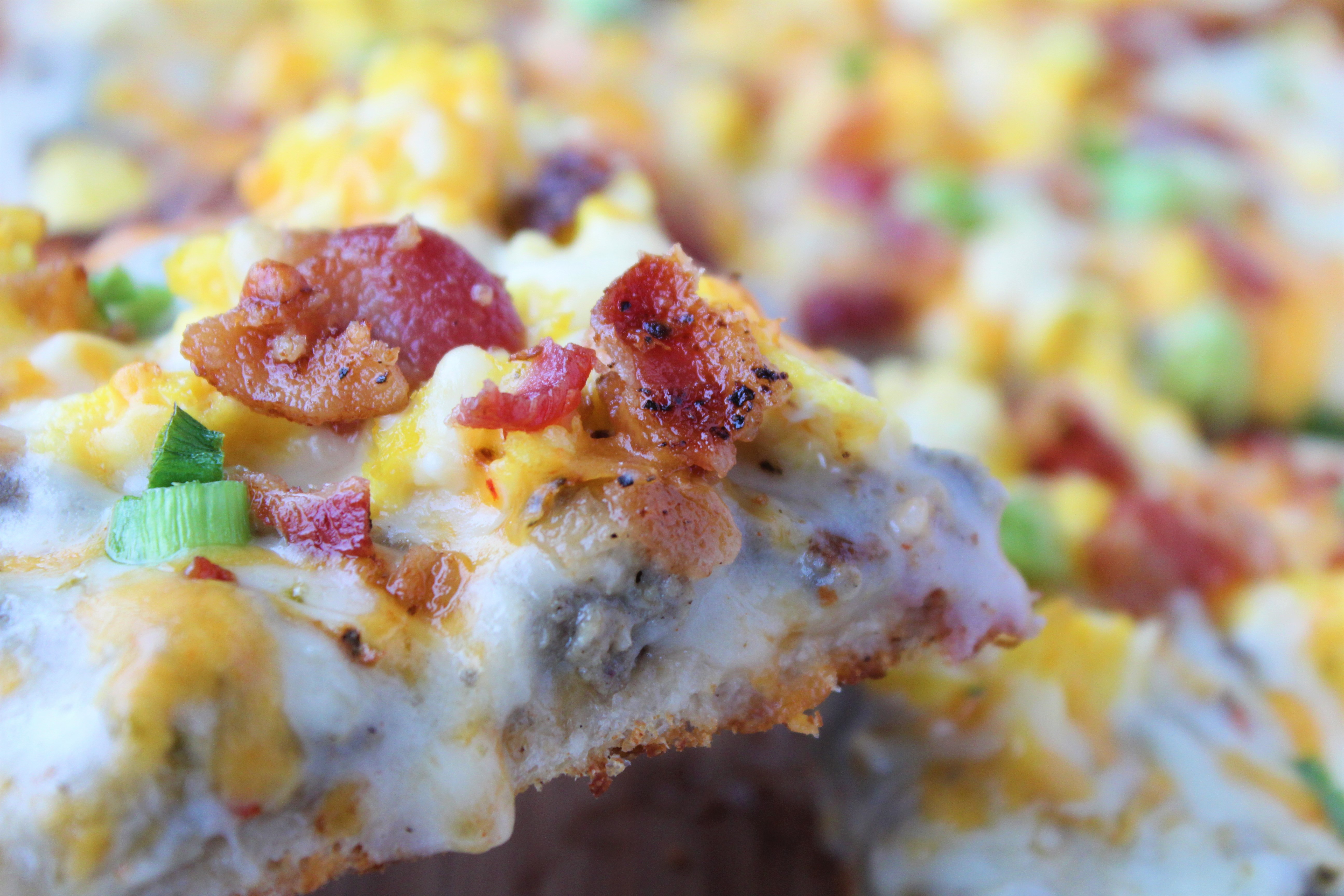 Ultimate Breakfast Pizza
So when I say ultimate…I mean…savory sausage gravy, crispy bacon, creamy scrambled eggs, gooey cheese, topped off with scallions, all on a crispy pizza crust. Insert drooling emoji here. If you're local to Minnesota then you MUST be familiar to Heggies Pizza. They are frozen pizzas that can be found served at a dive bar, your local gas station freezer, and even some grocery stores. Oh…and kids now sell them for school fundraisers, sign me up for one of each! This breakfast pizza is a take on Heggies Breakfast Pizza and I think I nailed it!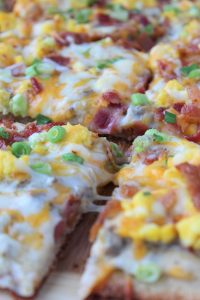 I use one of my favorite thin crust store bought pizza doughs, but you can use any pizza crust you like, just make sure it will hold up well to all the toppings without getting soggy, and note that the recipe for this makes a large rectangle pizza so keep that in mind when choosing your crust size. If you've got a great homemade dough use it! I use my turkey sausage gravy recipe from my Meatball Biscuits and Gravy recipe. Erik and I actually enjoy this as dinner just as much as breakfast, but its a fun weekend breakfast to have with guests! YUM!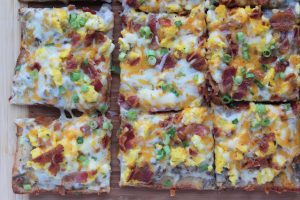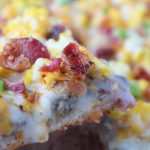 Ultimate Breakfast Pizza
Ingredients
1

large

pizza crust

see notes

1/2

lb

turkey breakfast sausage

drizzle

olive oil

2 1/2

cups

milk

1/4

cup

all purpose flour

1/2

tsp

seasoned salt

2+

tsp

black pepper

6

slices

bacon

cooked, chopped

4

eggs

scrambled

2

cups

shredded cheddar or cheddar blend cheese

3

scallions

chopped

sriracha

optional
Instructions
Preheat oven (see notes) and prepare pizza crust as directed on package.

In a medium skillet drizzle about 1 tbsp olive oil over med-high heat. Brown the turkey sausage and break up into small pieces while cooking. Once cooked through, sprinkle with the flour. Stir to coat all of the sausage and cook for another minute.

Pour in the milk, bring the heat up to med-high until it starts to gently boil, reduce heat to low and simmer for about 10 minutes. It will slowly start to thicken. Add seasoned salt and black pepper. Remove from heat, the longer it sits the thicker it will become.

Evenly distribute the sausage gravy over the pizza crust. Sprinkle with 1 cup of the shredded cheese, followed by the scrambled eggs, chopped bacon, scallions, and the remaining 1 cup of shredded cheese. Bake until crust is crispy and toppings are melted and heated. Serve with a drizzle of sriracha if desired.
Recipe Notes
I like to use the Pillsbury thin crust dough in the refrigerator section of the grocery store (by the tube biscuits). It fits perfectly in a large jelly roll pan (about 17x12). You can pre-bake it to help it stay crispy, and it holds up to the toppings. Just follow the instructions for baking on the package.
This recipe works well for a large rectangle pizza (17x12 inch pan). If you end up using a smaller crust, you could make the toppings stretch to 2 smaller pizzas. Just make sure to use a crust that holds up to heavy toppings, not too thin.