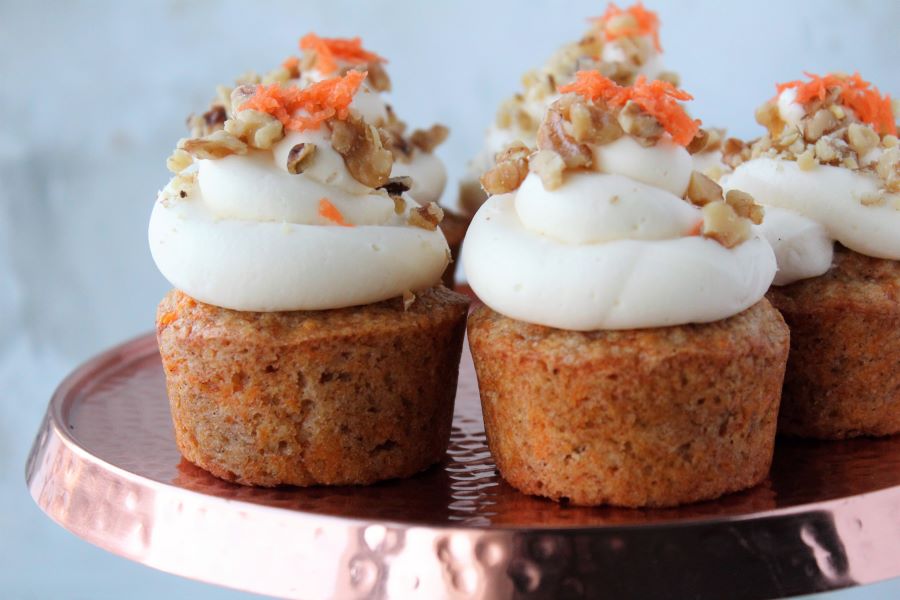 Carrot Cake for Two
I saw this recipe on one of those step by step videos on Facebook from the Food Network. Right when I saw it I thought to myself, that's perfect for Erik's birthday! Carrot cake is one of Erik's favorite desserts, and I had never made it before so was pretty excited to try it (even though I don't care for it). Since I knew I would not be eating much of it, I loved the fact that it was a "small" portion recipe so I would not be left with a whole cake sitting around the house. Don't get me wrong, Erik would have eaten an entire cake, but I know he'd also rather not have that around!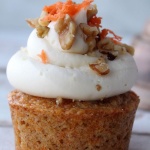 Carrot Cake for Two aka Small Batch Carrot Cake
Ingredients
Cake
cooking spray

1/4

cup

walnuts

2/3

cup

all-purpose flour

1

tsp

baking powder

1/2

tsp

ground cinnamon

1/4

tsp

kosher salt

pinch

fresh grated nutmeg

1/2

cup

sugar

1

large

egg

at room temperature

1/4

cup

vegetable oil

1/2

tsp

pure vanilla extract

5

oz

carrots (about 3 small)

finely grated (about 1 cup)
Frosting
8

oz

cream cheese

at room temp

1

stick

unsalted butter

at room temp

3/4

cup

powdered sugar

1/2

tsp

pure vanilla extract
Instructions
For the cake
Preheat oven to 350 degrees. Line a cupcake tin with 6 paper liners, or line a 9x2 inch round cake pan with parchment and cooking spray (I just sprayed mine really well with baking spray).

Toast the pecans or walnuts on a small baking sheet until lightly browned, about 8 minutes in preheated oven. Don't skip the toasting of the nuts, it brings out such a good flavor! Let them cool, and coarsely chop.

Whisk the flour, baking powder, cinnamon, salt and nutmeg in a medium bowl. Make a big well in the center so you can see the bottom of the bowl (like a reverse volcano). Add the sugar and egg into the well and beat with a fork until combined, then add oil and vanilla and beat with fork. Stir in the dry ingredients until combined. Fold in the carrots and nuts (I keep a few carrots and nuts out to decorate).

Transfer batter into prepared cake pan or cupcake tins, and bake until toothpick comes out clean, about 15-20 minutes (cupcakes may take longer). Let cake cool in the pan on cooling rack for 20 minutes, then turn it out of the pan, and let cool completely.
For the frosting
Beat the cream cheese and butter until completely combined and smooth, stopping a couple times to scrape the bowl. Add powdered sugar and vanilla, and beat until just combined and no lumps appear.
Assemble
If you made cupcakes, pipe frosting onto each cupcake, and decorate with carrots and nuts.

For round cake: cut the cake into 4 even wedges. Frost the top of each wedge with about 3 tablespoons of frosting. Stack the frosted wedges on top of each other on a flat serving plate, resulting in a 4 layer slice of cake. Cover the back side of the cake with the rest of the frosting. Decorate with additional nuts and shredded carrot if desired. Refrigerate for at least 30 minutes. Cut to serve, or grab 2 forks and dive in!