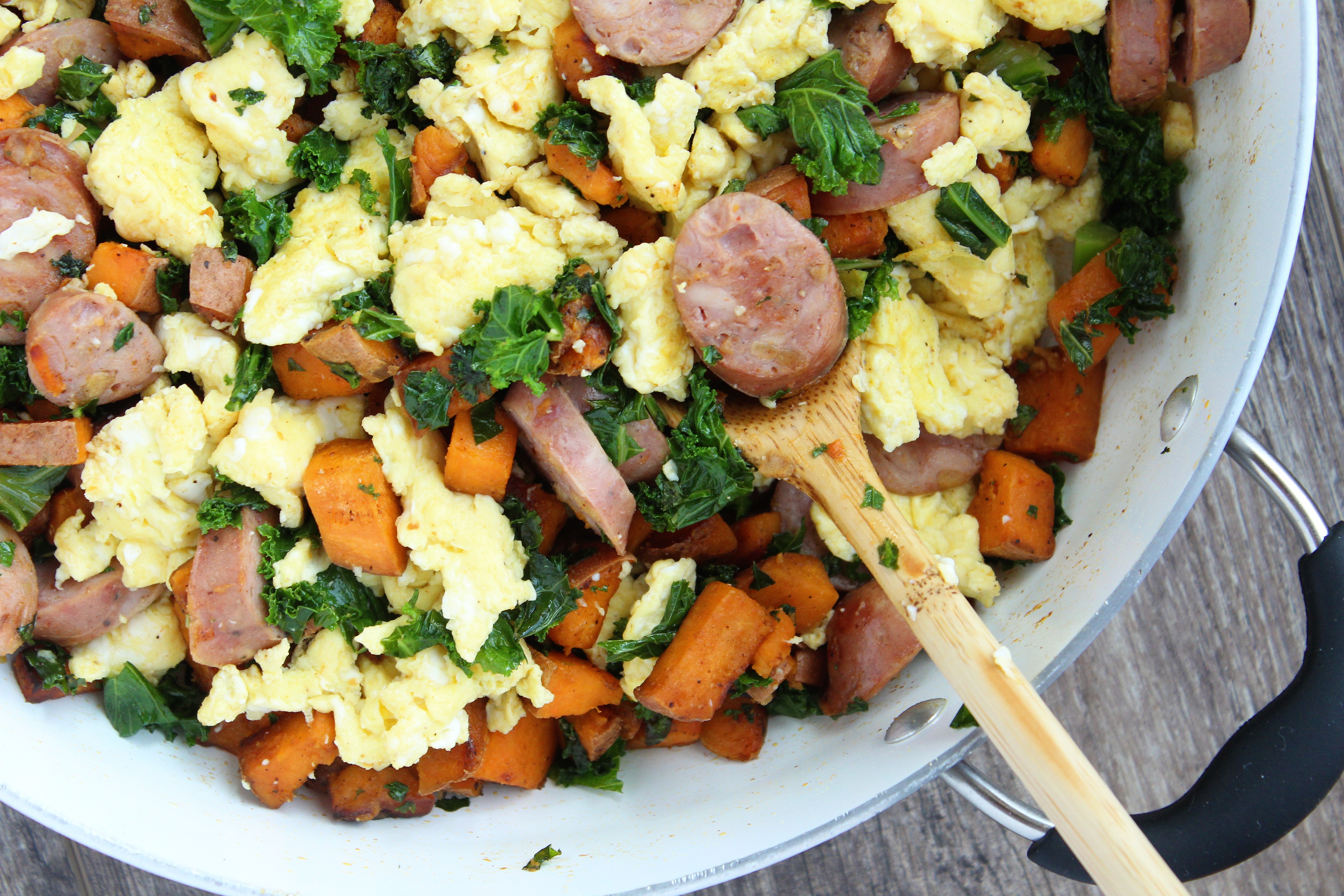 Chicken Apple Sausage Breakfast Skillet
I call this a breakfast skillet, but I think we've enjoyed this dish more as a dinner than a breakfast meal! I've been loving cooking more with sweet potatoes. They are naturally sweet, so I actually prefer to turn them into a savory dish 100% of the time. You can add a ton of great flavor with simple spices from your spice rack. Smoked paprika and chili powder are a staple in my cupboard. If you don't have smoked paprika, definitely stock up on some, it adds such a great flavor vs. regular paprika. You can find a lot of delicious sausage flavors that would work great in this dish. I like the Aidells brand of chicken apple sausage because there is no added sugar, and all natural ingredients, and it's delish!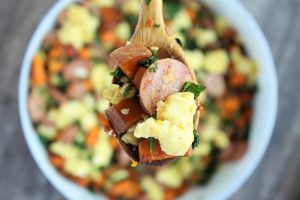 I love to enjoy my bowl with a nice ripe avocado and hot sauce! Enjoy!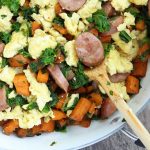 Chicken Apple Sausage Breakfast Skillet
Ingredients
4

links

chicken apple sausage, sliced

such as Aidells

2

medium

sweet potatoes

washed, diced

8

eggs

scrambled

2

cups

kale

chopped

olive oil

1/2

tsp

chili powder

1/2

tsp

smoked paprika

1/2

tsp

garlic powder

1/2

tsp

onion powder

salt and pepper

avocado

optional

hot sauce

optional
Instructions
Drizzle olive oil into a large skillet over med-high heat, about 1-2 tbsp. Add in diced sweet potatoes and cook on med-high heat until soft. Stir occasionally and add additional olive oil if pan becomes dry. Stir in chili powder, smoked paprika, onion and garlic powders, and salt and pepper.

Stir in sliced sausage and chopped kale. Reduce heat to medium and stir until kale is wilted. Stir in scrambled eggs, and season entire skillet again with salt and pepper.

Serve with avocado and hot sauce. Refrigerate leftovers. Enjoy!