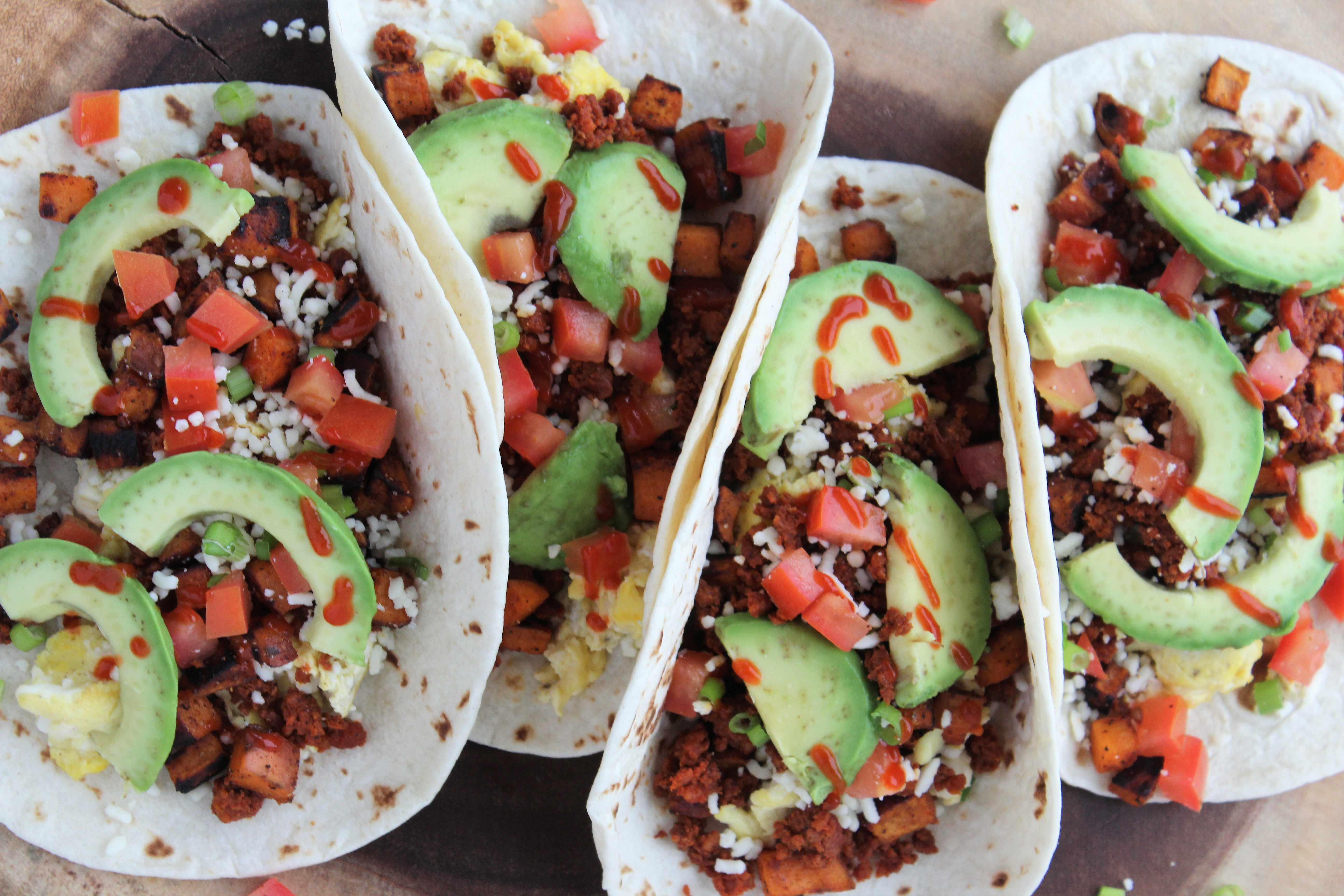 Spicy Chorizo and Sweet Potato Breakfast Tacos
Ever since we did our first round of Whole30 (a diet/program/lifestyle change…Google it if you feel inclined) I've been using chorizo sausage in a handful of recipes. My husband was given a hot tip that there was a brand sold at one of our local grocery stores that was compliant for Whole30, and we've been using it ever since! No, this recipe is not Whole30, but you can easily make it be if you're on the program or looking for a clean meal, just omit the tortillas and cheese to make a delicious breakfast skillet. I've got a couple similar skillet recipes here:
Chicken Apple Sausage Breakfast Skillet
Southwest Sweet Potato Breakfast Bowl
I make these diced sweet potatoes ALL THE TIME. I love to make sweet potatoes into savory dishes, not sweet dishes, team savory all the way! Garlic, onion, chili powder, SMOKED paprika, chipotle chili power, salt and pepper turn these little guys into a savory and satisfying potato dish! They pair so well with chorizo sausage and eggs, they were all just meant to be swaddled together in soft warm tortillas. I top them off with fresh tomatoes, cotija cheese, fresh avocado, and hot sauce of course!
We actually make these for dinner more than we do breakfast, great for any meal! Also fun for a build your own brunch taco bar if you're hosting! Enjoy!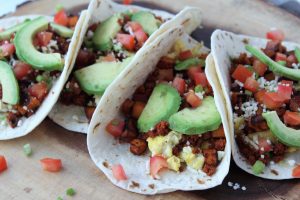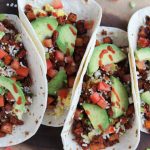 Spicy Chorizo and Sweet Potato Breakfast Tacos
Ingredients
1

large (about 2 cups)

sweet potato

diced into small cubes

1

tbsp

olive oil

1/8

tsp

garlic powder

1/8

tsp

onion powder

1/8

tsp

smoked paprika

1/8

tsp

chili powder

1/8

tsp

chipotle chili pepper powder

salt and pepper

4

oz

chorizo sausage

3

large

eggs

splash

milk

2

tbsp

cotija cheese

4

small

soft shell tortillas

warmed
Optional Toppings
fresh diced tomato

scallions

avocado

hot sauce or salsa

bell peppers and onions
Instructions
Dice the large (or 2 small) sweet potato into small cubes. Add olive oil and sweet potatoes to a medium non-stick skillet. Cook potatoes on medium to med-high for about 12-15 minutes or until crisp on the outside and soft in the center, stirring occasionally. About half way through cooking add in the garlic, onion, smoked paprika, chili, and chipotle chili powders, and salt and pepper.

Brown the chorizo in a small skillet until cooked through. Drain onto a paper towel lined plate. Wipe out the skillet and use the same one to scramble the eggs. In a small bowl whisk the 3 eggs together with the splash of milk, season with salt and pepper. Scramble over medium heat until cooked through.

Assemble the tacos using the warmed tortillas and layer the sweet potatoes, chorizo, and scrambled eggs. Top with cotija cheese, fresh tomatoes, scallions, avocado, and your favorite salsa or hot sauce. Enjoy!
Recipe Notes
I find it important to use a non-stick skillet for the sweet potatoes to avoid sticking. I've made them in multiple kinds of pans and my good non-stick skillet really helps them crisp up and not get mushy and sticky.
I use the really small soft shell taco tortillas so the number of tacos you're able to assemble will depend on the size tortillas you use. If you are using larger tortillas that you are filling more, you can up the number of eggs to make them go further. This recipe has a lot of wiggle room, you can make more or less depending on the number you want to make!