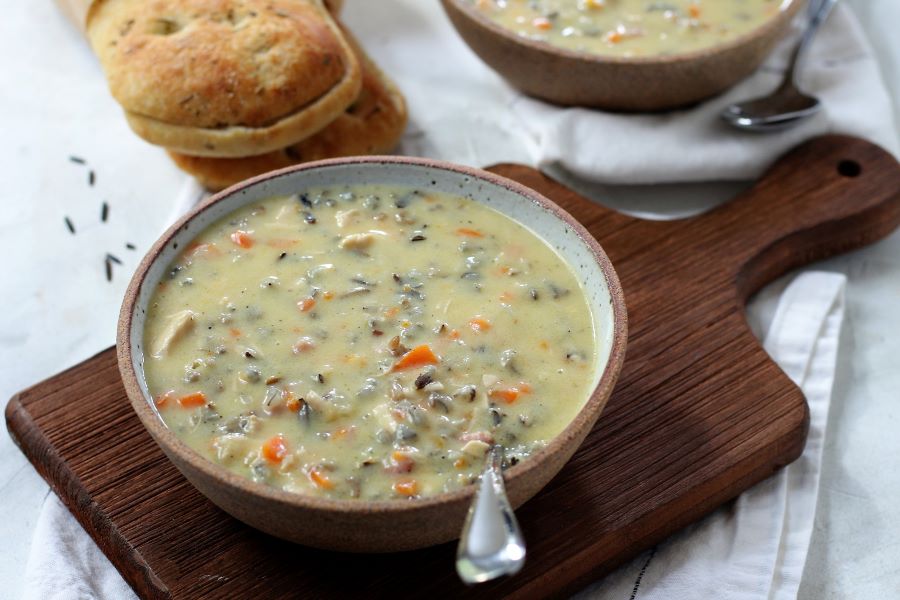 Chicken Wild Rice Soup
Chicken wild rice soup is my all time favorite soup. It's creamy, hearty, and just perfect on a cold fall or winter night…or in my opinion, any day of the year! It makes a simple meal alone, or perfect with a side salad and bread. There are likely thousands of recipes for this soup out there, but I have never found anything that comes close to this one. It's extremely simple, yet packs such great savory flavor.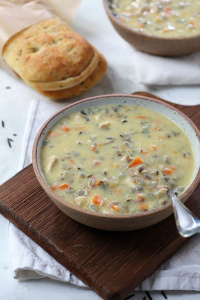 The secret ingredient…ham! Adding in chopped ham with the chicken just adds another element of flavor. The saltiness of the ham really flavors the soup without having to add much other seasoning.  Great textures, hearty meats, and just plain warms the soul!
This recipe makes a few meals worth, but I love to freeze about half. It makes for an easy meal down the road and it heats up great! Perfect for a soup exchange and can feed a crowd. You could easily keep this warm in a crock-pot if you're hosting. Stay warm!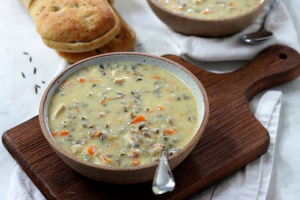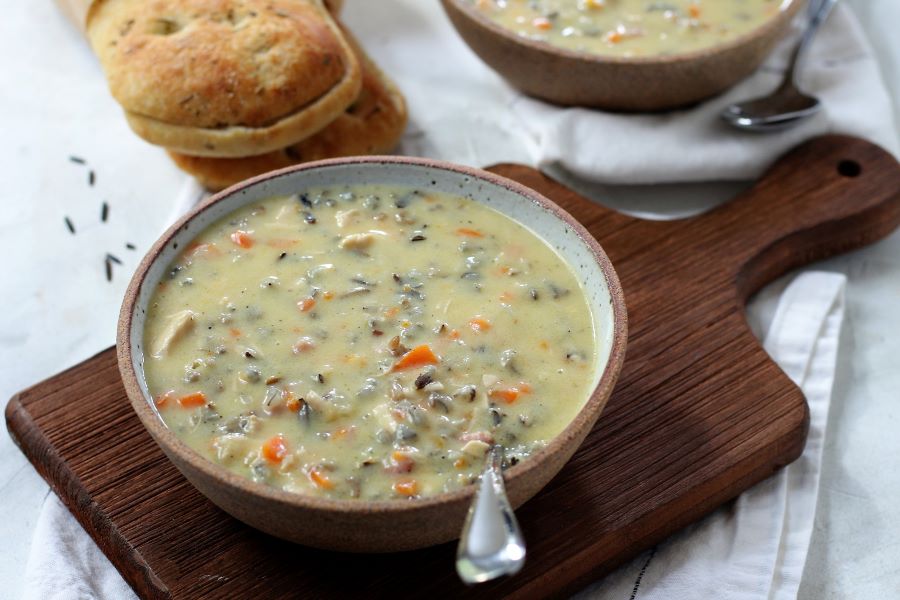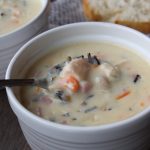 Chicken Wild Rice Soup
Ingredients
1

medium

onion (about 1 cup)

minced

1

cup

carrots

chopped

1 1/2

sticks

unsalted butter

3/4

cup

flour

6

cups

chicken broth

low sodium

2

cups

wild rice

cooked

1

cup

cooked chicken

chopped

1

cup

cooked ham

chopped

1/3

cup

slivered almonds

optional

1 1/2

cup

half and half

1/4

cup

cooking sherry

1

tsp

seasoned salt

black pepper
Instructions
In a large pot or dutch oven, saute onions and carrots in butter over med-high heat until softened, about 5 minutes. Stir in flour until bubbly, mixture will be like a thick paste. Stir over med heat for about 2 minutes to cook out the raw flour.

Slowly whisk in the chicken broth, bring to a boil and stir until it begins to thicken. Reduce heat to medium-low, add in cooked rice, chicken, ham, almonds, salt and pepper. Simmer for about 5-7 minutes. Stir in half and half and cooking sherry. Taste for seasoning.
Recipe Notes
Plan ahead when cooking this soup! Wild rice can take 30-60 minutes to cook so you'll want to make sure to account for that cooking time prior to the soup. If you are adding the ham (totally makes the soup) go easy on adding salt, taste before adding since ham is naturally salty. 
This soup re-heats well, and freezes well! It will thicken as it sits, add water, chicken stock, or milk when re-heating if necessary depending on your desired consistency.