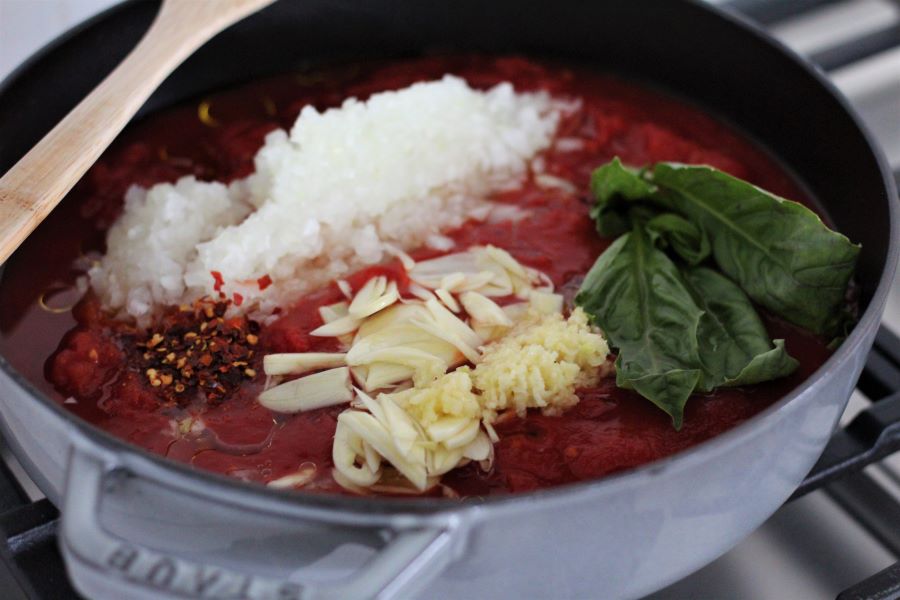 All Purpose Marinara Sauce
After making this All Purpose Marinara Sauce it's going to be hard to buy my favorite jarred sauce again. So fresh and vibrant, and EASY! All the ingredients go into one pot, and you just stir and simmer, and enjoy the aroma. This sauce has a sweet up front vibe, with a kick of heat in the back of your throat. My fav.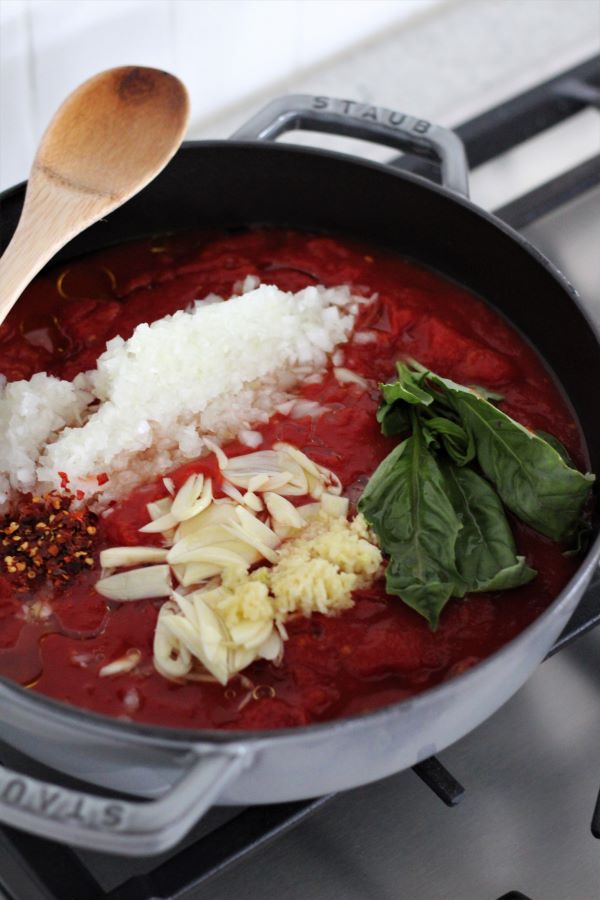 If you've never used imported San Marzano Tomatoes before, this is your time! They really make this sauce something special, as if you were tasting it from an Italian pizzeria. Quality, fresh ingredients really do make this dish.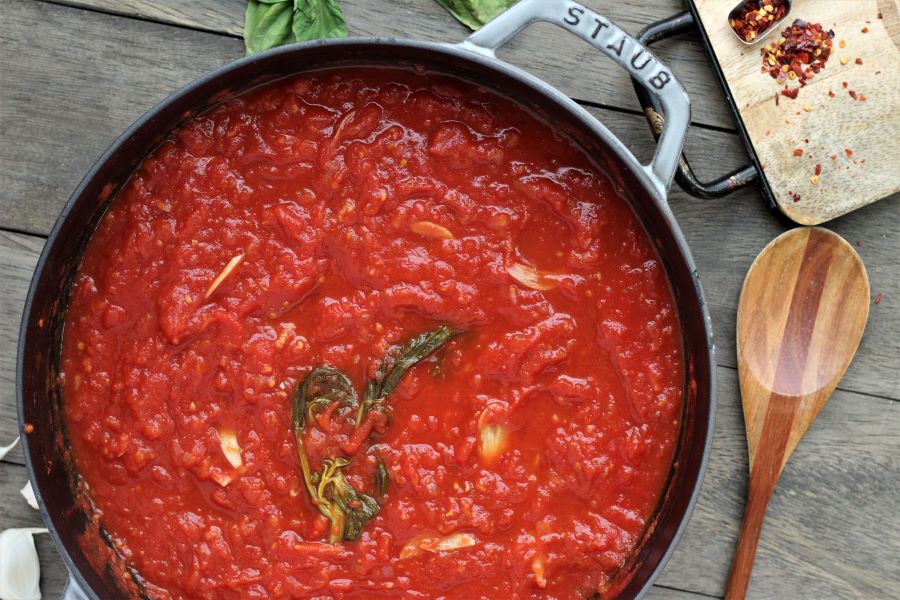 Hopefully you like garlic as much as I do, because there are 6 cloves in here! I mince three of them, and very thinly slice the other three so that you can actually see them throughout the sauce. They cook down and become soft, so there's no harsh raw garlic flavor, only sweet deliciousness.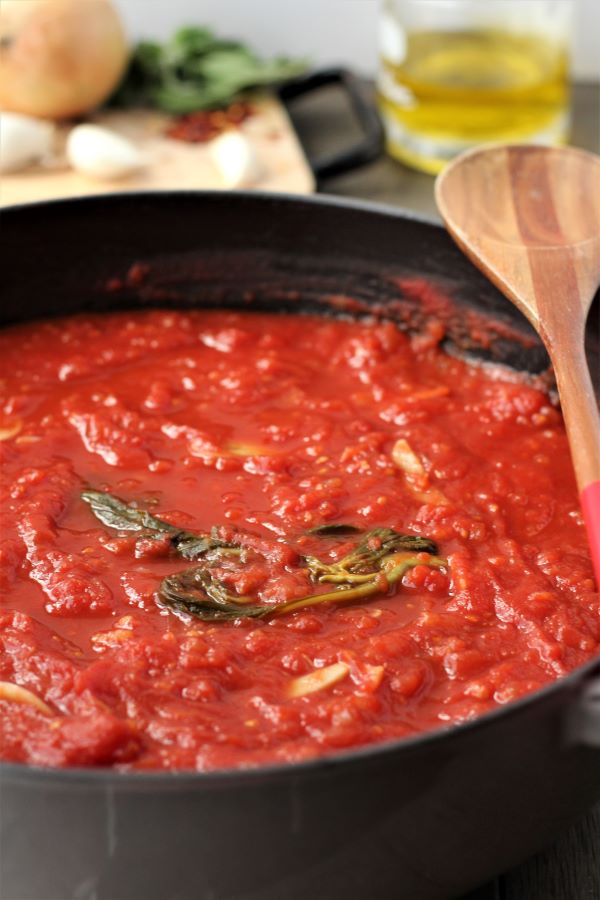 Allowing the fresh basil so just soak in the sauce while it simmers gives off the best aroma, and really seeps into the marinara. You could certainly mince it up and leave it in there as well.
I've gotten into homemade pizza making ever since I got my Baking Steel. I purchased the baking steel and the cookbook for it, and the 72 dough is so so good. It tastes like a woodfire pizza, and this sauce belongs on it!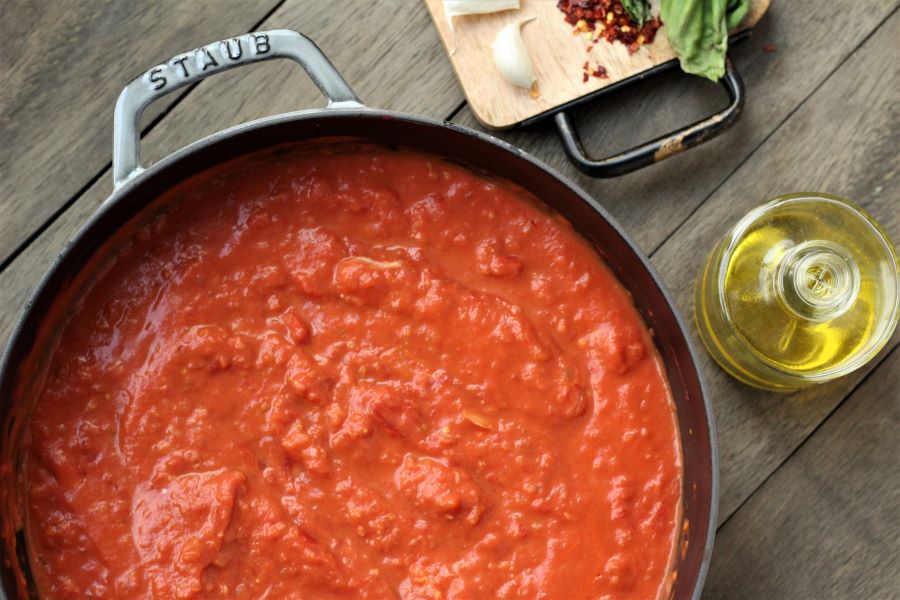 If you're using this sauce for lasagna or some kind of tasty pasta dish, the cream cheese addition would be outstanding. I love a creamy marinara, and a couple dollops of cream cheese are perfect for that. Must try!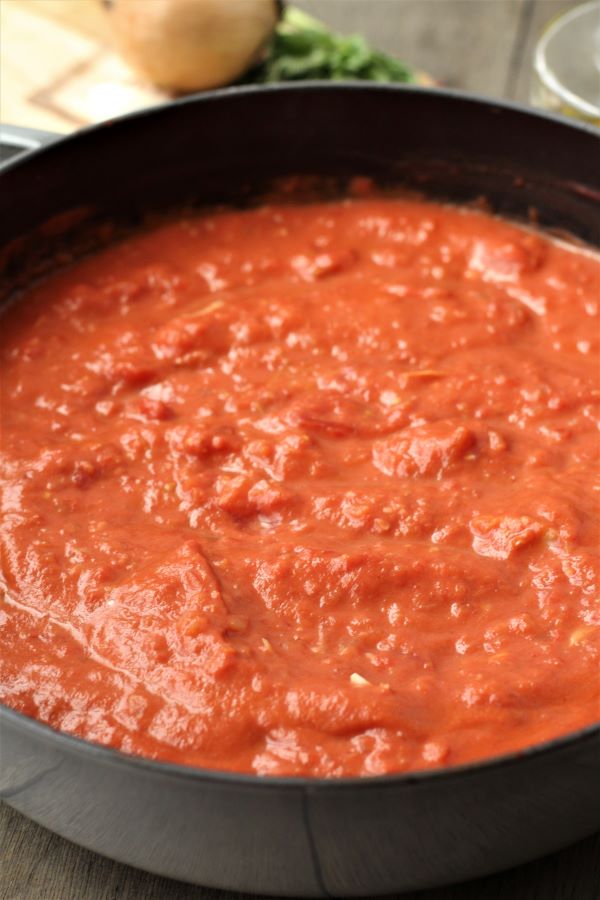 Hope you enjoy this All Purpose Marinara Sauce. Here are a few ways to use it!
Garlic Cheese Bread Meatball Sliders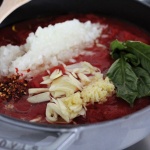 All Purpose Marinara Sauce
A fresh and vibrant red sauce that can be used SO MANY ways! I like to add a little cream cheese to give it a creamy factor. Such a simple flavorful sauce.
Total Time
1
hour
15
minutes
Ingredients
2

28 oz cans

San Marzano whole peeled tomatoes

1/2

large

yellow or white onion

diced

6

cloves

garlic, 3 cloves minced and 3 cloves thinly sliced

1

large whole sprig

fresh basil

about 6 leaves

2

tbsp

quality olive oil

1/2

tsp

red pepper flakes

1/2

tsp

salt

fresh cracked black pepper

to taste

1

tsp

sugar or equivalent sweetener

3

tbsp

reduced fat cream cheese

optional
Instructions
Add the two cans of tomatoes to a large bowl or right into the deep skillet you are using for cooking. Using your hands or a masher, very gently (to avoid splatter) crush each tomato. You'll be left with a chunky tomato juice.

Add tomatoes to large skillet (if transferring from another bowl). Add in diced onions, garlic, whole fresh basil (you'll fish out later), olive oil, red pepper flakes, salt and pepper, and sugar. Turn heat on to medium and bring to a simmer, stir all ingredients to combine. Reduce heat to a low gentle simmer and allow to cook for about an hour, stirring occasionally. Sauce will reduce and thicken the longer it simmers. Taste for seasoning, adjust salt and pepper as needed, and remove the sprig of basil. If you want a creamy sauce without adding heavy cream, add in the reduced fat cream cheese. Stir until melted into the sauce.

Use on pasta, pizza, spaghetti squash, dipping, or freeze for later use.
Recipe Notes
If you don't care for large chunks of garlic you can mince all 6 cloves, or just add less altogether. I like the visible slices throughout the sauce.
I prefer a slightly sweeter red sauce up front, with heat that hits the back of your throat, which is what this is. Adjust the red pepper flakes and sugar to your taste.
This freezes great, and I've thawed and re-froze multiple times to use for various meals.