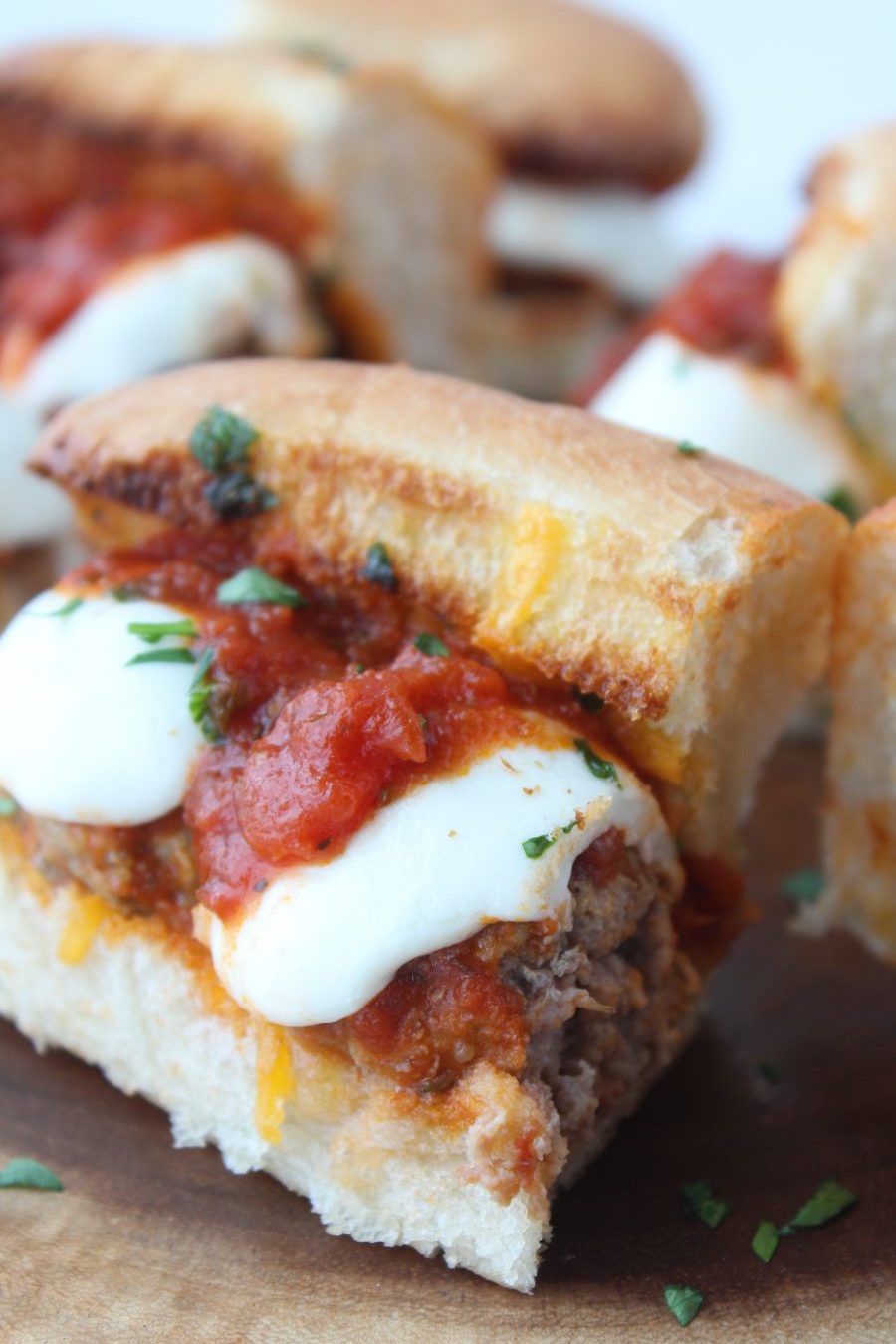 Garlic Cheese Bread Meatball Sliders
The classic flavor combinations of garlic cheese bread and marinara will never get old! Everything you love about garlic cheese bread and meatballs combined into a sandwich! I could probably live off of garlic cheese bread, I love it so much. Have you ever met anyone that doesn't like cheese bread?!
I use bakery brat buns from my local grocery store's bakery department. They are large enough to hold up to the cheese and meatball, but not too chewy and dense to make it hard to bite into like a French baguette would. You could also use a standard hot dog bun but it would depend on the size of the meatball to determine what works best. You can leave them whole for a meal and serve with a side salad, or slice and serve as a party appetizer.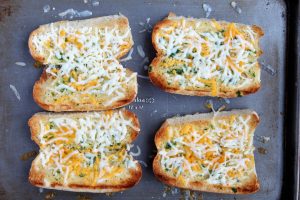 Garlic butter, cheese, meatballs in sauce, and more cheese and boom…meatball slider.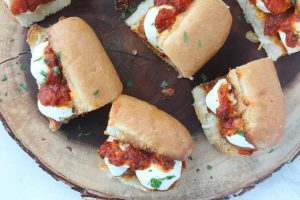 SO many endless meatball opportunities when you have my freezer meatballs on hand. Check out some of my favorite meatball inspired recipes below! Be sure to search "meatballs" for ALL the meatball recipes I've created! Get your freezer stocked!
Coconut Curry Meatballs
Honey Sriracha Garlic Meatballs
Bourbon BBQ Meatball Sliders
Meatball Stroganoff
Mongolian Meatballs
Chipotle Chili Lime Meatball Burrito Bowls
Meatball Gyros with Creamy Tzatziki Sauce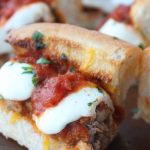 Garlic Cheese Bread Meatball Sliders
Ingredients
16

all purpose meatballs

12

oz

marinara or spaghetti sauce

crushed red pepper flakes

optional

4

hoagie/brat buns

4

tbsp

melted butter

1/2

tsp

garlic powder or garlic salt

1

tsp

fresh parsley

minced

1/2

cup

shredded colby jack cheese or other blend

4

oz

fresh mozzerella

sliced
Instructions
In a medium-large skillet or sauce pan heat the marinara (and red pepper flakes for heat if you wish) and meatballs together until the meatballs are heated through.

Combine melted butter, garlic powder, and fresh minced parsley together in a small dish. Slice the hoagie rolls open and place on a foil lined pan. Brush both sides of the rolls with the melted butter mixture. Place under the broiler (low setting if you have it) for 2-3 or until lightly toasted. Sprinkle rolls with shredded cheese, place back under the broiler until cheese is melted.

Place 4 meatballs on one side of each roll. Top the meatballs with sliced mozzarella. Place back under the broiler just until the mozzarella is melted. Top with any remaining marinara. Place the top roll onto the meatball side roll and slice each in half to make 8 sliders. Each slider will have 2 meatballs in it.

Serve with any remaining marinara sauce.
Recipe Notes
Tip: Double the meatballs and use a whole jar of marinara sauce and you have dinner ready for another night!
I like to use the bakery made brat buns from my local grocery store. They're big enough to hold up to the sandwich without being hard to eat like a crusty French baguette might be.
For the fresh mozzarella you can usually find a log of pre-sliced which works perfectly for these.