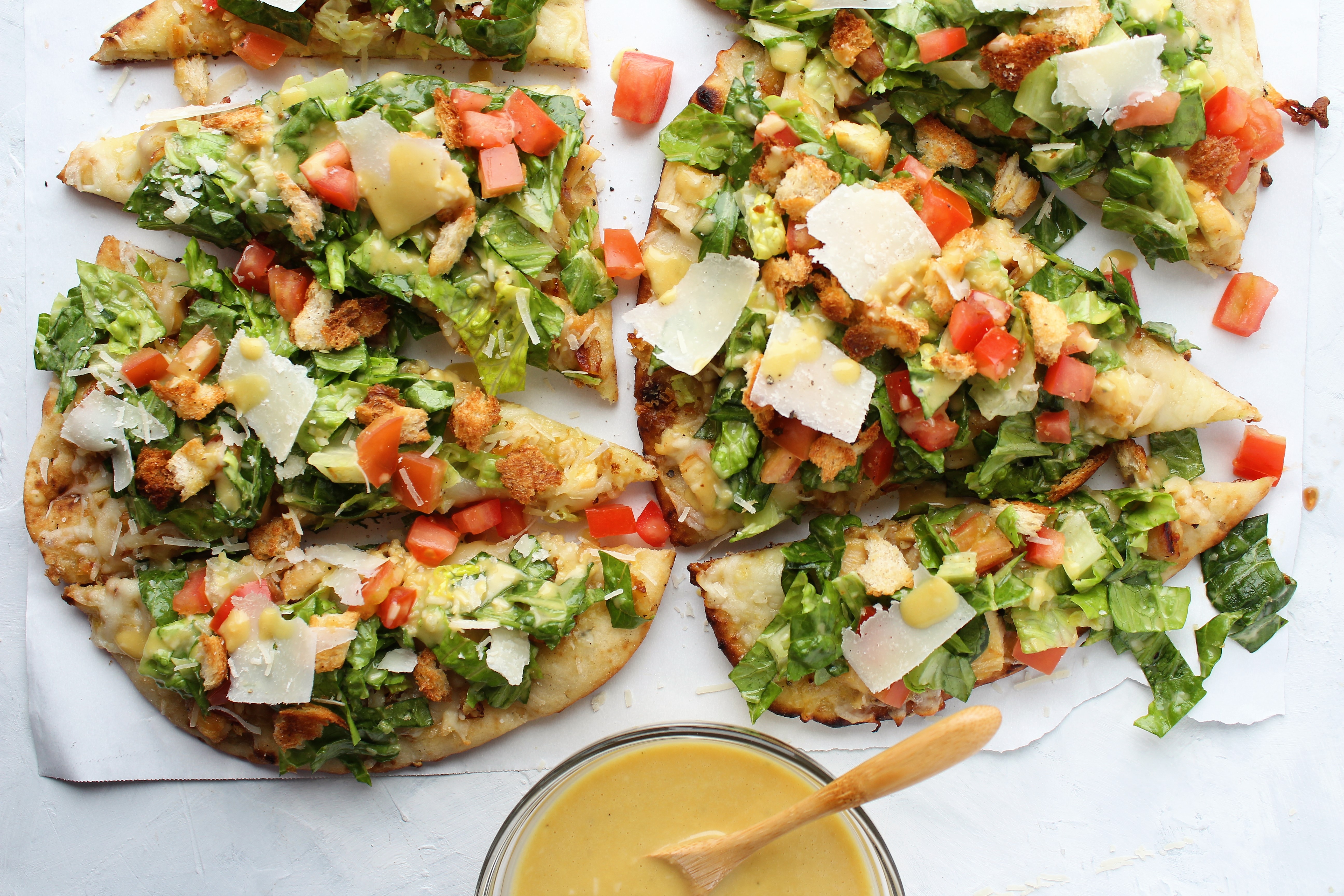 Chicken Caesar Salad Flatbread Pizzas
I am OBsessed with anything Caesar salad related. I just think it has that ultimate flavor profile…tangy, salty, savory, garlicky…all of my favorite things! This recipe was inspired by a former restaurant dish called a Chicken Caesar Chalupa. It was served as a starter at a restaurant that I worked at and frequented in college. It also happened to be the restaurant where my husband and I went on our first date, although at the time I didn't consider it a date…but it totally was.
The Chalupa was a type of fried dough, similar to chips but different than tortilla chips, topped with Caesar dressing, chicken, and cheese. It was served with a Caesar salad in the center to throw on top of each bite, I was in love with it. When it was taken off the menu (after we graduated but still frequented the Twin Cities locations) I think I almost cried. Erik actually wrote an email into their customer service trying to get it back on the menu for me, bless him.
I used naan bread in this recipe, and it worked out great and I love naan bread, but you could use any flatbread that you like. The naan I bought was in the bakery area of my local grocery store, and it grilled up really nice.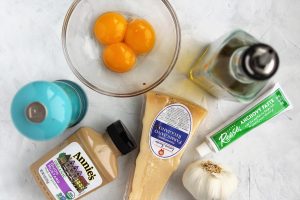 I'm picky about by Caesar dressing, so when I buy store bought, there are only a couple kinds that I like, but it really is simple to make, and totally worth it.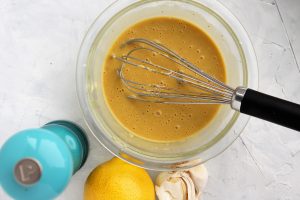 To get the full Caesar salad effect, I made quick homemade croutons. SO EASY. I just rip up some bread, whatever you have on hand, toss in a bit of olive oil, garlic salt, and parsley, and throw them under the broiler for a couple minutes, that's it! A perfect crunchy topping for these pizzas!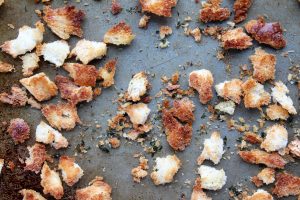 I grilled these because I love that grilled charred flavor you get from a grill, and they really only take a few minutes on the grill, but you could bake in the oven as well. Perfect for a spring or summer lunch, dinner, or entertaining snack!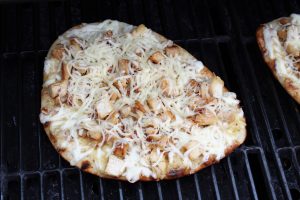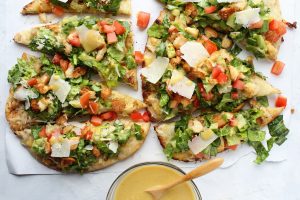 And if you're wondering…to this day…the Chicken Caesar Chalupa has never been put back on the menu…that we know of.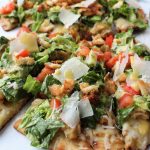 Chicken Caesar Salad Flatbread Pizzas
Ingredients
For the dressing
1 1/2

tsp

anchovy paste

2

cloves

garlic

minced

3

egg yolks

1

tsp

Dijon mustard

1

tbsp

mayo

1

tsp

Worcestershire sauce

2

tbsp

lemon juice

2

tbsp

olive oil

1/2

cup

vegetable oil

2

tbsp

fresh grated Parmesan cheese

fresh ground black pepper
Croutons
1 large

pc

bread

torn

drizzle

olive oil

garlic salt

parsley
Pizzas
2

naan breads

1

cup

mozzarella cheese

shredded

1/2

cup

Parmesan cheese

shredded

2

cups

romaine lettuce

chopped

1 1/2

cups

chicken breast

cooked, chopped

2

roma tomatoes

chopped

Caesar dressing

shaved Parmesan

for garnish
Instructions
For the dressing
On a cutting board using a large knife, smash and press together the minced garlic and anchovy paste until mostly smooth, set aside.

In a medium bowl whisk together egg yolks until smooth, whisk in the mustard, mayo, Worcestershire, and garlic anchovy mixture. While still whisking, add in lemon juice, whisk until smooth. Stream in the olive oil while whisking, and continue to whisk for about 1 minute. Slowly add in the vegetable oil, and whisk for another minute until smooth and it begins to thicken.

Whisk in the grated parm and plenty of black pepper. Best if made a couple hours prior to use, or even the night before. Store in refrigerator.
For the croutons
Using a small baking sheet, place ripped bread pieces on the baking sheet, drizzle lightly with olive oil. Sprinkle with garlic salt and dried parsley. Toss bread pieces to coat. Broil in the oven on low for 2-4 minutes. Watch closely, they will burn easily. Take out when they are golden brown.
Flatbread pizza assembly
Preheat grill to 350 degrees. You could also use an oven, but I would preheat to 400 degrees and pre-bake the naan to help crisp before adding toppings. The close direct heat from the grill really helps to get a fast crispy bread.

Place the naan or flatbread on a large baking sheet pan. Spoon a couple tablespoons of the Caesar dressing over each naan, spread out to the edges. Sprinkle with cooked chopped chicken. Top with grated parm and mozzarella cheese. 

Place pizzas directly onto grill without the pan. Grill for about 5-7 minutes, or until cheese is melted and the bottoms are slightly crisp. Check often to avoid burning. Remove from grill and back onto the sheet pan.

In a medium bowl, toss chopped romaine with 1-2 tablespoons of dressing. Top pizzas with dressed romaine. Sprinkle with chopped tomatoes, crispy croutons, and shaved parm. Add additional fresh cracked pepper, and a drizzle of dressing if desired.

Slice with a pizza cutter, serve immediately! YUM!
Recipe Notes
I prefer to use the naan bread because it's hearty and can hold up to the dressing, chicken and cheese. I think some other really thin flatbreads would be a little wimpy and not hold up as well. No one wants a flimsy pizza!
If you are baking indoors vs. grilling, pre-bake the naan bread to help get it crispy for about 5-7 minutes before adding toppings.