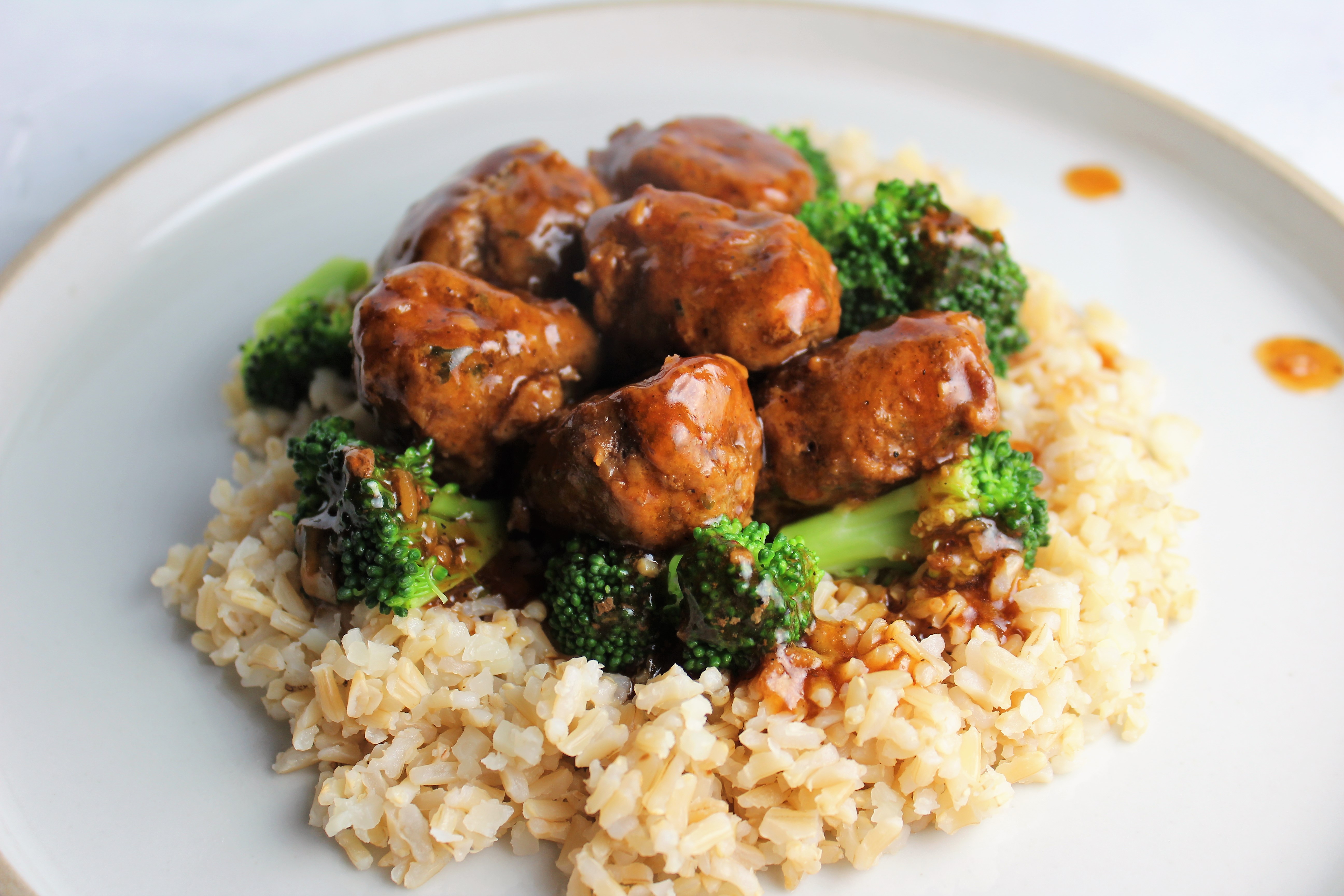 Mongolian Meatballs
Next time you get that craving for spicy, sweet, tangy beef and broccoli take out, just know that you can have delicious homemade take out flavors at home, in less than 30 minutes! I was thinking what other easy recipes would work well for my All Purpose Meatballs, and since I love Asian flavors, Mongolian beef was a perfect match! This recipe comes together in no time so it is perfect for a quick weeknight meal! Great for leftovers too!
Serve these meatballs up over some white, brown, or cauliflower rice and some broccoli for a well rounded delicious family meal. These would also work as a great appetizer and would work nicely served from a crockpot for a party or potluck.
Still haven't made these All Purpose Meatballs? What are you waiting for?! Make a batch soon and you'll have your meatball meals half done! Enjoy!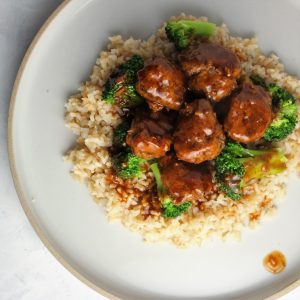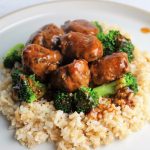 Mongolian Meatballs
Ingredients
25

All Purpose Meatballs

2

cloves

fresh garlic

minced

1

tsp

fresh ginger

minced

4

scallions

chopped

1

tbsp

olive oil

1/2

cup

low sodium soy sauce

1

cup

water

2

tbsp

Truvia brown sugar sweetener

2

tbsp

regular brown sugar

1

tbsp

sriracha

black pepper

a lot!

1

tbsp

corn starch

heaping tbsp

2

cups

fresh broccoli florets, partially steamed

optional but do it

4

servings

white, brown, or cauli rice for serving

cooked
Instructions
In a skillet heat 1 tbsp olive oil over medium heat. Add minced garlic, ginger, and 2 of the chopped scallions. Drizzle more olive oil if needed. Saute over medium heat for about 2 minutes. Turn heat down, and be careful not to burn the garlic!

Dissolve corn starch in 1/2 cup of water to make a slurry, set aside. Add soy sauce, other 1/2 cup of water, sriracha, some black pepper, and brown sugars into skillet. Stir until sugars are dissolved. Turn heat back up to med-high. Stir in cornstarch slurry and bring to a boil. Once boiling reduce the heat to low and the sauce will thicken.

Add meatballs into skillet, cover until meatballs are heated through, about 5-10 minutes. If sauce seems too thick, add more water.

Serve over steamed rice and broccoli. Garnish with remaining two chopped scallions. Or serve in a crockpot for a party appetizer!
Recipe Notes
I used Truvia brown sugar blend. It does measure differently than regular brown sugar. If you're only using regular brown sugar, I would start with 3-4 tbsp and taste test for desired sweetness.
If not sweet enough, sprinkle more brown sugar. If too sweet, add more heat (sriracha). If too salty, dilute with more water. You can always add more slurry to thicken, but you will need to bring up to a boil in order for the sauce to thicken.
Mongolian beef generally has a decent spice to it. The 1 tablespoon of sriracha gives it a nice spice that is not overpowering, if you like heat I would suggest adding more! The sauce is salty and sweet, so the added kick is needed!
If serving with broccoli, only steam it for 1-2 minutes or it will become mushy. I like it with some crunch and bite left to it just like you get with take out! A bag of frozen stir fry veggies would also be great in this.
These would also be great served from a crockpot for a party snack!