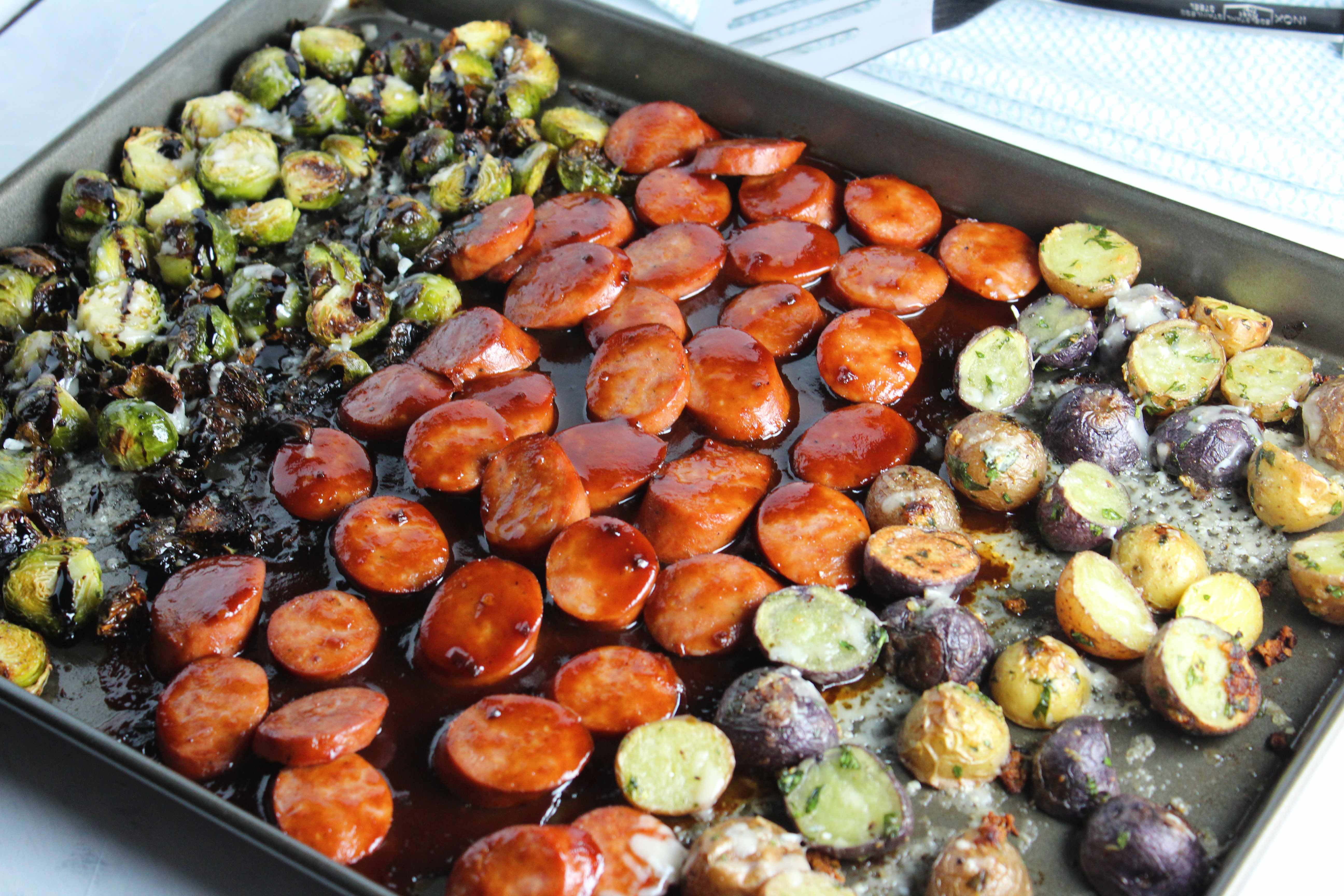 One Pan Smoked Chicken Sausage and Veggie Bake
OK so the recipe title seems like there is a lot going on, but this is actually SUPER easy with very little prep work. I almost feel bad calling it a recipe because the oven does all the work! With just a few fresh ingredients combined with some pantry ingredients you have a healthy, super delicious, and satisfying meal in about 30 minutes! Erik inhaled this meal (minus the sprouts), but lucky for me I get sprouts for leftovers!
This is great for a quick week night meal, and you can change it up with any kind of fresh vegetables and your favorite sausage. I'll be making this much more often during the week! Can't wait to see what is at the farmer's market that I can toss in my next one!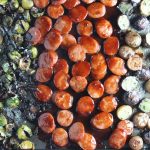 One Pan Smoked Chicken Sausage and Veggie Bake
Ingredients
1

13oz

Chicken Smoked Sausage (roasted garlic)

such as Hillshire Farm

1/4

cup

BBQ sauce

such as Trader Joe's Sriracha Roasted Garlic BBQ Sauce

8-10

small potatoes such as baby red or fingerling

halved or quartered

2

cups

Brussels sprouts, stems trimmed

halved or quartered

1/2

small onion

chopped

3

cloves

garlic

minced

1

tbsp

fresh parsley

minced

drizzle

olive oil

salt and pepper

1

tbsp

grated Parmesan cheese
Instructions
Preheat oven to 400 degrees

Cut the baby potatoes in half or quarter (depending on size) so that they are all the similar in size. Toss potatoes with a drizzle of olive oil, 2 cloves of minced garlic, parsley, and salt and pepper. Transfer to 1/3 side of a baking sheet pan and put in 400 degree oven to start baking while you prepare the sprouts.

Combine sprouts, onions, and remaining minced garlic with a drizzle of olive oil, toss to coat. Add to 1/3 of sheet pan. Bake for about 20-30 minutes.

While potatoes and sprouts are baking, slice the sausage in about 1-2 inch slices. Toss in your favorite BBQ sauce. When the potatoes and sprouts are about 10 minutes from being done (after about 20-25 minutes), add the sliced sausage to the sheet pan, and bake for another 10 minutes or until sausage is heated through.
Recipe Notes
You can use any sausage that you like, I just saw that this smoked chicken one had garlic so I was sold! It actually paired phenomenally with the Trader Joe's Sriracha Roasted Garlic BBQ sauce. If you have access to get it, do it!
You can swap out any vegetables that you like. Asparagus, carrots, and cauliflower also roast really nicely, you'll just need to adjust roasting times depending on the vegetable.  
The veggies will take longer to roast than the sausage. Potatoes will take the longest so depending on what veggies you choose you'll just need to monitor the cooking time and how soft you want your veggies. If you buy fully cooked sausage, all you are doing is heating it through along with the sauce.