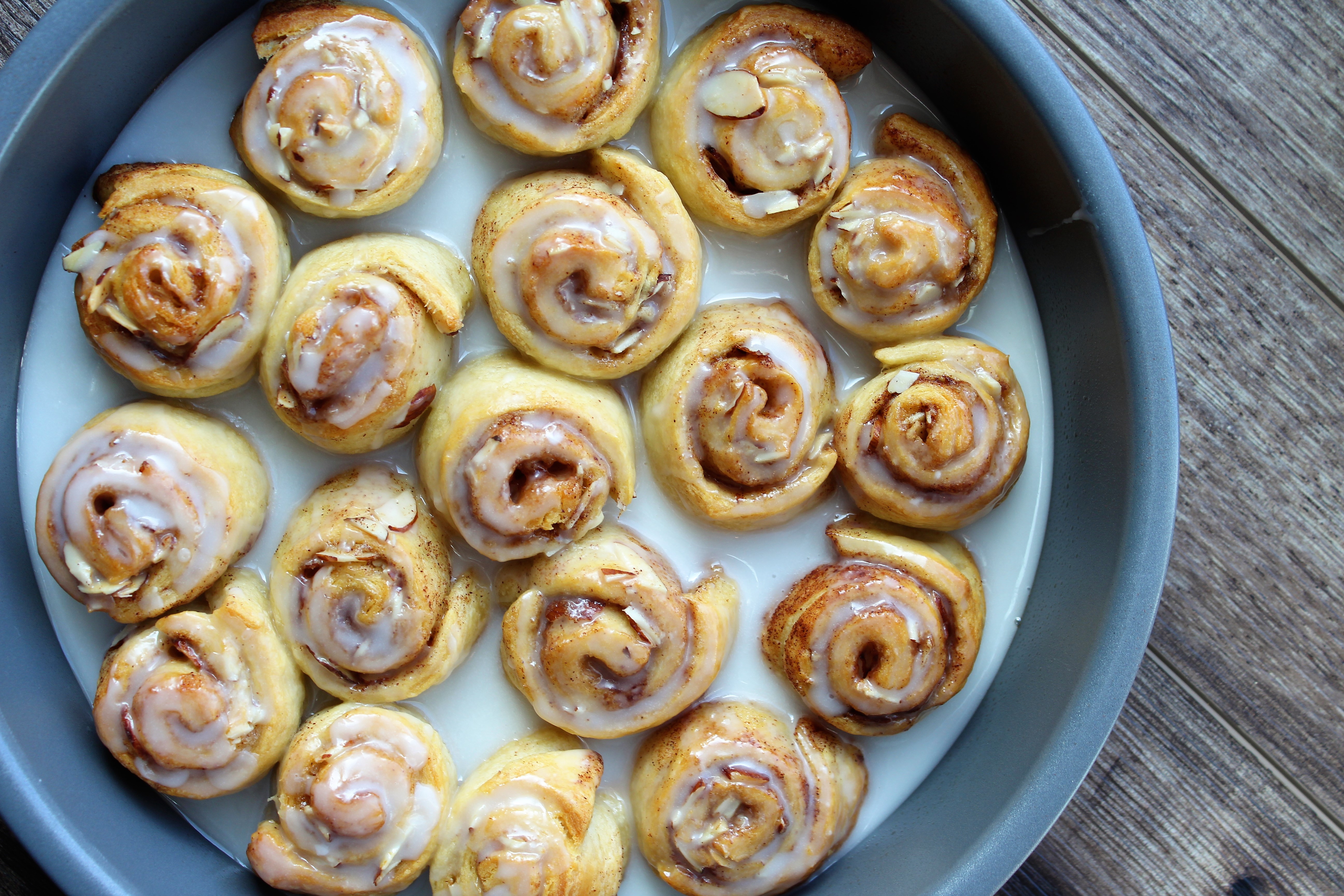 Crescent Roll Almond Cini-Minis with Almond Glaze
Dough in a tube hack alert! The light and flaky crescent rolls…you know…the ones in the tube that pop and startle you every time even though you know it's coming?! That dough makes the cutest and easiest little cinnamon rolls! Something about tiny food makes me excited, it's just so cute, and these definitely fall into that category. I wanted to try something a little different with these so I added sliced almonds inside the dough for a little crunch, and a bit of almond extract in the glaze gives these little guys the perfect almond twist to a standard cinnamon roll.
All you do is press four crescents together on the seams to make a square…or a something inbetween a square and a rectangle…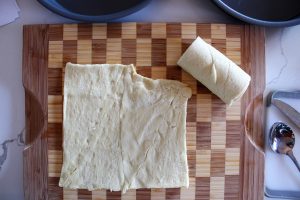 Spread with melted butter, brown sugar, cinnamon, and sliced almonds.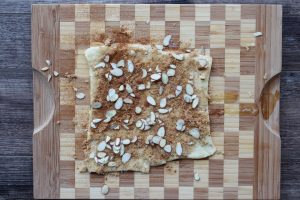 Roll it up nice and tight, and slice into 1 inch rounds. I like to brush a little more butter on top to help brown and crisp while baking, yum!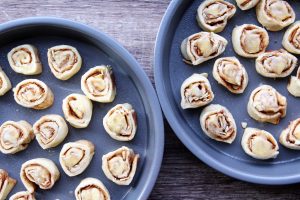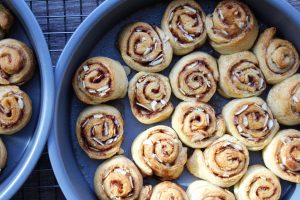 Drizzled with almond glaze, yum! So perfect to make with kiddos in the kitchen! A great little treat for a breakfast or brunch gathering!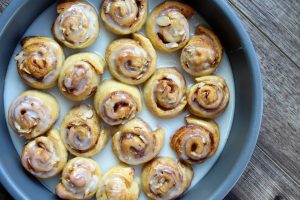 You could leave the almonds out, and swap vanilla extract for the almond extract for a more traditional cinnamon roll. You could make them into pecan caramel rolls, get creative!
Try adding in some mini chocolate chips, the combo of the flaky roll, chocolate, and almond glaze is really delish! Enjoy!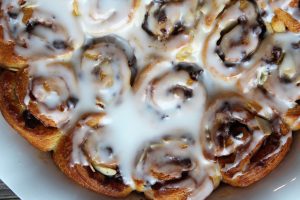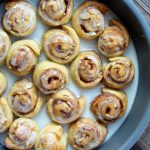 Crescent Roll Almond Cini-Minis
Ingredients
2

cans

refrigerated crescent roll dough

5

tbsp

butter

melted

1/4

cup

brown sugar

1/4

cup

almonds

sliced

cinnamon
For the almond glaze
2

cups

powdered sugar

2

tbsp

milk

1

tsp

pure almond extract
Instructions
Preheat oven to 375 degrees. Spray 2 round cake pans or pie plates with non-stick cooking spray.

Gently remove the rolled dough from the packaging, trying not to break apart the seams. Press 4 triangles together at the seams to make a square. You should be able to make 2 squares from each package of dough, totaling 4.

Brush each square with melted butter, sprinkle with brown sugar, and a dash of cinnamon. Sprinkle with sliced almonds. Tightly roll up into a log, and slice into 1 inch rounds. You should be able to get 8-9 slices per log. Place into round prepared baking dishes, about 1 inches apart.

Brush tops of rolls with any remaining butter (optional). Bake for 15-18 minutes or until golden brown. Let cool for about 5 minutes before icing.
For the almond icing
In a medium bowl whisk together the powdered sugar, milk, and almond extract until smooth. Spoon over cini-minis. Enjoy!
Recipe Notes
You can cut this recipe in half if you are only using 1 tube of dough.
If you are not an almond fan you can leave the almonds out, and swap vanilla extract in for the almond extract. 
Get creative with flavors, you could add other nuts and make a caramel sauce for some pecan caramel rolls.
For raspberry lemon ones: spread dough with raspberry preserves, and use lemon juice as your liquid to the powdered sugar. Top with fresh lemon zest.