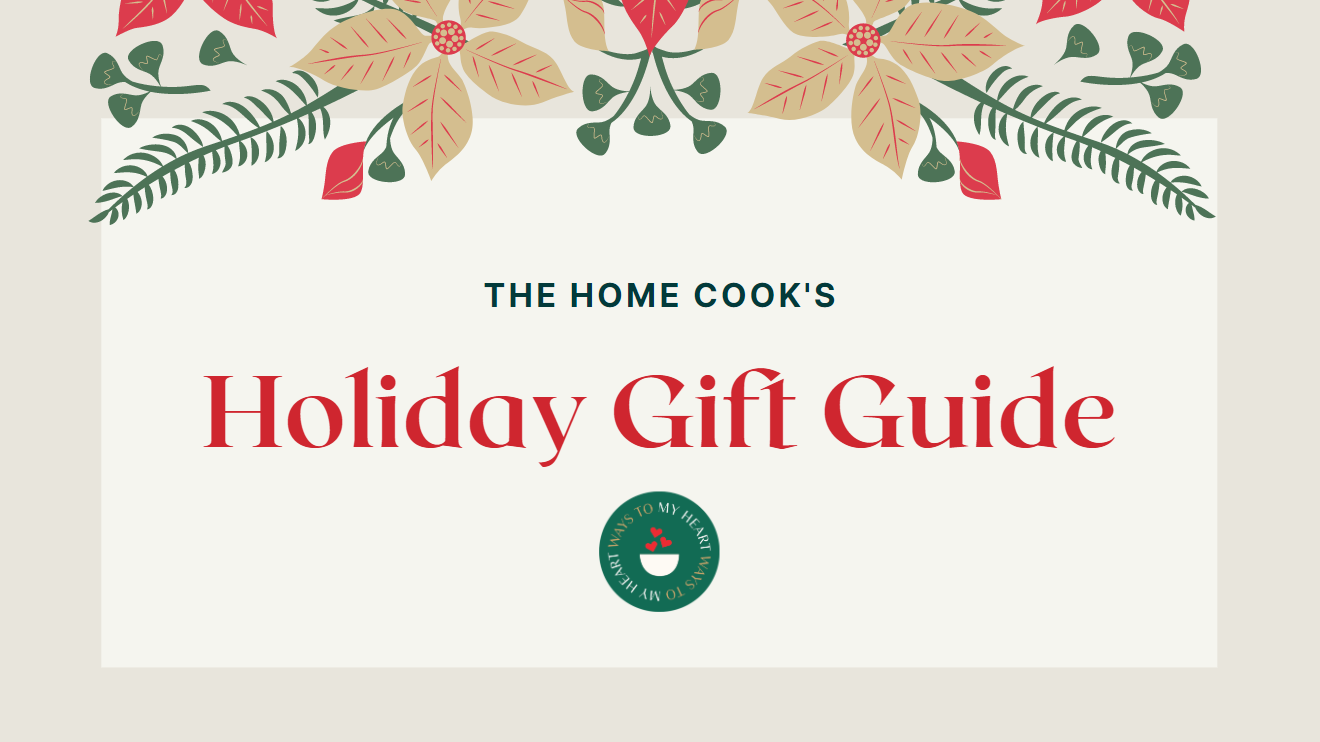 The Home Cook's Holiday Gift Guide
I hope this holiday gift guide for the home cook gives you some great ideas for gifting AND maybe a little something to add to your own wish list. Whether you're just starting out in the kitchen, or you've been cooking and baking for years, great cooking/kitchen items can make all the difference.
*some of the below links are affiliate links
Cookbooks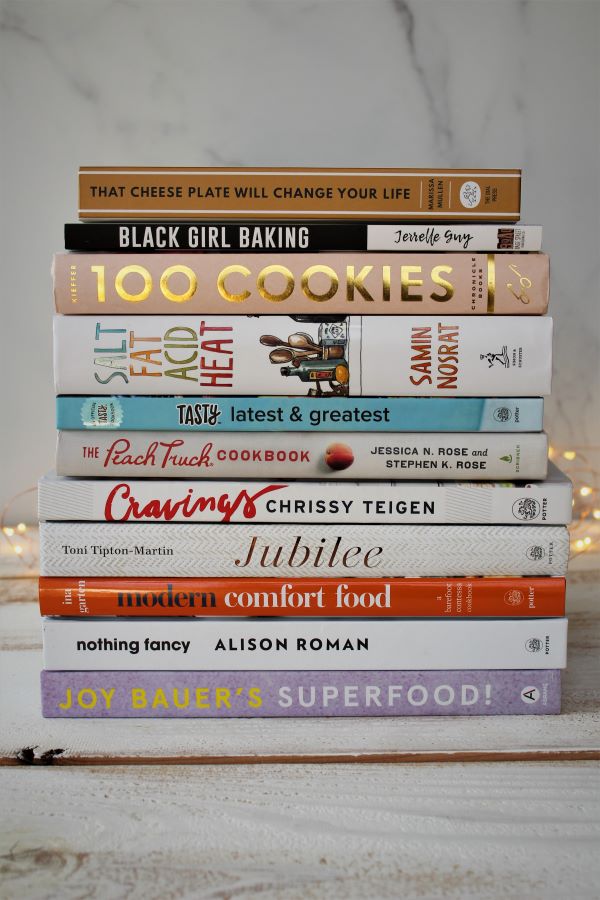 My cookbook stack seems to keep growing, but these are some of my recent favorites:
That Cheese Plate Will Change Your Life (all things gorgeous charcuteries!)
Black Girl Baking (beautiful pictures too!)
100 Cookies (local MN author, and so much more than cookies!)
Salt Fat Acid Heat (perfect educational book for all cooks)
Tasty latest & greatest (fun simple recipes)
The Peach Truck Cookbook (so fun to use during peach season!)
Cravings (just plain delish recipes!)
Jubilee (beautiful stories of African American recipes)
Modern Comfort Food (simple ingredients, beautiful classic dishes)
Nothing Fancy (just like it says, great for simple entertaining)
Superfood! (healthy superfood recipes, treats too!)
If you're a huge cookbook fan like me, check out my Cookbook Club to get a new recipe from my cookbook collection sent to you each month! Sign up here!
Go-to Gadgets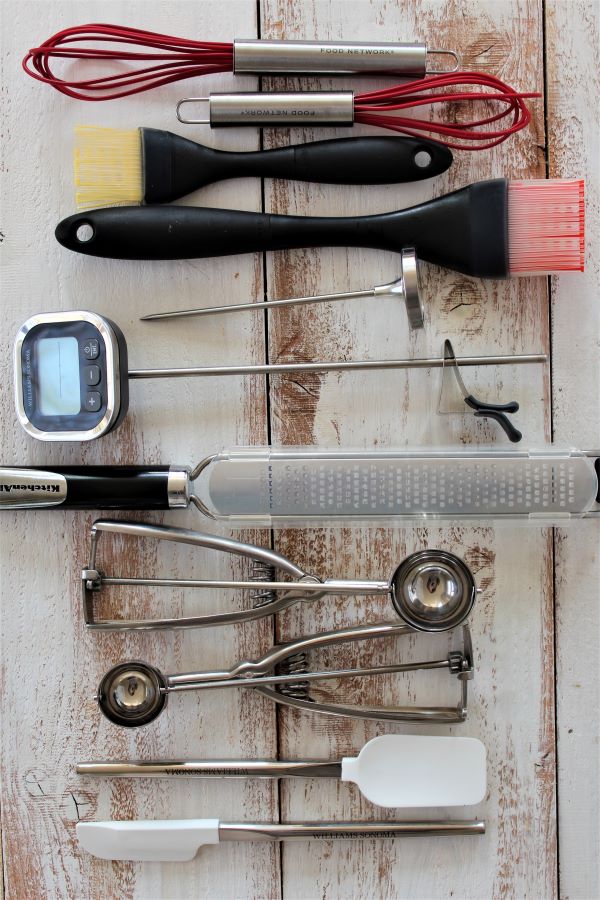 These are some of my DAILY use kitchen utensils, especially the mini whisks, scoopers, and basting brushes. The whisks are great for dressings or sauces, and the scoops are what I use for my Chicken Meatballs. Great for cookie dough too!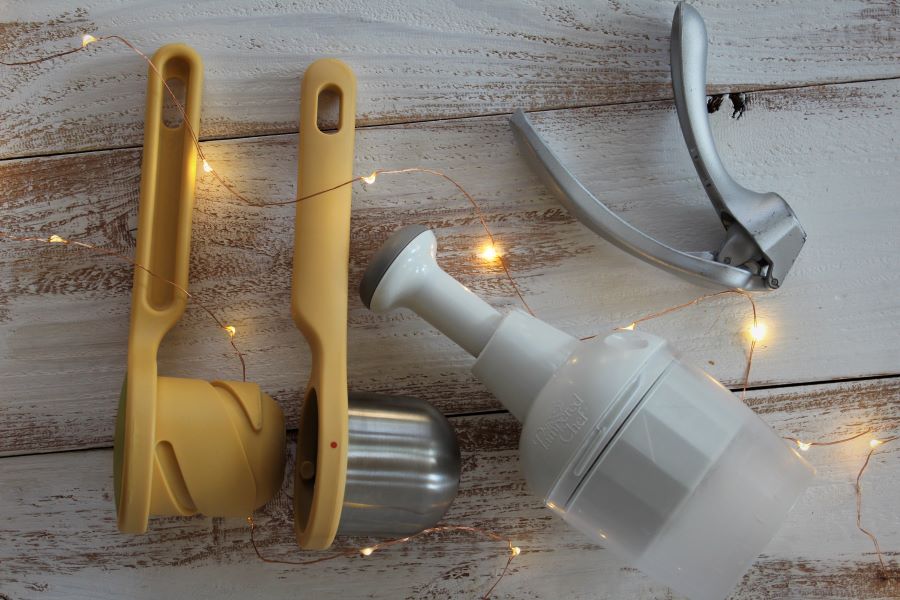 This chopper and garlic press are probably the two most used items in my kitchen next to a cutting board and knife. I use the chopper pretty much exclusively for onions (so easy) and I feel with a garlic press, you just get a better juicy garlic situation than mincing it with a knife. The yellow gadget on the left (citrus juicer) in the above picture was gifted to me, and I absolutely love it. Normally I would say a citrus juicer is one of those unnecessary kitchen tools, but this one is a dream! SO MUCH JUICE, and no seeds.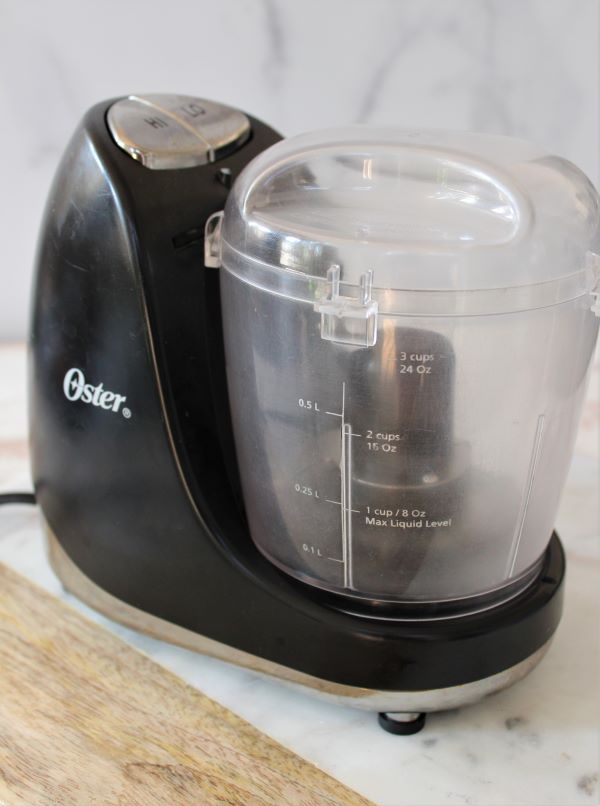 This small food processor has probably gotten more use than my large one. I also recommend a full size one if you don't have it, but I'm featuring this mini! So prefect for dressings and sauces, and crushing cookies or graham crackers!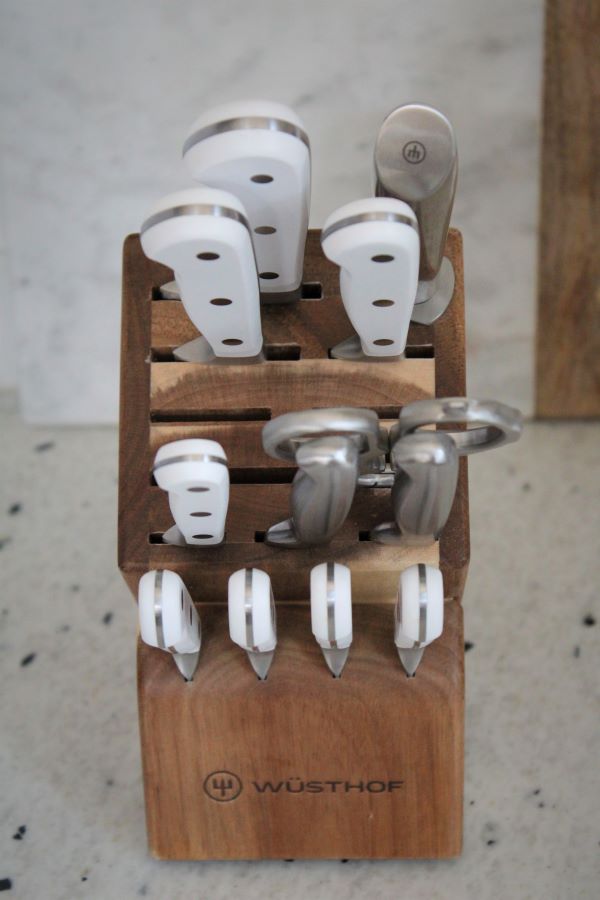 I purchased this knife set after I knew we were moving. I had my previous set for over 10 years and it was just time. I've been using these for the last 7 months and love them. High quality, feel good in the hand, and stay sharp if you hon them regularly. Spendy but definitely an investment set that should last a really long time if you take care of them!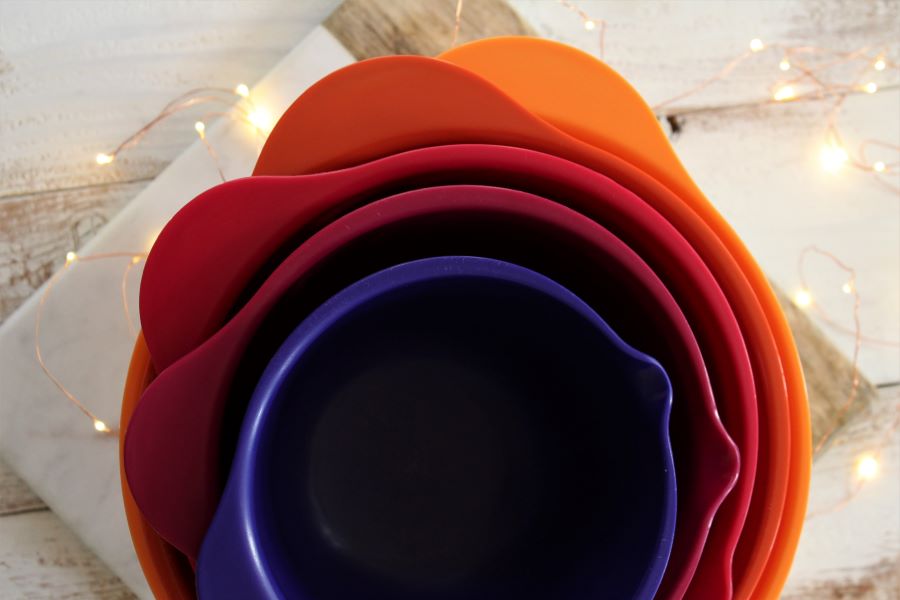 I love this stackable mixing bowl set. Pretty sure they were a wedding gift or something that was gifted to me a long time ago. I still use these daily, and the size range is great. The small one is great for personal sized salads or dressings. The largest one is perfect for mixing meatballs or making dough!
Kitchen Aid Mixing Bowls (3pc set)
Kitchen Aid Mixing Bowls (5pc set)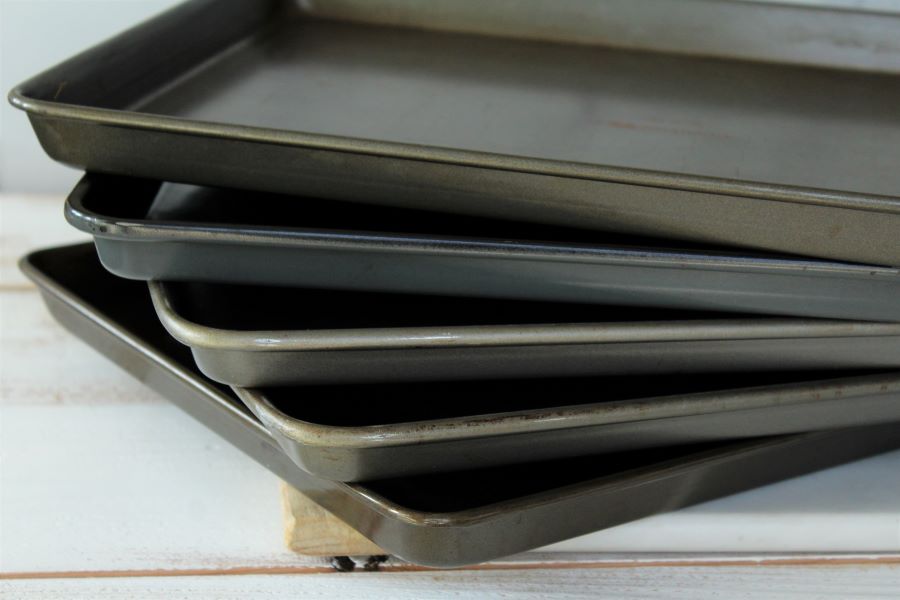 Cookie sheets, sheet pans, jelly roll pans…whatever you call them, they're a must! These are high quality that will last years. I use them for sheet pan meals, chex mix, cookie baking, brown butter pumpkin bars…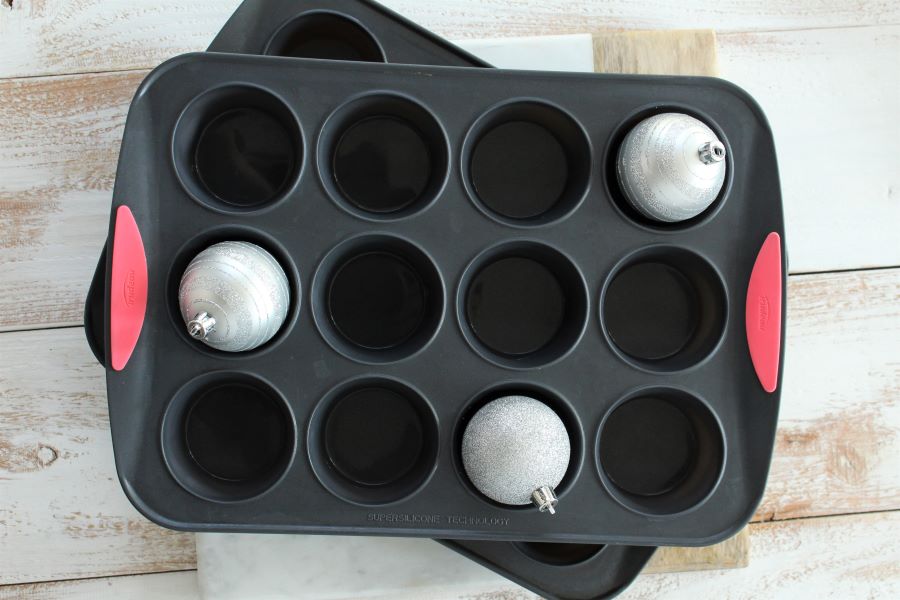 You've likely heard me rave about these in many posts. Silicone muffin pans are SO GOOD! I haven't used a cupcake liner since I got these. Everything just pops right out, and they clean up very well. Perfect for Meatloaf Muffins!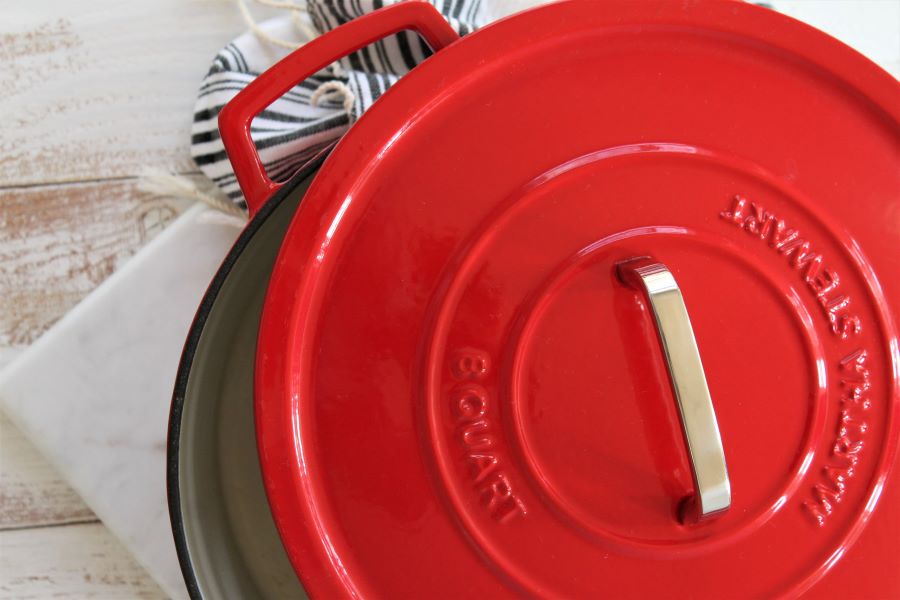 A large cast iron Dutch oven will last you a lifetime. Every time this makes an appearance on my stove, you know something delicious is happening. (like my Chicken and Wild Rice Soup) There are a lot of high-end brands that I also love, but this Martha Stewart one has performed just as well, at a much lower price point. If you're looking to spend a little more, Staub and Le Creuset are great.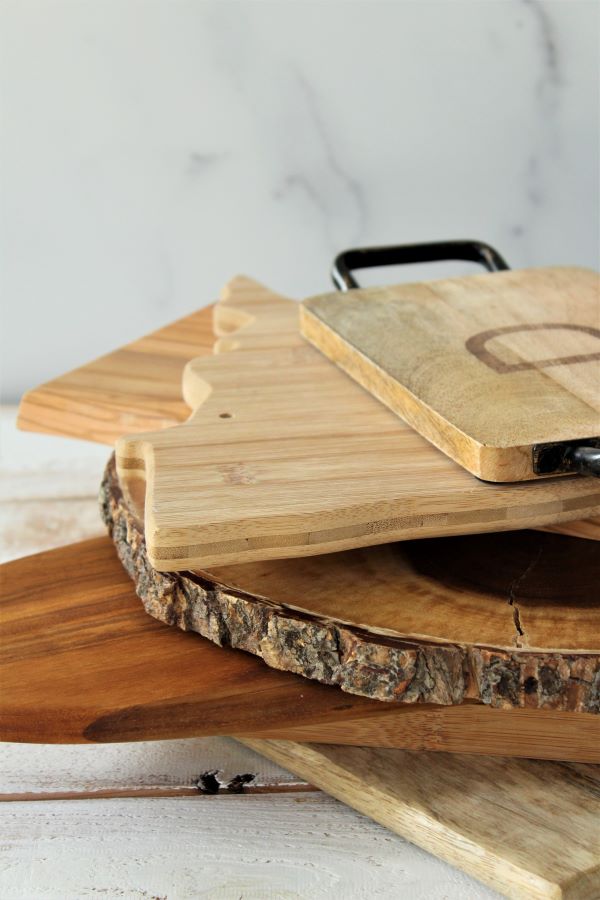 Fun cutting boards are always a must if you're entertaining and making small bites or charcuterie boards. I actually don't use any in the above picture for actual cutting, but more for displaying tasty bites! Here are a few of my favs:
Acacia Wood Octagon (set of 2, super cute!)
Wood Slab Serving Boards (similar to my round one in the picture)
Minnesota Shaped Board (local!)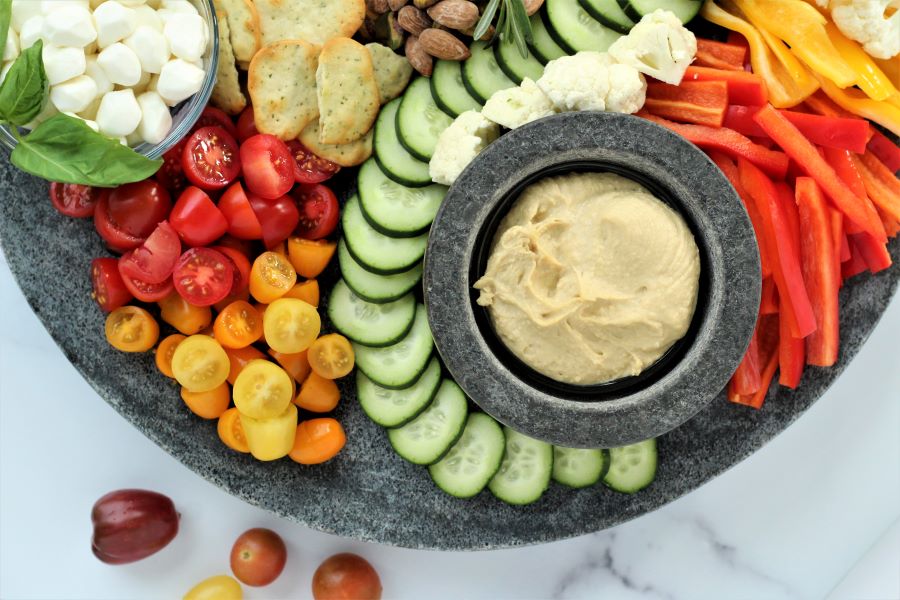 The grey platter shown here is actually a lazy susan from Pottery Barn. I keep it on my kitchen island with misc. items on it, but makes for a great snack tray.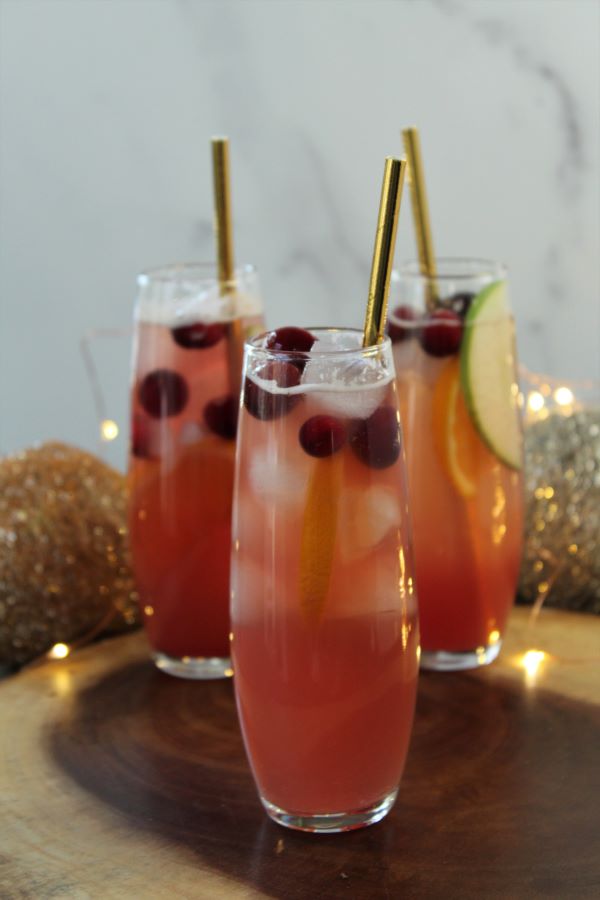 I think a set of fun cocktail glasses should be in everyone's cupboard. They just make the cocktail that much more fun, and don't forget the festive straws! The ones in the attached picture are from Target, but I am not able to find the exact set.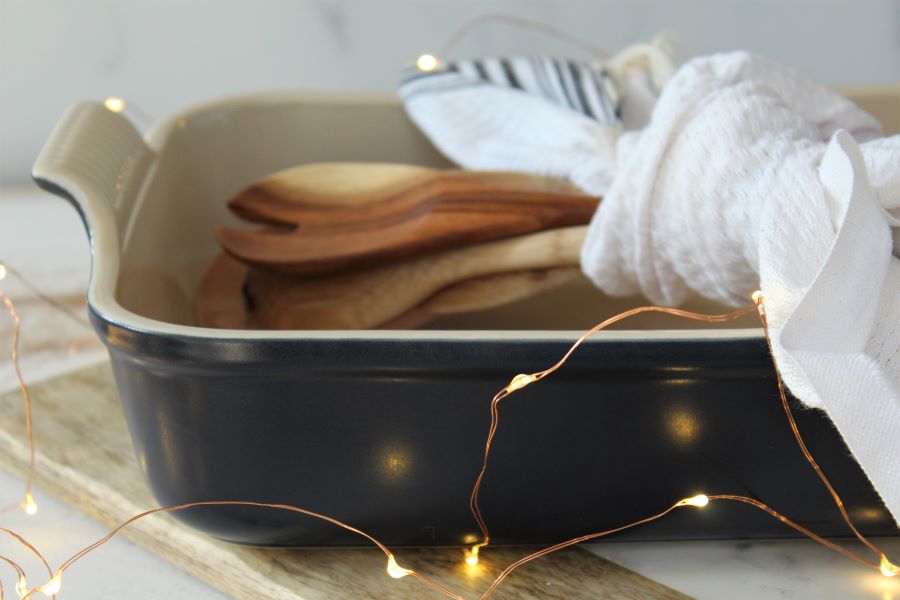 I LOVE a good casserole dish. I couldn't pass this one up when I saw it on sale. The matte navy matches my kitchen island!
Le Creuset Casserole Dish (they make a lot of fun color options!)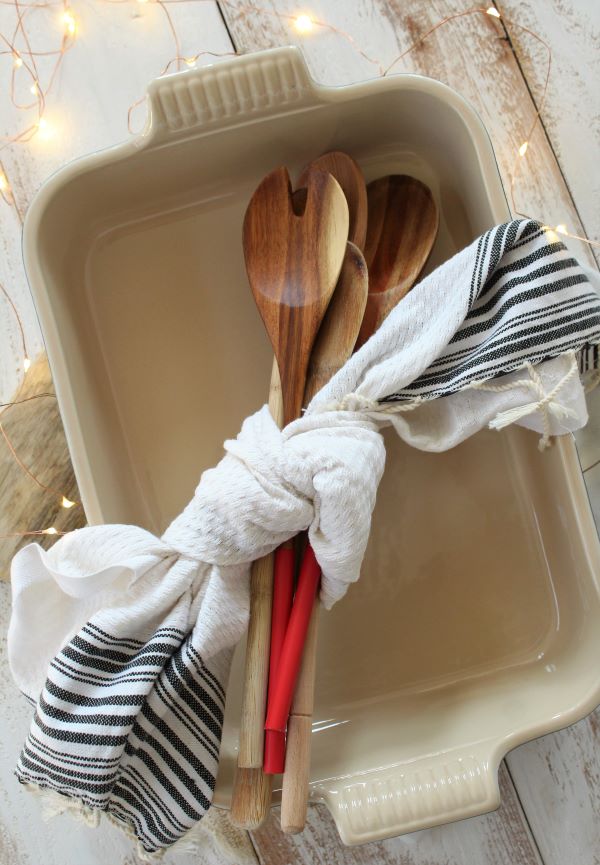 Wooden spoons are essential…another daily cooking tool for me. They last a long time, and can take on high heat.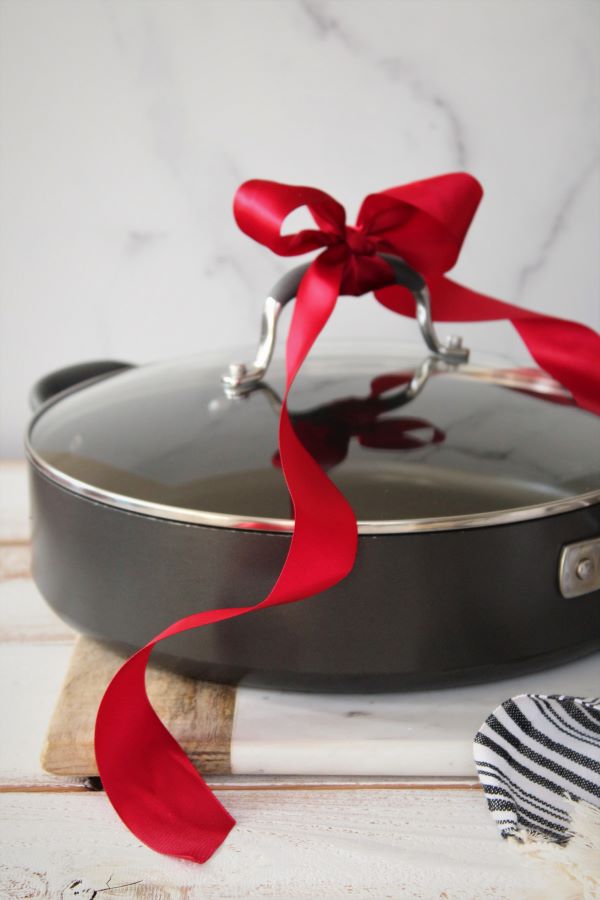 The skillet I cook dinner in 5-6 days a week! It's deep and I've had it for years. It's pretty heavy duty to lift with one hand, but I love it.
Here's a pretty gold colored one.
Anolon All Purpose Pan with Lid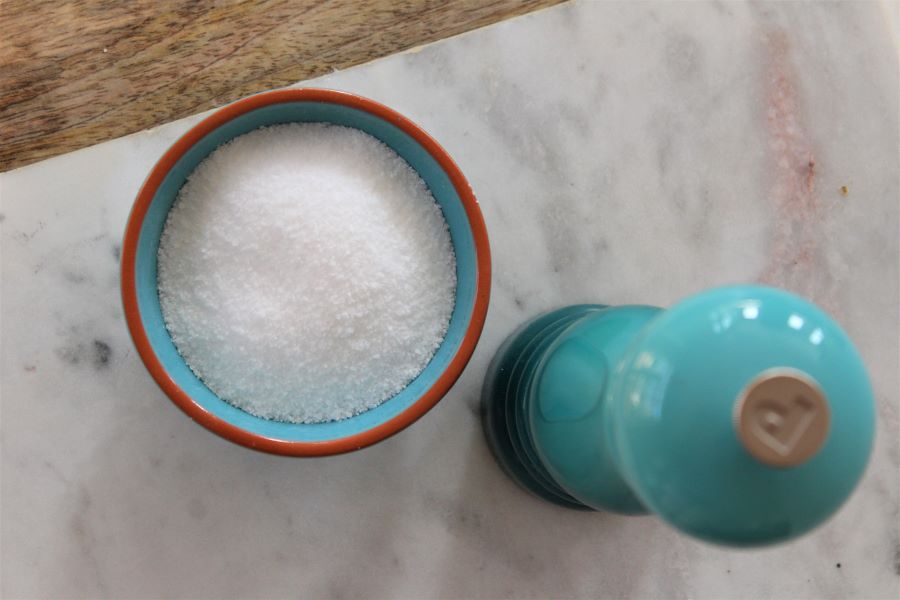 A matching salt bowl and pepper grinder make for great stocking stuffers, and they look great sitting out by the stove.
Le Creuset Salt & Pepper Mills (fun color choices!)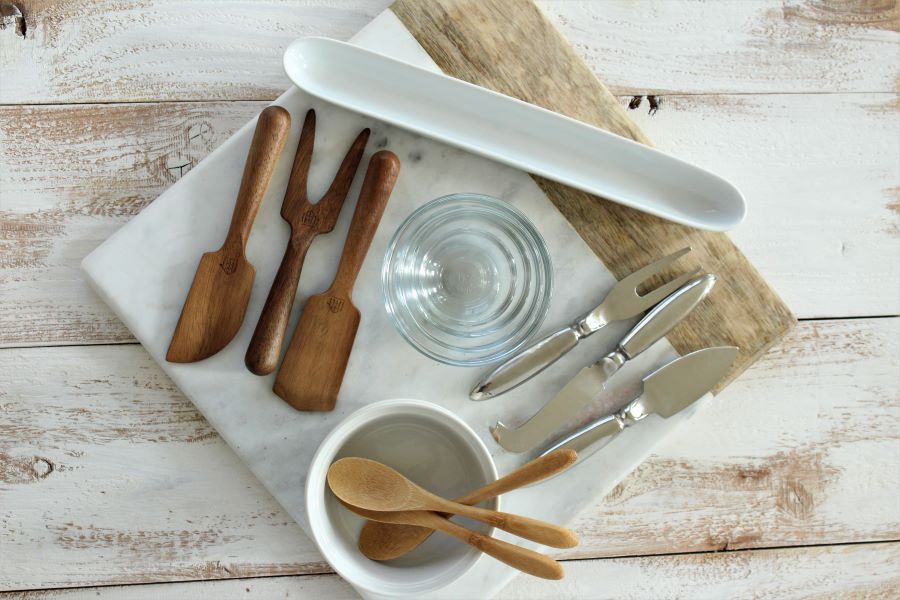 Essentials for a cheese board: small bowls for nuts, olives, and dips. And utensils for all the cheeses of course!
Marble & Wood Cheese Board (pictured above is from Crate & Barrel)
Stainless & Wood Cheese Utensils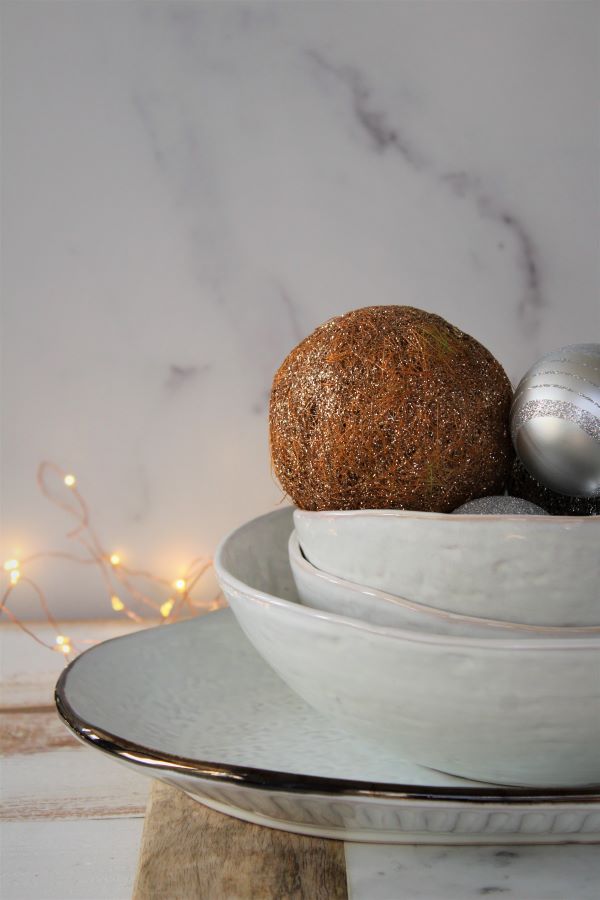 This set is from Target and it's Chrissy Teigen's collection, but it's older so I don't believe they have it anymore. Target has awesome home goods and cookware so that's a great place to check too. Here are some other pieces I like:
White Serving Platters (set of 3)
Ceramic Stoneware Bowl (set of 2)
If you love making homemade pizza, I HIGHLY recommend The Original Baking Steel as opposed to a pizza stone. I purchased this along with their cookbook and have made restaurant quality "wood fire" type pizzas in my own kitchen. Will last a lifetime too!
THANK YOU!
Thank you all so much for reading and checking out my holiday gift guide for the home cook! I had a lot of fun going through my kitchen and selecting my favs.
If you love what you see, please share with others, and let me know what you've found by tagging me on Instagram or Facebook!
Local MN friends, I'll be putting together a LOCAL guide to some of my favorite cooking/kitchen shops so stay tuned!
Happy Holidays!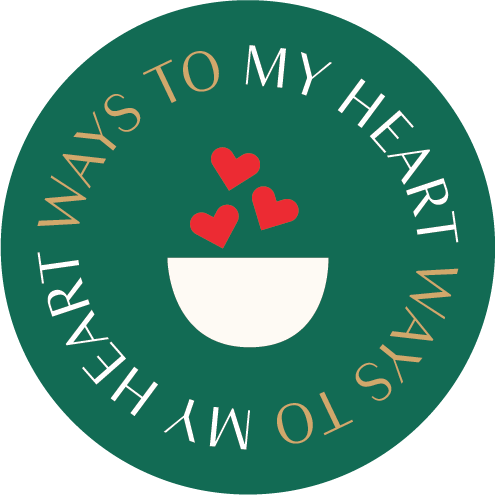 ~Laura