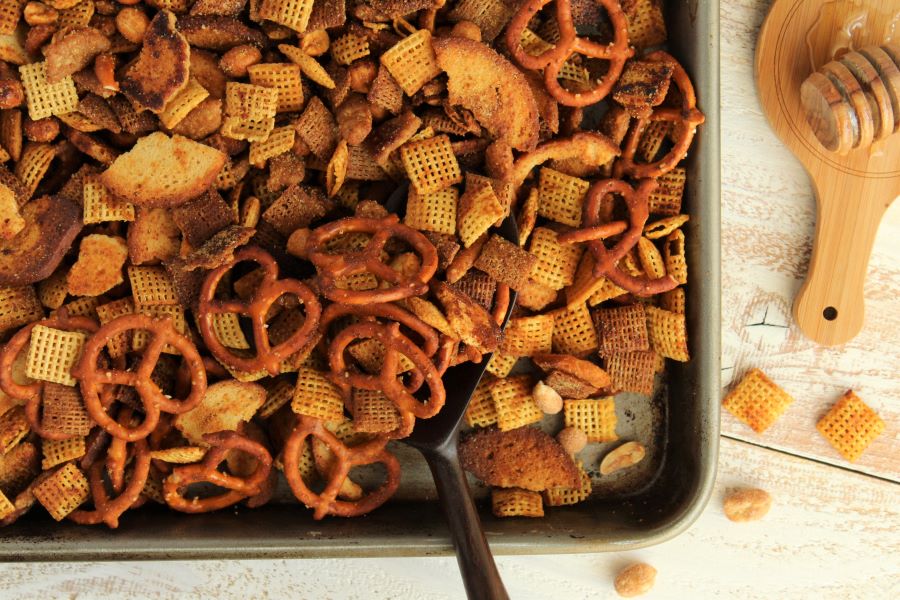 Honey Mustard Chex Mix
A new snack is in town, and it's Honey Mustard Chex Mix! Making chex mix has been a family tradition of mine since I can remember. As soon as my sister and I were old enough to be in the kitchen alone and know how to use the microwave, we were making chex mix…and yes…we used to microwave it. I always bake it now…it just get's so much crisper that way, and I love to get the little burnt pieces with extra flavor, yum!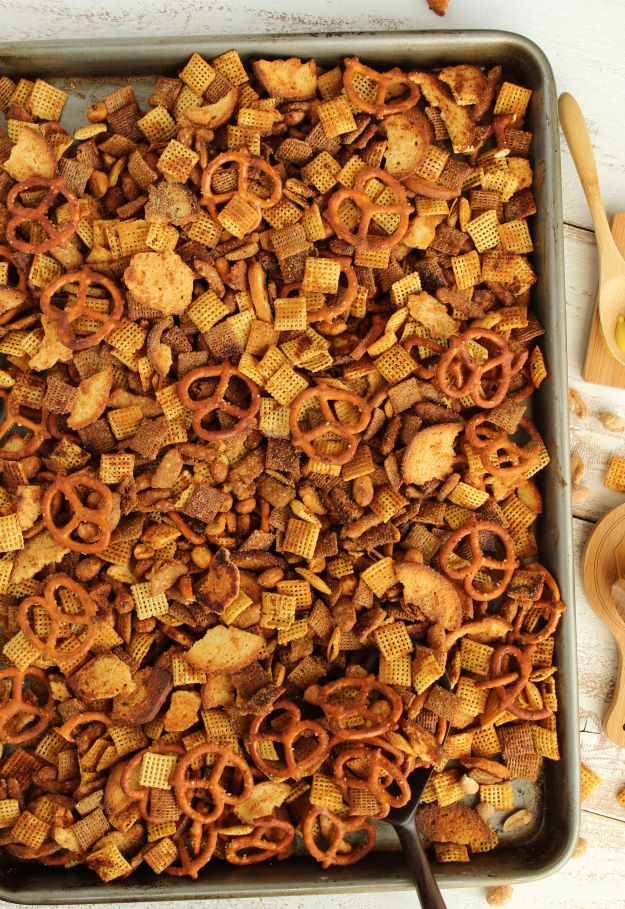 This version has some of the same ingredients as the original recipe I make, but with some additions like yellow mustard, honey, and ground mustard powder. The honey mustard is not overpowering, even for someone who may not like mustard. It's a subtle mustard flavor with a touch of sweet. It's definitely not that bold artificial flavor you get with honey mustard chips or other snacks. Chex brand has many different varieties of cereal, but any corn or rice cereal works great.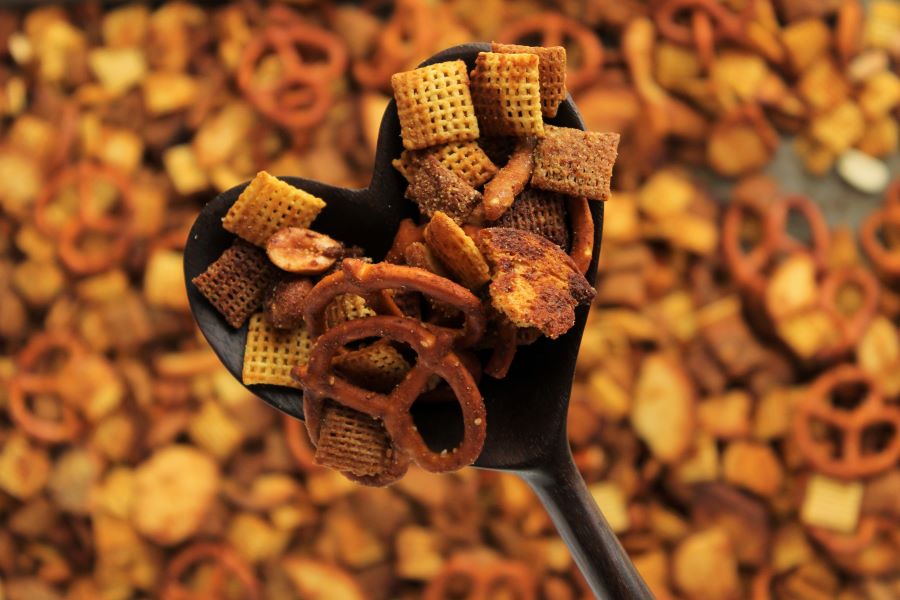 Snack mix is a great way to use up random cereal or half bags of pretzels you have laying around. Sometimes I even throw in Cheerios or goldfish. This is a simple thing to make with kids! There are plenty of opportunities for measuring dry items, and for helping to count.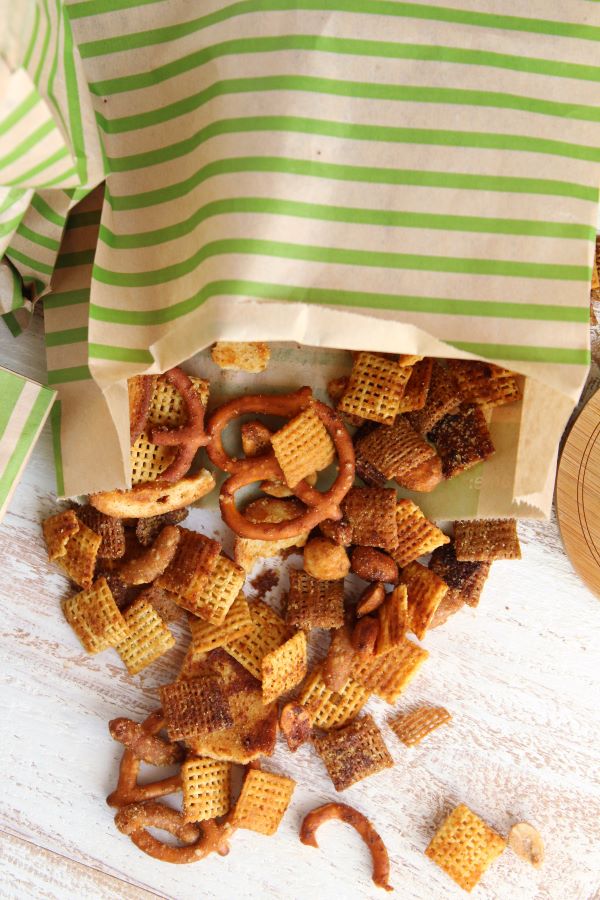 This is the perfect make ahead snack for long car rides, holiday party goodie bags, or family gatherings.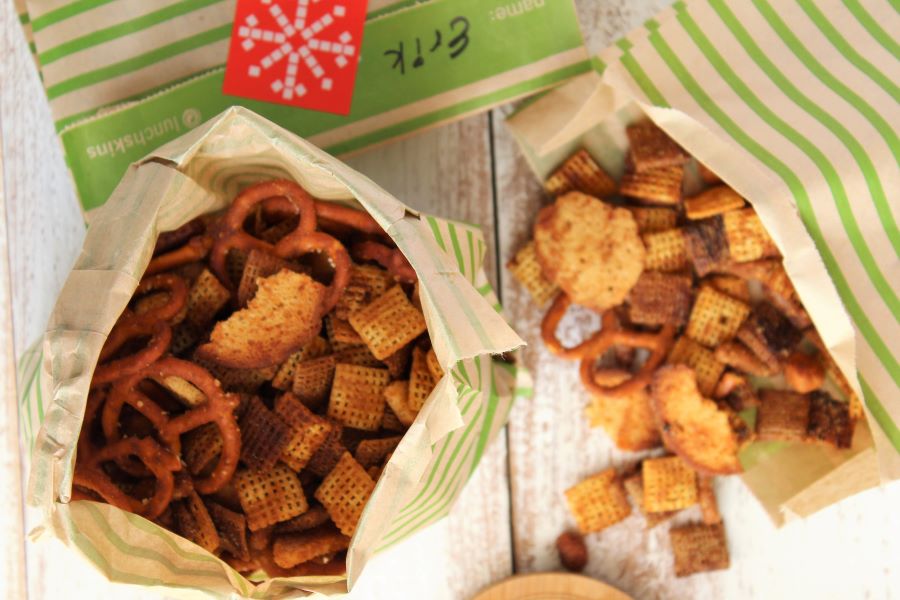 I've got a tasty sweet snack mix recipe for Cinnamon White Chocolate Snack Mix for the sweet snackers out there. I've also done that version as a little party take home treat for guests. With this honey mustard chex recipe, I have an optional powder seasoning to dust on at the end of baking. I've done it both ways and in my opinion it does not make a ton of difference so it's up to you!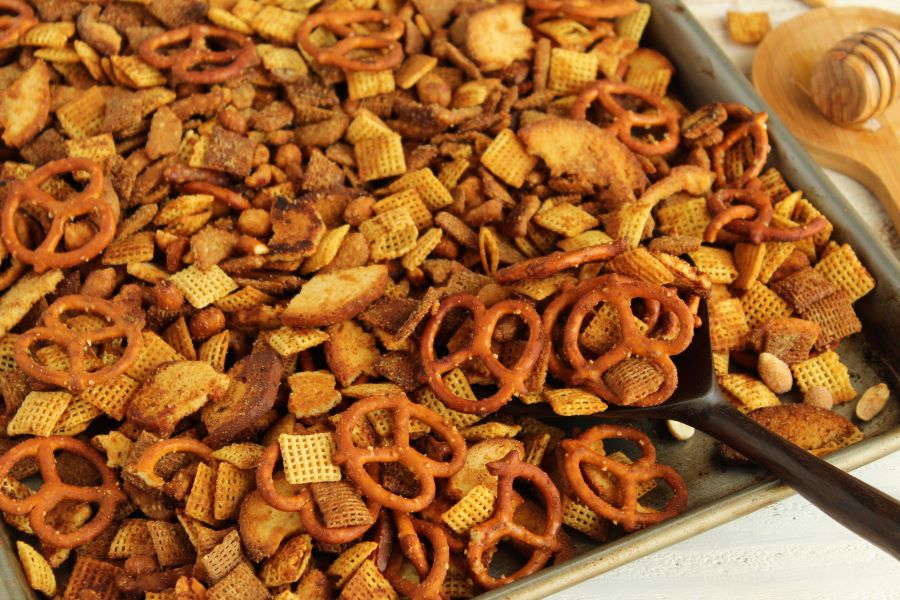 Enjoy!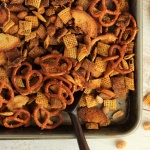 Honey Mustard Chex Mix
Ingredients
Dry mix
4

cups

corn chex cereal

2

cups

wheat chex cereal

2

cups

pretzels

1+

cups

bagel chips

broken to pieces

1

cup

honey roasted peanuts

1/2+

cup

sesame sticks

1/2+

cup

bran sticks
Sauce
5

tbsps

unsalted butter

1/4

cup

yellow mustard

3

tbsp

honey

2

tbsp

Worcestershire sauce

1

tsp

onion powder

1

tsp

garlic powder

2

tbsp

mustard powder

1/2

tsp

kosher salt
Optional topping
2

tbsp

brown sugar

1 1/2

tbsp

mustard powder
Instructions
Preheat oven to 250 degrees.

Add all of the dry mix ingredients into a large bowl and set aside. In a saucepan, melt the butter over medium-low heat, whisk in the rest of the sauce ingredients until well blended, remove from heat.

Pour the sauce over the cereal mix. Toss gently with a wooden spoon until all coated. Divide onto two large baking sheet pans. Spread into a somewhat flat layer so that it bakes evenly. Bake for 20 minutes, then stir and rotate pans. Bake for another 20 minutes, and stir and rotate. Bake for a final 5-10 minutes or until crisp.

Spread onto foil or paper towels to cool completely. Store in an air tight container.
Optional
Combine brown sugar and mustard powder and sprinkle over hot chex, just as it comes out of the oven. I'm indifferent on this step, but it gives you more of that outer layer of seasoning.
Recipe Notes
Add in any extra crunchies that you like, sometimes I use goldfish crackers or Cheerios, but they could get soggy in this recipe since they are so small. The bran sticks and sesame sticks I find my the bulk nuts and candy section of my grocery store.
The optional seasoning at the end doesn't necessarily add any flavor, it is more for that exterior powder seasoning feel that you get from packaged snacks if you're into that.