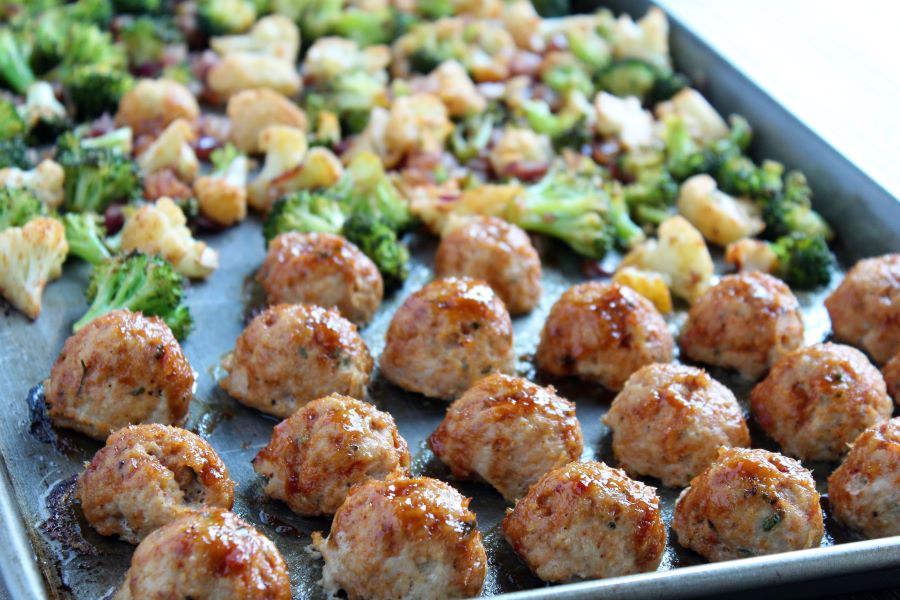 Sheet Pan BBQ Chicken Meatballs & Veggies
Any hot meal made in under 30 minutes, like this easy sheet pan bbq chicken meatballs meal is a huge win in my book! It's really simple, and a lot of the flavors come from your spice rack. It's healthy, really tasty, and something the whole family will love!
If you're a regular reader, you know I create a lot of recipes surrounding my All Purpose Meatballs or All Purpose Chicken Meatballs. These are actually NOT from my freezer stash! They're made fresh with the recipe, but are similar in taste to my others! You could certailly make these with turkey, beef, pork, or a combo of proteins, but I just like the texture of how the chicken meatballs come out.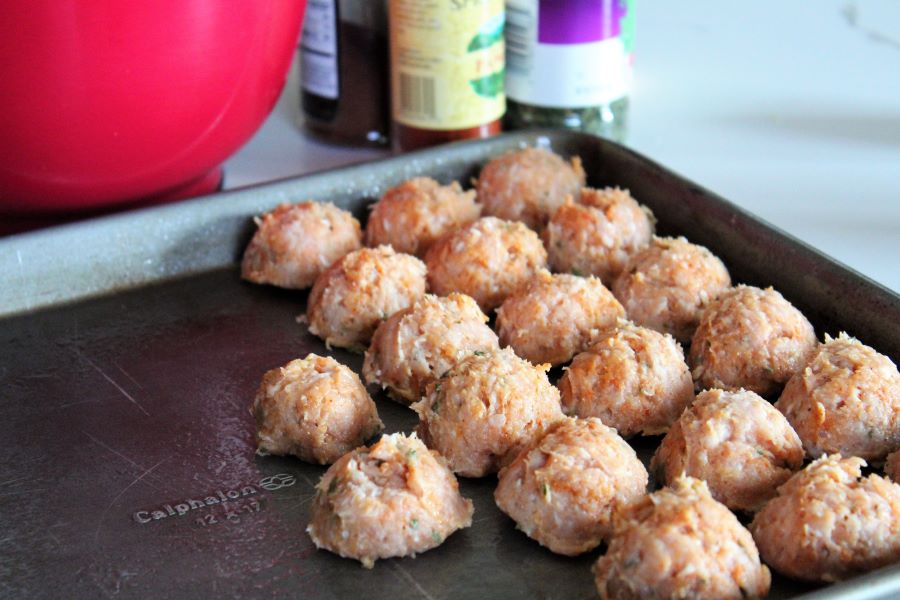 One pound of chicken will make about 20 meatballs, which is perfect for about 4 servings. They should take up about 1/3 of your sheet pan, leaving the other 2/3 of the pan for your veggies.
I used similar ingredients with the veggie mixture to mirror the flavors of the meatballs. If you like things a little spicy you could add a dash of red pepper flakes or sriracha! I used broccoli and cauliflower because they are quick roasting vegetables. Since the meatballs only take about 15 minutes to bake, you can't really pair them with a root vegetables that take 25-35 minutes to roast. If you really wanted to have roasted carrots, potatoes, or brussels you could certainly do those, but just give them a 15 minute head start in the oven while you make the meatballs. If you've got kids or other family members that are not huge fans of vegetables, add sprinkle of cheese towards the end. I like you use Parmesan!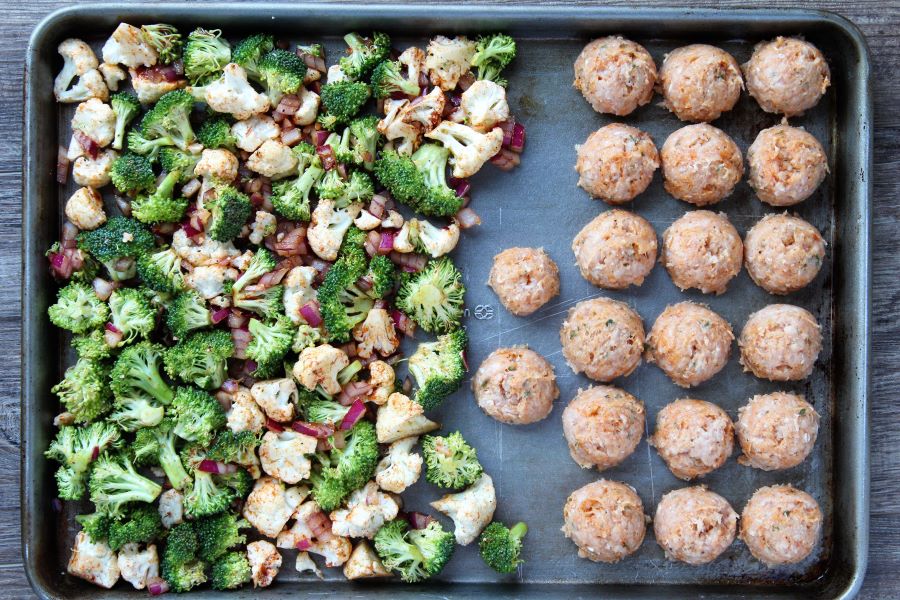 This sheet pan bakes up super quick in only 15 minutes! After 10 minutes, just give the meatballs a hearty brush of your favorite bbq sauce, and throw them back in for another 5 minutes.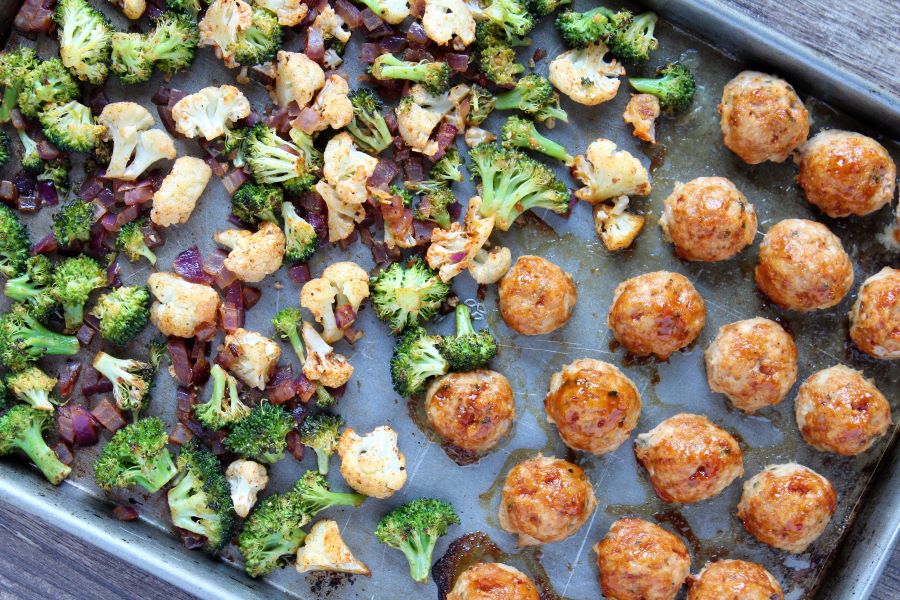 If you're worried about having raw chicken on the same pan as your veggies, don't be! It all cooks under the same temp and all becomes fully cooked, so you're never eating anything raw…unless of course you don't cook it fully! Make sure to check out my popular sheet pan meal from last year: Smoked Chicken Sausage and Veggie Bake
If you're looking for other sheet pan meal ideas, check out some other fabulous blogger recipes linked below, and make sure to check back as I add more links! Thanks to Sarah from Slice of Honey for organizing this fun blogger collaboration!
Sheet Pan Shrimp Fajitas by Slice of Honey
Curried Pork Chops and Potatoes by Blogtastic Food Photography
Italian Stuffed Portobellos and Garlic Breadsticks by Hangry White Male
Gnocchi and Sausage by One Girl One Kitchen
Harissa Chicken with Broccolini and Chickpeas by With Spice
Easy Sheet Pan Sausage and Veggies by Julia Recipes
Sheet Pan Chicken Fajitas by Keeping it Simple
Dukkah and Parmesan Chicken Tray Bake by Cupcakes and Couscous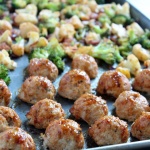 Sheet Pan BBQ Chicken Meatballs & Veggies
Ingredients
For the Meatballs
1

lb

ground chicken

1/4

cup

almond flour

1

tbsp

BBQ sauce

1/4

tsp

garlic powder

1/4

tsp

onion powder

1/4

tsp

smoked paprika

1/4

tsp

chili powder

1/2

tsp

dried parsley flakes

1/4

tsp

salt or seasoned salt

1/4

tsp

black pepper

1/4

cup

BBQ sauce

for basting
For the Veggies
1+

cup

small cauliflower florets

1+

cup

small broccoli florets

1/4

small

red onion

chopped

1

tbsp

olive oil

1

tbsp

BBQ sauce

1/4

tsp

garlic powder

1/4

tsp

smoked paprika

salt and pepper
Instructions
Preheat oven to 400 degrees. Spray a large baking sheet pan with non-stick cooking spray.

In a medium bowl, gently combine all of the chicken meatball ingredients (except the 1/4 cup BBQ for basting) until well combined. Form into about 20 meatballs, and place on the baking pan.

In a separate bowl, combine all of the veggie ingredients. Stir to coat all veggies and arrange in a flat layer on the same baking pan as the meatballs.

Bake for 15 minutes, remove from oven, and brush meatballs with BBQ sauce. Return to oven and bake for another 5-7 minutes. Serve immediately!
Recipe Notes
Because these meatballs bake up so quickly, it's important to use quick roasting veggies like broccoli and cauliflower. If you wanted to add in other veggies like potatoes or brussels sprouts you would want to give them about a 10-15 minute baking lead time before you add the meatballs to the pan.
Makes for a great lunch prep too!
If you have family members that have a hard time eating their veggies, try adding a sprinkle of cheese towards the end, like Parmesan!