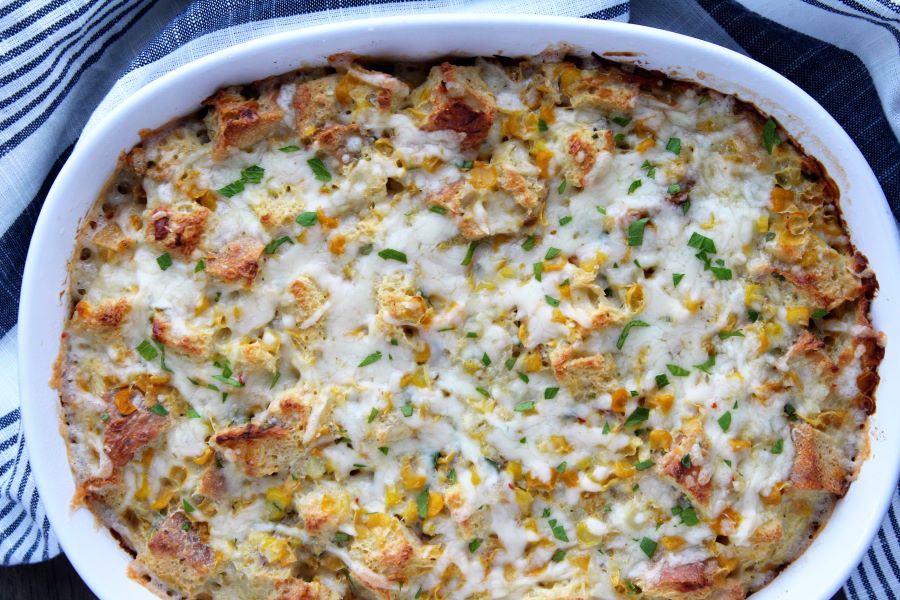 Sweet Corn Bread Pudding
This sweet corn bread pudding was inspired by a recent trip to St. George, Utah. My husband and I went on a little combo golf/Vegas trip this summer. Some stunning golf courses with amazing views! I documented a lot of the trip via Instagram in my Utah stories, and you can catch that highlight here (it may only work via mobile).
We had a beautiful dinner at The Painted Pony Restaurant in St. George where Erik had this sweet corn bread pudding as a side dish to a fabulous pork chop. I've never really had a savory bread pudding, but I suppose traditional Thanksgiving stuffing is the closest. It was so so good, and I immediately knew I had to re-create this at home.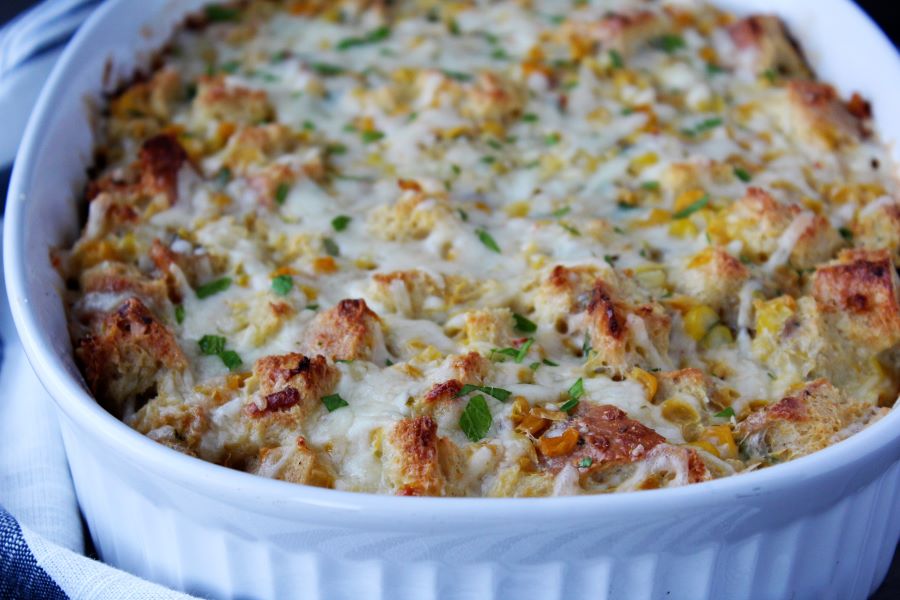 I wanted to add a good amount of other flavors in with the corn, and green chiles are always a tasty southwest flavor without adding heat. Jalapenos would also be really good in this if you are looking for an extra kick! Charred poblanos would have been my first choice, but unfortunately I could not find any. I also used some pepper jack cheese to give it a little more of the spice I wanted. The Gruyere cheese adds a nice sharp bite, and really pairs well with the other flavors.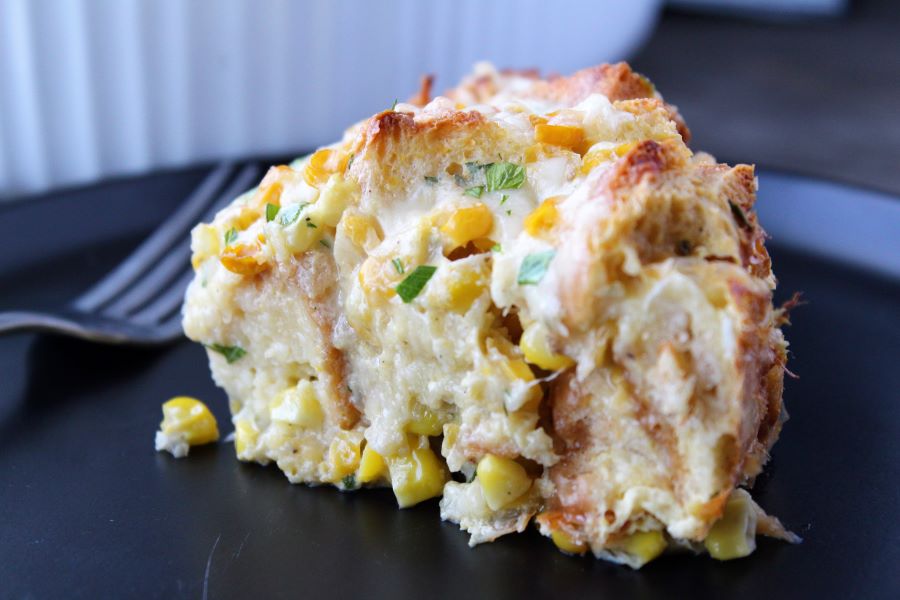 Fresh sweet corn was still in season when I made this, otherwise I would have used frozen. Once it is no longer fresh, you can use frozen which is your next best bet after fresh. I love the fire roasted variety in the freezer section, it just adds that charred smoky flavor. The same variety can be found in my Chicken Corn Chowder with Fire Roasted Peppers and Onions. I picked up a couple different breads from the bakery section, and ended up only using one of them. It was a roasted garlic variety so had chunks of roasted garlic throughout which I thought would add a great level of flavor. Definitely grab something from the bakery section, and not your traditional sandwich loaf from the bread isle.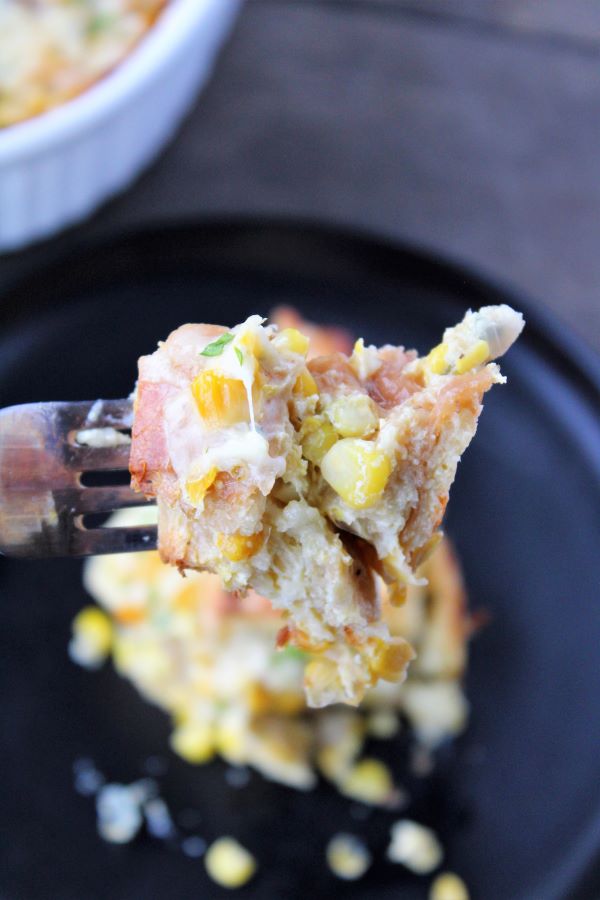 This makes such a great side dish and feeds a crowd! I like to serve it with some BBQ ribs, a pork or beef roast, or some tasty pork chops! It also reheats really well which I was a little skeptical on, but made great leftovers! It also doesn't have to be served piping hot out of the oven, it stays really warm if you cover it after baking.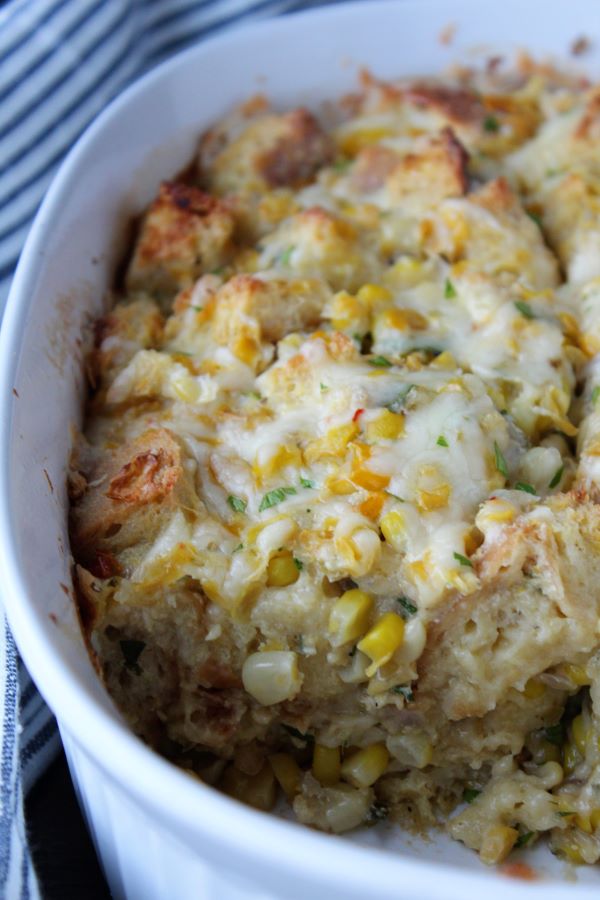 This would be wonderful paired with some of these below recipes. Enjoy!
All Purpose Slow Cooker Pork Roast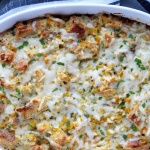 Sweet Corn Bread Pudding
Total Time
1
hour
20
minutes
Ingredients
1/2

lb

stale bread, cut into 1 inch cubes

bakery style, see notes

1

tbsp

olive oil

2

cloves

garlic

minced

1/4

medium onion

minced

2

ears

sweet corn

off the cob

1

tbsp

fresh chopped parsley

salt and pepper

1/2

cup

Gruyere cheese

grated

1

cup

pepper jack cheese

grated

4

oz can

diced green chiles

4

eggs

1

cup

creamed corn

from the can

1

cup

milk

additional salt and pepper to taste
Instructions
Heat olive oil in medium skillet over medium heat. Add minced onions, garlic, and fresh sweet corn. Season with salt and pepper. Cook for about 5-10 minutes, remove from heat. Cut the bread into 1 inch cubes.

Combine the cooked vegetables, bread cubes, parsley, green chiles, and grated cheeses. Toss together in a large bowl. Spray or butter a 2-quart baking dish. Pour bread mixture into baking dish, press down gently to pack in. Set aside.

Preheat oven to 350 degrees. In a medium bowl whisk together eggs, milk, creamed corn, and salt and pepper. Pour the egg mixture evenly over the bread. Let sit for 5-10 minutes to allow the bread to soak up some of the liquid. Press down gently to compact the bread a bit.

Place in preheated oven and bake for 45 minutes or until golden brown. Sprinkle with additional pepper jack cheese if desired when there is about 5 minutes of baking time left.

Allow to rest for about 5 minutes before cutting and serving. Enjoy!
Recipe Notes
I used a roasted garlic bakery loaf that I found in the fresh bakery section of my grocery store. It was similar to a sour dough bread. The roasted garlic just added another layer of flavor. Just pick a bread that has some density, not your average loaf of bread from the bread isle.
You could also add diced canned jalapenos for added spice.
This would also be fun made in individual ramekins if you are serving for a small dinner party, baking times may vary.