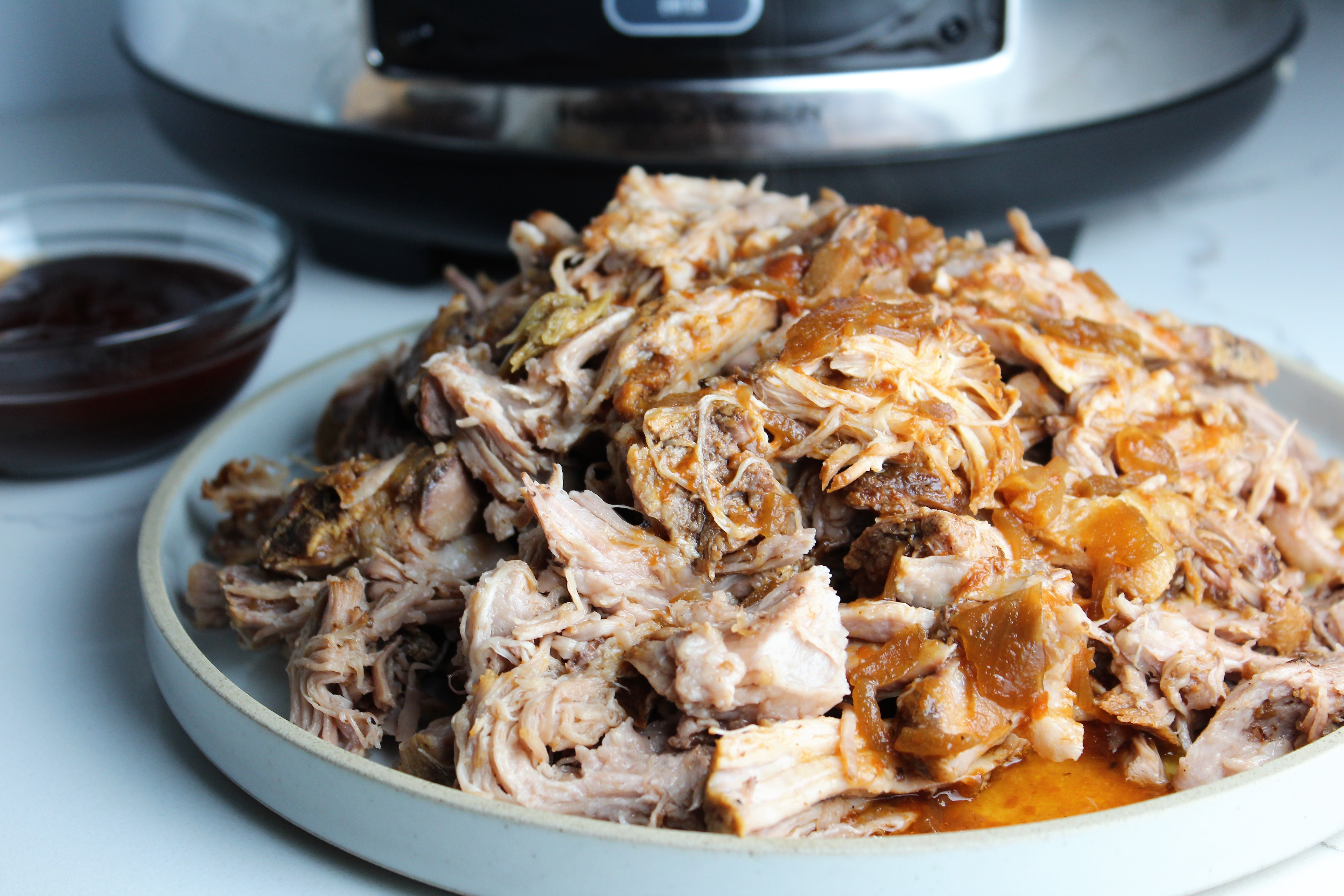 Slow Cooker Pulled Pork
This recipe is so simple and perfect for a weeknight meal with leftovers! Who doesn't like to come home to the aromas of a slow cooker meal roasting all day long? Yum! This recipe is great if you are looking to feed a crowd, or even freeze leftovers for a later meal. I love to use leftovers to make an entirely different meal the next day. Try my Pulled Pork Topped Sweet Potatoes,  and you have to try my Asian Pork Tacos with Spicy Slaw with your leftovers, so good! The spicy slaw would also go great on top of a pulled pork sandwich.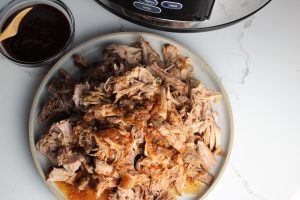 Leftovers!
More leftovers!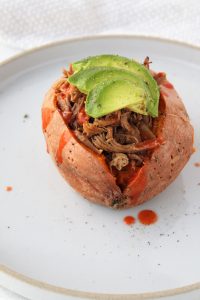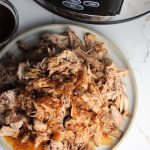 Slow Cooker Pulled Pork
Ingredients
3.5-4

lb

pork shoulder roast

1

can

French onion soup

3/4

cup

ketchup

1/4

cup

BBQ sauce

1/4

cup

apple cider vinegar

3

tbsp

brown sugar

4

cloves

garlic, whole but smashed

salt and pepper
Instructions
Combine the soup, ketchup, BBQ sauce, cider vinegar, and brown sugar in a medium bowl, whisk until combined. Add salt and pepper to taste. Smash the garlic cloves with the side if a knife so that they are still whole, but broken. Drop in the garlic cloves into the sauce. This can be made the night before so it is ready for the next day.

Trim any excess fat from the pork roast. Season both sides with salt and pepper. Pour a little of the sauce into the empty cooker just to coat the bottom. Place the roast in the slow-cooker, and pour the remaining sauce over the top.

Cook on low for 8-10 hours or high for 4-5 hours.

Remove roast onto a sheet pan or cutting board and shred, it should basically fall apart as you are removing it from the crock. This is where you eat a few bites because you can't help it!

Skim some of the excess fat juices from the top of the slow cooker, leaving enough juice for the shredded pork to sit in. I take out about 1 cup of liquid. Add shredded pork back into the cooker.

Serve on buns, and top with your favorite BBQ sauce, some slaw, avocado, or crispy onion strings. YUM!
Recipe Notes
I like to add some sriracha to the sauce for some extra spice.
The last time I made this I swapped brown sugar for the low calorie Truvia brown sugar blend (see measurement conversions on the package).
I have only ever cooked on low for 8-10 hours, I have never tried the 4-5 hours on high version but I am sure it works just as well!
This makes such good leftovers, and the best Asian Pork Tacos!
Whole30 version-rub pork roast with approved spices and herbs. Use a medium chopped onion, and fresh garlic as a bed for the pork to sit on, and pour about 1 1/2-2 cups of unfiltered apple cider over the roast.