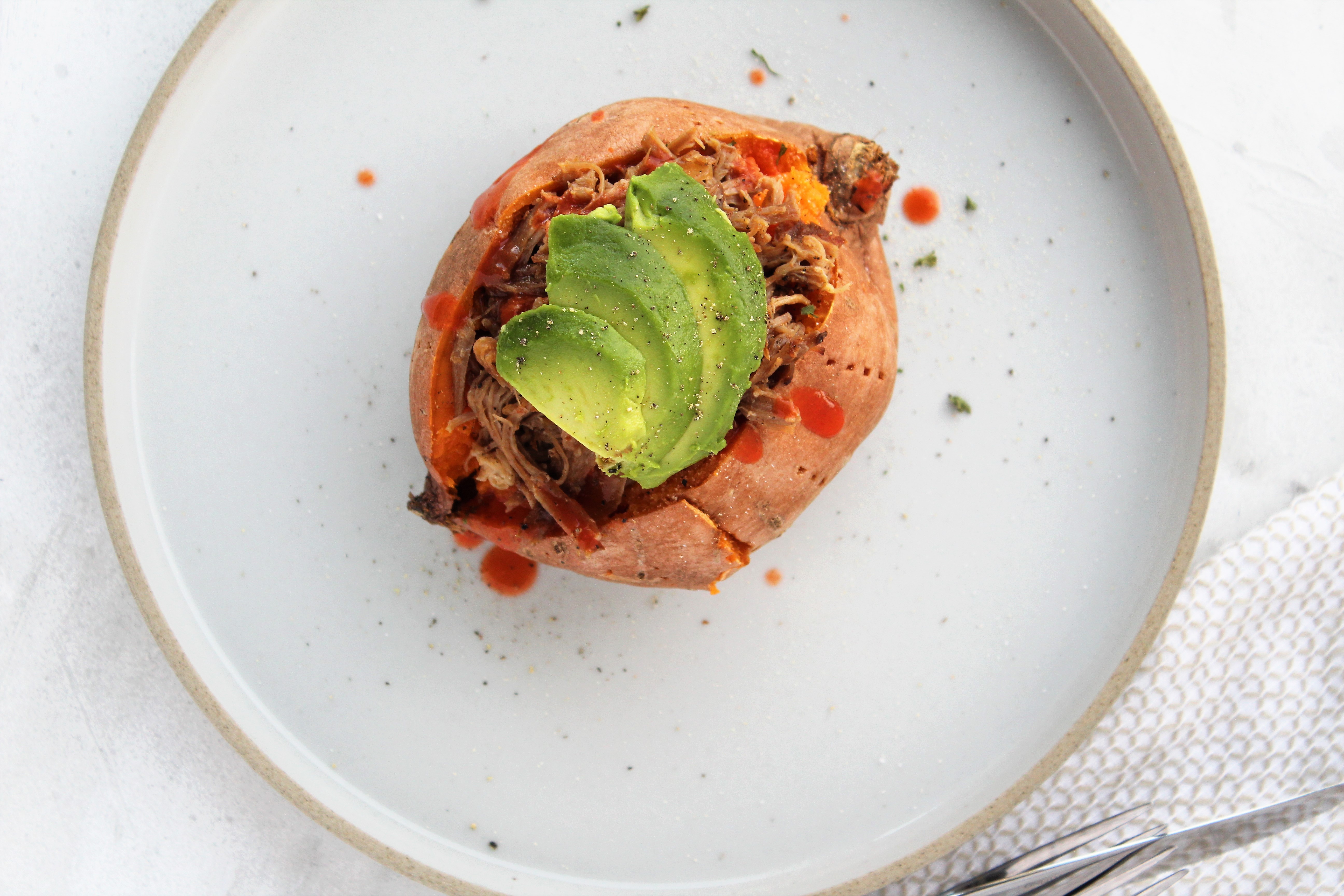 Pulled Pork Topped Sweet Potatoes
Leftovers alert! This tangy, sweet, and savory combination of leftover pulled pork roast, baked sweet potato, and cool creamy sriracha Greek yogurt is all so great together! I love combining savory ingredients with sweet potatoes. As they bake up they become even more sweet so the savory pork and cool yogurt topping is the perfect combination.
I actually had this leftover Slow Cooker Pulled Pork in the freezer for a couple weeks, and made an easy weeknight meal in under an hour! If you're not against microwaving your potatoes you could have this in about 15 minutes! Just another delicious and easy way to use up that pork roast. Looking for another leftover pork recipe? You MUST try my Asian Pork Tacos with Spicy Slaw, seriously good!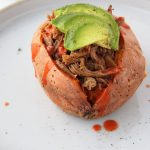 Pulled Pork Topped Sweet Potatoes
Ingredients
Leftover pulled pork

recipe link in blog post

2

medium sweet potatoes

rinsed

2

tbsp

butter or margarine

1/2

cup

plain Greek yogurt

1

tbsp

sriracha

salt and pepper

cooking spray
Instructions
Preheat oven to 400 degrees. Line baking sheet with foil, and spray lightly with non-stick cooking spray. Prick potatoes with a fork all over to allow steam to escape during baking.

Place pricked potatoes on foiled pan and bake for about 45 minutes or until fork tender. Flip over about halfway through baking time. The larger the potato the longer it will take to bake.

In a small bowl combine the Greek yogurt and sriracha. Set aside or refrigerate until ready to serve.

Just before potatoes are done, re-heat pulled pork until heated through. Slice open each potato, and top with butter and desired amount of pork. Season with salt and pepper to taste. Dollop with Greek yogurt topping. Enjoy!
Recipe Notes
If microwaving your potatoes, make sure to still prick with a fork. Microwave 5 minutes at a time, and rotate and check for doneness each time. 
Sour cream can be used instead of Greek yogurt, but yogurt has just replaced sour cream in my house, and you can't tell a difference! 
Whole30 version-just use ghee on the potato and omit the yogurt/sour cream topping, replacing with avocado and hot sauce! Make sure to make the pork roast using my Whole30 version.