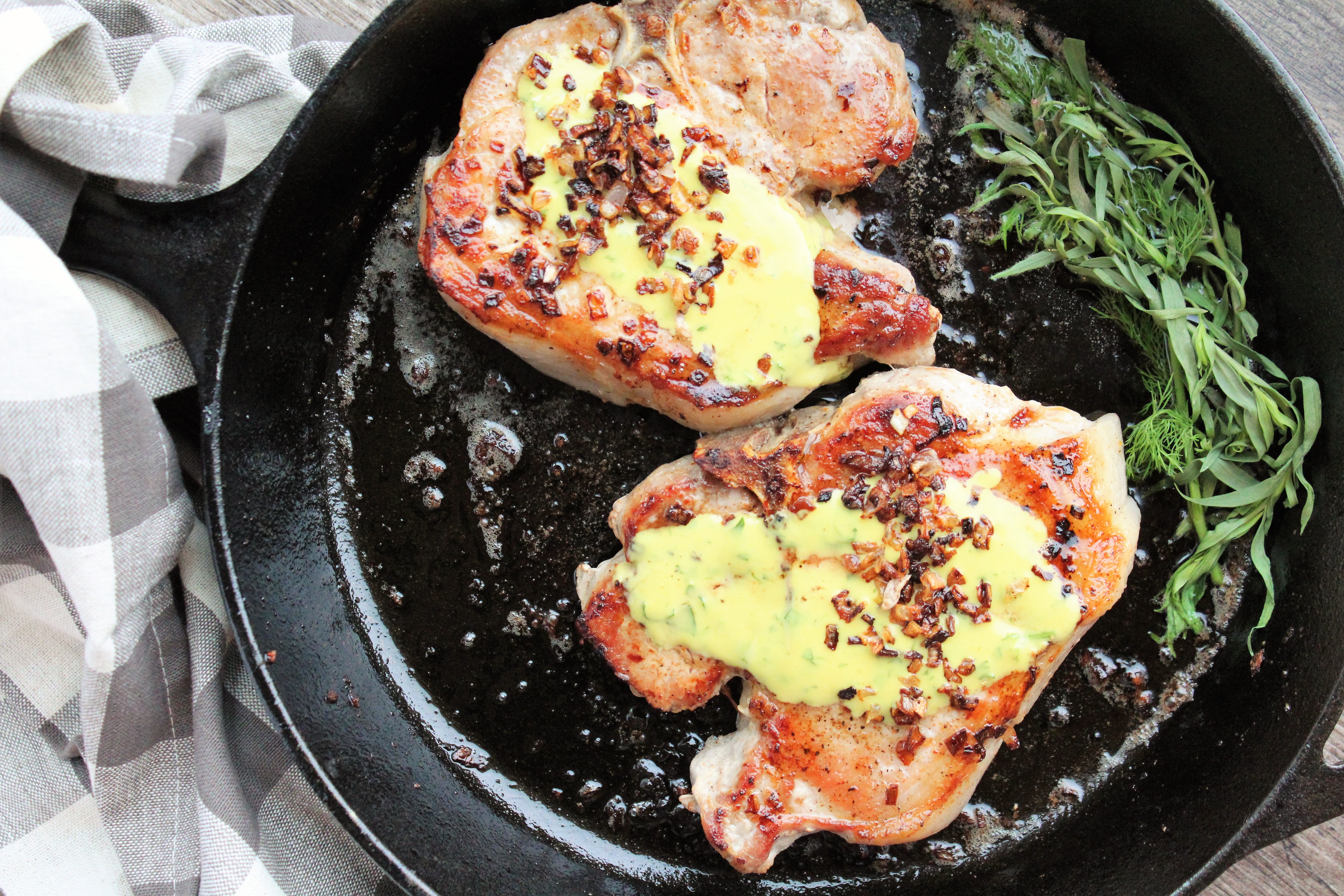 Brown Butter Pork Chops with Herbed Honey Mustard and Crispy Shallots
This sounds and looks fancy, but trust me, it really isn't!  A few simple ingredients, and about 30 minutes later you have a delicious and unique protein! I love honey mustard, and this version is just a little elevated with fresh herbs. This dressing can also be used for salads and you'll likely have enough leftover to have some on hand! I use fresh drill, tarragon, and parsley to add great color, flavor and freshness into this honey mustard.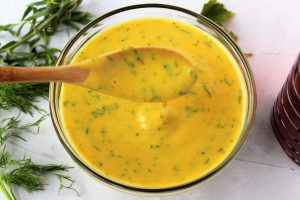 The crispy shallots honestly happened by accident the first time I made this! I wanted them to cook with the pork, but they were cooking way faster and starting to brown into little onion rings. So before they started to burn I took them out while the pork continued to cook. I ended up with delicious, buttery, crispy shallots that made for a great topper to these chops! Yum!
I like to pair these chops with some fresh green beans or sweet potatoes. This would make for an impressive date night in, or for entertaining some guests! Enjoy!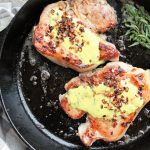 Brown Butter Pork Chops with Herbed Honey Mustard and Crispy Shallots
Ingredients
1/4

cup

plain Greek Yogurt

1/4

cup

yellow mustard

1/4

cup

honey

1/2

tbsp

fresh tarragon

chopped

1

tbsp

fresh dill

chopped

1

tbsp

fresh parsley

chopped

2

thick cut bone-in pork chops

seasoned salt

fresh ground black pepper

4

tbsp

unsalted butter

2

shallots

sliced
Instructions
In a medium bowl whisk together the yogurt, mustard, and honey until smooth. Stir in chopped fresh herbs. Set aside or refrigerate until ready to use.

Season both sides of the pork chops with seasoned salt and fresh black pepper.

In a large skillet melt butter over med-high heat. Add shallots. Cook shallots until brown and slightly crispy. Remove the shallots onto a paper towel lined plate.

Add seasoned pork chops to hot skillet. Cook on med to med-high for 7 minutes. Add additional butter if needed. Flip and cook on the other side for about 7 minutes. This will give you med-well chops if they are about 2 inches thick. Using a spoon, baste the chops with the butter.

Just before they are done cooking, spoon a desired amount of the honey mustard over the chops to warm through. Remove from heat and let the chops rest for about 5 minutes before serving. Serve with additional honey mustard sauce, and top with crispy shallots.
Recipe Notes
If you like a well done chop cook a couple minutes longer per side. It will all depend on your pan temperature as well. Pork Chops can safely be eaten when cooked to 145 degrees, or 160 for well done.