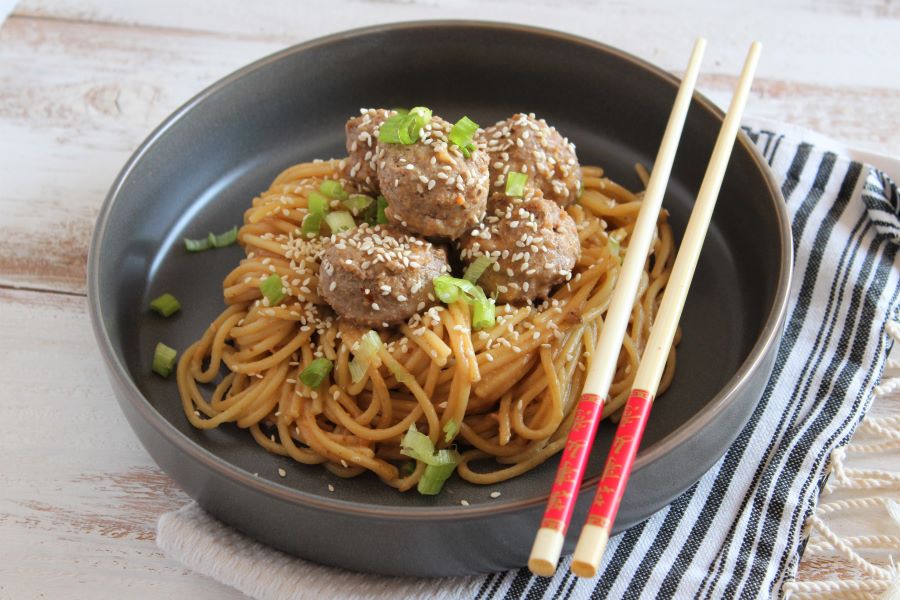 Thai Peanut Noodles with Meatballs
These Thai Peanut Noodles with Meatballs came about after a little pantry and fridge inventory check-up. Like most of us, we're trying to go to the store a little less frequently these days. For me, this recipe uses pantry ingredients, however if you don't normally cook with common Asian flavors, you may not have a lot of this on hand.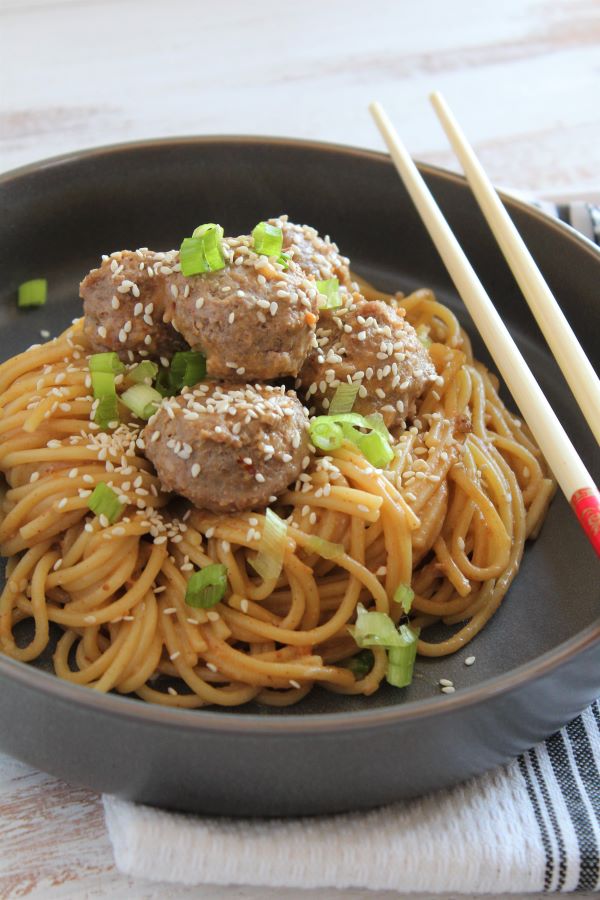 I used regular old spaghetti noodles for this recipe, but linguine or really any pasta shape could work. I think the long skinny pasta type like spaghetti or linguine just fit the recipe a little better, since you wouldn't normally see a recipe like this using a short cut pasta, but hey whatever you got!
The sauce
Like I said, for me the sauce ingredient list is 100% pantry staples. Most of which have a decent shelf life, so if you're thinking you'll rarely use the ingredients, that's OK, they last! I used a creamy peanut butter, but if you want your sauce with a little extra texture, go ahead and use a crunchy peanut butter.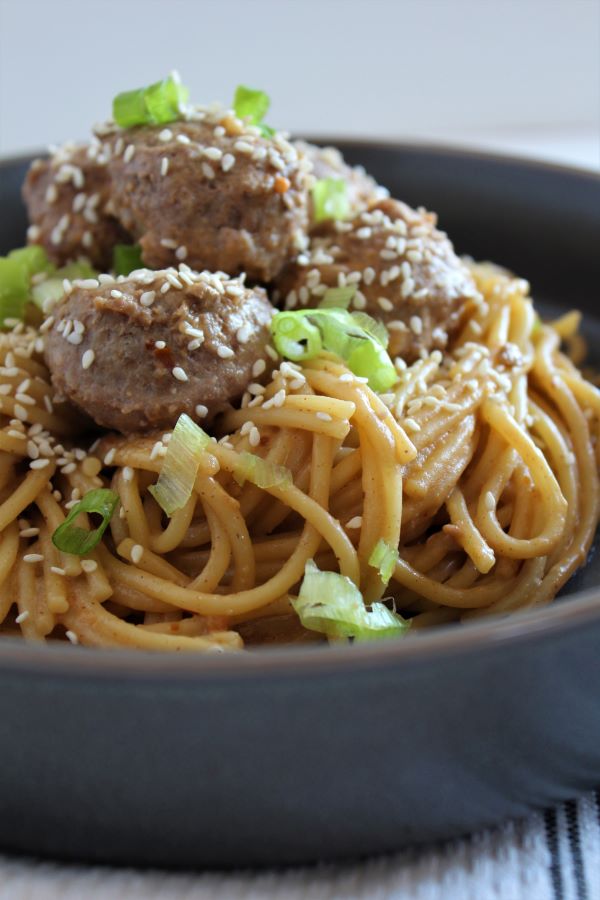 The sauce perfectly coats the noodles, and comes together in no time. No special equipment like a bender or anything, just a bowl and whisk, or even just a fork!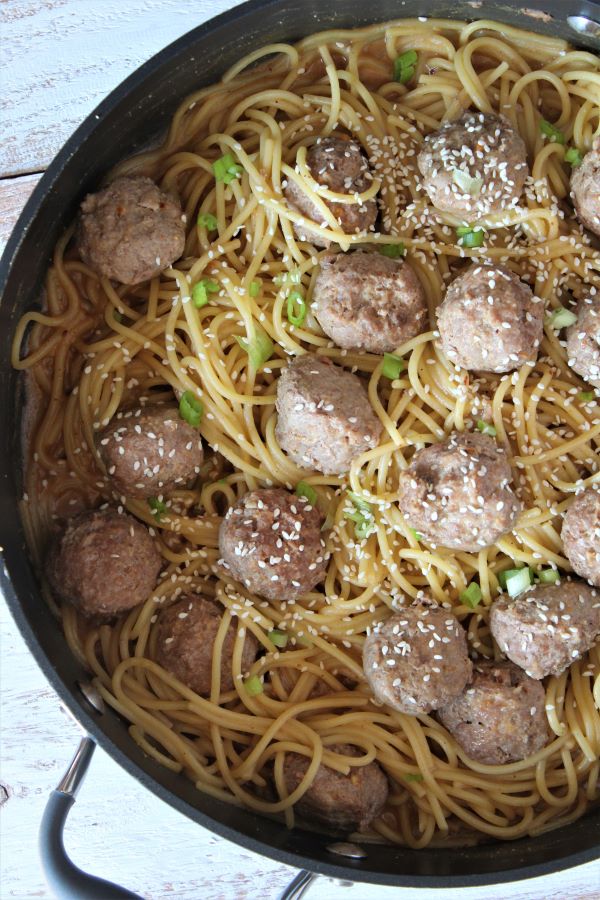 Something else I always have on hand are my All Purpose Chicken Meatballs. Actually any protein would work great, turkey meatballs, beef, pork, or a combo! I just always have a stash in my freezer and brings these noodles up a notch! Obviously you can leave out the meatballs for a vegetarian dish and it would be really delicious. I would also suggest adding in whatever veggies you like. Bell peppers, onions, broccoli would all be great additions.
Garnish with chopped peanuts for an added crunch, or simply sesame seeds and chopped scallions for color. If you're a fan of cilantro, that would be a great garnish as well. This dish is so easy, let me know what you think! Enjoy!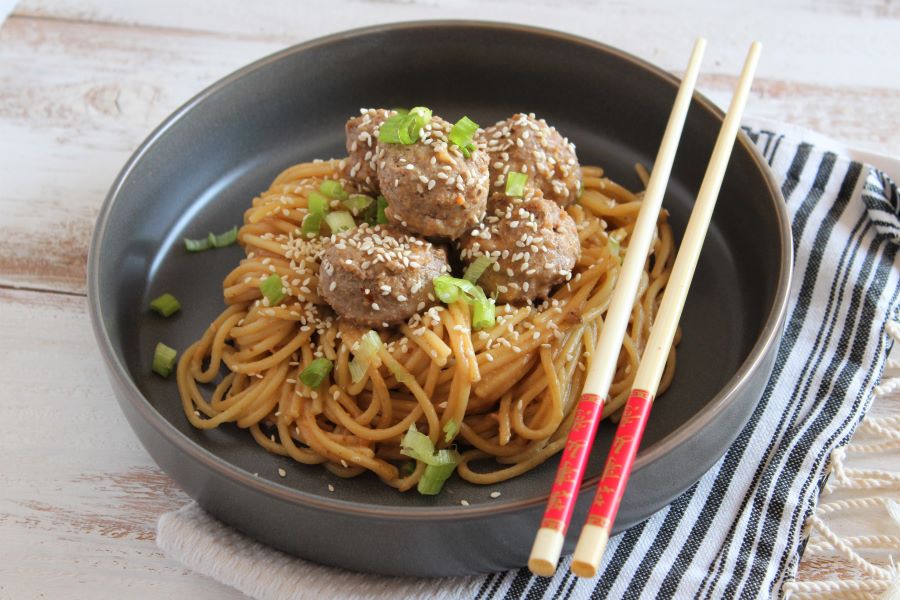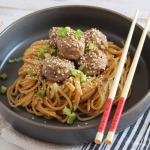 Thai Peanut Noodles with Meatballs
Ingredients
1

lb

spaghetti or linguine noodles

20

All Purpose Meatballs

link in blog post

4

scallions

sliced

1

tbsp

sesame seeds

for garnish

chopped peanuts

optional for garnish
For the sauce
1/2

cup

creamy peanut butter

1/2

cup

low sodium soy sauce

2

tsp

sesame oil

4

tbsp

honey

2

tsp

garlic chili paste or sriracha

2

tbsp

rice vinegar

3

cloves

garlic

1/2

tsp

ground ginger

1/4

cup

water
Instructions
Cook noodles according to package instructions to al dente. You want them slightly under-done. Reserve about 1/2 cup of the pasta water before draining.

Whisk all sauce ingredients together in a bowl, set aside.

Add all-purpose meatballs to a large microwavable bowl. Add about 1/2 cup water. Microwave for 4-5 minutes, stirring in-between each minute until warm.

Drain pasta, add pasta back to pot on a med-low stove, add sauce and toss pasta to coat. Thin sauce out if needed with reserved pasta water. Toss in warmed meatballs. Once all combined and warmed through, garnish with sesame seeds and chopped scallions, and optional chopped peanuts for crunch.
Recipe Notes
Make it vegetarian and leave out the meatballs. Add your favorite veggies like bell peppers, onions, and broccoli!