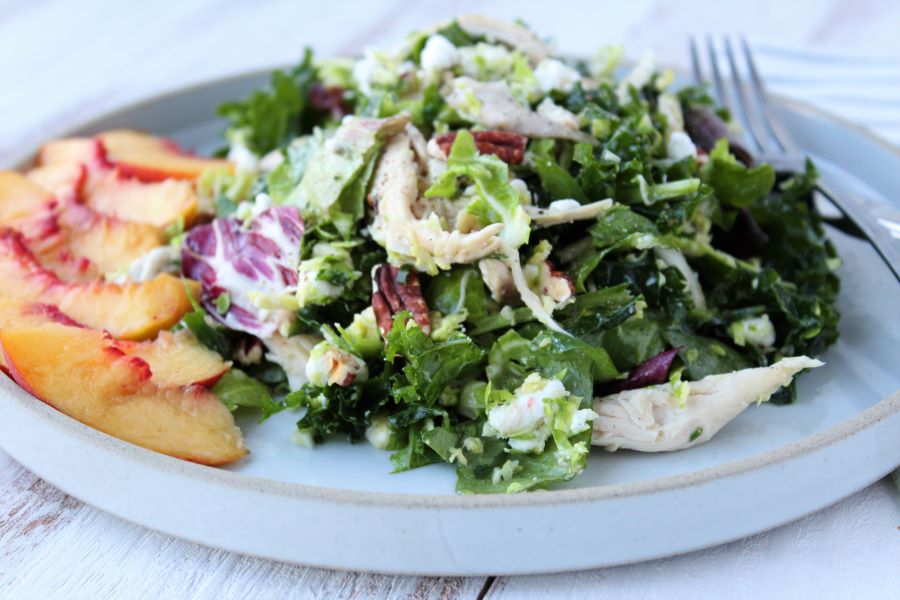 Peach Pecan Salad
This Peach Pecan Salad was on a local restaurant menu and I thought it sounded delicious…probably because of the goat cheese! I get so many delicious ideas and recipe inspiration from dining out. I actually didn't end up ordering this particular salad, but snapped a picture of the menu so I would remember what was in it.
Romaine and iceberg can get mundane, I mean don't get me wrong I love romaine, but I like to change it up with something heartier like kale and shaved brussels. Sometimes you can find shaved brussels already packaged at the store, otherwise its easy to do at home. I like to do a combination of thinly sliced or shaved, and then I grate some using a large box cheese grater. The grater does all the work, and really helps break down the sprouts and gives the salad some different texture.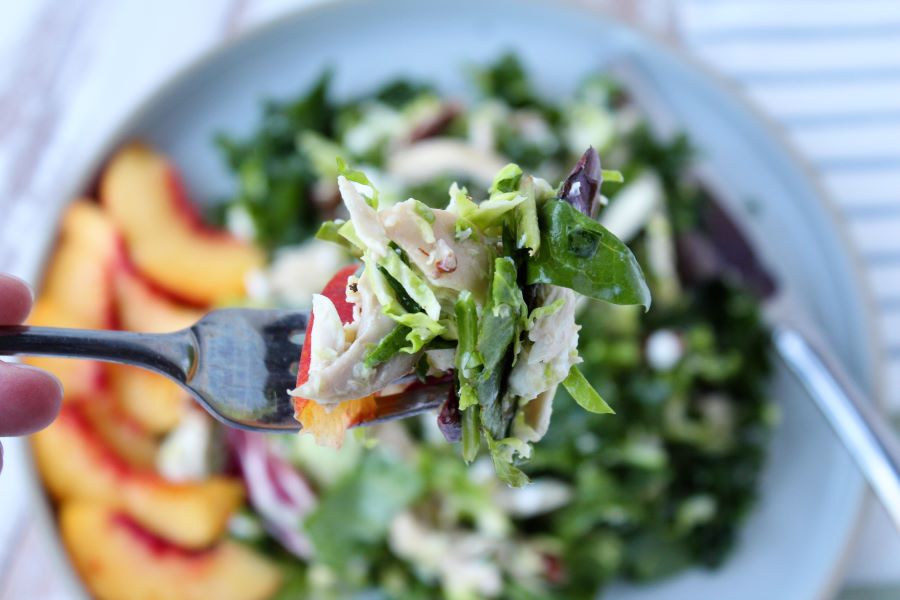 This is another great reason to have a rotisserie chicken on hand. I buy one almost every week, and freeze it if I don't need it. Its absolutely perfect for salads. I left the chicken in larger chunks in this salad for some hearty texture. Toasted pecans add great flavor and of course crunch. Peaches add just the right amount of sweetness too. This would also be really good with some dried cranberries sprinkled in. Don't forget the goat cheese…it's basically the best part!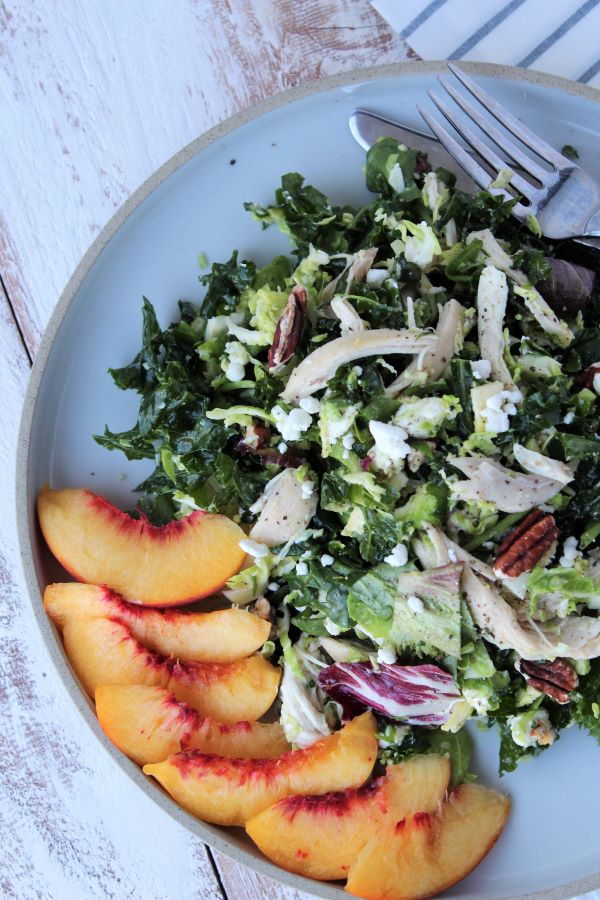 I've drizzled the peaches with some balsamic glaze before too and that is lovely! As for the dressing, It's a grab the bottle out of the fridge kind of salad, or try my Greek Yogurt Poppy Seed Dressing. I highly recommend using either a champagne vinaigrette or a poppy seed dressing. Something with a bit of sweetness to balance the bitter greens. Enjoy!
If you're looking for delicious salad ideas, try some of my favorites linked below!
Blueberry Goat Cheese Salad with Blueberry Vinaigrette
Honey Mustard Chopped Chicken Salad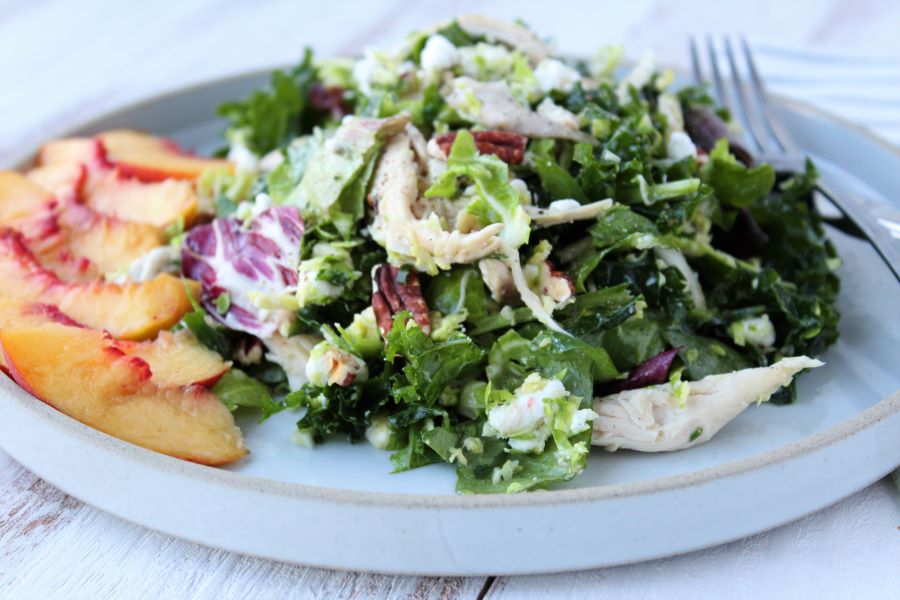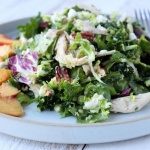 Peach Pecan Salad
Ingredients
1

cup

kale (curly leaf variety)

chopped

1/2

tsp

olive oil

1/2

cup

brussel sprouts

shaved or grated

2

cups

spring mix

1/2

cup

pecans

chopped, toasted

1

cup

rotisserie chicken

chopped

1/2

cup

crumbled goat cheese

1

peach

chopped

salt and pepper

champagne vinaigrette or poppy seed dressing

dried cranberries or other dried fruit

optional

balsamic glaze

optional
Instructions
In a large bowl, add in the kale and olive oil. Using your hand, massage the oil into the kale for about 1 minute, until soft.

Add in shaved/grated brussels sprouts, spring mix, chicken, goat cheese, and toasted pecans. Optional step: toss the chopped peaches with a drizzle of balsamic glaze. Add to salad and toss with desired dressing. Season with salt and pepper.
Recipe Notes
Tossing the peaches in balsamic glaze is optional, but adds a level of tangy sweetness.
Dried cranberries would be a great addition to this salad as well.
I recommend a poppy seed dressing, balsamic vinaigrette, or champagne vinaigrette for this salad.