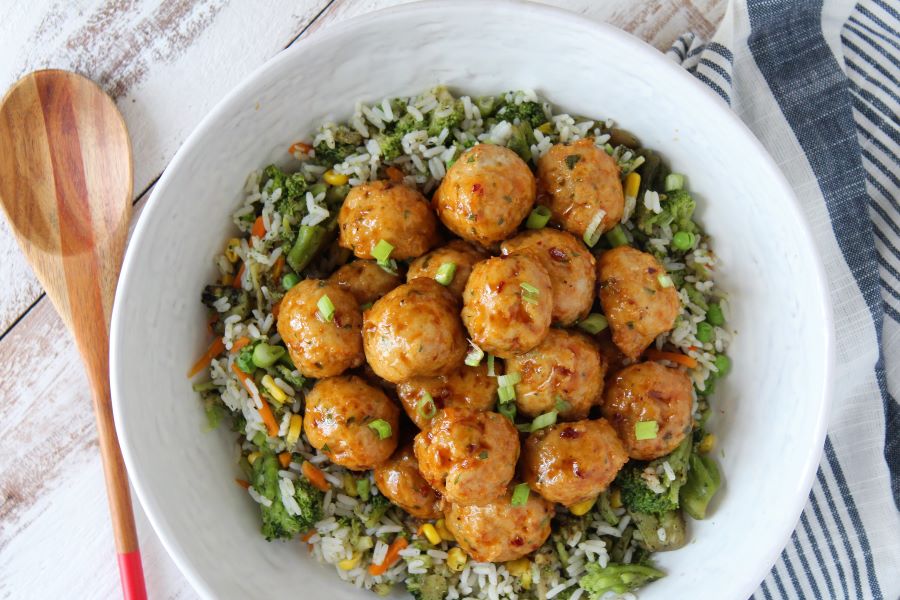 Firecracker Chicken Meatballs
These Firecracker Chicken Meatballs are in celebration of the tasty appetizer everyone loves, firecracker shrimp! (aka bang bang shrimp) If you've never heard of it or enjoyed it before, you can find it on a handful of appetizer menus in restaurants. The shrimp are generally lightly battered with a delicate crunch, and tossed in the sweet, tangy, and spicy sauce! They are oh so tasty…and irresistible if you ask me, but maybe that's because I love a good sweet and savory sauce combo! Here is a tasty recipe from The Food Network if you want to make the shrimp variety at home.
Having my All Purpose Chicken Meatballs at the ready in the freezer makes this a 15 minute…yes FIFTEEN MINUTE meal! Hello easy, family pleasing, quick weeknight meal! These All Purpose Chicken Meatballs have saved me so many times. It's late, the meal plan goes out the window, or you have no time to pack a lunch. I just pop out a few meatballs, steam them in the microwave and top with my favorite sauce (BBQ, honey mustard, sweet & sour) whatever you have in the fridge!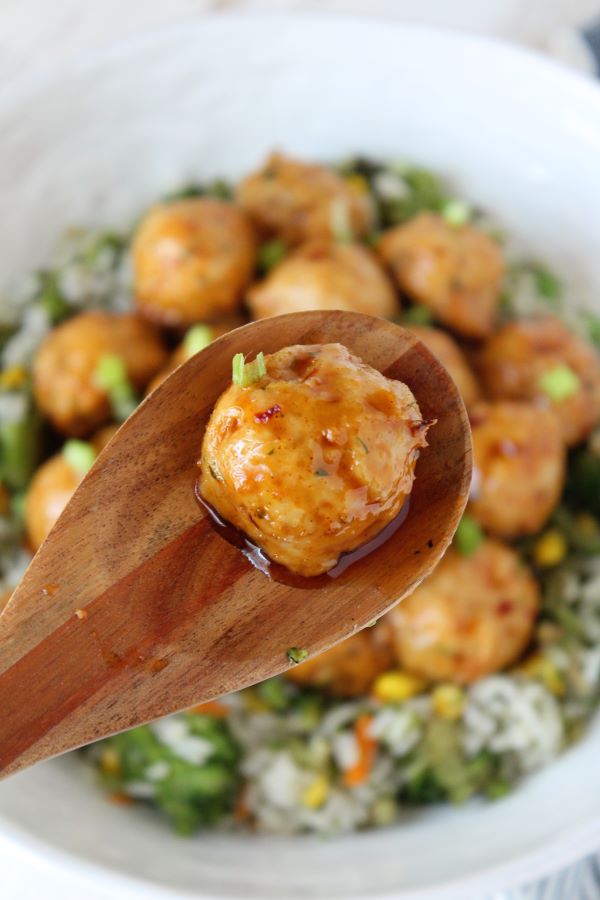 This Firecracker Meatballs recipe is one that you can adapt to your personal level of heat and sweet. I've made these a little too sweet before, and also too spicy…it's about getting the balance that you like the best! It's easy to do with hot sauce and brown sugar. The way the recipe is written is probably a little on the sweeter side, so I definitely recommend adding extra sriracha or hot sauce if you want to ramp up the heat level. Tasting the sauce all on it's own is a little deceptive…because you're getting that concentrated straight sauce flavor, and it often mellows out once you add in the meatballs and any other veggies you may be adding.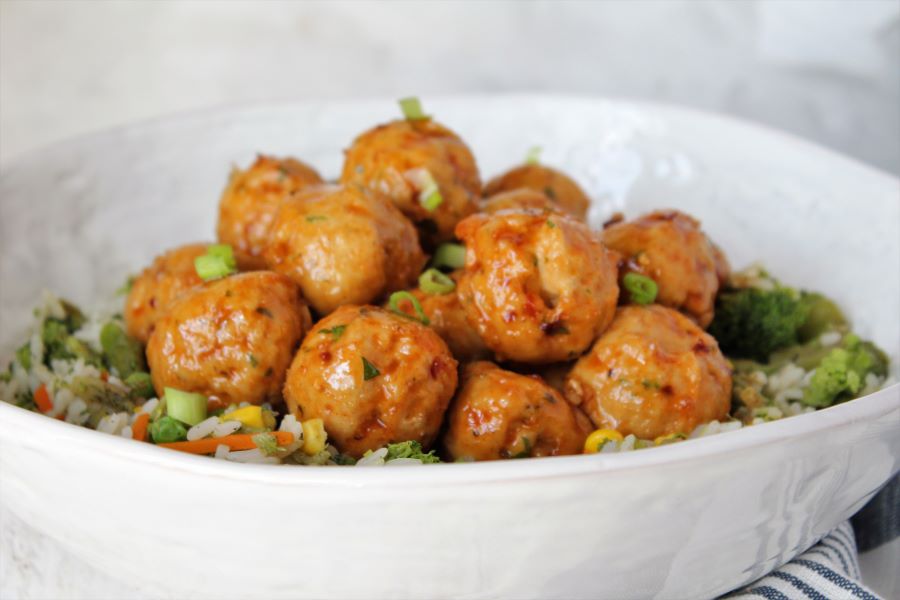 I like to serve these as a meal over steamed rice and broccoli. They would be a great addition to fried rice, cauliflower rice, or even served alone as an appetizer.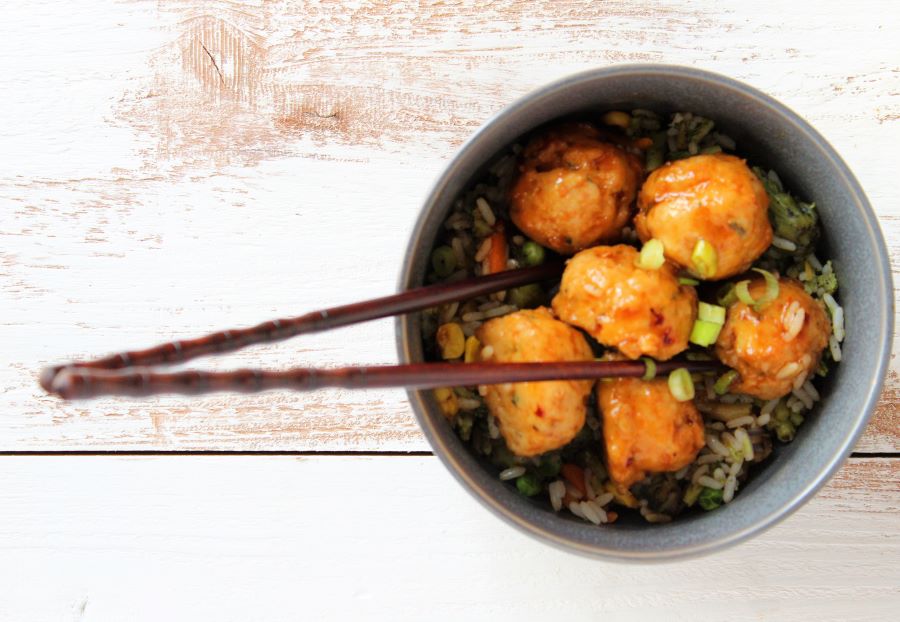 My husband loved these, and I hope your family does too! Enjoy!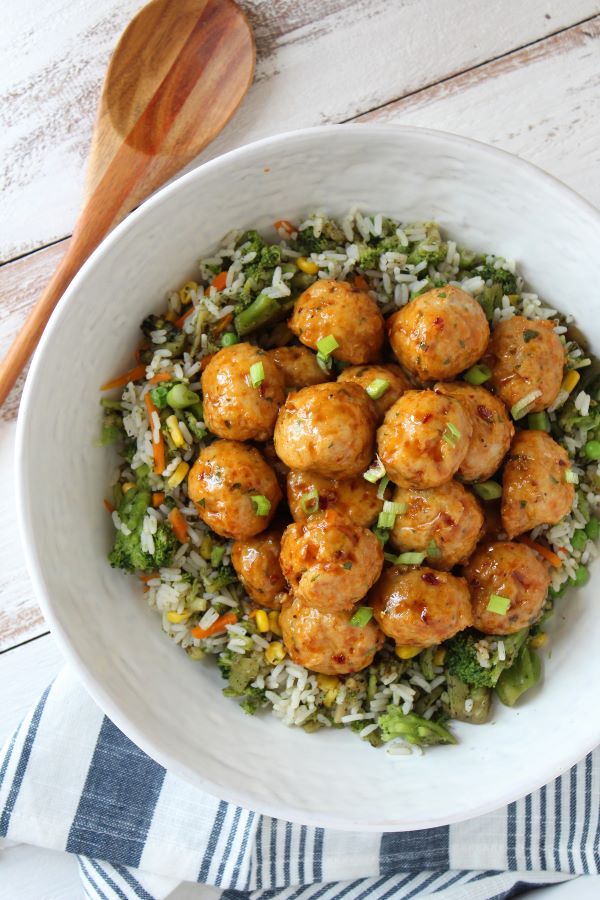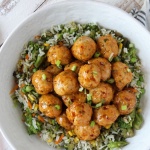 Firecracker Chicken Meatballs
Ingredients
20

All Purpose Chicken Meatballs

recipe linked in blog post

1/3

cup

buffalo sauce

or Franks red hot sauce

1/2

cup

brown sugar

1

tbsp

water

2

tsp

apple cider vinegar

1/2

tbsp

sriracha

1/4

tsp

garlic powder

1/2

tsp

salt

1/4-1/2

tsp

crushed red pepper flakes

3

scallions

chopped for garnish
Instructions
In a medium skillet, whisk together all of the ingredients (except the meatballs and scallions). Heat over medium heat until boiling. Reduce heat and whisk until sugar is dissolved. Taste for sweet/heat balance. If you like it sweeter add more brown sugar, 1 tbsp at a time. Add additional sriracha or hot sauce for more heat.

Stir in All Purpose Meatballs. They can be frozen or thawed. Heat over med-low, stirring occasionally until meatballs are heated through.

Serve over rice or alongside veggies. Or simply serve as an appetizer on their own. Garnish with chopped scallions.