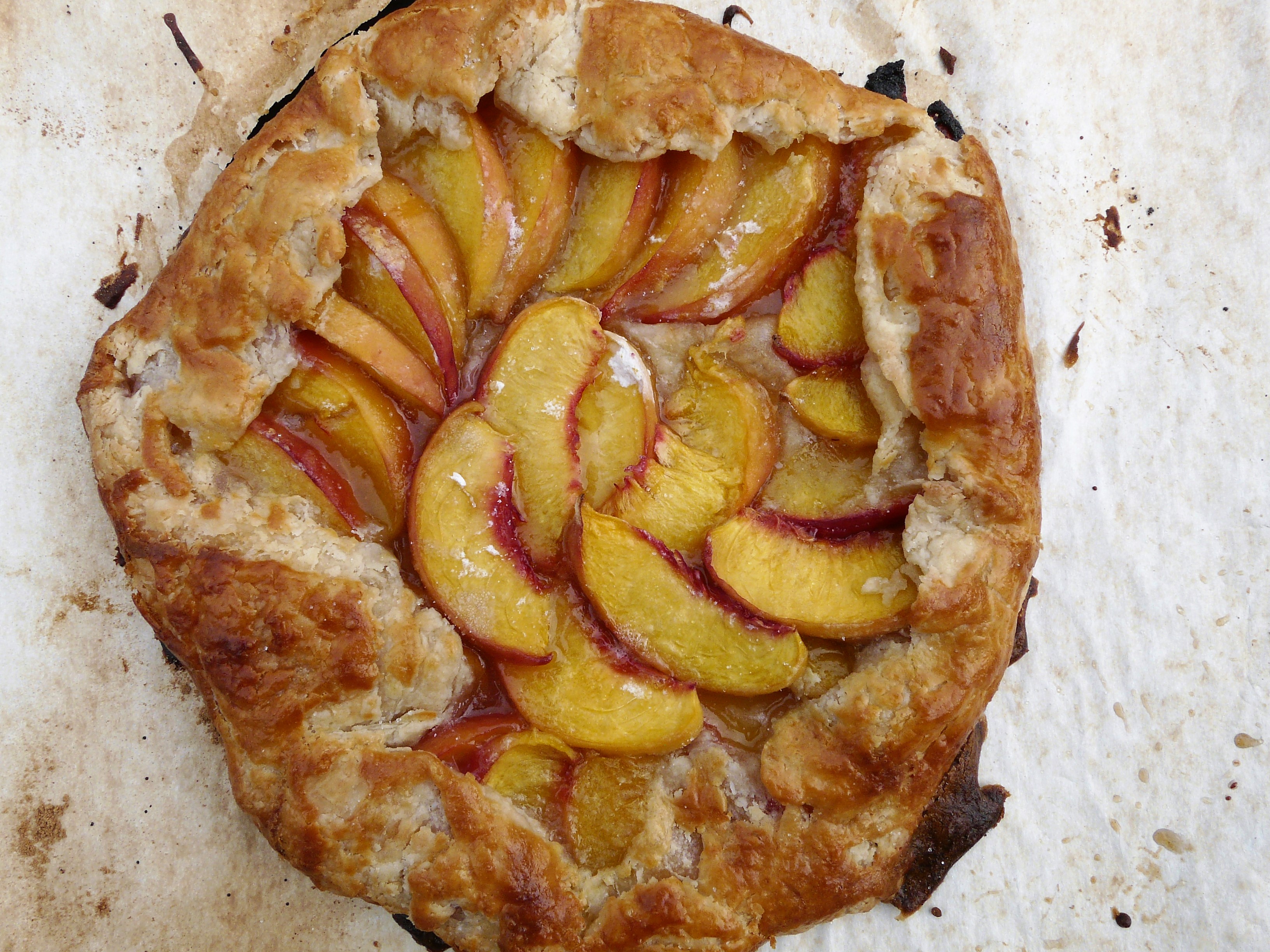 Peach Galette
I like to think of a galette as just an open faced pie. It's perfect if you're the type of person who does not want to fiddle with making a fancy pie crust; no pinching edges into designs, or making fancy slits on top of the pie crust. With a galette, the more rustic looking the better! It truly is easy and uses minimal pantry ingredients.
This recipe can be used with any type of fruit such as nectarines, blueberries, plums, or better yet a combination of fruits! You can even use this crust recipe and do savory fillings for a brunch or appetizer dish. This crust recipe is from seriouseats.com and seriously couldn't be easier!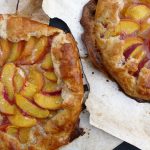 Peach Galette
Ingredients
For the crust (makes 2 9-inch round pie crusts)
1 2/3

cup

all-purpose flour

plus extra for dusting

1

tbsp

sugar

1

tsp

salt

2

sticks

unsalted butter

cold

1/2

cup

cold water
For the peach filling
5-7

ripe fresh peaches

1/3

cup+

tapioca starch

3/4

cup

sugar, plus more for dusting

pinch

salt
For the egg wash
1

large egg

1

tbsp

milk, cream, or water
Instructions
Preheat oven to 400 degrees. Line 2 baking sheets with parchment paper.
Dough
In a medium bowl whisk together the flour, sugar, and salt. Cube the cold butter into small squares, about 1/2 inch cubes. Toss butter into flour mixture to coat the cubes. Using your fingers, smash each butter cube flat. No need to use a pastry cutter! Stir in the water until the dough comes together. You may need to use your hands to combine, it will be flaky.

On a floured work surface, roll out the dough flat in a large rectangle. If dough is sticking to your rolling pin, add flour to the surface and rolling pin. Fold the left side into the center, and do the same with the right side, meeting in the center. Fold in half again to bring the short sides together. Cut in half. This is basically making flaky layers once its rolled out again. Each half will make one galette.
Peach filling
Slice washed peaches into a large bowl. Skins can be left on. Add tapioca and stir until dissolved. Tapioca starch helps thicken the filling. If your peaches are extra ripe and juicy, sprinkle in more. Stir in sugar and pinch of salt.
Galette assembly
Using half of the dough, on a floured work surface roll out a 14-inch circle, it doesn't have to be perfect, it's rustic! Arrange 1/2 of the prepared peaches in a domino effect circle, leaving 2 inches of the outer crust empty to fold over. Once filled with peaches, fold the edges over to form a crust. Repeat with second dough half to make second galette.

In a small bowl, whisk the egg and milk OR cream OR water together. Brush onto the crusts of the galettes. Bake for 35-40 minutes, until crust is deep golden brown and center is bubbly. Cool and enjoy with ice cream or whipped cream!
Recipe Notes
Make sure to flour your work surface well, and flour the rolling pin to avoid sticky dough. 
You can use any fruit or fruit combo for this recipe. It would be really good with nectarines, blueberries, or a combo such as peaches and blueberries! 
This crust would also work great with savory fillings such as an egg mixture, or a fresh tomato salad mixture for an appetizer or brunch dish!