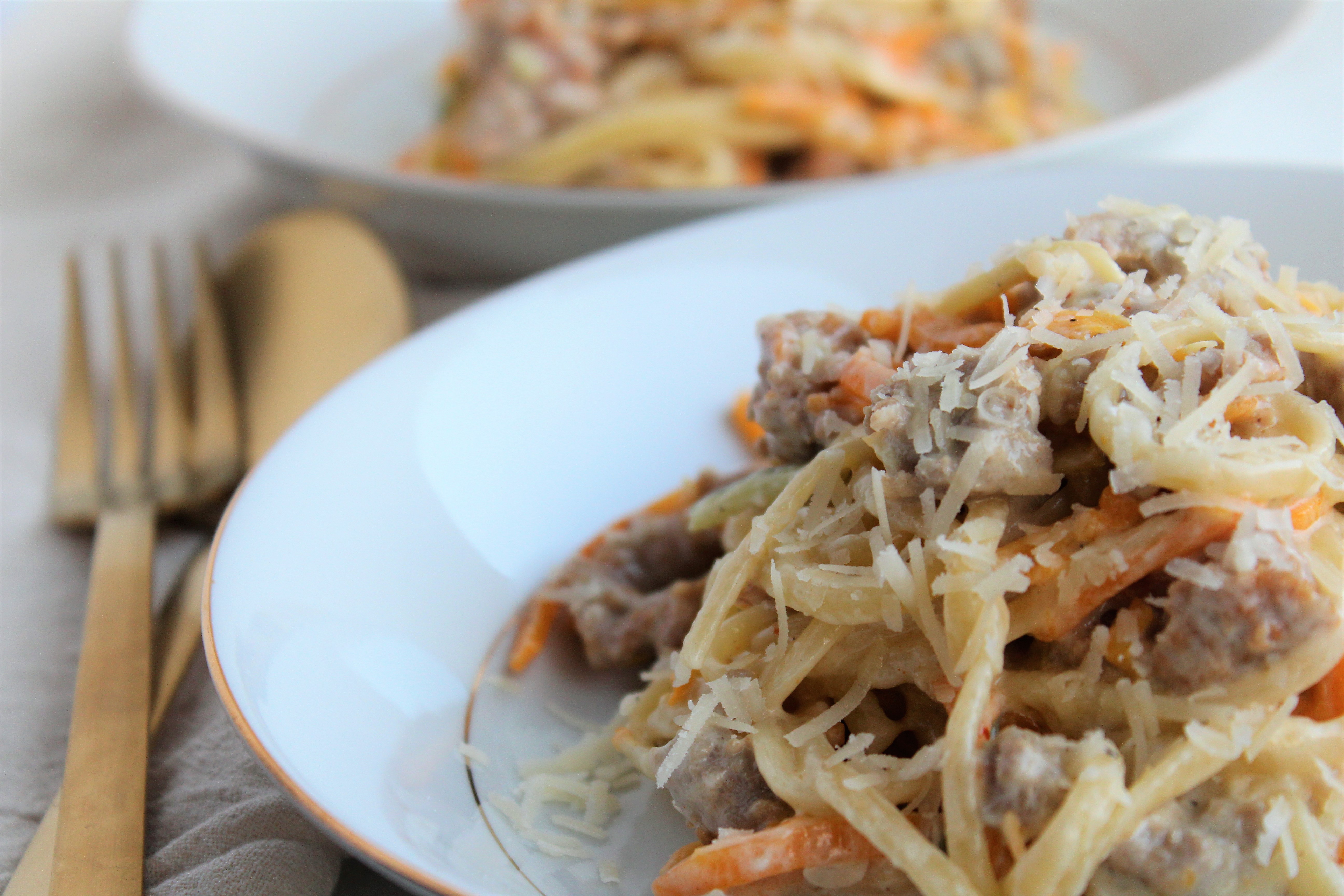 Garlic Truffle Sausage Linguine with Zucchini and Squash
Man do I love pasta…and cheese…and a cream sauce…and garlic! This recipe was inspired by a couple different dishes. One was on vacation in Barbados where I had a delicious pasta dish filled with veggies, but with the comfort of a cheesy cream sauce. The sausage and truffle portion of this dish was inspired by a local restaurant that serves an outstanding white truffle sausage pasta dish. It's one of those places that I always want to try something different, but you know your favorite dish is so good that you can't NOT get it!
In an effort to make this the slightest bit more "heath friendly" I decided to use veggie noodles in place of about half the pasta. You still get the comfort and feeling of enjoying pasta, just a little less of it, with more flavorful zoodles! I used butternut squash and zucchini squash noodles in this recipe, but any veggie would be delicious!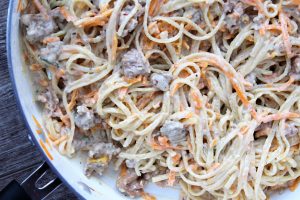 I love to use Italian turkey sausage in a lot of my dishes. Any kind of sausage would be really good in this. If you like it spicier then use a hot Italian sausage. The turkey links I buy come in both sweet and spicy, both delish! I used a truffle infused olive oil in this rather than fresh truffles or truffle oil. It is a very strong and distinct flavor so definitely read my recipe notes! Everything is tossed in a simple parmesan cream sauce. The perfect fall and winter comfort dish!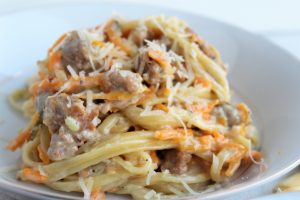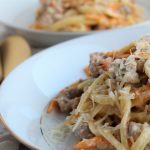 Garlic Truffle Sausage Linguine with Zucchini and Squash Noodles
Ingredients
1

lb

sweet or spicy Italian sausage

turkey or pork

1/2

small onion

minced

3

tbsp

truffle infused olive oil

4

cloves

garlic

minced

1 1/2

cups

zucchini "noodles"

1 1/2

cups

butternut squash "noodles"

1/4

box

linguine

4

tbsp

butter

1 1/2

cups

heavy cream

1

cup

Parmesan cheese

fresh grated

salt and pepper

+/- 1/4

tsp

red pepper flakes
Instructions
Bring a large pot of salted water to a boil, cook linguine noodles according to package instructions to "al dente". Reserve about 1 cup of the pasta water before draining. Drain and set aside.

While the pasta is cooking heat 2 tbsp. of the infused olive oil over med-high heat in a large skillet. Add sausage and onion, break up the sausage with a wooden spoon. Cook until sausage is cooked through. Add 3 of the 4 cloves of minced garlic. Stir in the zucchini and squash noodles with the remaining infused olive oil. Add more regular olive oil if needed. Use infused olive oil to taste depending on your taste for truffle. Cook the zoodles for about 5 minutes or until soft.

In a saucepan melt butter over medium heat. Add in heavy cream and bring to a boil. Reduce heat and add in remaining 1 clove of minced garlic. Stir in the parmesan cheese. Add the cooked linguine noodles and cheese sauce to the sausage mixture. Toss together until everything is coated in the parmesan cream sauce.

If sauce is too thick, add some of the reserved pasta water or milk. Depending on your taste for truffle, add another drizzle of infused olive oil. Stir in red pepper flakes, and taste for seasoning. Serve with additional fresh grated parm and red pepper flakes for a kick!
Recipe Notes
I used truffle infused olive oil that one of my local grocery stores carries. If you are using straight truffle oil you'll want to reduce the measurements because it is a very intense and strong flavor.