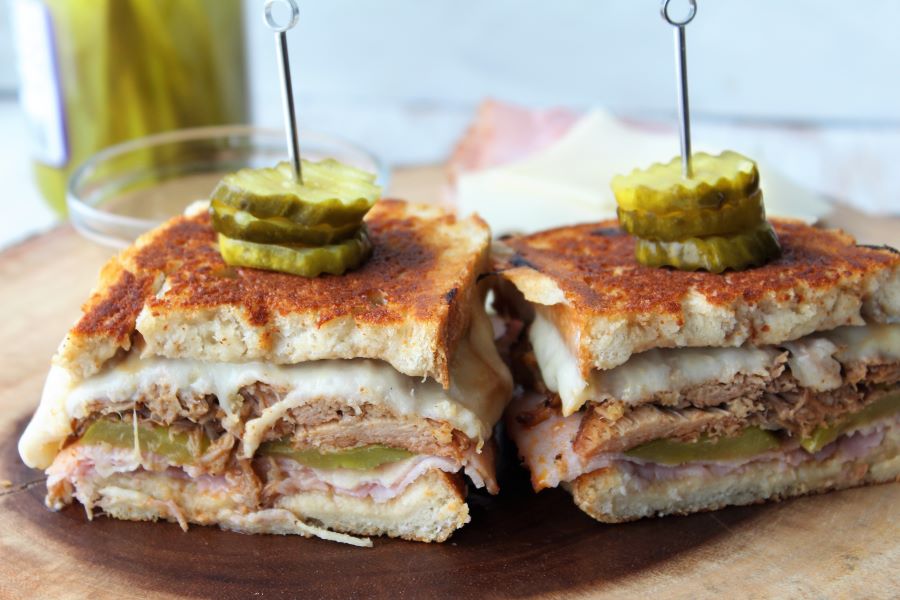 Cuban Melts
Move over grilled cheese…Cuban Melts have entered the building! They're toasty, meaty, tangy, melty, and SO easy to throw together with leftover pulled pork. If you haven't made my All Purpose Slow Cooker Pulled Pork, I highly recommend it. It makes for delicious meal options, and freezes great too. I'll link some of my other favorite uses at the end of this post!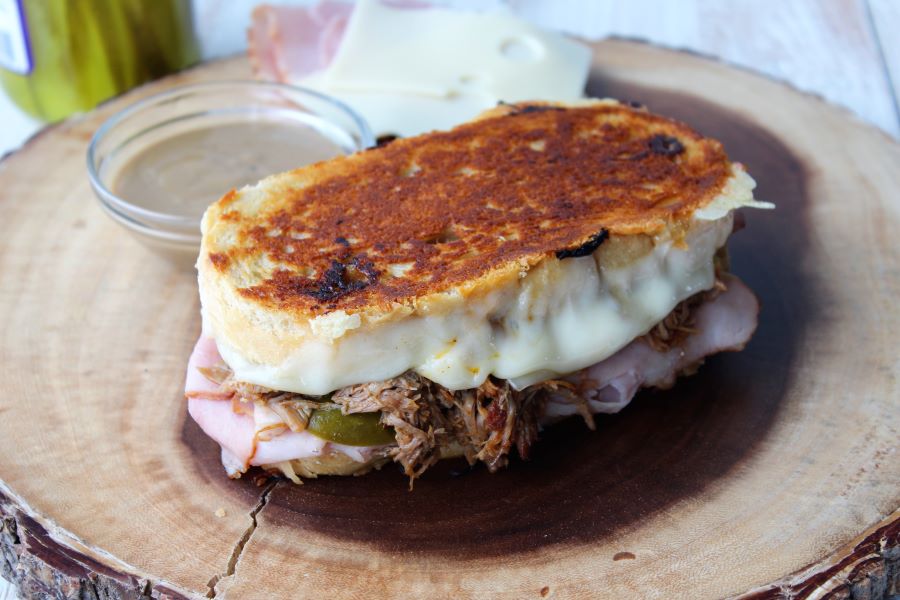 I wouldn't consider this a super authentic Cuban sandwich because I used sourdough bread. In my opinion it's the A+ bread to use when making any kind of grilled sandwich. It just toasts up so beautifully, and holds up to all of the inside goodies. If you're into making bread, try this recipe from Bobby Flay to make your own Cuban-style bread. Check out my Chicken Apple Brie Melts and Chicken Bacon BBQ Ranch Melts for other seriously delish grilled sammies!
Ingredients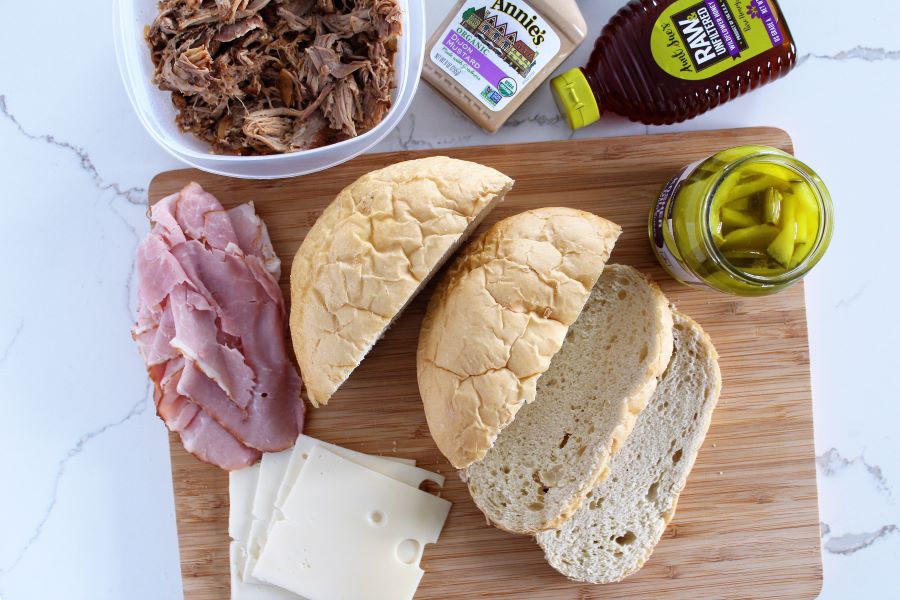 Other than the bread…and mustard, the sandwich is pretty traditional. I made a little honey Dijon as my mustard. The traditional Cuban uses yellow mustard. If you love the traditional yellow mustard then by all means, use it. I just prefer the tang of Dijon and a little sweetness from the honey over the yellow mustard. The rest of if consists of thinly sliced deli ham, Swiss cheese, pickles, and pulled pork.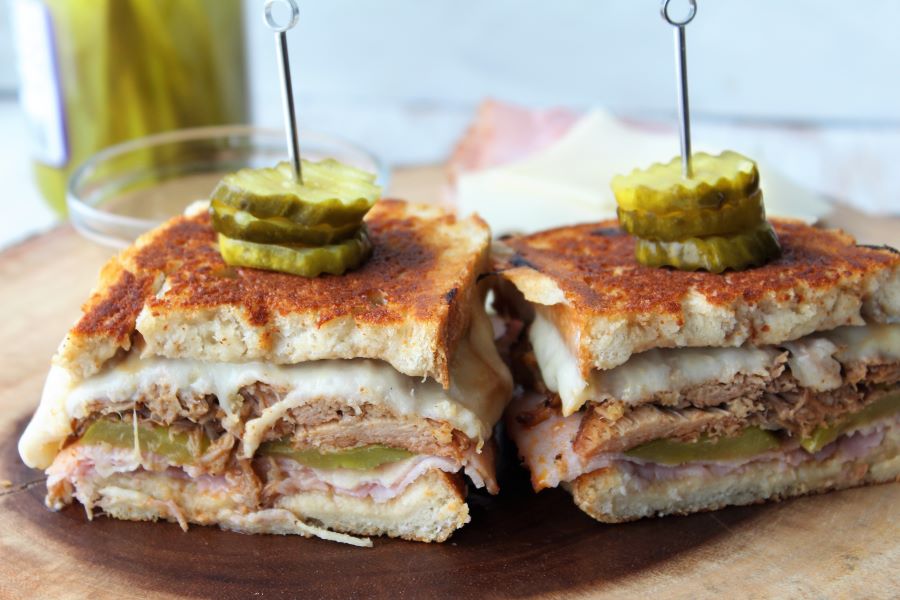 In order to transform my leftover pulled pork, I simmer it in a mixture of orange juice, cumin, oregano, garlic, and paprika. It soaks in all that herby juice and gives it that Cuban pork flavor it needs…so good! Just simmer until all the moisture is absorbed so that your sandwich doesn't become soggy. Throw the assembled Cuban Melts on a hot griddle and press down until golden and crispy on both sides.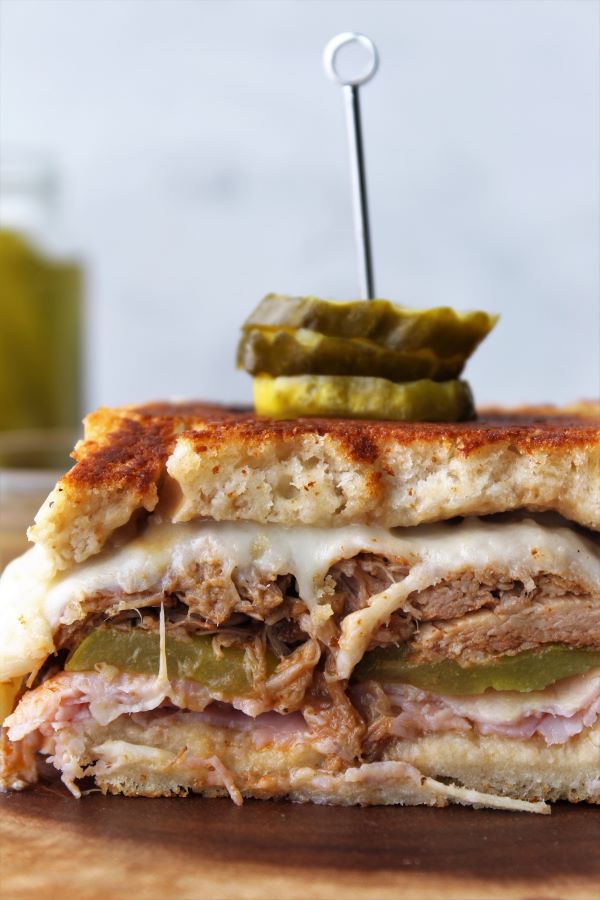 Hello beautiful! Don't you just want to take a bite!? This is like a pork lovers dream sandwich. My husband Erik almost always orders the Cuban if he sees it on the menu, definitely a favorite of his. He 1000% approved of these Cuban Melts! Hope you make them for a pork lover in your life. Enjoy!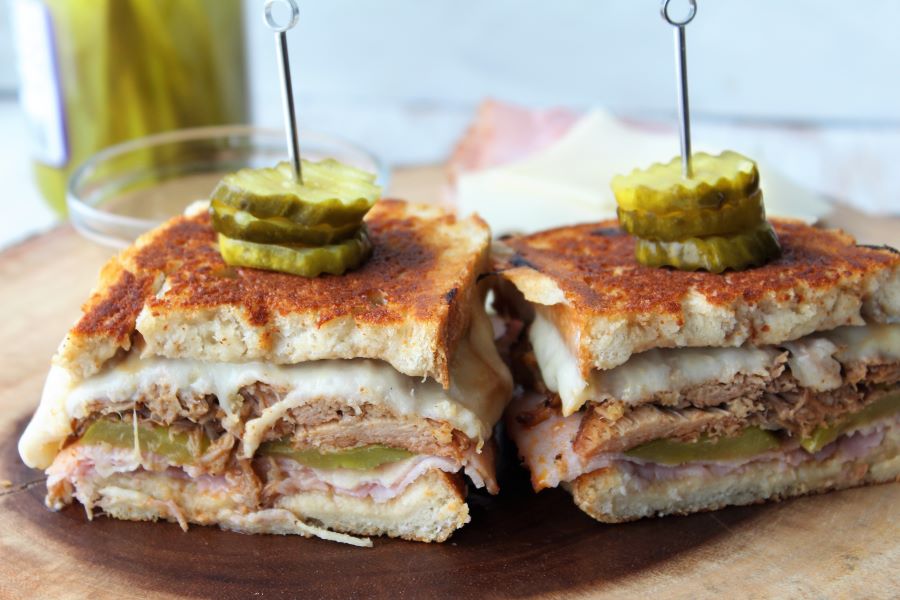 Here are a few other tasty ways to use leftover pulled pork:
Asian Pork Tacos with Spicy Slaw
Pulled Pork Topped Sweet Potatoes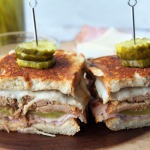 Cuban Melts
Ingredients
4

slices

sourdough bread

6

slices

deli ham

4

dill pickles

sandwich slices

4

slices

Swiss cheese

1 1/2

cups

leftover All Purpose Slow Cooker Pulled Pork

recipe linked in post

1/3

cup

orange juice

1/4

tsp

ground cumin

1/4

tsp

dried oregano (not ground)

1/4

tsp

garlic powder

1/4

tsp

smoked paprika

2

tbsp

Dijon mustard

1

tbsp

honey

2

tbsp

butter
Instructions
In a medium skillet, whisk together the orange juice, cumin, oregano, garlic, and smoked paprika. Add leftover pulled pork and heat over medium heat until bubbly, liquid is almost all cooked out, and heated through. Season with salt and pepper if desired.

Whisk together the Dijon and honey.

Spread Dijon mixture on all four slices of sourdough. On 2 of the slices of bread, arrange ham slices followed by pickles, pulled pork, and cheese. Place the remaining sourdough slices on top of each sandwich. Spread outside (top side) with butter.

Preheat a flattop or skillet over med-high heat. Place sandwich buttered side down. Butter the other side so it is ready when you flip. Press down occasionally to smash all the ingredients together. Monitor the heat, turn to medium and grill until golden brown and crispy. Flip and grill the other side for another 5 minutes or until golden and crispy.

Slice and serve immediately.
Recipe Notes
Traditional Cuban sandwiches use yellow mustard, but I've never need a fan of plain yellow mustard, but use what you like!
I love using sourdough anytime I am grilling a sandwich, it just toasts up beautifully and holds up to the hearty ingredients. Traditional Cuban recipes also use a special Cuban bread, but you could use a hoagie type roll as well.