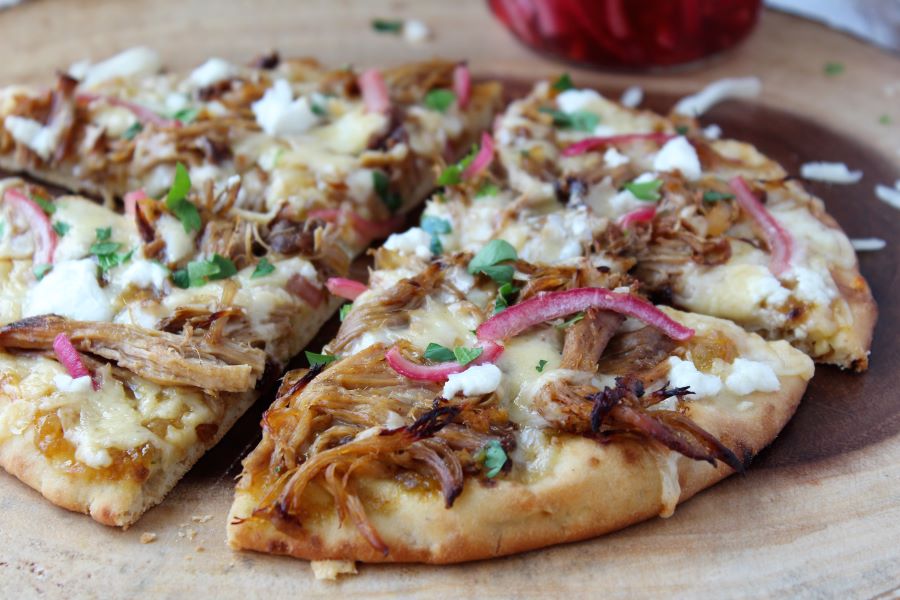 BBQ Pulled Pork Naan Pizzas
BBQ Pulled Pork Naan Pizzas are such an easy and delicious way to use up some of that All Purpose Slow Cooker Pork Roast. If you haven't made it yet, absolutely add it to the weeknight list, or even weekend meal prep. Simple ingredients all thrown into the slow cooker, and 8-10 hours later (perfect for working families), and you've got a tasty protein that can be made into so many fabulous meals!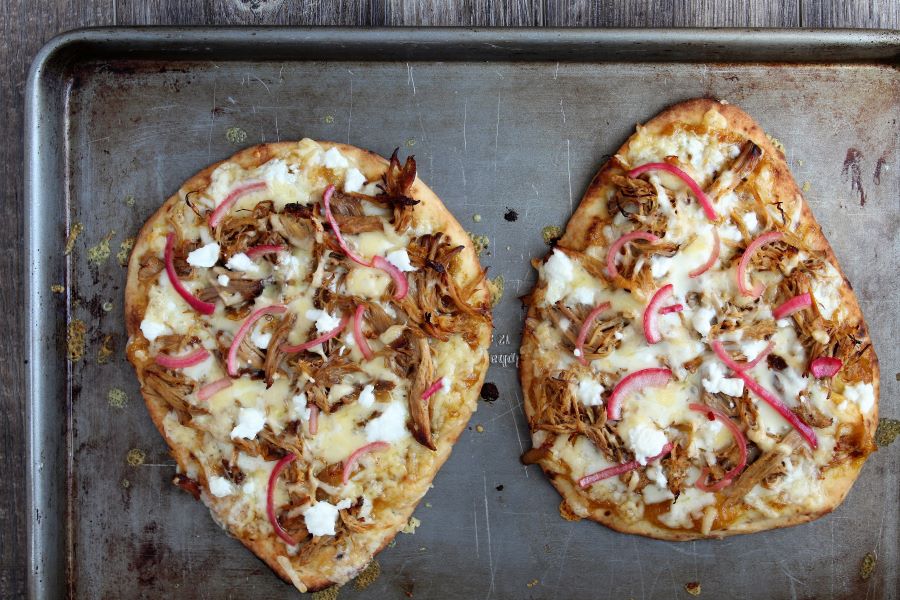 I use store bought naan bread, and I find them in the bakery section of my grocery store. They come in a pack of two, and I almost always get the roasted garlic kind over the plain just for that added flavor. You've maybe seen me use these naan breads in other recipes, they are just so so perfect for quick and easy pizzas. Here are a couple MUST makes:
Chicken Caesar Salad Flatbread Pizzas
BBQ Smoked Sausage Flatbread Pizzas
In the version I recently made, I used a homemade bourbon peach bbq sauce from The Peach Truck cookbook. I made a ton of it with peaches this summer and froze it. Use whatever your favorite bbq sauce is, any kind works great! I also made a quick batch of pickled red onions. They really add a nice balance of tang and bite to stand up to the sweetness of bbq sauce. If you think you do not like onions, you've got to try pickling some! It really mellows out the rawness of the onions, and you don't get any of that raw bite.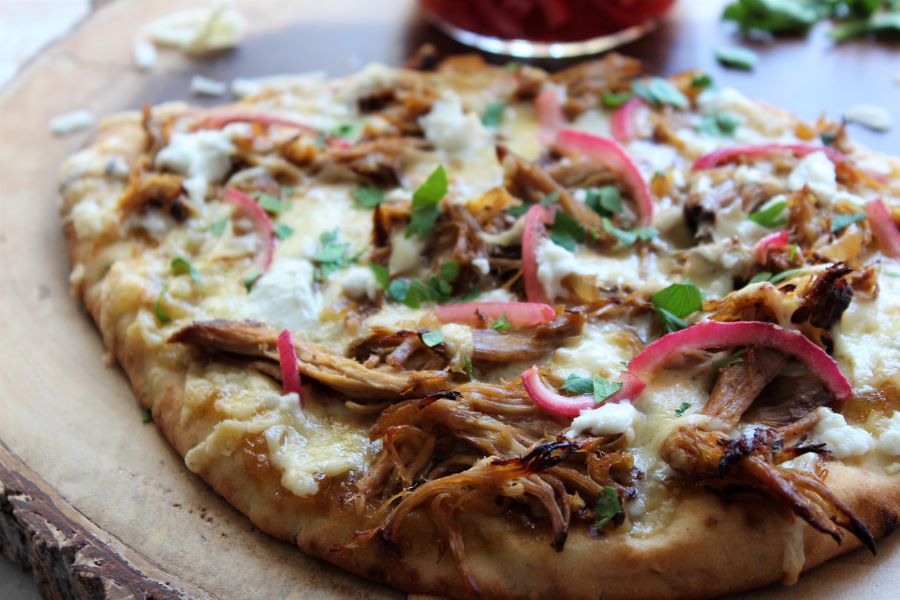 If you have other favorite veggies, throw on whatever you like, that's what pizza is all about! I used three kinds of cheese on these, Fontina, smoked Gouda, and crumbled goat. I highly recommend this combination, it really all works so well together. You're not going to get the same result from a bag of pre-shredded cheese. The smoky Gouda pops with the pulled pork, the Fonita is a beautiful mild melting cheese, and the dollops of crumbled goat cheese add a slight tang.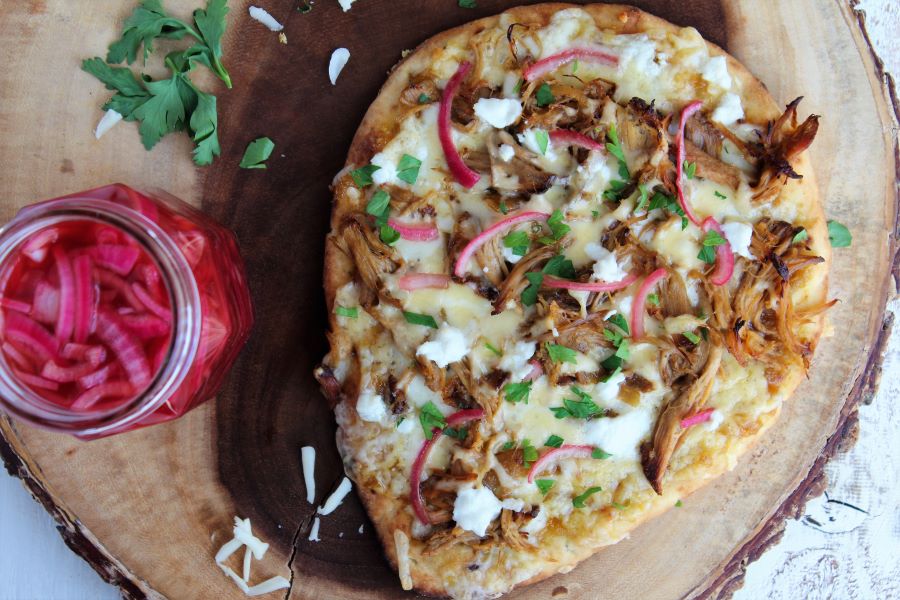 Garnish with fresh chopped cilantro or parsley and you're all set! They only take a few minutes to bake up, so this meal is complete in under 30 minutes (about 20 actually)! Plan ahead and get your pickled onions made with enough time to let them cool and chill, a great easy weekend task to enjoy and use the rest of the week. They work great in tacos too!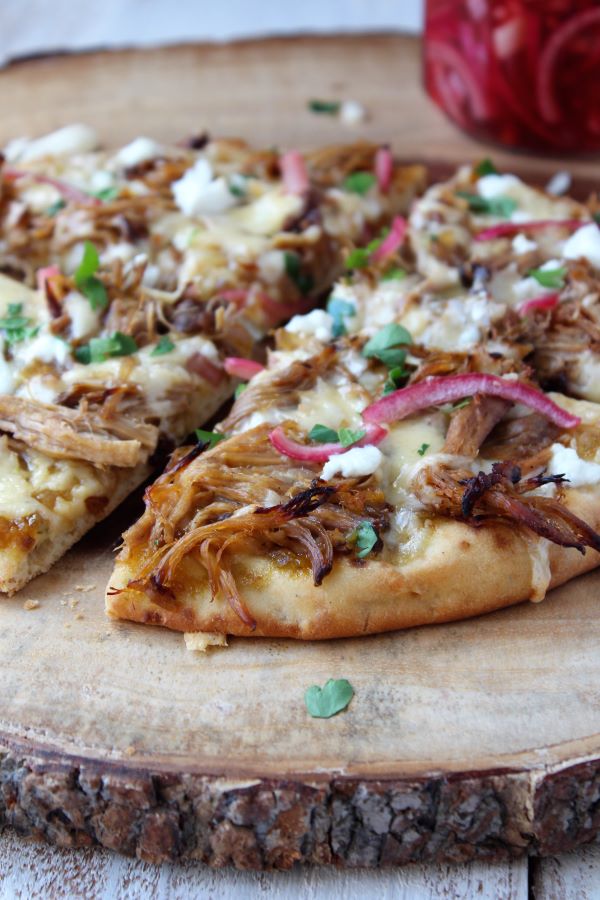 Enjoy!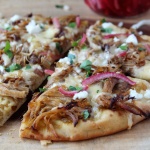 BBQ Pulled Pork Naan Pizzas
Ingredients
2

naan breads

1

cup

leftover All Purpose Pulled Pork

3-4

tbsp

BBQ sauce

2

tbsp

pickled red onions

see blog post

1/2

cup

fontina cheese

shredded

1/2

cup

smoked Gouda cheese

shredded

2

tbsp

crumbled goat cheese

chopped cilantro or parsley

optional
Instructions
Preheat oven to 400 degrees. Microwave the leftover pulled pork with a splash of water for about 30-60 seconds just to take the chill off, so it becomes more pliable.

Place naan breads on a large baking sheet. Spread 1-2 tablespoons of BBQ sauce onto each naan. Add more if you like it saucy! Sprinkle with half of the shredded cheeses (save the rest for the top).

Arrange the pulled pork evenly between the two naans. Top with the rest of the shredded cheese. Arrange pickled red onions evenly on the pizzas. Top with crumbled goat cheese. Bake for 10-12 minutes, or until golden and bubbly. Garnish with fresh chopped cilantro or parsley.
Recipe Notes
The store bought naan bread can usually be found in the bakery section, not the bread isle. I like to use the garlic flavored variety for added flavor.
I used a homemade bourbon peach BBQ sauce, but use your favorite sauce you have on hand.
I really recommend the pickled red onions. Even if you think you do not like onions, still give it a try! By pickling the onions, it takes the raw bite out. They become mild and sweet with a nice tang that balances out the sweet BBQ. You could also add caramelized onions or scallions. Add any other toppings you like!