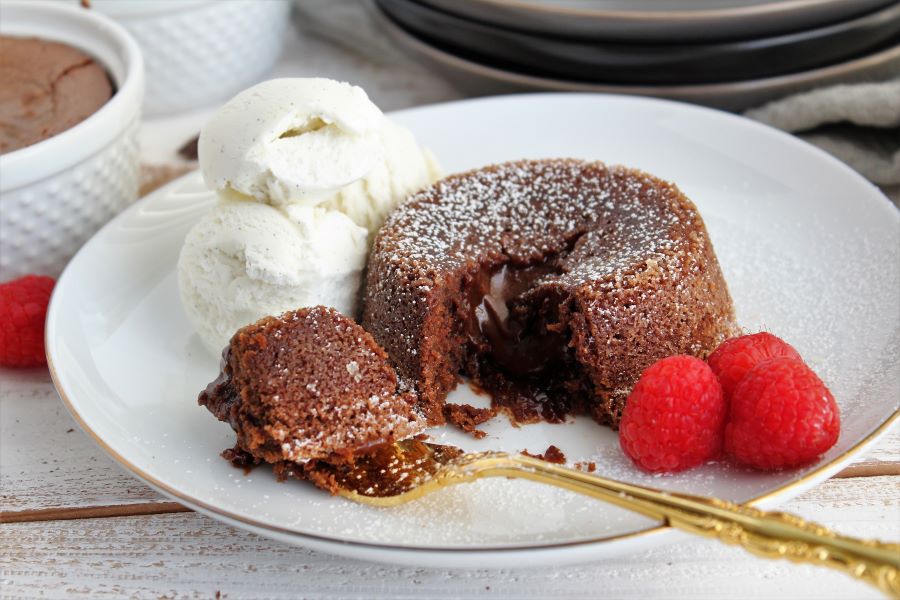 Chocolate Molten Lava Cakes
You really can't go wrong with Chocolate Molten Lava Cakes! It's a classic restaurant dessert item, and actually really simple to make. I've been making this recipe for years ever since I found it in an issue of Food Network's Magazine. Here's the original recipe.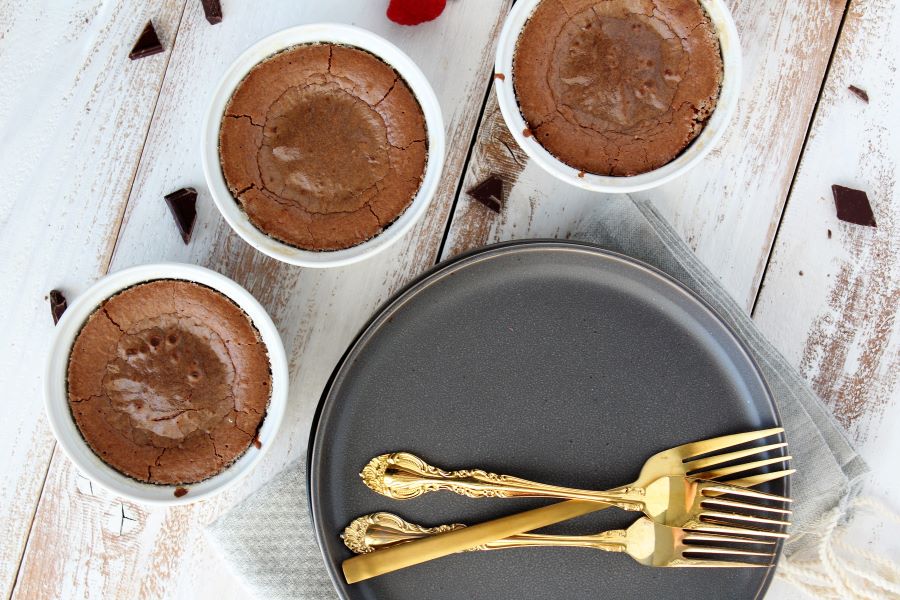 I've sort of made it into a Valentine's Day tradition to make these chocolate lava cakes…although it's been a couple years since I've made them! We always celebrate the "day of love" at home with a favorite meal, and a special dessert like these cakes!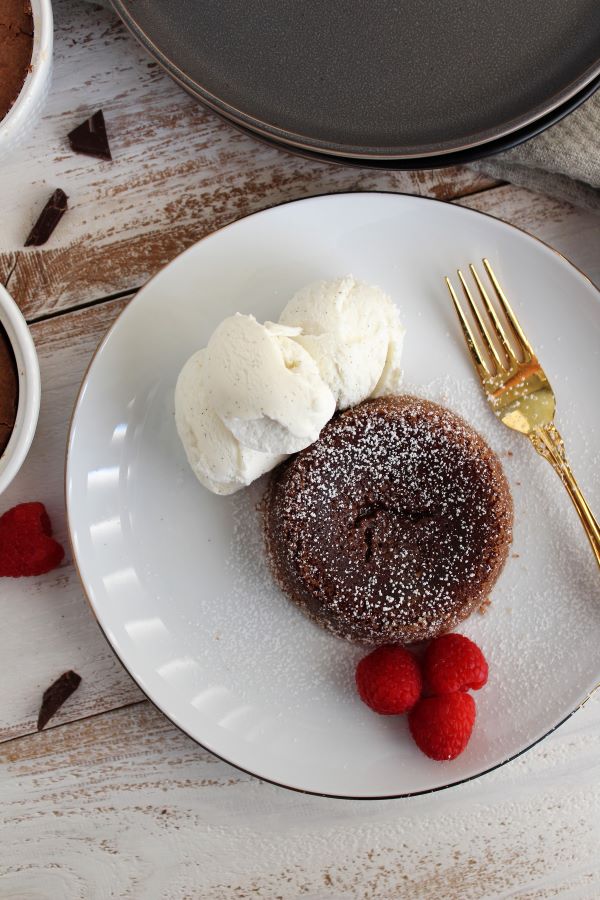 The original recipe makes 8 cakes…which is just too many, unless you're feeding 10-12 people! I've trimmed this recipe in half to make 4…which is still too many for two people, but I have a feeling we won't have trouble making them disappear. One is actually perfect for sharing! The ramekins I use are just from Target. I actually first purchased the ramekins specifically for this recipe many years ago. They've come in handy for so many things!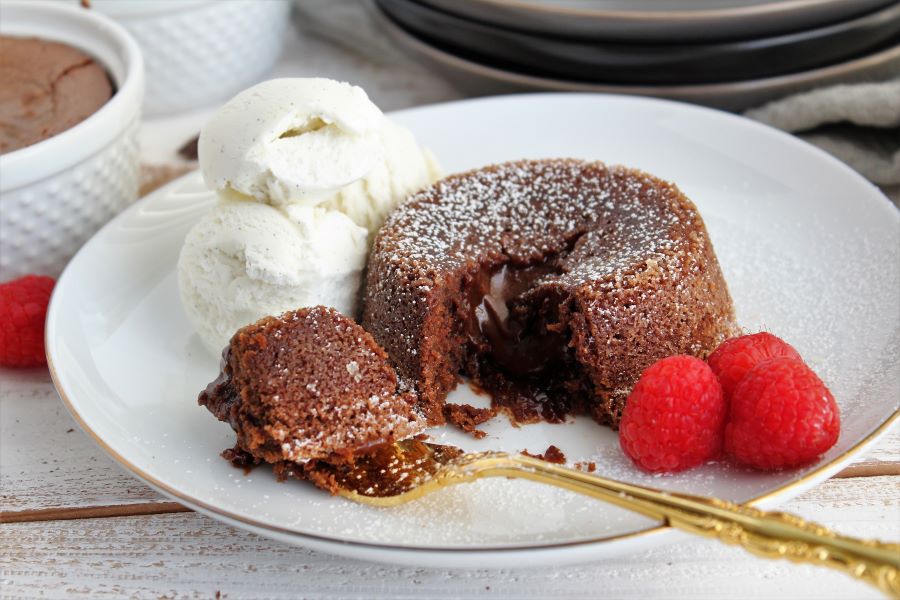 I love the flavor combinations in these cakes. Cinnamon, nutmeg, and cayenne plus the vanilla and almond extract. They just work so well together, and there isn't one that overpowers the other. TRULY best enjoyed with vanilla bean ice cream…I would say it's mandatory if I have that kind of influence on you!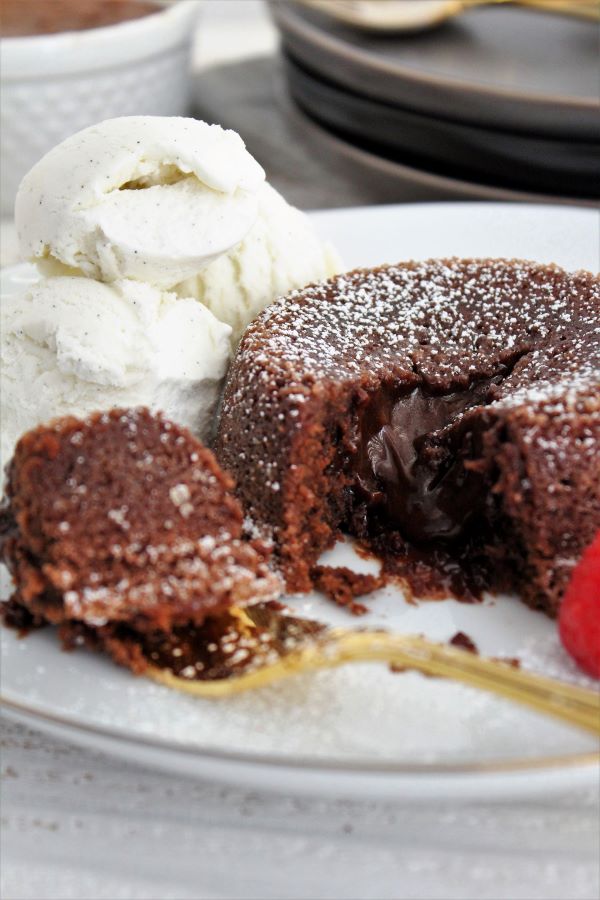 Hope you enjoy!
Looking for a tasty date night meal to serve before these cakes? Try one of my favorite pasta dishes!
Hot Italian Turkey Sausage Pasta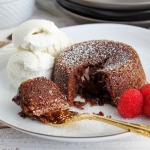 Chocolate Molten Lava Cakes
Ingredients
1

stick

unsalted butter

plus more for ramekins

4

tsp

granulated sugar

for the ramekins

6

oz

semi-sweet chocolate

chopped

1/4

tsp

ground cinnamon

1/8

tsp

cayenne pepper

1/8

tsp

nutmeg

1/2

cup

all purpose flour

1 1/4

cup

powdered sugar

3

whole eggs

3

egg yolks

1

tsp

vanilla extract

1/8

tsp

almond extract

vanilla bean ice cream

recommended
Instructions
Preheat oven to 400 degrees. Generously butter four 6-8oz. ramekins and sprinkle each with the granulated sugar until coated on bottom and sides. This will allow the cakes to easily release.

In a saucepan over low heat, combine butter, chocolate, cinnamon, cayenne, and nutmeg until melted and smooth, stirring frequently. Allow to cool slightly.

In a medium bowl, whisk flour and powdered sugar together. Whisk in the eggs, egg yolks, vanilla and almond extracts until creamy. Slowly whisk in the slightly cooled chocolate mixture until smooth and combined.

Divide batter into the prepared ramekins. Bake for 14-16 minutes until edges are stiff and darken. Remove from oven and let cool for 5 minutes. Loosen edges with a small knife, and flip over onto serving plates while warm. Dust with powdered sugar and best served with vanilla ice cream!
Recipe Notes
You can refrigerate and re-heat in microwave, but the centers may be less gooey after microwaved.
I love to serve with a side of berries, and AWLAYS vanilla bean ice cream.