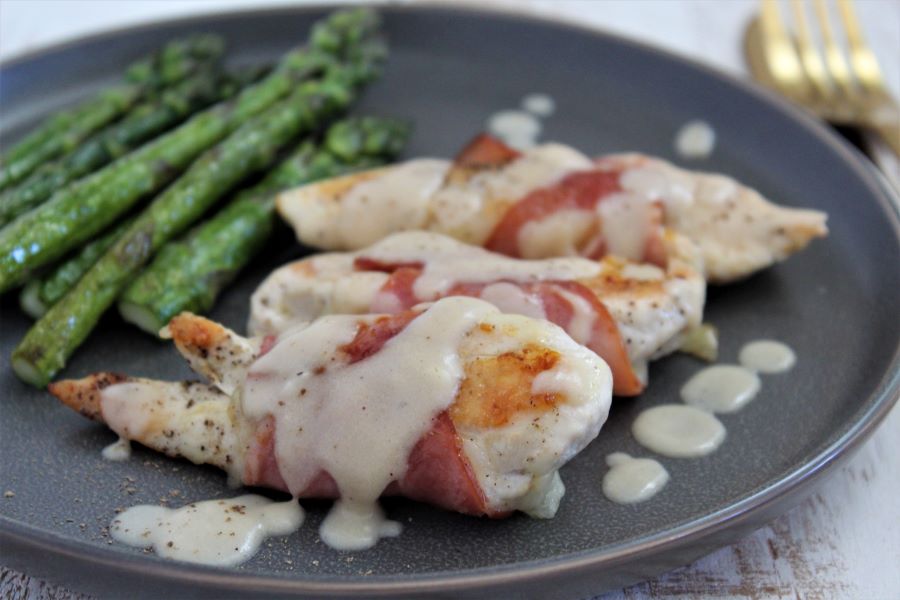 Chicken Tender Cordon Bleu
This Chicken Tender Cordon Bleu recipe is a simple twist on a classic dish. I like to think of it as an inside-out version. The classic chicken cordon bleu is a chicken breast stuffed with ham and Swiss cheese, rolled up, coated in breadcrumbs, and fried and/or baked. Really delicious that way as well, just a little more work in my opinion.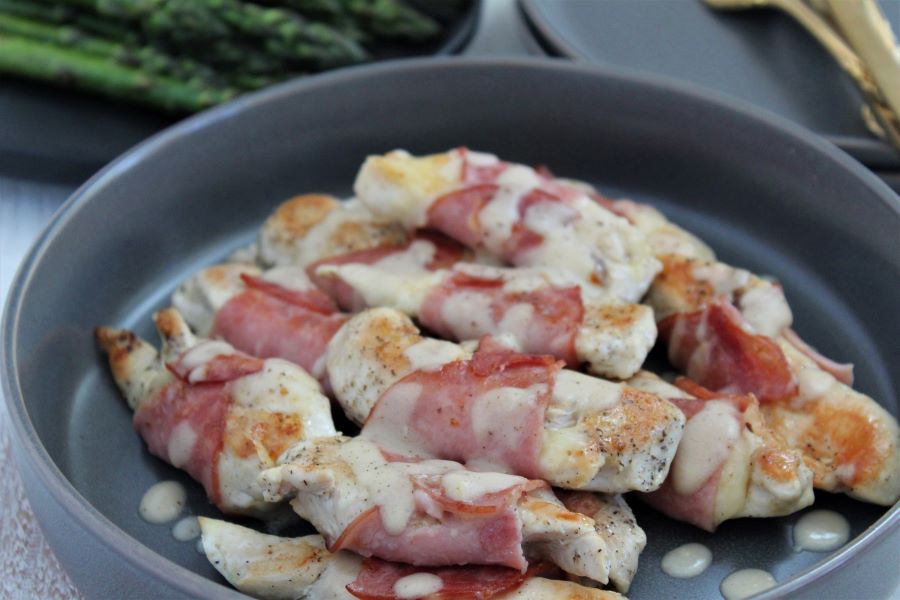 My version uses chicken breast tenderloins. You can find these right next to the chicken breasts. They cook up in no time, and are always super tender. Every time I make a stuffed chicken recipe the chicken seems to take forever to cook through all the way, so I really love this option! Plus, it saves on calories and carbs without the breading.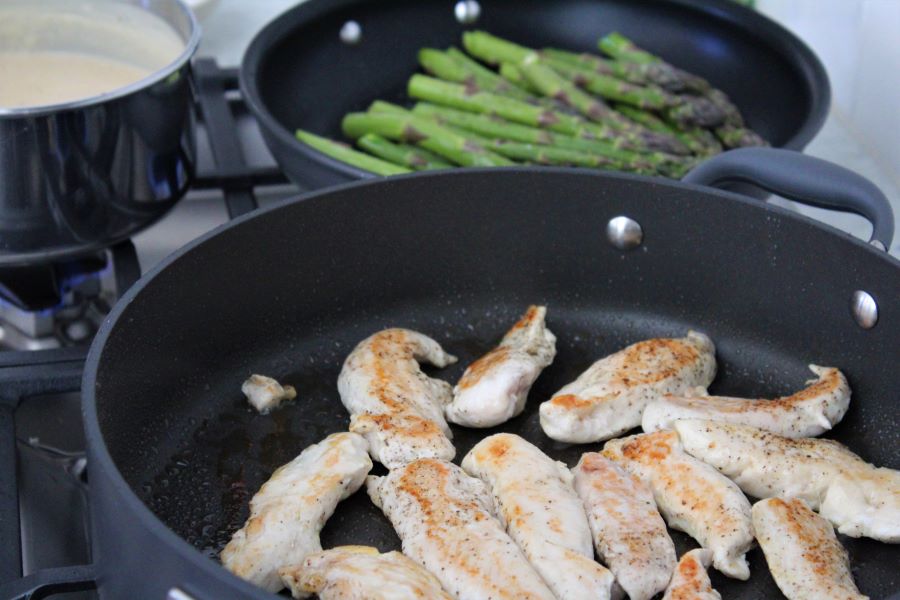 Just brown these little tenders in olive oil, then wrap them up in some deli sliced ham with Swiss cheese, and finish them off back in the pan to brown up the ham. Simple and quick!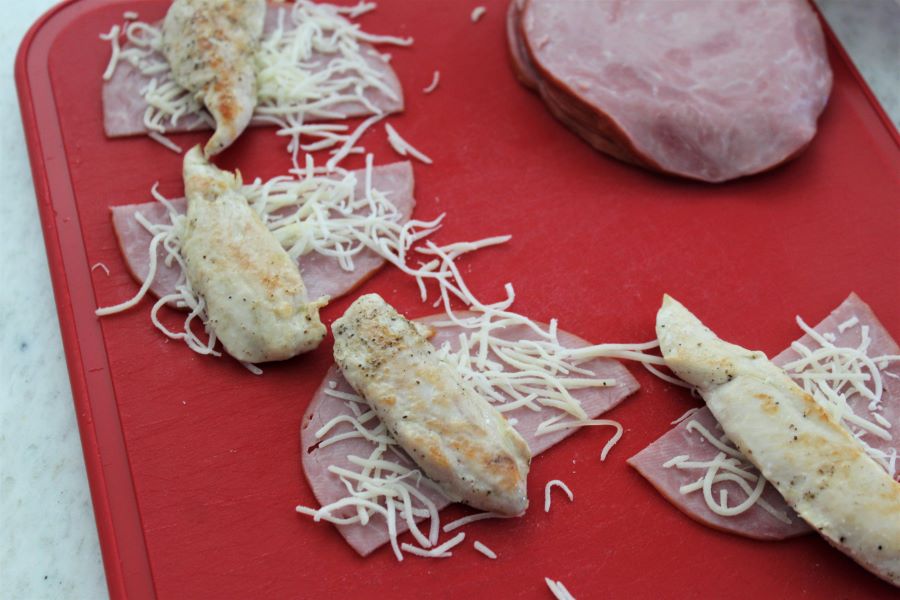 The cheese gets nice and melted, and the ham slightly browned, it's such a great flavor combination. And don't forget that classic Dijon Parmesan sauce to finish it off. It's SO GOOD! I might just start making it for all my chicken dishes!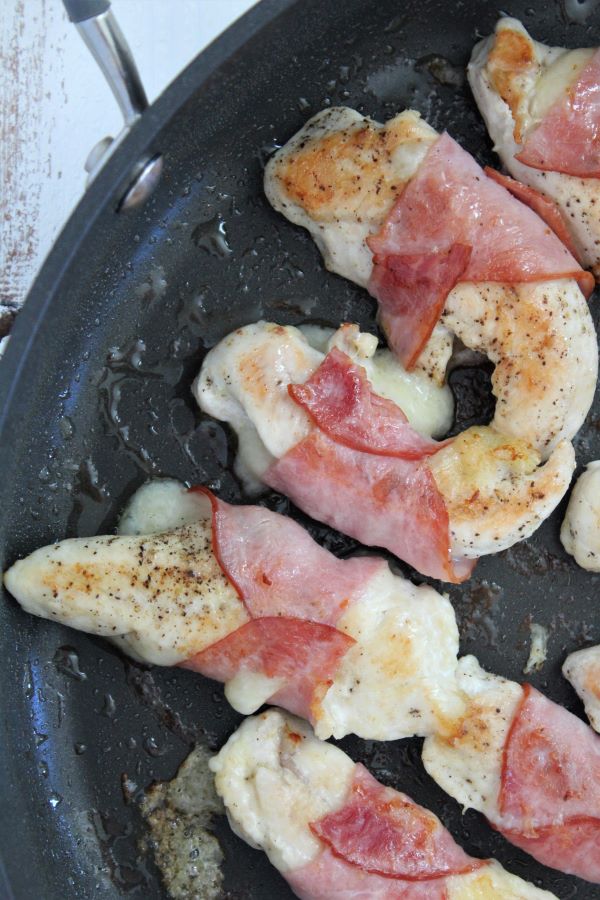 The sauce is just as tasty over some asparagus.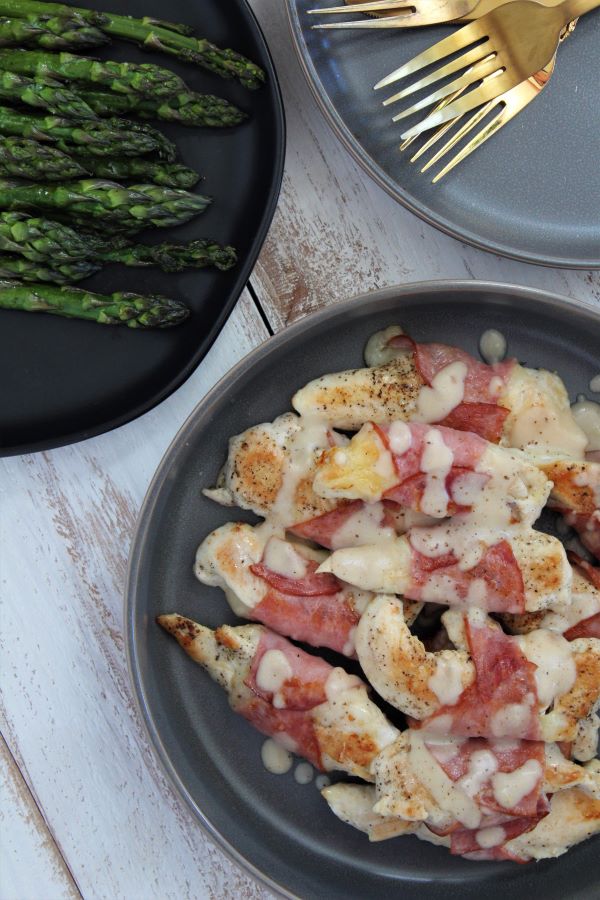 This dish also re-heats very well for leftovers, I enjoyed it for lunch a couple times!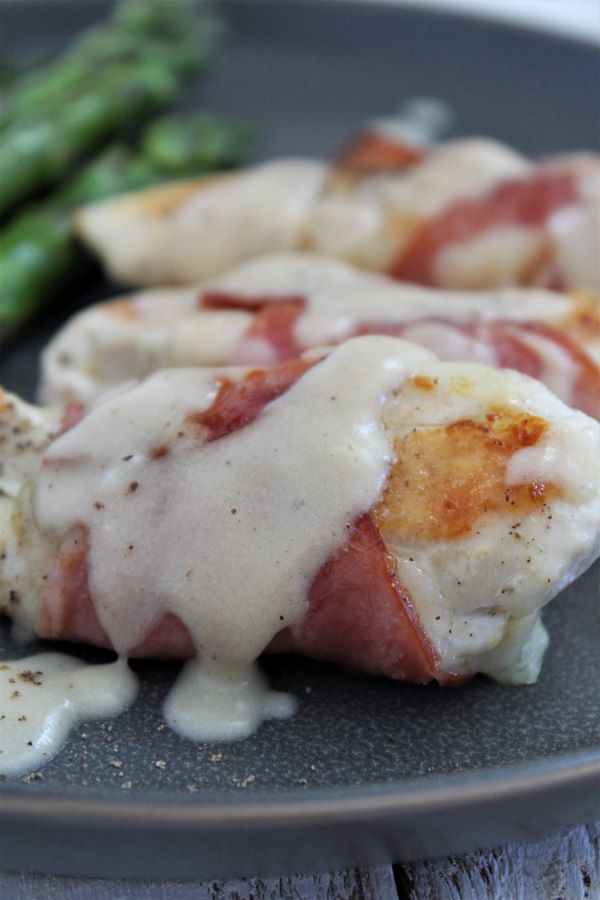 Hope you enjoy this tasty family meal!
Here are a couple of my other favorite chicken dishes:
Chicken Salad with Bell Pepper and Pecans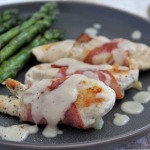 Chicken Tender Cordon Bleu
Ingredients
For the Dijon Parmesan Sauce
1 1/2

tbsp

butter

1

clove

garlic

minced or grated

1 1/2

tbsp

all-purpose flour

1

cup

milk

1/8

cup

Dijon mustard

1/2

cup

fresh grated Parmesan cheese

salt and pepper to taste
For the Chicken
1

lb

boneless skinless chicken tenders

1

tbsp

olive oil

salt and pepper

4-5

slices

deli style ham

1/2

cup

Swiss cheese

shredded
Instructions
For the sauce
In a small-medium sauce pan, melt the butter and garlic over low heat. Once butter is melted whisk in the flour until combined. Whisk in the milk, making sure there are no lumps. Bring to a boil while whisking, sauce will begin to thicken. Reduce heat to low and whisk in Dijon, Parmesan, salt and pepper. Keep on extra low, or cover and remove from heat until ready to serve. Whisk every-so-often.
For the chicken
Heat olive oil in a large skillet over med-high heat. Add in chicken tenders and season with salt and pepper. Reduce heat to medium. Cook for about 4-5 minutes, flip and cook on the other side for another 4-5 minutes. Remove from heat.

Slice each ham slice in half (depending on how big your slices are). Lay out the ham slices on a cutting board or clean work station. (however many chicken tenders you have, that's how many half slices of ham you need)

Sprinkle about a pinch-full of shredded Swiss onto each ham slice. Place a chicken tender on top of each ham and cheese. Roll up and place back into the same skillet, ham seam side down. Cook on medium for 2-3 minutes. Turn each piece and cook another 2 minutes, or until ham is browned and cheese is melted.

Place chicken onto a serving platter or divide evenly among plates. Drizzle Dijon Parmesan sauce over the top. Serve with veggies like asparagus (sauce is delicious on that too!)
Recipe Notes
You could also use frozen, breaded chicken tenders in this recipe if you love the crispy breaded vibe of the traditional Chicken Cordon Bleu. Just bake them as directed before you wrap in the ham and cheese.
The Dijon Parmesan sauce is DELICIOUS! It's going to be my new go-to sauce for chicken. I've make it with skim dairy milk and I've made it with unsweetened almond milk. Both ways turn out delicious, and honestly taste the same.