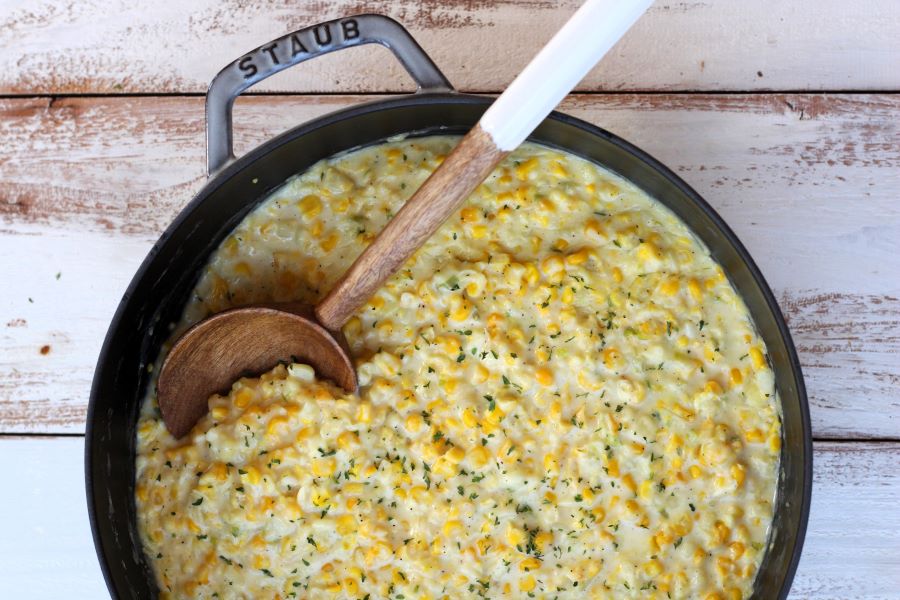 Cheesy Creamed Corn Skillet
I'm all about sides and this Cheesy Creamed Corn Skillet might be my new favorite corn dish. It's SO easy, packed with flavor, and there's a secret ingredient, Old Home Foods cottage cheese! I'm still loving the cottage cheese trend!
This post is sponsored by Old Home Foods but all opinions are 100% my own.
Here's what you need:
butter
corn
green onions
salt & pepper
Old Home Foods cottage cheese
half and half
white cheddar cheese
parmesan cheese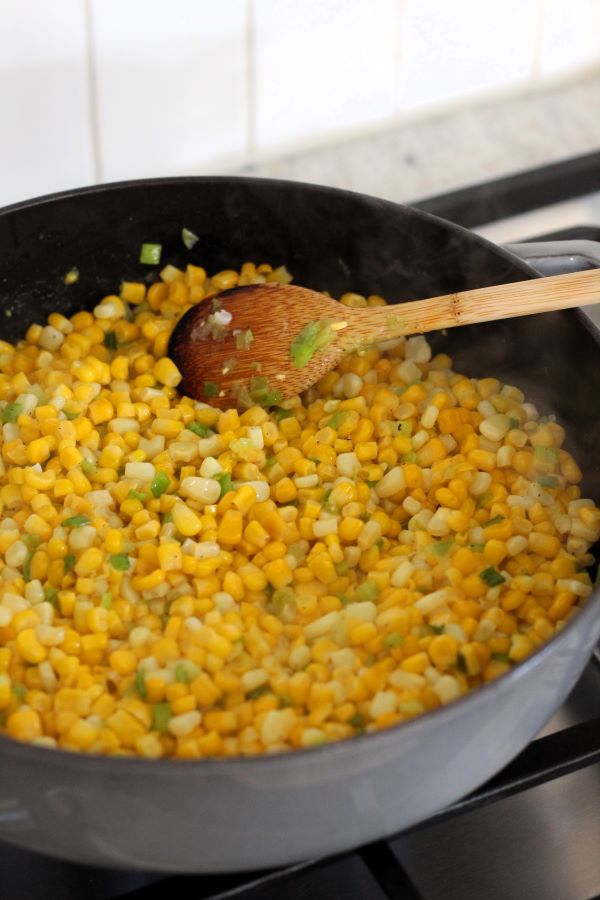 I first made a version of this recipe from Ina Garten's cookbook and instantly fell in love. I love corn to begin with, but add butter and cheese and what's not to love? It all comes together in one skillet, and doesn't require baking. It's on your table in 20 minutes or less.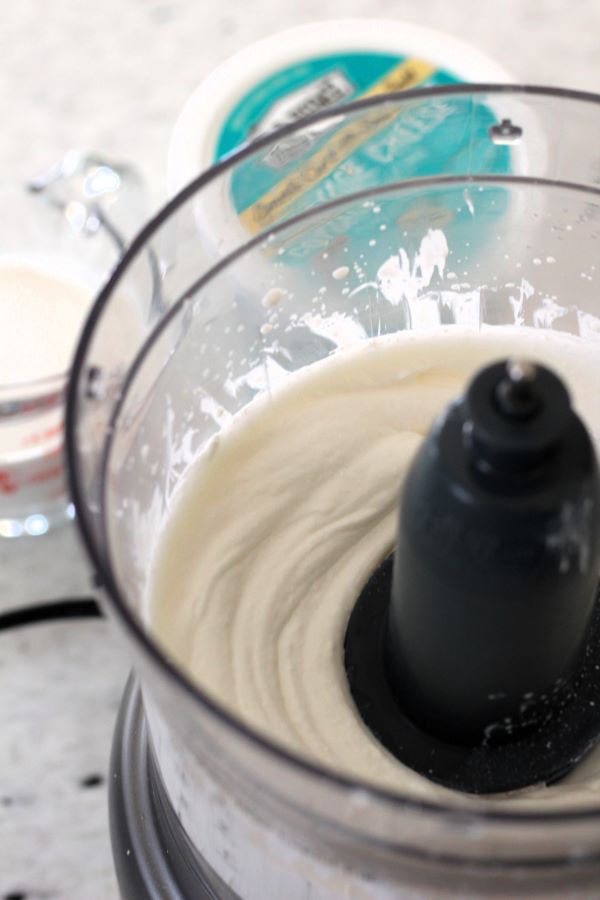 I reduced the amount of half and half from the original recipe, and replaced it with whipped cottage cheese. It works perfectly! I always have Old Home Foods cottage cheese in my fridge, it's a staple snack for me and my little guy, Cal!
A portion of the corn and scallion mixture gets roughly pureed so you get this creamy texture while still having some whole kernels. The green onions seem like a lot, but they really just enhance the dish, and are not overpowering.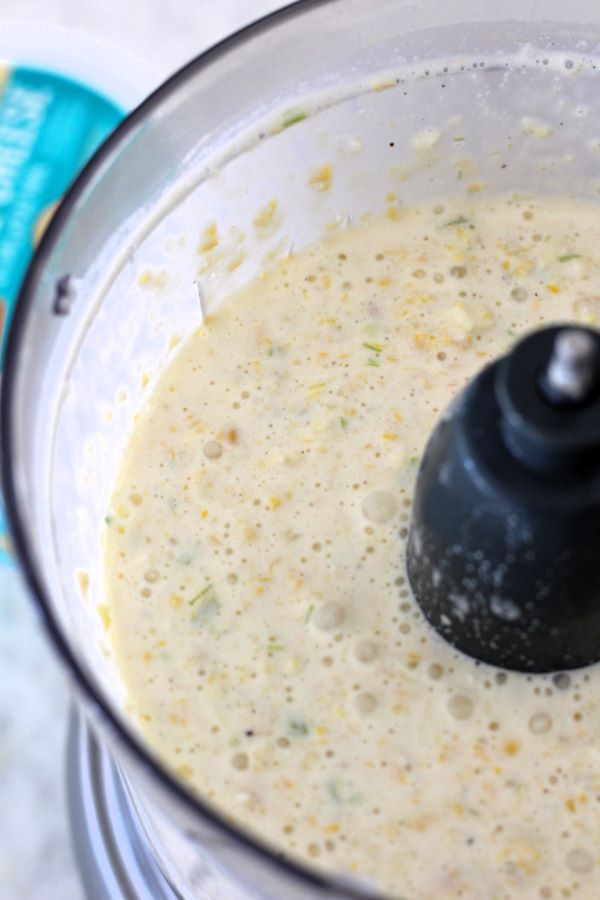 The corn mixture will thicken as it sits, so if you want a thicker consistency, just cover it and give it 10 minutes off the heat.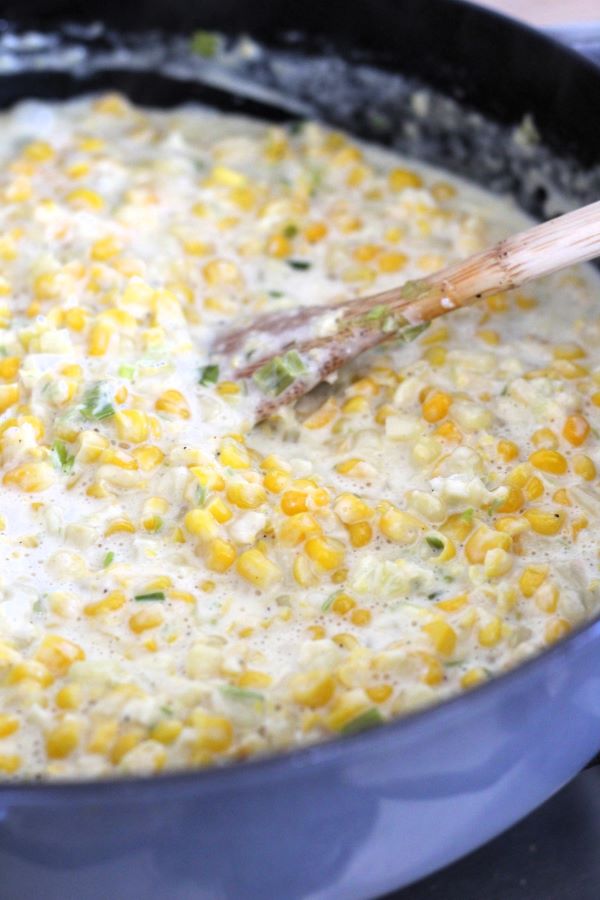 It makes enough to feed 6-8 people depending on your spread. We enjoyed it as leftovers too, it reheats very well.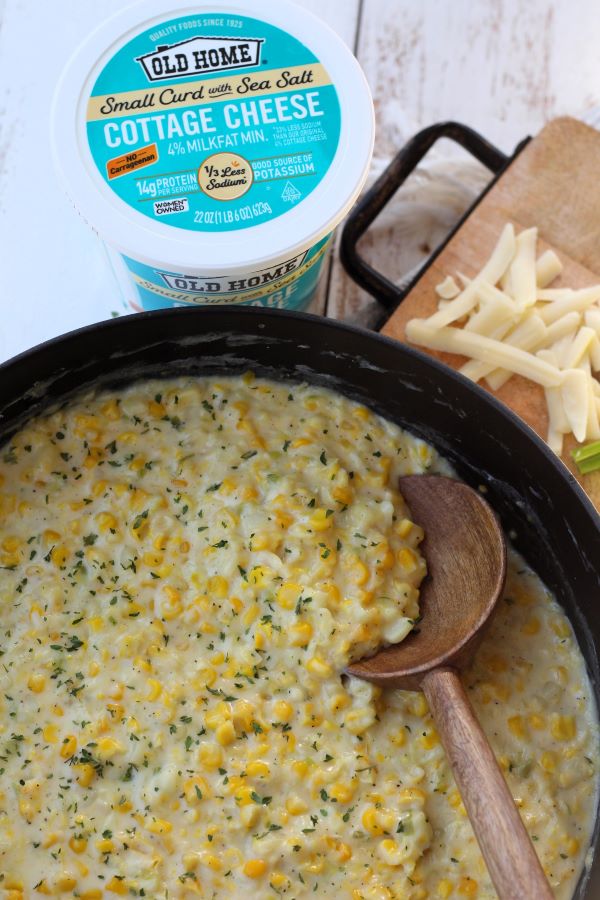 You can serve it right in the skillet you cooked it in, or transfer to a serving dish. I love my cast iron, so tend to serve things right in it!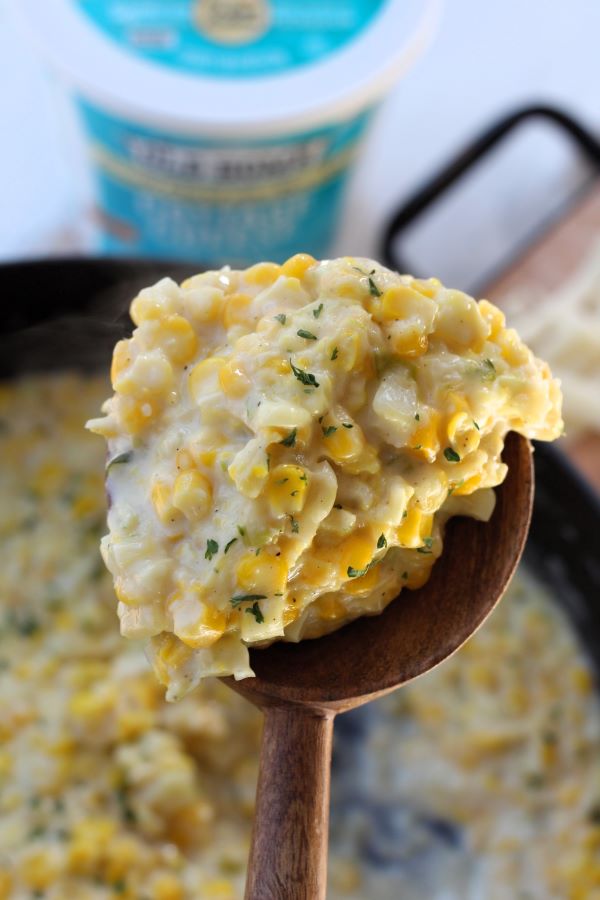 This Cheesy Creamed Corn Skillet is absolutely holiday worthy! Hope you love it as much as I do! Check out these other ways I incorporated cottage cheese into my dishes:
Green Goddess Cottage Cheese Dip – perfect for holiday snacking
Grilled Garlic Cheese Toast – tasty appetizer!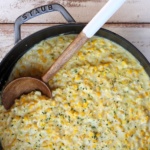 Cheesy Creamed Corn Skillet
So creamy and dreamy with a boost of protein from cottage cheese! The perfect side dish.
Ingredients
6

tbsp

unsalted butter

1 1/2

cups

scallions, white and green parts

thinly sliced

6

cups

corn (fresh or frozen)

1 1/2

tsp

kosher salt

1/2

tsp

black pepper

3/4

cup

Old Home Foods Cottage Cheese

1/2

cup

half and half

1

cup

shredded white cheddar cheese

2

tbsp

grated parmesan cheese
Instructions
Add butter to a large skillet, melt over medium heat. Stir in scallions and cook for about 2 minutes. Add the corn, salt and pepper, and cook over medium-high heat for 5-6 minutes, stirring occasionally.

While corn is cooking, add cottage cheese to food processor and blend until smooth. Add 2 cups of the corn mixture into the food processor with the whipped cottage cheese. Pour in the half and half. Pulse until coarsely blended. Pour mixture back into the skillet, bring to a simmer over medium heat. Cook for about 3 minutes. Turn heat to low and stir in white cheddar and parmesan cheese. Corn will thicken as it sits. Serve immediately, or allow to set for 10 minutes or so off heat.
Recipe Notes
I used frozen corn, but if fresh sweet corn off the cob is in season, use that!
If you do not have a food processor you can try a blender, but just make sure to keep the mixture coarse, not totally pureed.
The creamed corn will thicken as it sits. Cover and allow to rest off of the heat for 10 minutes for a thicker consistency.
If you don't have green onions you could sub shallots or yellow onion, but maybe use half the amount, as they will be more potent.