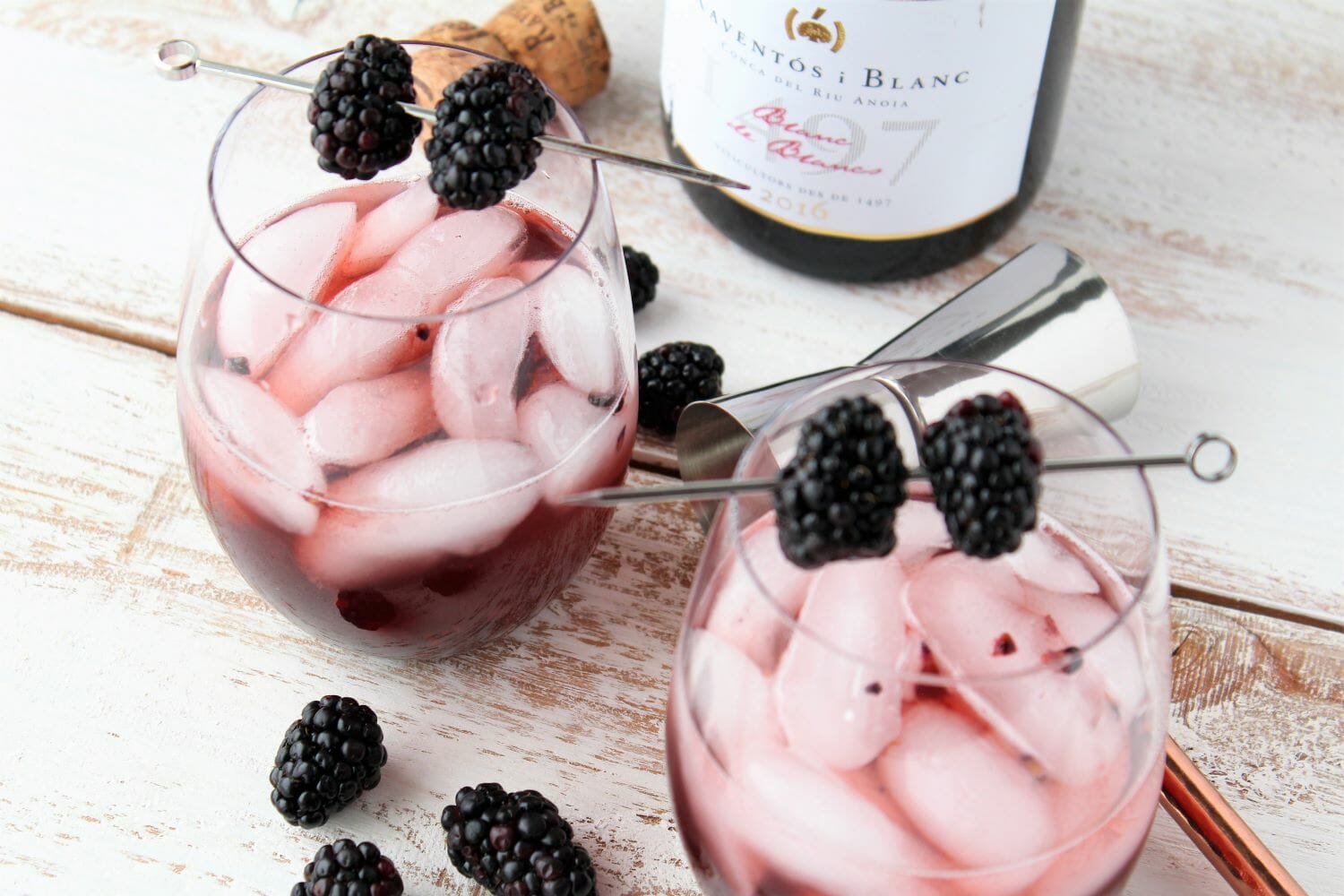 Blackberry Wine Spritzers
This simple Blackberry Wine Spritzer came about after searching the fridge and liquor cabinet to use what I had on hand. A while back I had picked up a variety of sparkling wines to try and had a bottle left in the fridge. I almost always have berries on hand, and these blackberries were getting really ripe and probably close to going bad, so it was a great way to use them up! We always keep chambord liqueur (raspberry liqueur) on hand, it works great in many cocktails!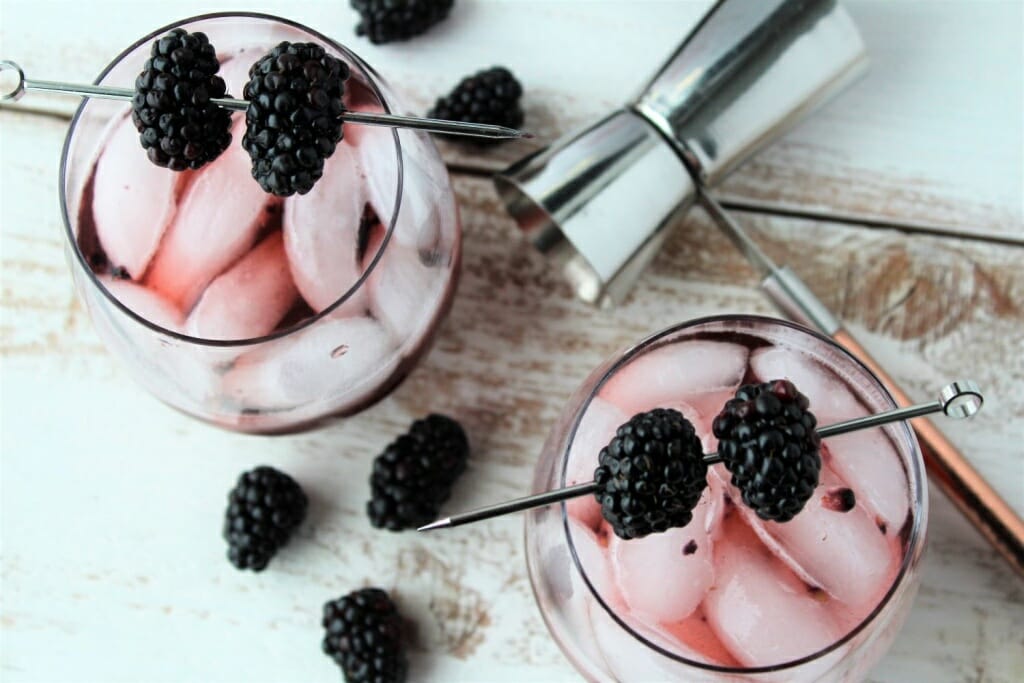 I just used about 1/2 cup of fresh blackberries and mashed them in a bowl. If you're not a fan of seeds in your drinks you can strain out the seeds using a small mesh strainer. They don't really bother me so I left them in. Just fill up a couple wine glasses with ice, pour in the mashed berries, about a half a shot of the raspberry liqueur in each, and top with your favorite sparkling wine.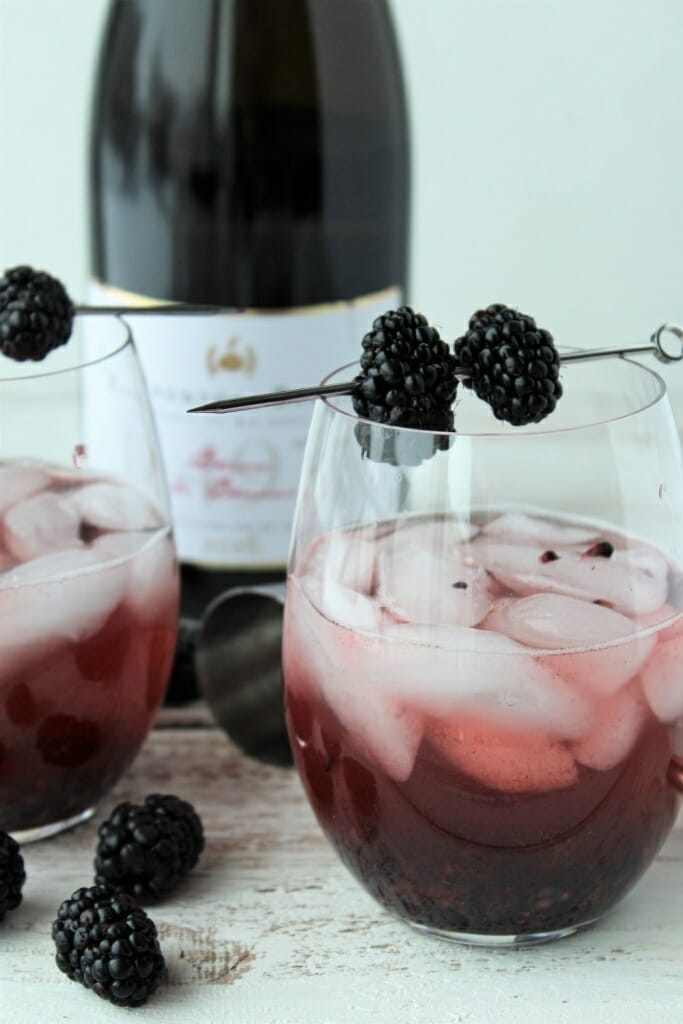 You can control the sweetness of the drink by the sparkling wine you use. I used a pretty dry one, but if you're a sweet cocktail person try using a moscato or something similar for sweetness.
Try one of my other favorite martini's, my Ginger Pear Martinis!
Cheers!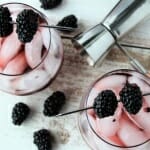 Blackberry Wine Spritzers
Ingredients
1/2

cup

fresh blackberries

muddled/mashed

1 1/2

oz

raspberry liqueur

ice cubes

sparkling wine
Instructions
In a small bowl mash the blackberries, strain seeds if desired.

Fill two wine glasses with ice and pour the mashed blackberries evenly into the two glasses. Add about 1/2 shot of raspberry liqueur to each, top with sparkling wine, stir and enjoy! Cheers!
Recipe Notes
Control the sweetness of your drink by the type of sparkling wine you select. If you like a sweeter cocktail try using a bubbly moscato.
The flavor and sweetness will also be impacted by the berries. I've had both sweet and tart blackberries.