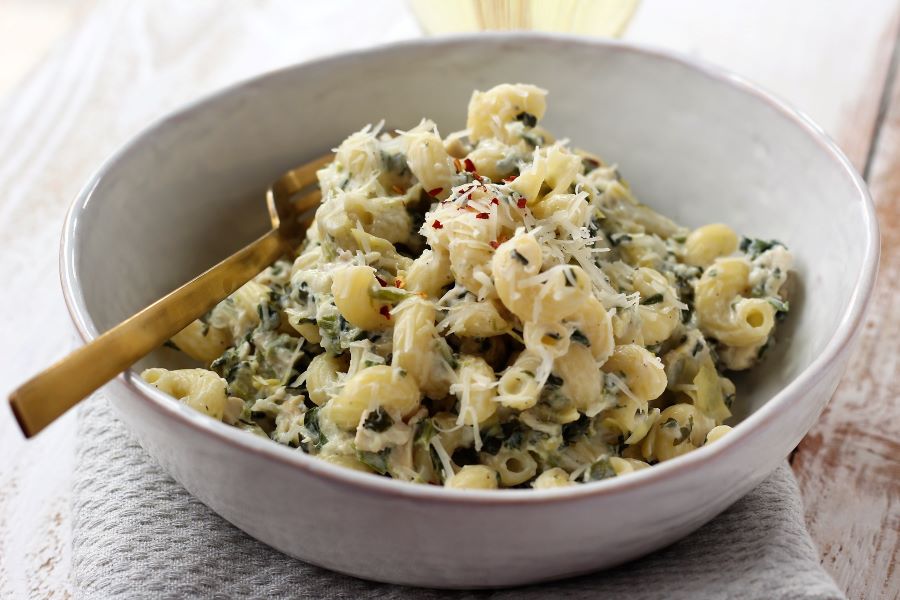 Spinach Artichoke Chicken Pasta Skillet
Where are my spin and artichoke dip lovers at!? I have no idea where that dip originated, but I do know it used to be on (and probably still is) every bar and grill restaurant menu out there. I honestly never really got into, but like I've said before, my tastes have changed so much over the last 20 years. I wouldn't say I love it and order it…but I enjoy it when it is around.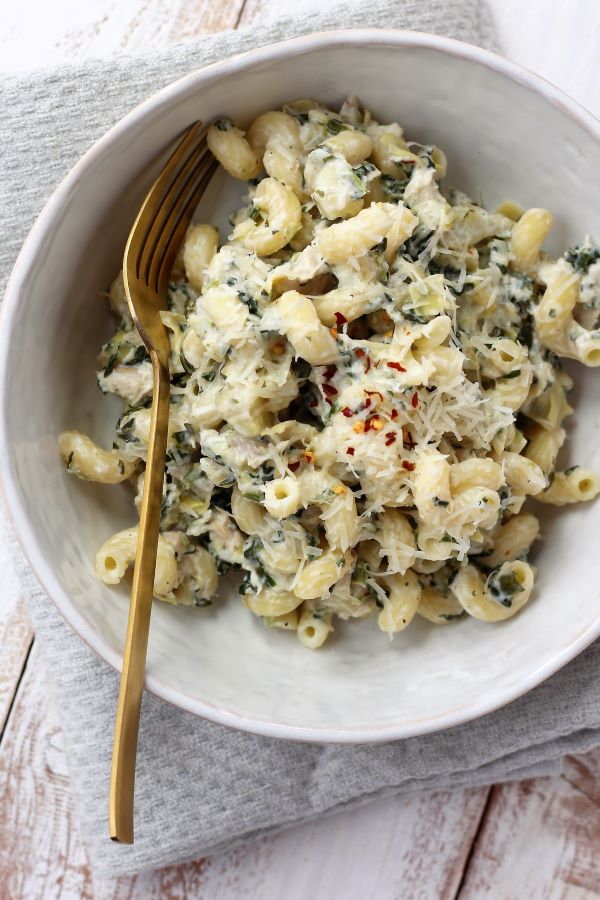 Some of my favorite flavors go into this dish: garlic, Parmesan cheese, and wine! The creamy sauce is made up of cream cheese, sour cream, and milk, no flour roux required! The zip of the white wine pairs really well with the tangy artichokes. This dish makes a great weeknight meal, and comes together in about 30 minutes! Re-heats well too for leftovers. A fun way to use a new shape of pasta like pinwheels or bow tie! Enjoy this Spinach Artichoke Pasta Skillet!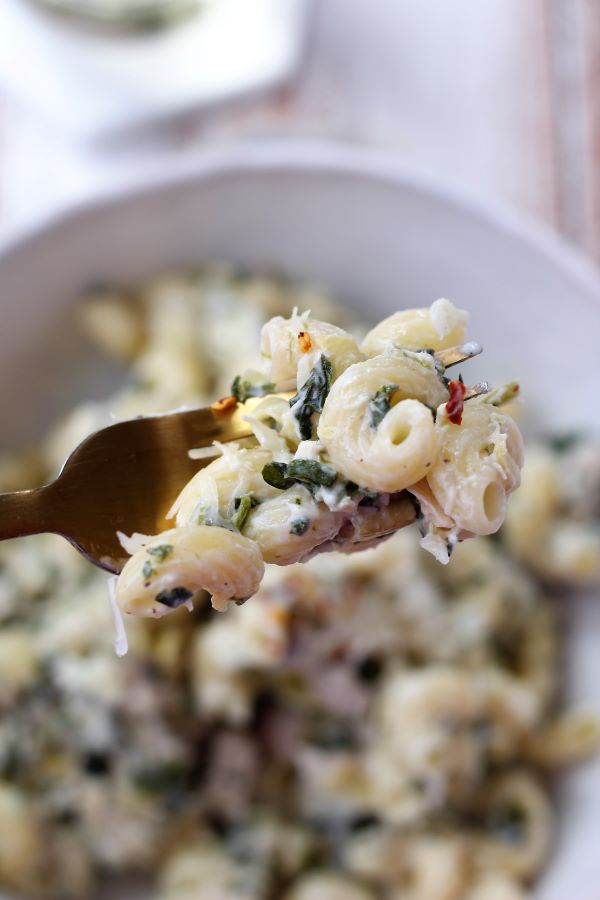 Variations:
Plain Greek yogurt (fat free or full fat) to replace sour cream
Reduced fat cream cheese
Almond milk or other non-dairy milks
I have used all of the above variations and they work just as great!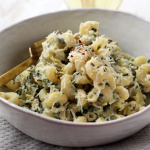 Spinach Artichoke Chicken Pasta Skillet
Ingredients
12

oz

short-cut pasta

1

lb

chicken breast

Drizzle

olive oil

1/2

medium

yellow onion

diced

3

cloves

garlic

minced

14

oz

can artichokes

drained & chopped

1/2

lb

frozen chopped spinach

thawed, drained

5

oz

cream cheese

(about 1/2 cup)

1/2

cup

sour cream

1/2

cup

milk

1/2

cup

white wine

1/2

cup +

Parmesan cheese

grated

1/4

tsp

red pepper flakes

optional

Salt and pepper
Instructions
Bring a large pot of salted water to a boil. Cook pasta according to package directions to al dente. Just before draining, reserve a cup or so of pasta water.  

While pasta is cooking, slice chicken breasts into small pieces. Drizzle a skillet with olive oil, add chicken and minced onions, cook over med-high heat until chicken is cooked through. Stir in minced garlic, cook for another minute. Remove chicken onto a plate and set aside.

Add white wine to the skillet to deglaze the pan, use a whisk to bring up any chicken bits from the bottom of the pan. Add cream cheese, sour cream, and milk. Whisk until combined and heated through. Reduce heat to low and whisk in the Parmesan cheese. Season with salt and pepper, and red pepper flakes.

Stir in the chopped spinach and artichokes. Add the chicken back into the skillet and combine until warmed through. Taste for seasoning, and add salt and pepper as needed, and red pepper flakes for a kick if desired. Stir in the cooked pasta. Thin out with reserved pasta water if needed. Serve up with another sprinkle of grated parm.
Recipe Notes
You can easily leave the chicken out for a vegetarian dish. Have fun with the pasta shapes, any short-cut pasta works great!
Make sure to thaw your spinach, and squeeze out all of the excess liquid, it holds a lot and you want that removed prior to cooking. I place the spinach in a clean dishtowel and ring it over the sink.
The sauce will thicken after you add in the cooked pasta, the longer it sits the more liquid the pasta will soak up. Add more reserved pasta water to thin out if needed, and season to taste. Add milk or water when re-heating leftovers.