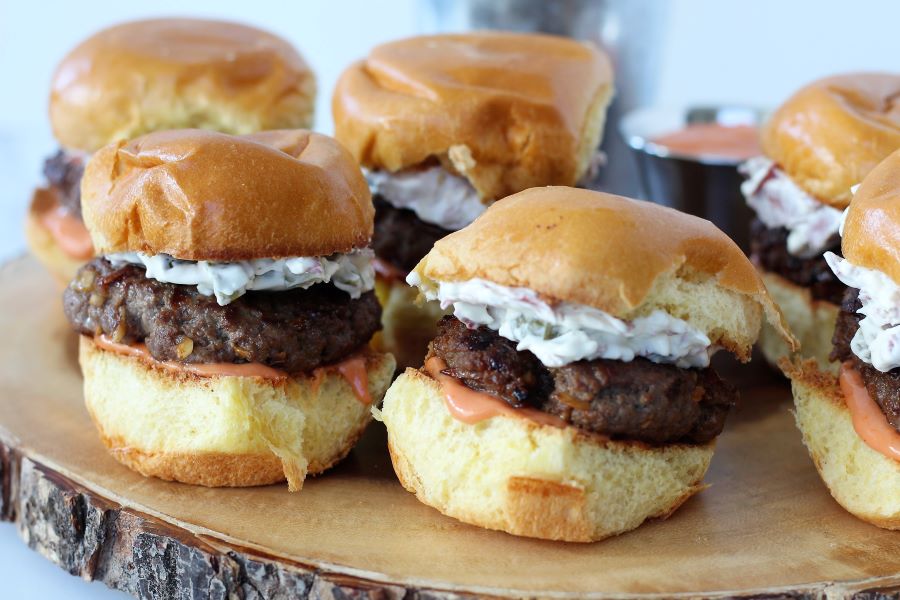 Dill Pickle Dip Slider Burgers
You guys…these little juicy burgers are a game changer. I don't know anyone that doesn't love dill pickle roll-ups, and now dill pickle roll-up dip! Is it a Midwest thing? Not really sure, but the roll-ups are time consuming so some genius started making it into a dip, YUM! You know I love anything with cream cheese so naturally I am obsessed with this dip. I don't ever put pickles on my burger, but I know for most people they are a burger staple. I think that is why this works so well. Juicy rich beef topped with salty dried beef, pickles, and cream cheese, yes please!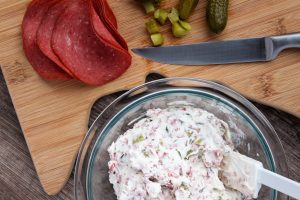 These are PERFECT for serving on a game day, and even for tailgating. The dip and burger patties can be prepped ahead of time and only take a couple minutes on the grill. I will be raving about these for quite some time, already can't wait to make them again. Enjoy!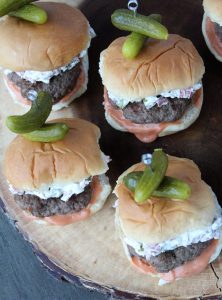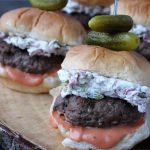 Dill Pickle Dip Slider Burgers
Ingredients
For the dill pickle roll-up dip
8

oz

regular or reduced fat cream cheese (not fat free)

3

oz

chopped dried beef

such as Hormel

3/4

cup

dill pickles

chopped

1

tbsp

pickle juice
For the sliders
1

lb

ground chuck

80/20

1/2

pkg

dried onion soup mix

such as Lipton

2

tbsp

Worcestershire sauce

black pepper

3

tbsp

ketchup

2

tbsp

mayo

6

slider buns
Instructions
For the dill pickle roll-up dip
In a medium bowl, combine all of the dip ingredients. You can add or subtract as much dried beef and pickles as you want, depending on your desired ratio. I used about 8-10 decent sized baby pickles. Cover with plastic wrap and refrigerate until ready to serve. Can be made the day before.
For the burgers
In a small dish combine the dried onion soup mix and Worcestershire sauce. This helps to re-hydrate the dried onions and soften them up. Let it sit for a few minutes.

In a medium bowl gently mix the ground chuck and onion soup mixture together until just combined. Form into 6 slider patties. Season each side with black pepper.

In a small dish, mix together the ketchup and mayo. Set aside for assembly.

Preheat a grill, indoor grill pan, or skillet over med-high heat. Cook burgers for 2-3 minutes per side depending on desired meat temperate. They cook fast since they are so small, and will continue to cook a bit once removed from heat.
Assembly
Spread the ketchup and mayo mixture on the bottom bun, and a heaping scoop of the dill pickle dip to the top bun. Throw a slider in-between and dig in!
Recipe Notes
Some pickle dip recipes use ham, but I love the dried beef and have always used that. It comes in a little jar and is next to the canned tuna and chicken in the grocery store. I use neufchatel cheese, which is basically reduced fat cream cheese. It tastes nearly identical, whereas fat-free cream cheese is just not good in my opinion. Added bonus: this cheese is already soft, whereas regular cream cheese needs time to soften to become pliable. 
Ground chuck is great for burgers because it has great fat content. You can certainly use a leaner meat, but the burgers could get dry. I like to set the meat out on the counter for 30-60 minutes before making patties to bring the temperature up. It makes it easier to work with, but not required of course! I do not add any extra salt to anything in this recipe. The pickles, dried beef, and onion soup mix are all salty enough to add great seasoning. 
The dip and patties could easily be made the day before. The sliders come together in no time!
Like a little heat? Add a splash of sriracha to the ketchup/mayo mixture!