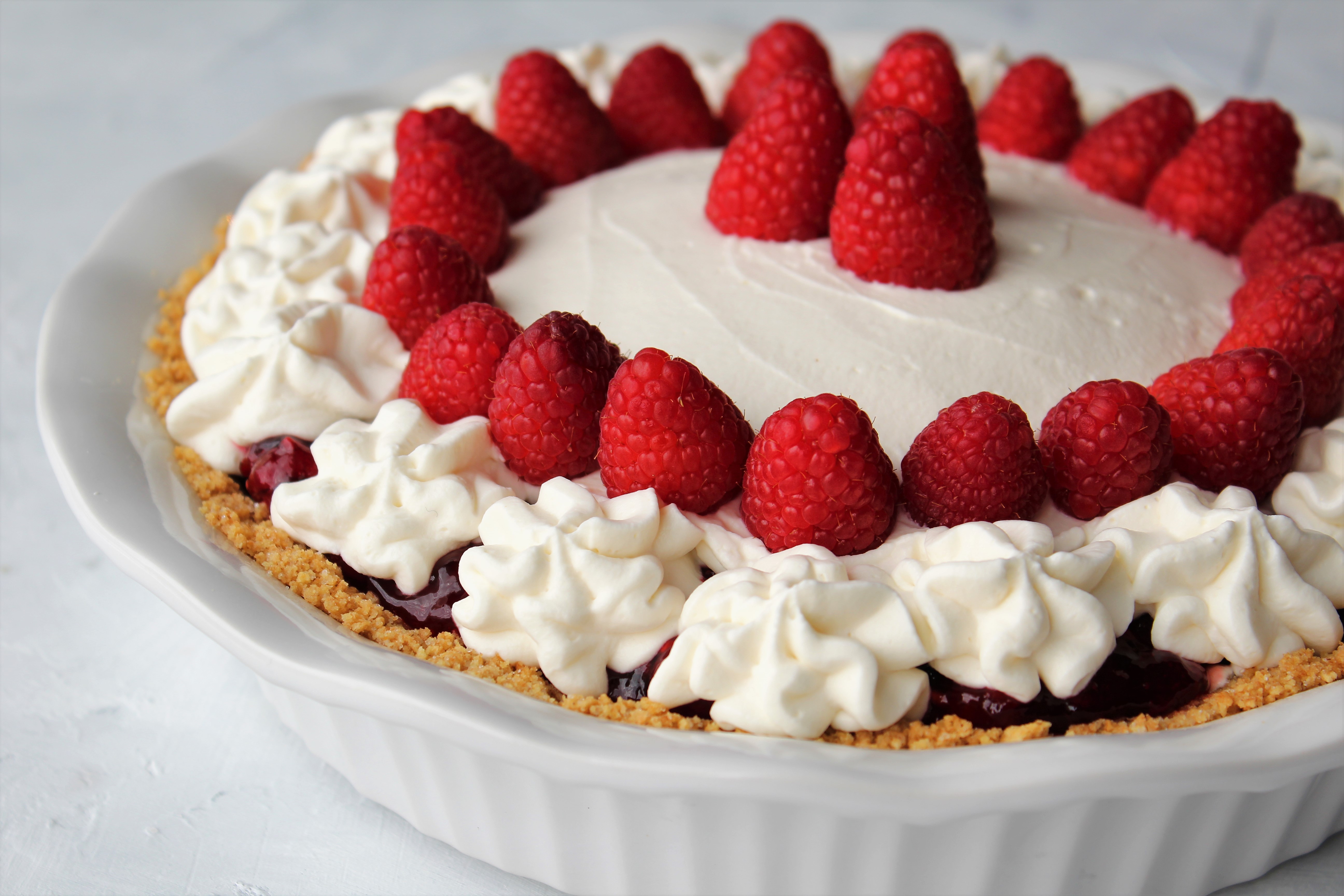 Raspberry Parfait Pie
My mom has been making this easy dessert for years! It's light, not overly sweet, and beautiful! I love a good no-bake cold pie over a traditional baked fruit pie. This recipe uses an easy graham cracker crust. You could buy a pre-made one but I feel those tend to be a little small, and break easily. A fresh made crust really tastes great, and is very easy! It's just crushed graham crackers, butter, and sugar all mixed together and baked for a few minutes. The fruit filling is raspberry jello and a bag of frozen raspberries. You could use fresh, but I like to save the fresh ones for the top to decorate! The frozen raspberries help to set up the jello faster too. Lastly…my favorite part…fresh whipped cream mixed with cream cheese, yum! You can get creative with how you decorate the top layer with fresh raspberries.
My mom often doubles her recipe to fit a 9×13 pan to feed a crowd. A perfect treat everyone will love, and great for pot-lucks!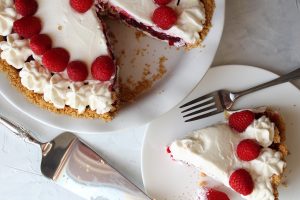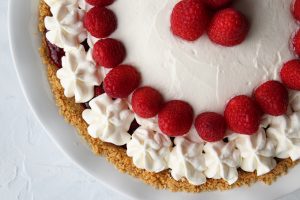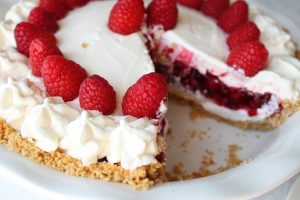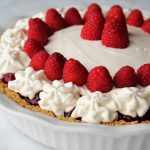 Raspberry Parfait Pie
Ingredients
For the crust
1 1/2

cups

graham cracker crumbs

1/3

cup

white sugar

6

tbsp

melted butter
Jello filling
1 1/4

cup

boiling water

3

oz pkg

raspberry jello

1/4

cup

white sugar

10

oz

frozen raspberries

1

tbsp

lemon juice
For the whipped cream
1 1/2

cups

heavy whipping cream

4

oz

cream cheese

1/2

cup

powdered sugar

1

tsp

vanilla extract

1/4

tsp

salt
Instructions
Preheat oven to 375 degrees. Combine crushed graham crackers, sugar, and melted butter in a medium bowl. Press into a 9-10 inch pie plate. Bake for 7 minutes, cool completely.

Dissolve jello and sugar into the boiling water (off of heat). Stir in frozen raspberries and lemon juice. Chill just until it starts to settle and thicken so that it's not too runny (about 10-20 minutes).

While the jello mixture is setting up, mix up the whipped cream filling. In a stand mixer or large mixing bowl beat the heavy cream until stiff peaks form. In a separate medium bowl beat together the cream cheese, powdered sugar, and vanilla extract until smooth. Add the cream cheese mixture to the whipped cream, and beat together until well combined.
Pie assembly
Spread about 1/3 of the whipped cream mixture onto the cooled pie crust. Next, pour in the jello mixture and spread evenly. If you will not be pipe-decorating the top you can spread the rest of the whipped cream to top off the pie. If you want to decorate with the whipped cream, only spread another 1/3 of the whipped cream on top of the jello mixture. Use the remaining 1/3 of the whipped cream mixture to decorate. Arrange fresh raspberries on top of the pie.

Chill at least 1 hour before serving so the jello can fully set up. Store in the fridge.
Recipe Notes
Recipe can be doubled to make a 9x13 to feed a crowd!