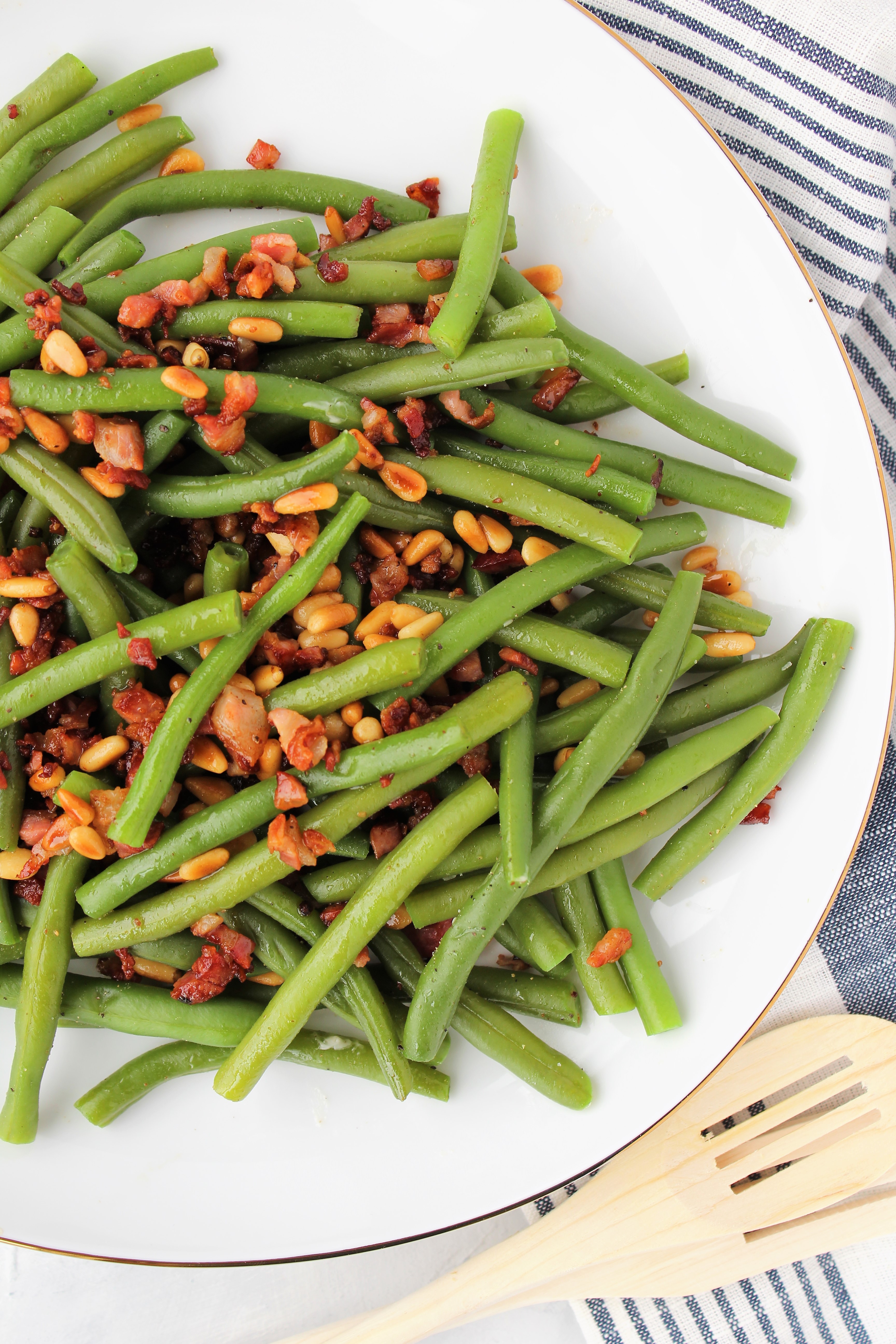 Fresh Green Beans with Toasted Pine Nuts and Pancetta
This simple side dish recipe it such an easy and yummy way to elevate those regular old green beans. Don't get me wrong, I LOVE fresh garden green beans with a little butter, salt and pepper, YUM! They bring back memories of childhood. For years my mom kept a wonderful veggie garden filled with fresh green beans. I didn't always enjoy helping to pick them, but loved eating them!
I'm not sure I'll ever be much of a green thumb with my own garden. I've come to terms that I am OK with buying my fresh produce and even herbs from the store or farmers market! I've tried growing house plants, fresh herbs, and even a pepper and tomato plant with no luck. Maybe someday?!
These are a quick and easy side dish that would pair wonderfully with your summer grilling! The toasted pine nuts add such great toasty flavor, it's amazing how lightly toasting nuts changes the flavor!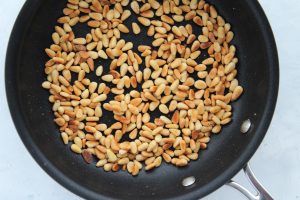 Combined with salty pancetta, this side will be loved by all!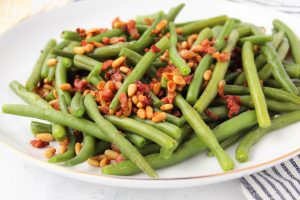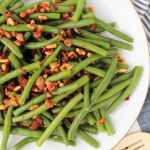 Fresh Green Beans with Toasted Pine Nuts and Pancetta
Ingredients
1

lb

fresh green beans

washed and trimmed

2

oz

pine nuts

4

oz

pancetta

diced

2

tbsp

butter

salt and pepper
Instructions
Add pine nuts to a small skillet. Toast over med-high heat, stirring often to avoid burning. Once they begin to become fragrant and lightly browned they are ready, about 5-6 minutes. Remove from heat.

In a medium skillet cook the diced pancetta until crispy and cooked through. Drain onto a paper towel lined plate. Wipe out skillet and set aside to use in the last step.

Add trimmed and washed green beans to a large saucepan. Fill about 2/3 full with water and bring to a boil over med-high heat. Reduce heat to med-low and simmer for about 3-5 minutes. Drain and place beans into an ice water bath to stop the cooking, this will help keep their color and a slight crunch.

Add the cooked beans, cooked pancetta, and toasted pine nuts back into the medium skillet over med-low heat. Stir in butter, salt and pepper. Heat through until butter is melted and beans are warmed through, serve immediately.
Recipe Notes
For the ice water bath, fill a large bowl with ice and cold water. Dunk the beans in the ice water for a few seconds.