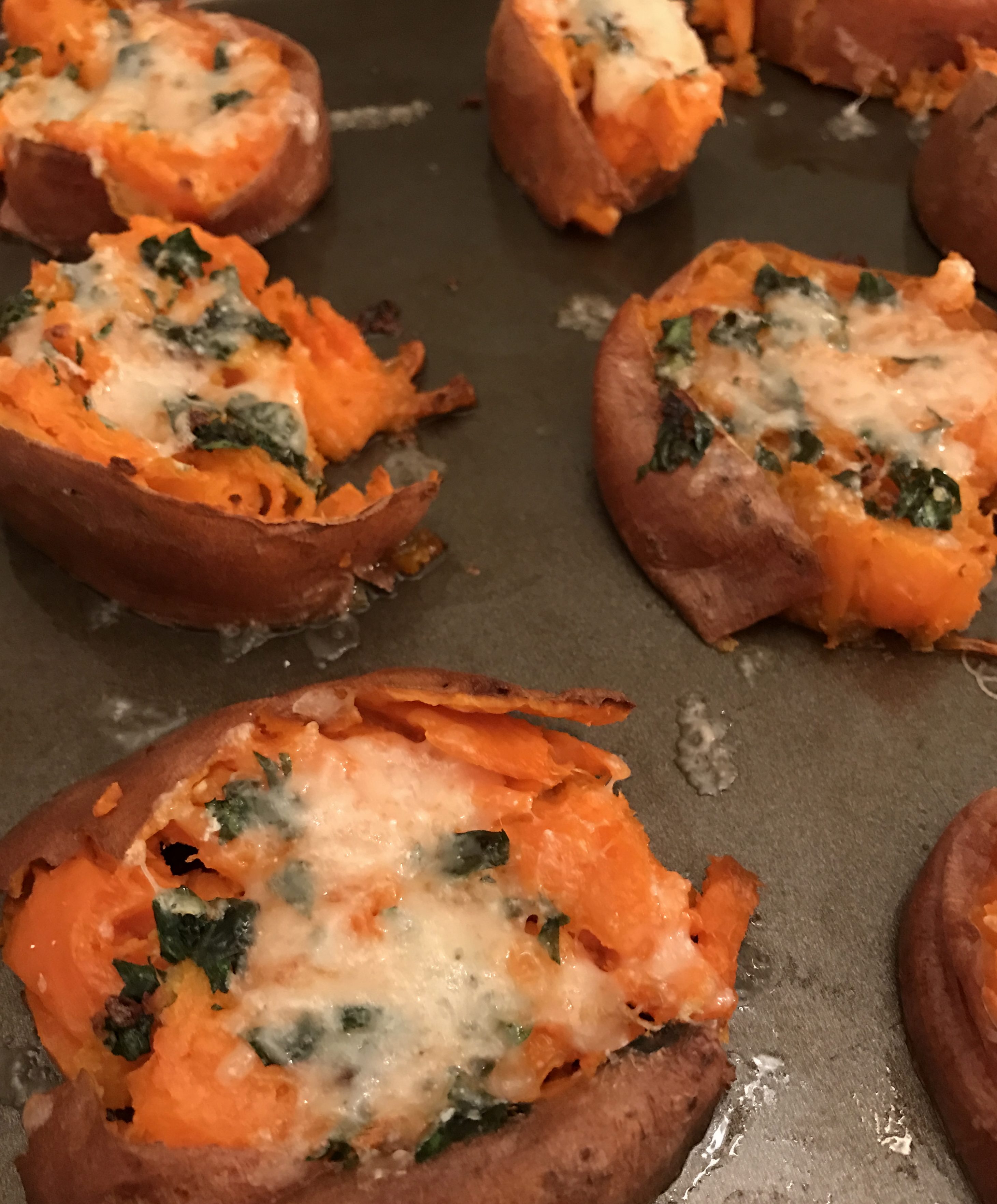 Parmesan Garlic Sweet Potatoes
I've recently become a huge fan of sweet potatoes; you can get sweet potato fries at almost every bar and grill these days. I always thought of them as that weird overly sweet side dish that gets passed around at Thanksgiving. Since sweet potatoes are already obviously sweet, I love to pair savory ingredients to balance them out. I have tried to make oven baked sweet potatoes from raw sweet potatoes (not the frozen bag kind) and they never seem to get cooked through enough or anywhere near crispy without burning or setting off my smoke alarm.
By slicing the sweet potatoes in thick disks and leaving the skin on, you can get the edges crispy, and the centers soft and cheesy! I have seen similar recipes used with baby red potatoes that are also delicious in this recipe!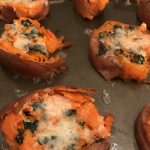 Parmesan Garlic Sweet Potatoes
Ingredients
3

medium-large sweet potatoes

3

tbsp

butter

melted

3

cloves

garlic

minced

1

tbsp

fresh flat-leaf parsley

minced

1/4

cup

fresh grated Parmesan cheese

salt and pepper
Instructions
Prick washed sweet potatoes all over with a fork. Place on a paper towel in the microwave and cook in increments of 2 minutes, turning and checking for done-ness after each 2 minute increment. Potatoes should be soft to the touch and should be cooked after about 6 minutes depending on the size. Let cool for about 5 minutes.

Spray baking sheet with cooking spray. Slice potatoes into 1/2 inch round disks and place them on the baking sheet. Using either a potato masher or fork, gently press each potato disk to lightly mash it. Season each with salt and pepper.

Mix together melted butter, garlic, and parsley. Spoon butter mixture over each potato disk.

Broil in the oven for about 10-15 minutes or until edges are golden and crispy. Sprinkle with parmesan cheese. Return to broiler until cheese is melted. Garnish with more fresh parsley if desired.
Recipe Notes
I like to microwave the potatoes because of how fast they cook, but you could also bake or boil them if you prefer.