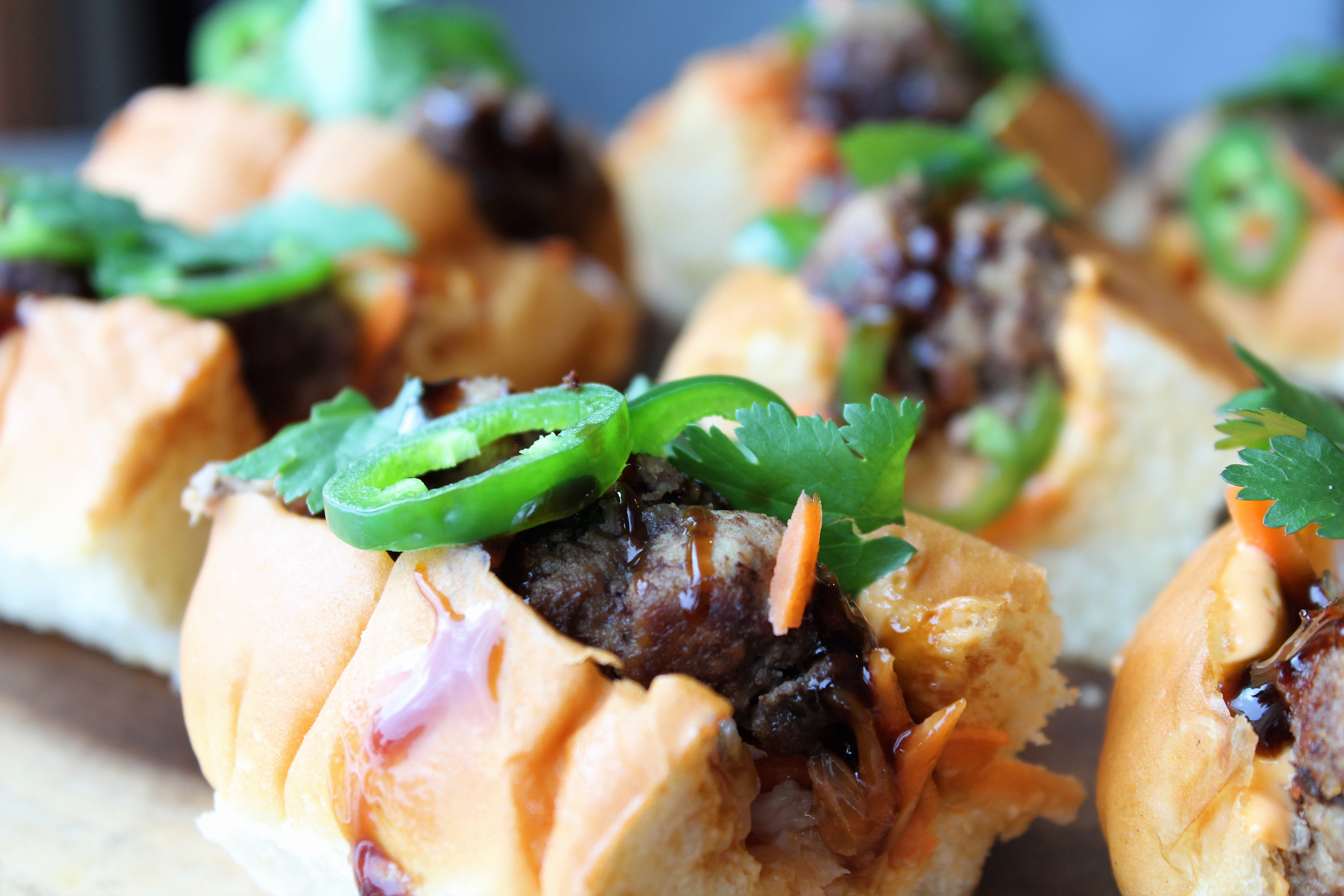 Meatball Banh Mi Subs
The banh mi sandwich is new to me…but I've been seeing it all over social media lately, and when I saw a meatball version on a menu while in Utah I knew I had to try it. It traditionally consists of a French baguette, pickled veggies, and pork. My version is a little less traditional, using my All Purpose Meatballs and Hawaiian hoagie buns. Doing a quick pickle of veggies is actually super easy to do, you just let the veggies sit in a mixture of vinegar, sugar and salt, that's it! A traditional sandwich uses daikon radish which is what I also used, however a red radish would work just fine, and add a great pop of color. The daikon radish can be found near the red radishes. They are much larger and white, kind of like a jumbo white carrot! I heat up the freezer meatballs in a little water, sesame oil, and glaze with hoisin sauce…yum…hoisin. These are topped off with fresh sliced jalapeno and cilantro. To balance the flavors I made a spread of simple sriracha mayo which goes great with the sweet hoisin. A unique twist on a meatball sandwich! These are perfect bite sized appetizer portions when cut in half, or serve whole as a meal. This recipe makes 4 full sized sandwiches or 8 appetizer portions.
Make my All Purpose Meatballs for quick and easy meals all week long for breakfast, lunch, and dinner!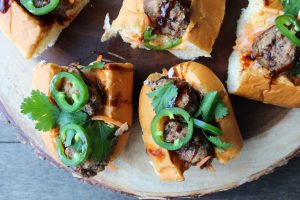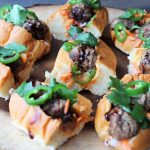 Meatball Banh Mi Subs
Ingredients
4

Hawaiian hot dog buns

toasted optional

8

All Purpose Meatballs

frozen or thawed

1/8

tsp

sesame oil

drizzle

olive oil

1/4

cup

water

1

tbsp

hoisin sauce

plus more for drizzel

1/4

cup

mayo

1

tbsp

sriracha

1

fresh jalapeno

thinly sliced

2

tbsp

fresh cilantro leaves
For the pickled veggies
1

cup

carrots

coarse grated

1

cup

daikon radish

peeled coarse grated

2

tbsp

unseasoned rice vinegar

2

tbsp

sugar

1/2

tsp

kosher salt
Instructions
For the pickled veggies
In a small bowl combine the vinegar, sugar, and kosher salt until sugar is dissolved. Stir in the carrots and radish to coat. Let sit in the fridge for about an hour, stirring occasionally.

In a small dish combine the mayo and sriracha, set aside to use for assembly.

In a medium skillet over med-high heat, add a drizzle of olive oil, sesame oil, and water. Add meatballs (frozen or thawed), if frozen they will just take longer to heat all the way through. Cover to steam for about 5-10 minutes, add more water or olive oil if pan is getting dry. Once heated through, turn down to low and stir in hoisin sauce to coat meatballs. Remove from heat.
Assembly
Cut each meatball in half to use 4 halves in each bun. Spread the rolls with the sriracha mayo. Add a layer of the pickled veggies, followed by the meatballs, and top with cilantro leaves and sliced jalapeno. If you're feelin saucy, add another drizzle of hoisin...because hoisin.

Slice in half for bite sized appetizer portions, or leave whole for a meal! Enjoy!
Recipe Notes
I used store bought pre-shredded carrots, so much easier! The daikon radish were near the regular red radishes in my store. They are white and much bigger than a red radish. If you cannot find daikon radish, red radish would work great too. 
If you are using store bought meatballs or if your meatballs are pretty small you would not need to cut them in half, but you would want to make more meatballs then. This recipe uses 8 which are then cut in half. 
If you like your bread toasted, feel free to toast the rolls before assembly. You could also use a traditional French baguette or other hoagie roll of your choice.