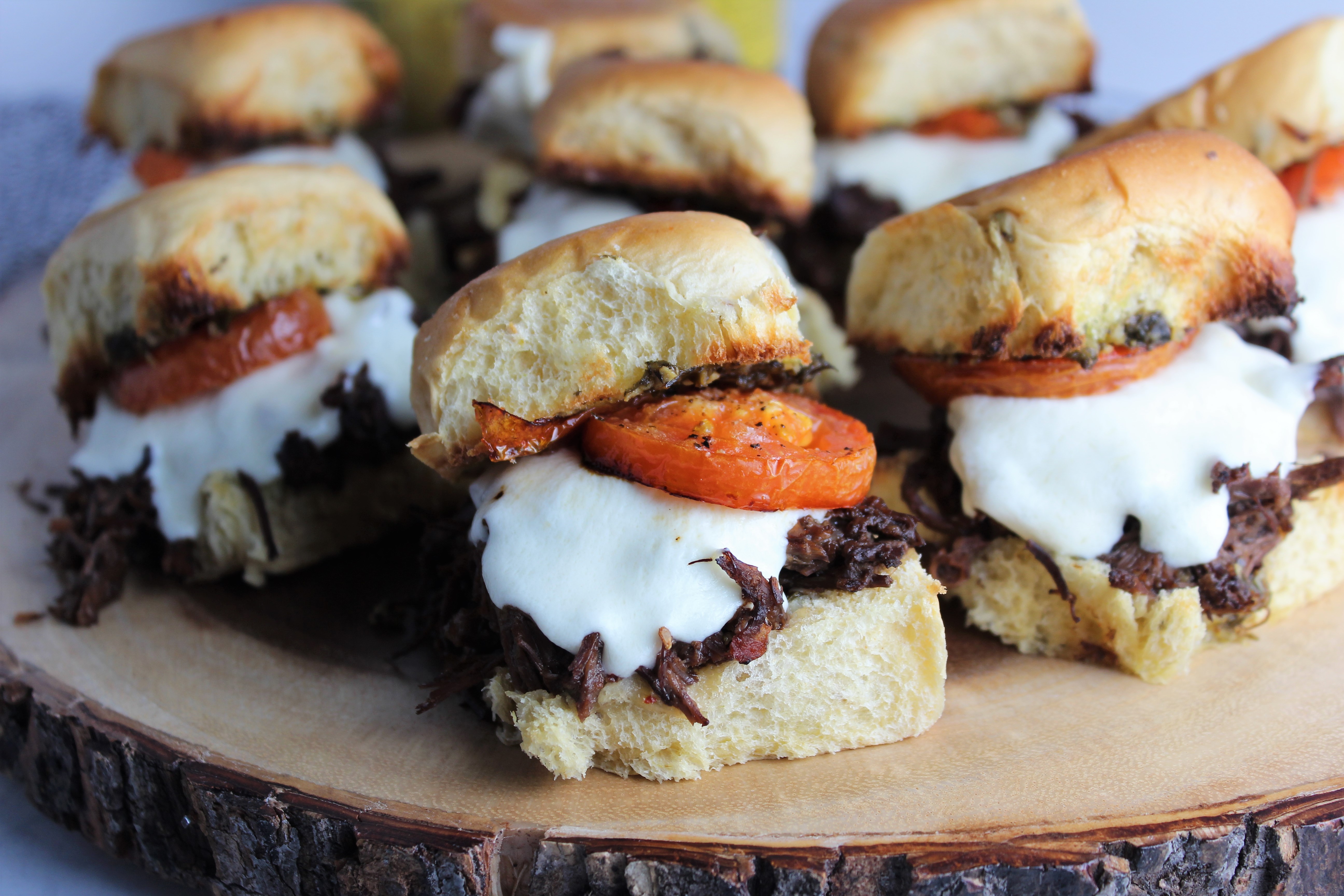 Italian Beef Sliders with Roasted Tomatoes
I love to recreate new recipes using leftovers. It's such a great way to get creative and try new things in the kitchen! These little guys are a result of my leftover Slow Cooker Tomato Balsamic Beef Roast, and I like this recipe even better than the roast itself! I roast some roma tomatoes, and melt some fresh gooey mozzarella cheese over the beef, so good! I add a little extra balsamic glaze to the beef when I re-heat it for a tangy sweet vibe! Spread on the sliders is a store bought prepared basil pesto. I just love that stuff, it has such bold flavor and really adds a ton of flavor to so many dishes. I toast these little guys in the oven to get the buns a little crispy on the edges.
Great for night two dinner of leftovers or if you're hosting a little party! Original roast recipe link above! Enjoy!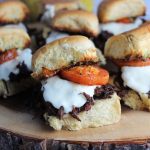 Italian Beef Sliders with Roasted Tomatoes
Ingredients
2

roma tomatoes

sliced

olive oil

garlic powder

salt and pepper

2

cups

leftover beef roast

shredded

2

tbsp

balsamic glaze

2

tbsp

prepared basil pesto

6

oz

fresh mozzarella

sliced

8

slider buns
Instructions
Preheat oven to 400 degrees. Place sliced roma tomatoes on a baking sheet. Lightly drizzle with olive oil, and season with garlic powder, salt and pepper. Bake for about 15 minutes or until cooked. Set aside.

Arrange tops and bottoms of the slider buns on a baking sheet. Spread each half with some of the prepared basil pesto, a little goes a long way!

Stir the balsamic glaze into the leftover shredded beef roast, and re-heat in the microwave until heated through. Evenly distribute the shredded beef onto the bottom slider bun. Place a slice of roasted tomato on the top slider bun. Place a slice of mozzarella on top of the beef.

Turn the broiler on low, and broil the sliders just until the cheese is melted, and buns being to toast. It will only take a few minutes, watch closely! Remove from oven, place top buns onto bottom buns and serve!