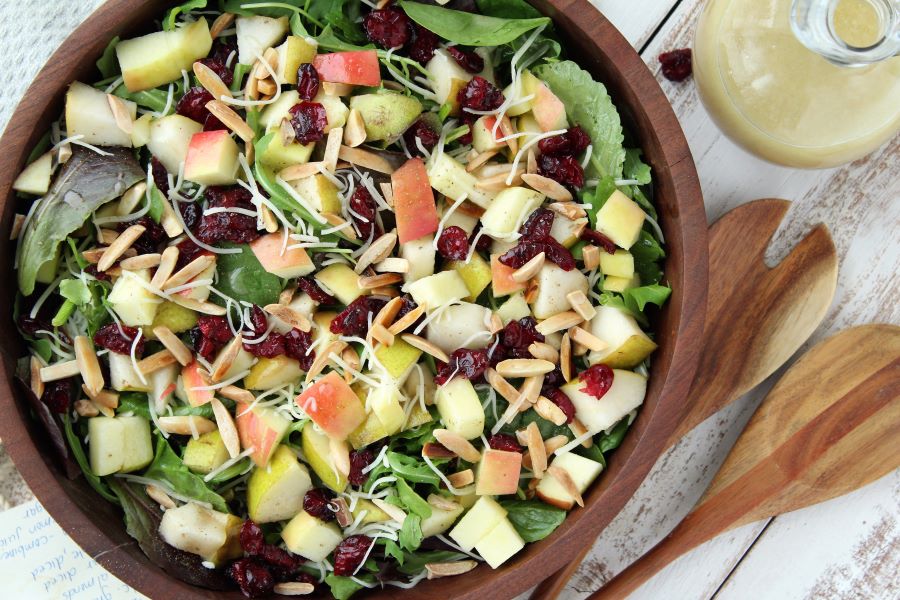 Holiday Salad
This Holiday Salad is a family favorite that we have been making around the holidays for years. It was given to my mother by a friend who we believe got it from a good old fashioned church cookbook. It's super simple to make, and is a beautiful, healthy, and festive addition to your table.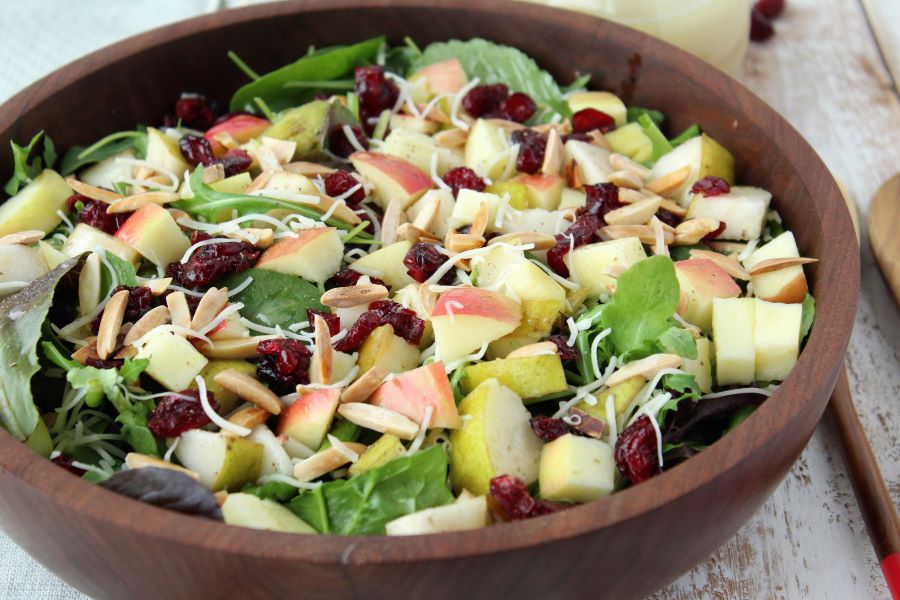 You can really use any kind of mixed greens that you like. I like to use romaine for crunch, and then a mixture of other greens like spinach and arugula. These types of salads are also super easy to adjust for portions. The dressing goes a long ways so would be a great dressing for lunch prep during the week if you're making multiple salads.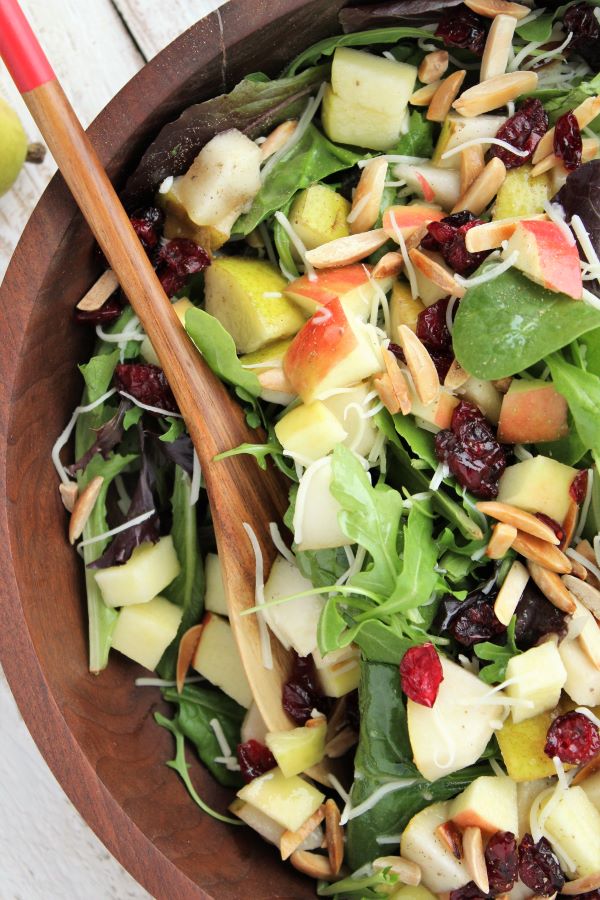 I love all of the textures in this salad. Crisp lettuce, nutty toasted almonds, sweet chewy dried cranberries, sharp creamy Swiss cheese, and fresh apples and pears. I like to top mine off with some fresh cracked black pepper to off-set all of the sweet ingredients.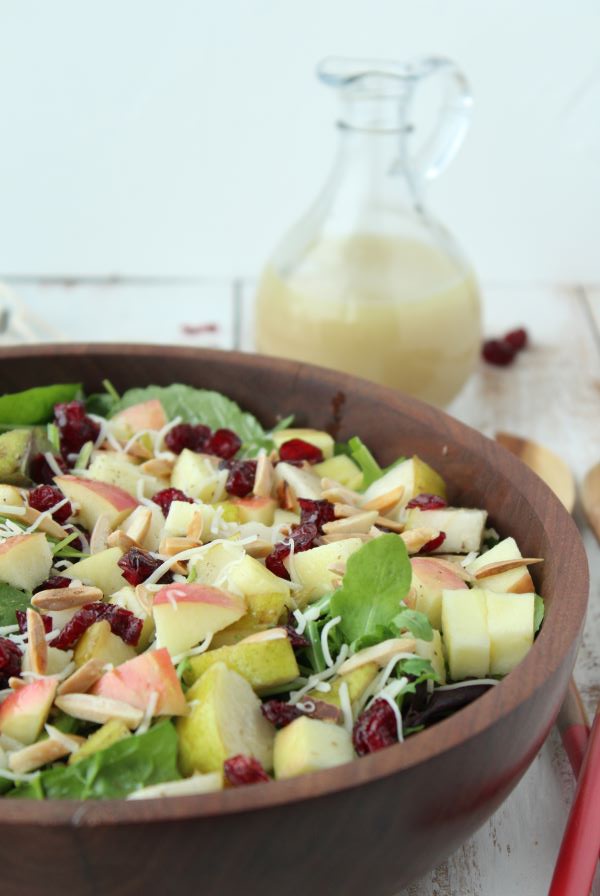 Dressing
I use a dressing shaker whenever I am making homemade dressings, but you could also just whisk vigorously until everything is combined. If you're looking for an added tang to the dressing, add a splash of apple cider vinegar for more of a vinaigrette flavor. I use Truvia (stevia all natural sweetener) instead of real sugar just to save on the calories. Just watch the measurements for conversions. When I make this salad I generally use avocado oil because it really has no flavor so the other dressing ingredients come through. Sometimes certain olive oils can have an overpowering flavor in dressings in my opinion, but would still work just fine in this.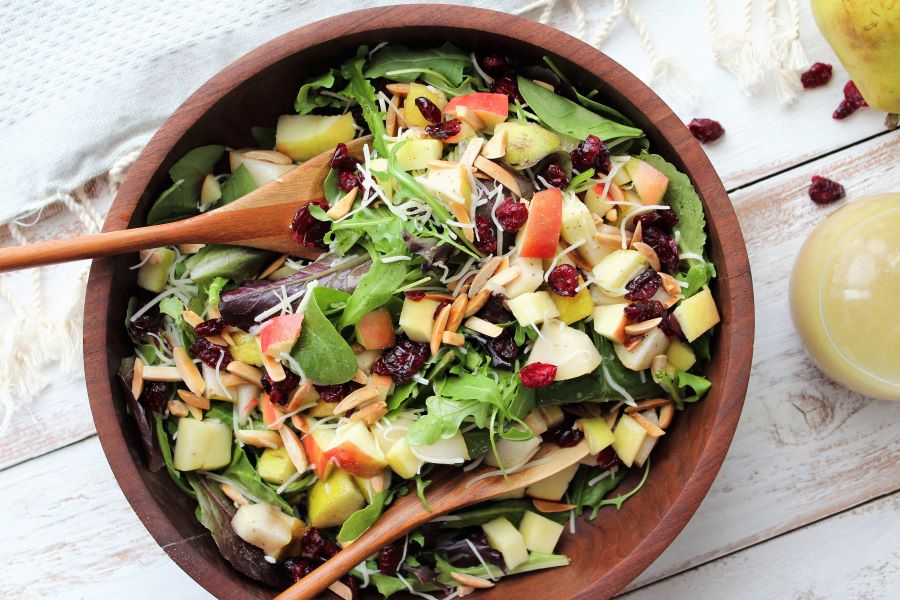 Add chopped chicken to make it a meal! Hope you enjoy!
Here are a couple of my other favorite salads:
Honey Mustard Chicken Chopped Salad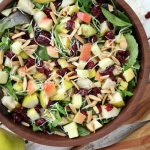 Holiday Salad
Ingredients
1

bag

romaine

chopped

1/2

bag

spring mix, arugula, or any mixed greens

1/2

cup

dried cranberries

1

cup

grated Swiss cheese

1

cup

toasted slivered almonds

1

pear

diced

1

apple

diced

fresh cracked pepper
For the dressing (makes a lot)
1/3

cup

lemon juice

1/3

cup

sugar or equivalent sugar substitute

(honey, stevia-watch conversion measurements)

1

tbsp

Dijon mustard

1/2

tsp

salt

2/3

cup

avocado oil or olive oil
Instructions
Combine all of the dressing ingredients in a shaker, bottle, or jar. Shake until all ingredients are well combined.

Arrange salad ingredients in a large bowl. Dress with desired amount of dressing and toss until coated. Dressing make a lot, and a little goes a long way. Top with fresh cracked pepper if desired.
Recipe Notes
Try adding chicken to make it a meal, great for lunch prep!
I use an all natural sugar substitute to save on calories. Just watch the listed measurement conversions if you go that route, you won't use as much as regular sugar.