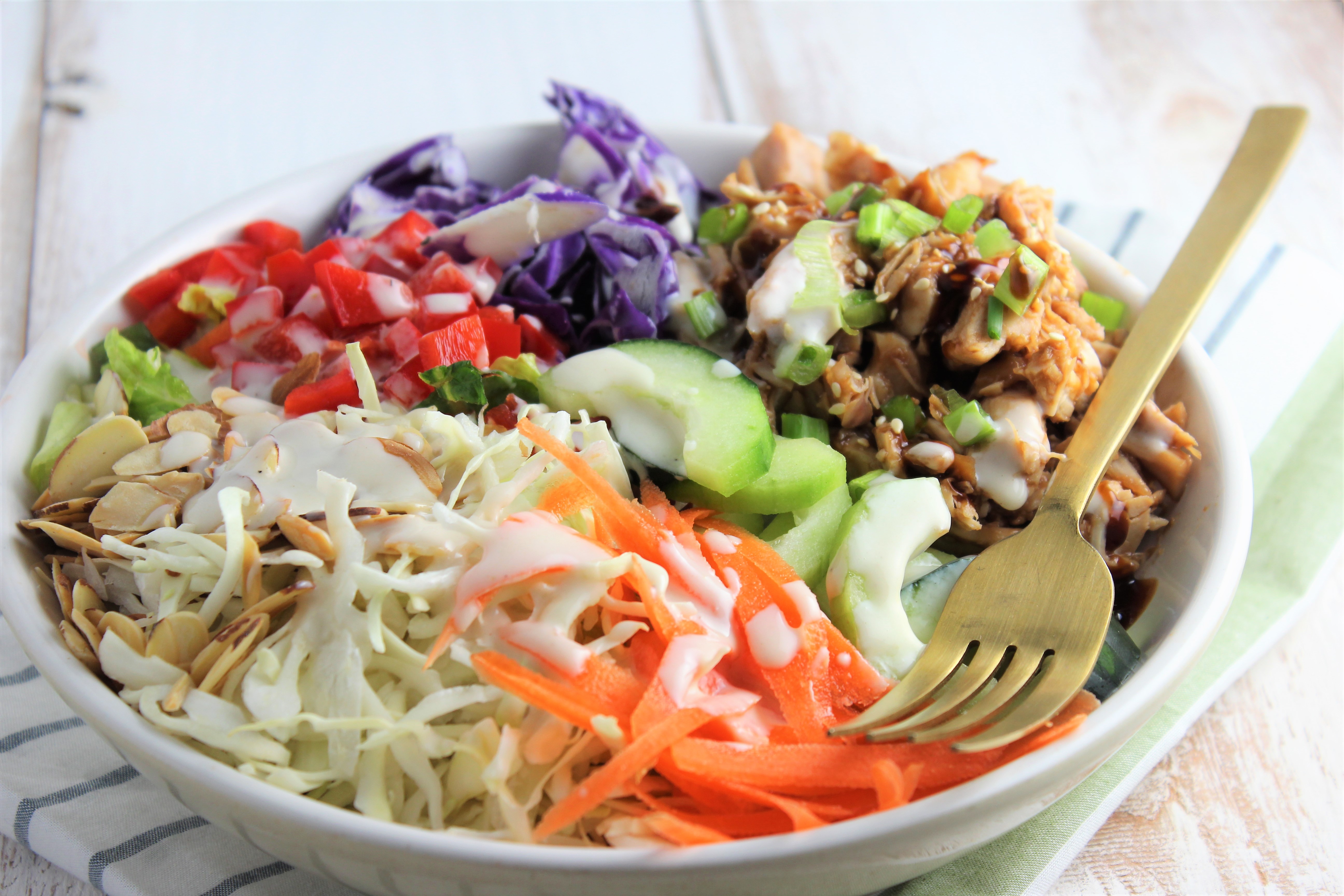 Asian Chicken Salad
I have a small obsession with Asian flavors. I think it has something to do with the sweetness of a lot of the sauces, yet they are used to make savory dishes so you get that sweet and savory vibe. I LOVE a good Chinese buffet (cream cheese wontons are my weakness), and I love to try any kind of Asian salad when I see it on a menu. If you're from around the Midwest you've maybe heard of the restaurant and brewery called Granite City Food and Brewery. They have a Chinese chicken salad that is delicious, and I've probably had it 20 times. This recipe is pretty darn close to it! I would say this is a cross between Applebee's oriental salad and the CG Chinese chicken salad.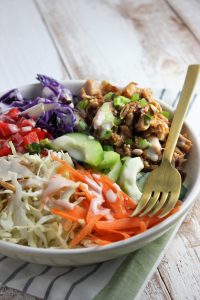 This is a healthy version of an oriental salad and full of great flavors and textures. I used rotisserie chicken in mine, but this would be great with grilled teriyaki marinated chicken breast, or even breaded chicken strips like they do at the bee's! Also a great side dish option to bring to your potlucks! Don't leave any ingredients out of this one, they all bring something great to the table. This is a must try, I hope you enjoy it as much as I do!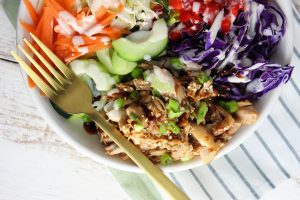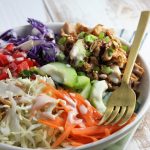 Asian Chicken Salad
Ingredients
1 1/2

cups

chopped chicken (about 2 breasts)

cooked

3

cup

romaine lettuce

chopped

1/3

cup

red cabbage

chopped

1/3

cup

green or napa cabbage

chopped

1/3

cup

carrots

shredded

1/2

red bell pepper

chopped

1/2

large peeled cucumber

chopped

3

tbsp

toasted almonds

sliced or chopped

2

scallions

chopped

wonton strips

drizzle

hoisin or teriyaki sauce
For the dressing
1/4

cup

plain Greek yogurt

3

tbsp

honey

1 1/2

tbsp

rice wine vinegar

1

tsp

Dijon mustard

1/8

tsp

sesame oil

salt and pepper
Instructions
Whisk the dressing ingredients together in a small bowl. Refrigerate until ready to serve.

Add all salad ingredients to a large bowl (except wonton strips and hoisin/teriyaki).

Add the dressing over the salad ingredients and toss until coated. Transfer to serving bowls or platter. Drizzle with hoisin or teriyaki sauce (don't skip this ingredient), and top with crispy wonton strips. YUM!
Recipe Notes
Every single ingredient in this recipe adds great flavor and texture so don't leave anything out! I often toss the chicken in some hoisin or teriyaki sauce.
The wonton strips at my local store are found in the produce area with some other salad toppings. Otherwise by the croutons. 
This made two large entrée sized portions, but would feed more if serving at a potluck style meal. Easily could double the recipe to feed a crowd!