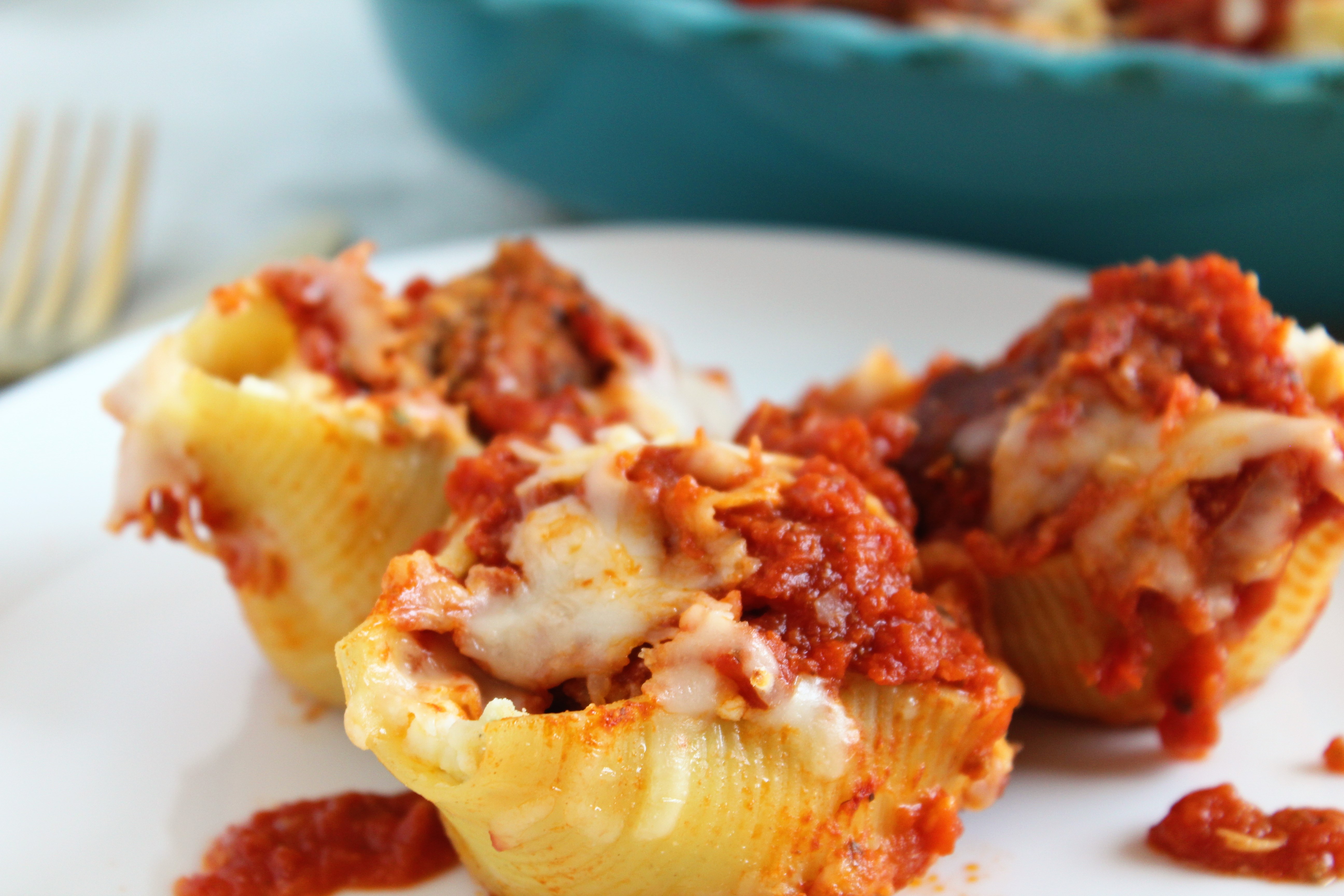 Meatball and Ricotta Stuffed Shells
It's so easy to turn meatballs into an Italian dish, and this stuffed shells recipe really is easy enough for a weeknight meal. It's also a great way to cook together in the kitchen if you've got kids old enough to help out, or a fun date night in to make with your significant other! There's really not much "cooking" even involved! I use my All Purpose Meatballs  that I always try and have on had in the freezer for easy meals like this one.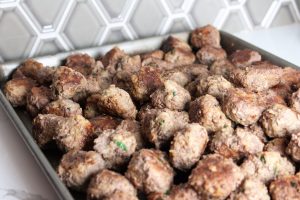 Ricotta parm mixture with a little fresh herbs makes for a creamy delicious filling!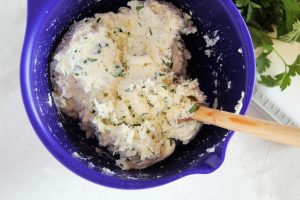 If you've got a great red sauce recipe that is your go-to then that would be great with this, but I have a store bought one that has become my go-to. I always look for sauces with no added sugar. The rest of the ingredients are just some jumbo shells and cheeses! If you don't have meatballs on hand you could make this vegetarian and would still be delicious, or just brown up 1 pound of ground beef, Italian pork, or turkey and add it into the red sauce.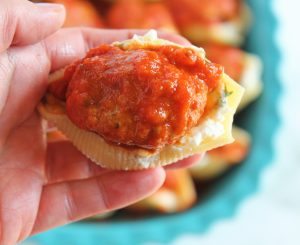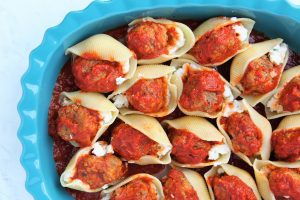 How cute are these little guys!? This dish is easy to increase in size as well if you're feeding a larger family. This recipe was perfect for Erik and I to have for dinner one night, and have leftovers another night. I served it up with a side salad and garlic toast! Hope you enjoy!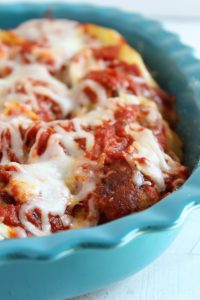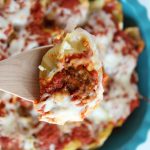 Meatball and Ricotta Stuffed Shells
Ingredients
18

All Purpose Meatballs

18

jumbo pasta shells

olive oil

24

oz jar

marinara sauce

15

oz

ricotta cheese

1

tsp

Italian seasoning

1

tbsp

fresh parsley

chopped

1

tsp

garlic powder

1

cup

shredded mozzarella

1/2

cup

grated Parmesan

divided
Instructions
Preheat oven to 350 degrees and grease a 10x12 (2 qt) baking dish (slightly smaller than a 9x13, but 9x13 would work)

Bring a large pot of salted water to a boil. Cook jumbo shells according to package instructions to "al dente". Drain pasta when cooking is complete, and drizzle with olive oil to avoid sticking together, set aside.

While pasta is cooking, add sauce and meatballs to a large skillet and heat over medium until meatballs are heated through.

In a medium bowl combine ricotta cheese, 1/4 cup of the Parmesan cheese, Italian seasoning, parsley, and garlic powder. Stir until well combined.
Assembly
Spoon out just enough sauce (sauce only, no meatballs) to cover the bottom of the baking dish. Scoop about 1 tbsp of ricotta cheese into each cooked shell. Then place 1 meatball into each of the cooked shells. Arrange into the baking dish. Pour remaining sauce over the shells. Sprinkle shredded mozzarella and remaining 1/4 cup of parm over the top. Cover with foil and bake for 30-40 minutes.
Recipe Notes
No freezer meatballs on hand? Make some! Recipe link is in the original post. BUT, you can sub ground beef, turkey, or Italian sausage and brown that up to mix in with the sauce. Also would be great as a meatless dish!
Like it spicy? Add some red pepper flakes!