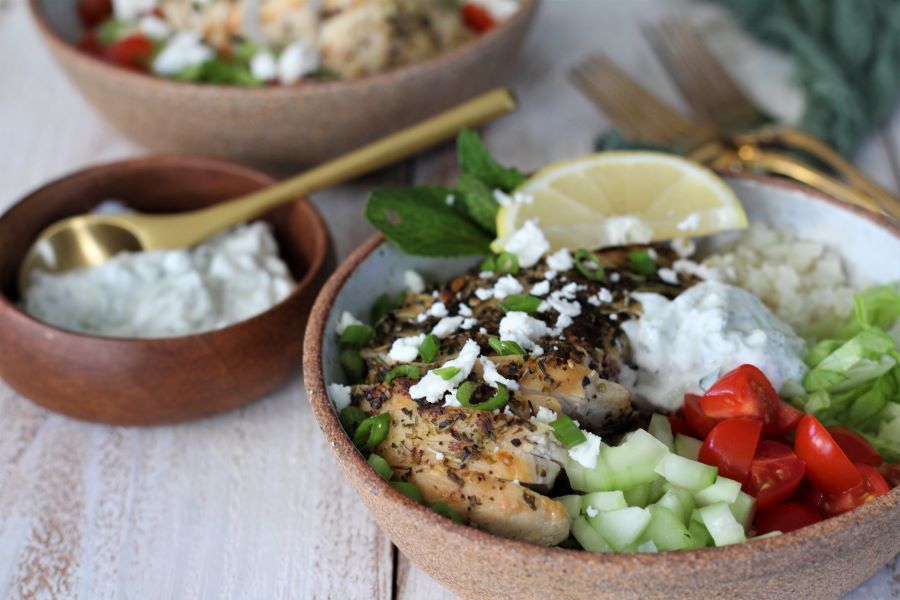 Greek Chicken Bowls
These Greek Chicken Bowls are a little twist on my Meatball Gyro recipe. We've made these multiple times already since writing this recipe, and it makes delicious leftovers too! I wrote the recipe to serve two, but can very easily be doubled to serve four, or if you just want leftovers.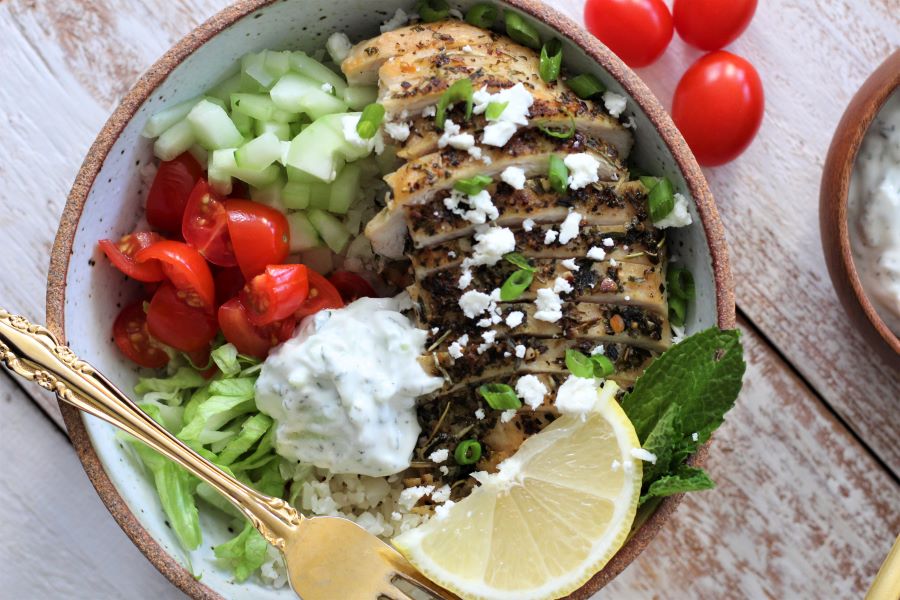 The most flavorful way to make the chicken is stovetop skillet or grill. These cooking methods will allow you to get a nice herby char on the outside of the chicken. You could bake, but will not get the same browned texture, and it will take longer to cook.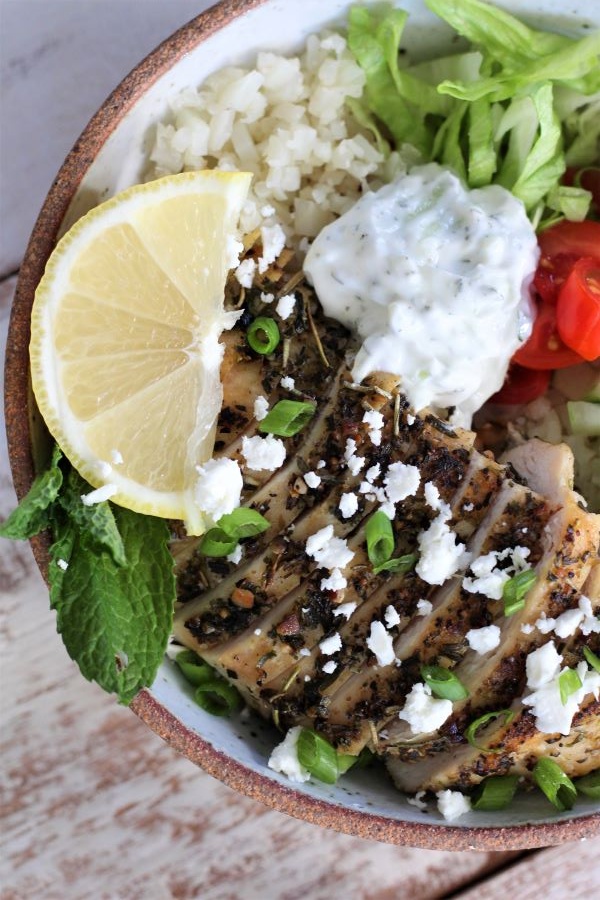 I used a salt-free version of a store bought Greek Seasoning and combined it with an herby all-purpose chicken seasoning. I recommend using something with herbs you can see, that aren't ground into a fine dust. This gives the chicken a nice textured crust.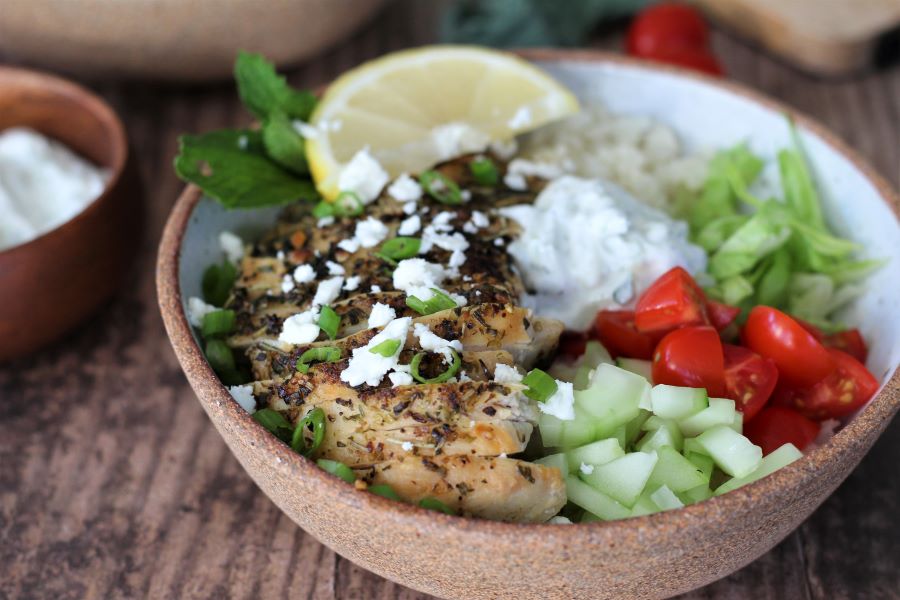 The chicken is served over cauliflower rice (or any rice), and I like to season it up with salt, pepper, garlic powder, and a little lemon juice. Then the bowls are topped with shredded lettuce, tomatoes, fresh cucumbers, scallions, and my delish Greek yogurt mixture. Dill, mint, garlic, lemon, and grated cucumber are added to fat free Greek yogurt. So good!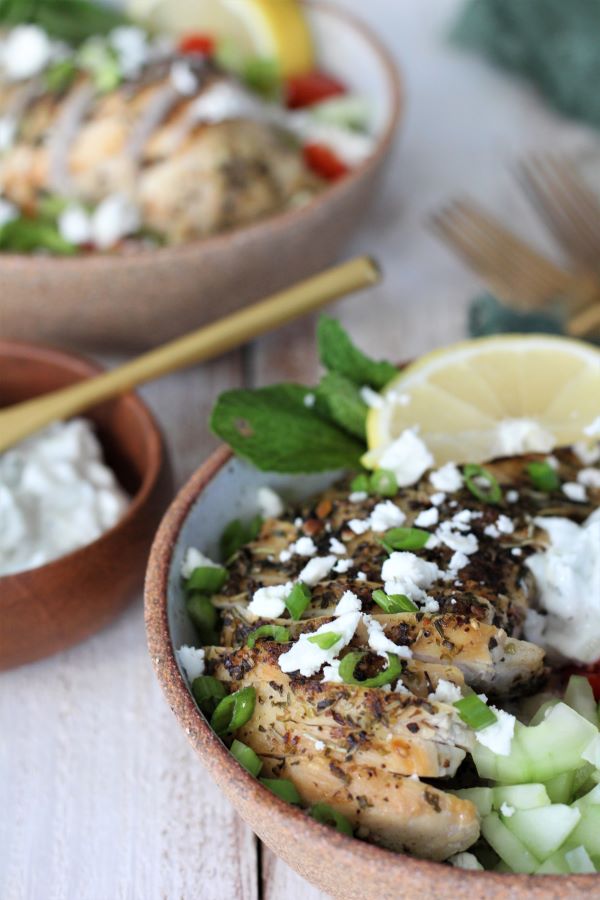 We'll be making Greek Chicken Bowls all year round! Enjoy!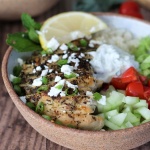 Greek Chicken Bowls
Ingredients
2

chicken breasts

2

tsp

Greek seasoning or all-purpose seasoning blend

see notes

1

tsp

olive or avocado oil

2

cups

cauliflower rice

cooked

1/2

cup

shredded lettuce

1/4

cup

cherry tomatoes

quartered

2

tbsp

cucumber

chopped

1

scallion

sliced

2

tbsp

reduced fat feta cheese crumbles

hot sauce

optional

sliced avocado

optional
For the yogurt sauce
1/3

cup

plain Greek yogurt

fat free

1/4

tsp

dried dill

1/8

tsp

garlic powder

1

leaf

fresh mint

minced

1

tbsp

grated cucumber

1/2

tsp

lemon juice

Pinch

salt

Fresh cracked black pepper
Instructions
Pat the chicken breasts dry with a paper towel. Seasoning both sides with Greek seasoning or all-purpose blend. Press down so seasoning sticks well, this will help create an herby crust. Add olive/avocado oil or non-stick spray to a skillet, heat skillet over medium. Place chicken breasts in skillet and cook on the first side for about 7 minutes, or until nicely browned. Flip, and cover. Cook for another 7-10 minutes, or until chicken reaches 165 degrees internally.

While the chicken is cooking, prepare the yogurt sauce. In a small bowl, combine all of the yogurt sauce ingredients. Set aside.

Once chicken is cooked through, remove from heat and allow to rest for 5 minutes. Slice chicken breasts once rested.

Assemble the bowls by placing 1 cup of cooked cauliflower rice on the bottom of each bowl. Arrange sliced chicken breasts over the cauli rice. Top with shredded lettuce, tomatoes, cucumber, scallions, and feta cheese. Top with a dollop of the prepared yogurt sauce. Garnish with fresh mint or lemon if desired, and your favorite hot sauce. Enjoy!
Recipe Notes
I used a locally made gourmet chicken seasoning blend that had a ton of dried herbs, nothing was ground into a powder, so you could actually see the herbs which I like. I've also used a salt-free Greek blend before that is really good. I like to look for blends without sugar or added unknown ingredients.
I like to add a little flavor to my cauliflower rice so I often add salt and pepper, garlic powder, and some lemon juice. You could certainly add in some of the same seasoning that you use for the chicken.