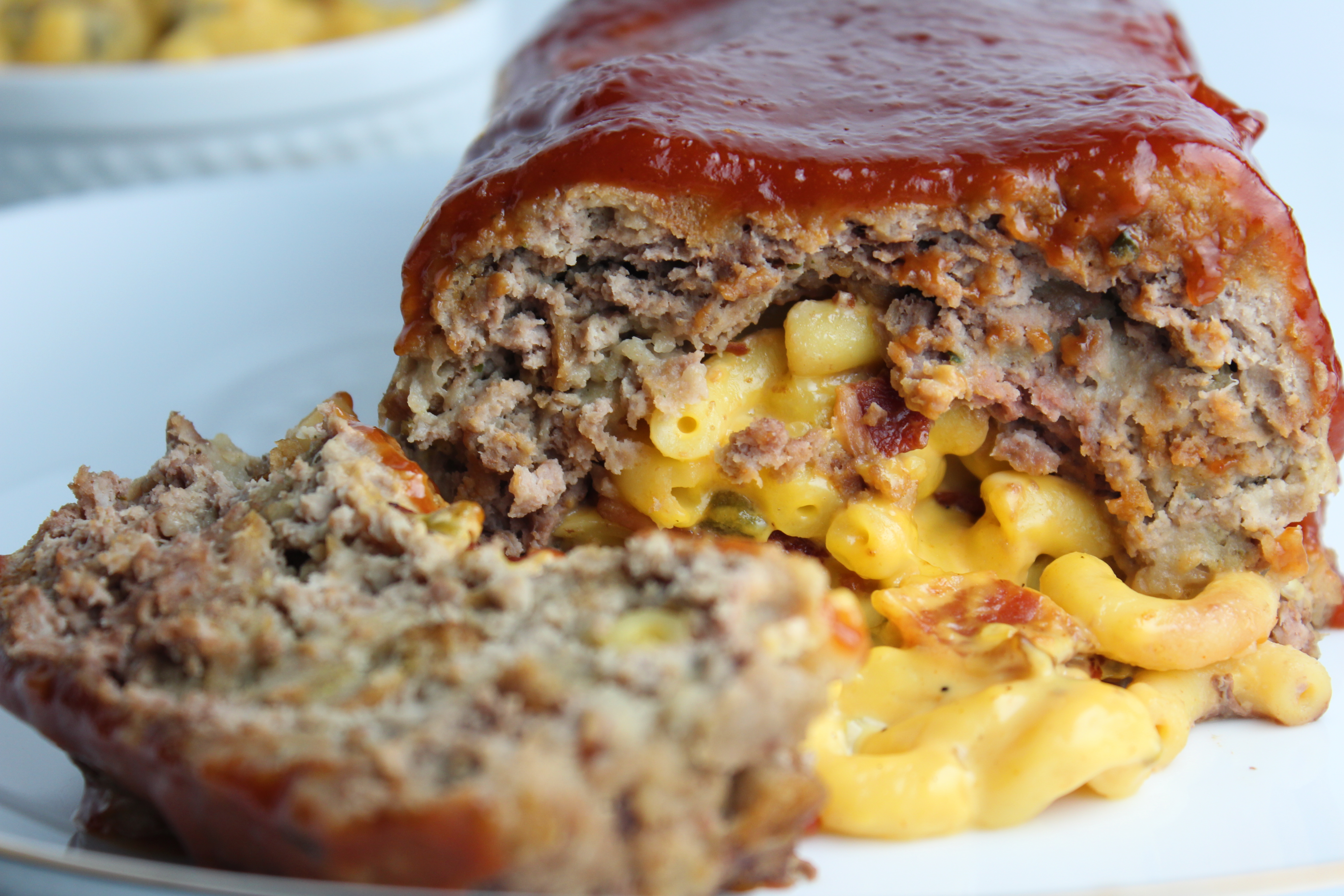 Jalapeno Bacon Mac and Cheese Stuffed Meatloaf
This recipe is sponsored by Old Home Foods
Two of my all time favorite comfort foods in one meal! Mac and Cheese inside of meatloaf, yum! And not just regular mac and cheese…jalapeno bacon mac and cheese. I use Old Home Foods Premium Macaroni and Cheese and add a little spicy kick with some pickled jalapenos and some crispy smoky bacon. That alone makes for a great side dish!
This meatloaf recipe is my easy go-to meatloaf, and is very similar to my Mini Meatloaf Muffins. I use a pound of lean ground turkey and an additional half pound of lean ground beef. I really like the combination of having a little ground beef in my meatloaf, I just think it gives it that beefy flavor while still being majority turkey. Instead of breadcrumbs I use stuffing mixture because it's already full of great flavors and spices! A dash of onion and garlic powders, salt and pepper and you're set!
One of my favorite parts about meatloaf is the sweet bbq glaze on top. I combine ketchup, BBQ sauce, honey mustard, and brown sugar for a zesty sweet sauce! Enjoy!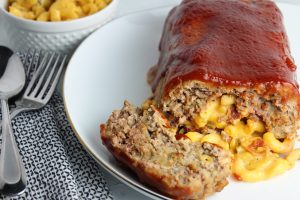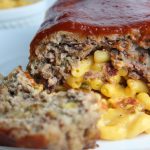 Jalapeno Bacon Mac and Cheese Stuffed Meatloaf
Ingredients
1

pkg

Old Home Premium Macaroni & Cheese

1

lb

ground turkey

1/2

lb

ground beef

4

slices

bacon

cooked, chopped

1

tbsp

pickled jalapenos

diced

1

cup

stuffing mix

1

cup

water

1

tbsp

worcestershire sauce

1/2

tsp

garlic powder

1/2

tsp

onion powder

salt and pepper
BBQ Glaze
1/3

cup

ketchup

1/4

cup

BBQ sauce

1

tbsp

honey mustard

1

tbsp

brown sugar
Instructions
Preheat oven to 350 degrees. Spray a loaf pan with non-stick cooking spray.

Empty the contents of the mac and cheese into a medium sauce pan, and heat over medium heat. Stir in cooked, chopped bacon and jalapeños. Remove from heat and let sit while meatloaf is put together.

In a medium bowl combine turkey, beef, stuffing mix, water, worcestershire sauce, onion and garlic powders, and salt and pepper. Do not over mix or meat will become tough. Using 3/4 of the meat mixture, form it into the loaf pan, leaving a boat in the center where the mac and cheese will go.

Pour the mac and cheese (however much fits, you'll have extra to enjoy as a side) into the hallowed out boat of the meatloaf. Top with the remaining 1/4 of the meat mixture. Bake at 350 degrees for 50 minutes. Combine the sauce ingredients and set aside. After 50 minutes, remove from the oven, and flip the meatloaf onto a sheet pan. Pour the BBQ mixture over the top, and bake for an additional 10-15 minutes or until fully cooked through.

Slice, serve, and enjoy! Can be served with remaining jalapeno bacon mac and cheese and your favorite veggies!
Recipe Notes
You can easily adjust the spice level by increasing or decreasing the jalapeno measurements. Another option would be to use green chilies that are completely mild.
The Old Home Mac and Cheese can be found in the refrigerated dairy section of your local grocery store.