Ginger Teriyaki Crusted Pork Chops
These Ginger Teriyaki Crusted Pork Chops are PACKED with flavor! Char Crust® Dry-rub Seasoning seals in the juices of the chop for optimal tender meat on the inside, and crusted with huge flavor on the outside.
This blog post is sponsored by Char Crust® but all opinions are 100% my own.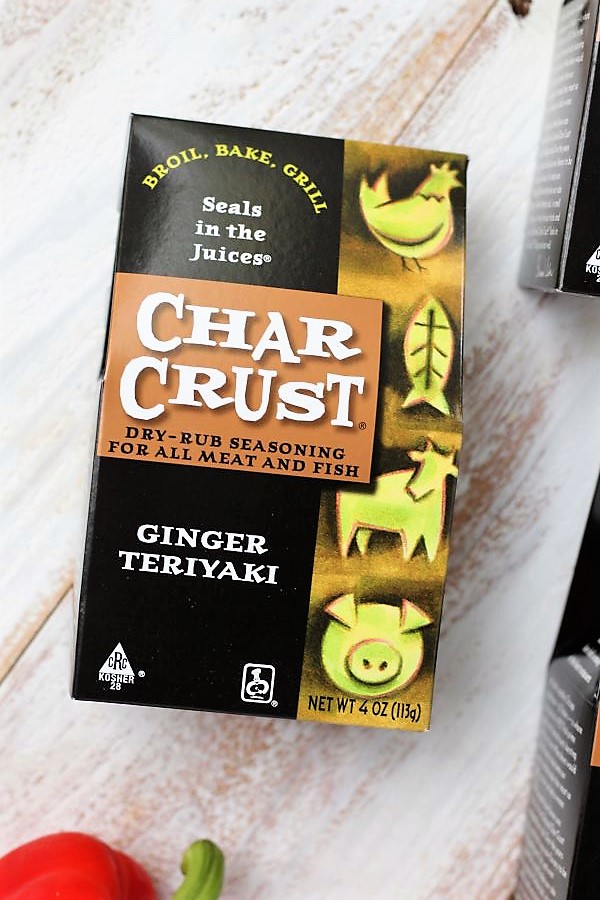 I used Char Crust's® Ginger Teriyaki seasoning on these chops, but they offer so many amazing flavors! I've had the opportunity to try almost all of them now, and there isn't one I don't like! Check out these Easy Grilled Wings, it's an awesome way to try multiple seasonings.
The instructions for the dry rub are simple. Dredge the chops (or any protein) in the dry rub. It really does seal in the juices, and creates a super flavorful crust. I always get worried about seasonings being overly salty, especially if you're completely covering the meat. These dry rubs are perfectly balanced. Big flavors and not too salty. Another bonus, no wait time like you would have for liquid marinades!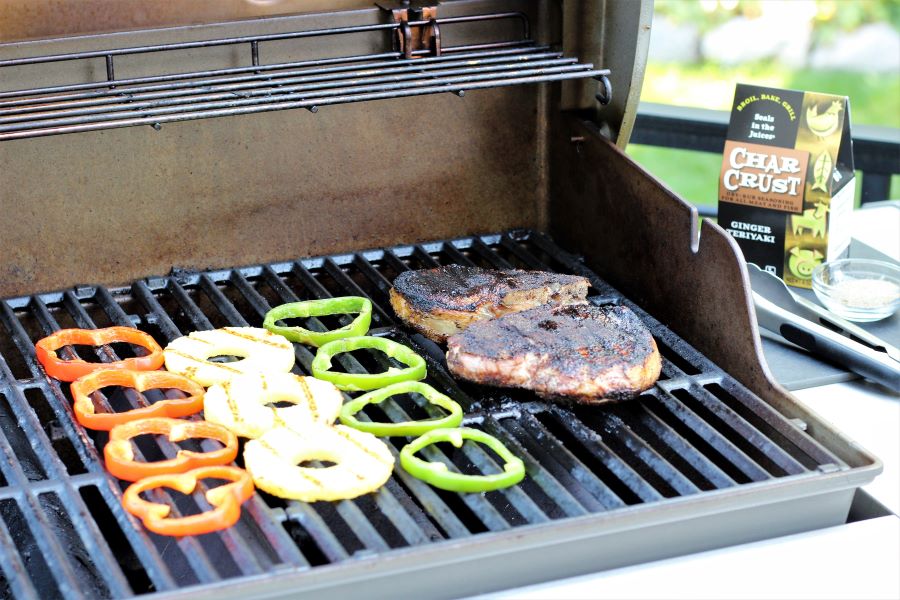 You can see in the photos that the rub creates a dark crust. The pork chops are not burnt, they just have a really delicious Ginger Teriyaki crust! I threw on the bell peppers and pineapple rings to serve along side, they make the perfect accompaniment.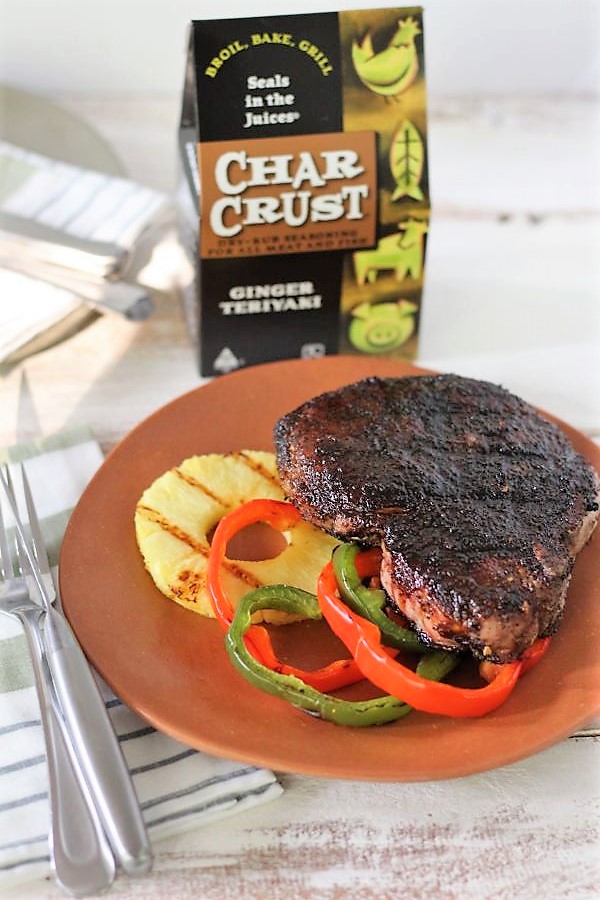 It's important to use a meat thermometer when grilling, especially pork. For perfectly cooked chops you're looking for an internal temperature of 145 degrees. Make sure to allow the chops to rest for about 5 minutes after pulling off the grill. Serve these ginger teriyaki pork chops with your grilled veggies and pineapple, yum!
Bonus leftovers recipe:
I love making round two recipes to use up any leftovers. I used the same chops, sliced with the peppers and pineapple and threw them on some slider buns with pepper jack cheese, lettuce, and a sriracha mayo. So good!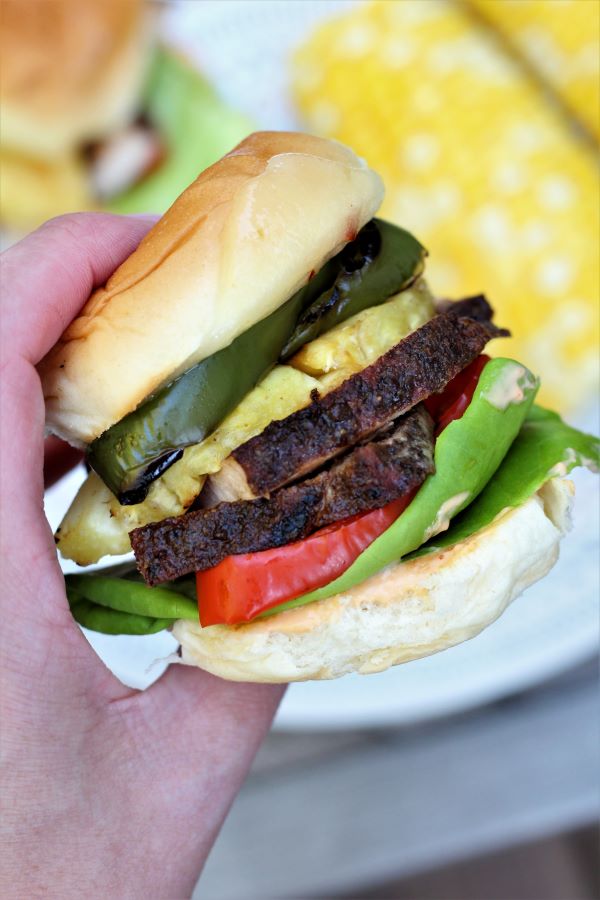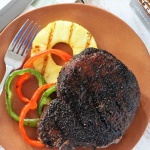 Ginger Teriyaki Crusted Pork Chops
Grilled pork chops packed with flavor with Char Crust's Ginger Teriyaki dry rub. An easy and quick meal! Check out the recipe notes for a bonus recipe!
Ingredients
2

thick cut pork chops

Ginger Teriyaki Char Crust® Dry-rub seasoning

drizzle

olive oil
Optional Serving Suggestions
Grilled pineapple rounds

Grilled bell pepper slices

Grilled onion slices
Instructions
Preheat indoor or outdoor grill/grill pan.

Sprinkle pork chops generously with Ginger Teriyaki Char Crust Dry-Rub seasoning, coating all sides. Gently drizzle the coated pork chops with olive oil (or spray non-stick cooking spray).

Place on hot grill and cook for about 5 minutes. Turn and cook on the other side for about 4-5 minutes. For best results use a meat thermometer to reach 145° internal temperature. Cooking times will vary depending on chop thickness and grill temperature.

Allow to rest for at least 5 minutes before slicing and serving.
Recipe Notes
Try this recipe with ANY of Char Crust's dry rubs.
Serve as is with your favorite sides, or slice chops and make ginger teriyaki pork chop sliders with toasted slider buns, pepper jack cheese, leaf lettuce, pineapple rings, and bell peppers. Mix together mayo and sriracha for a spicy condiment!