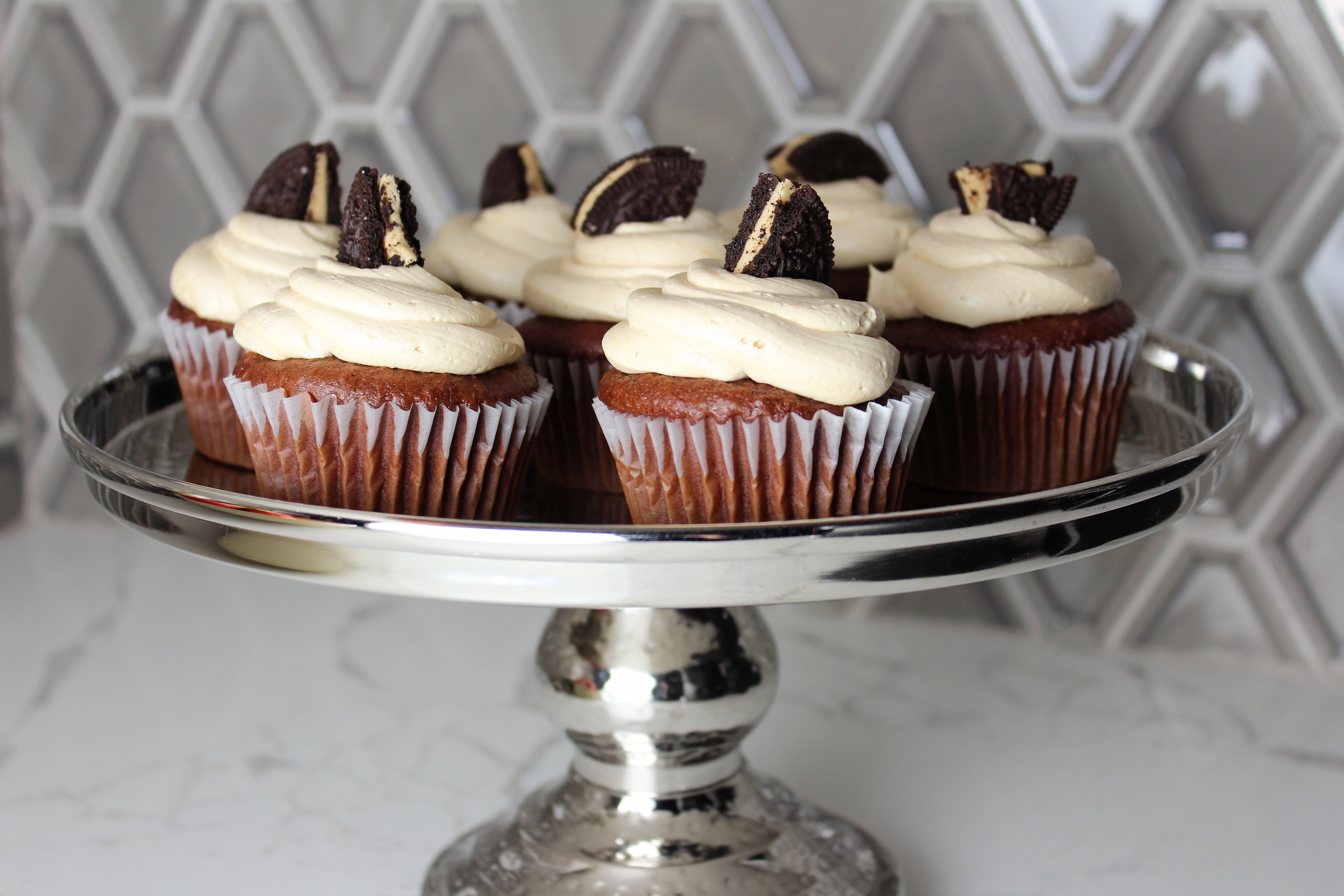 Chocolate Peanut Butter Oreo Cupcakes
I have made a lot of cupcakes over the years; they are easy to make and allow you to get creative with the frostings, fillings, and decorations. These chocolate peanut butter Oreo cupcakes are hands down the best cupcakes I have ever made. The idea came from these other delicious chocolate peanut butter cup cupcakes I had made a few years ago.  A while back I also tried to re-create the Nadia Cakes Oreo cupcake, yum my favorite! So I thought, why not combine the peanut butter cupcake with the Oreo cupcake, yes! But then I saw peanut butter Oreos…for some reason cupcakes came to my mind immediately, I mean these would be great with regular Oreos, but the peanut butter ones just make them over the top delicious!
If you have a great chocolate cake recipe, by all means use it, but when I made these for the first time I just used a regular chocolate cake box mix. I have also used this basic cake recipe from the Food Network:
www.foodnetwork.com/recipes/food-network-kitchen/basic-chocolate-cake-recipe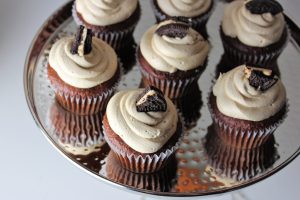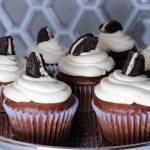 Chocolate Peanut Butter Oreo Cupcakes
Ingredients
1

chocolate cake box mix

plus ingredients needed to prepare box mix

1 1/2

packages

peanut butter Oreo cookies
Frosting
1 1/2

cups

unsalted butter

room temperature

1 1/2

cups

peanut butter

creamy

4 1/2

cups

powdered sugar

3/4

cup

heavy cream

1/8

tsp

salt
Instructions
Line cupcake pans with paper liners (24).

Preheat oven to temperature as directed on box mix. Prepare the cupcake batter as directed on the box mix. Spoon batter into cupcake liners but only filling 1/3 full (use about half the batter, save half for the top). Drop a peanut butter Oreo into each cupcake. Fill each cupcake another 1/3 full or until the rest of the batter is used.

Bake as directed for cupcakes on the box mix instructions. Cool completely on a cooling rack before frosting.
Frosting
Cream together the peanut butter and butter with a mixer for about 2 minutes, scrape the sides of the bowl so that it all combines.

Add powdered sugar and mix on medium until combined and smooth.

Add the salt and heavy cream, mix until smooth. Increase speed to high for 2-4 minutes until it becomes fluffy and the color gets lighter. If not thick enough, add more powdered sugar. Stiff peaks should form.

Frost as desired and top with a 1/4 piece of a peanut butter Oreo cookie...if there are any left...

Store in refrigerator.
Recipe Notes
If serving the following day, I would hold off on adding the Oreo topper until just before serving otherwise they will get soggy.
This makes A LOT of frosting. If you're not planning to use a lot and not pipe the frosting to get some height, you could almost cut the frosting recipe in half.