Beef Tenderloin Sliders
B-Y-O aka BUILD YOUR OWN beef tenderloin sliders platter! A fun way to serve up the most tender, juicy sliders at your next gathering. This recipe also doubles as a fabulous dinner party recipe. The whole roasted tenderloin served with mashed potatoes and your favorite veggie makes for a really simple dinner party or holiday gathering.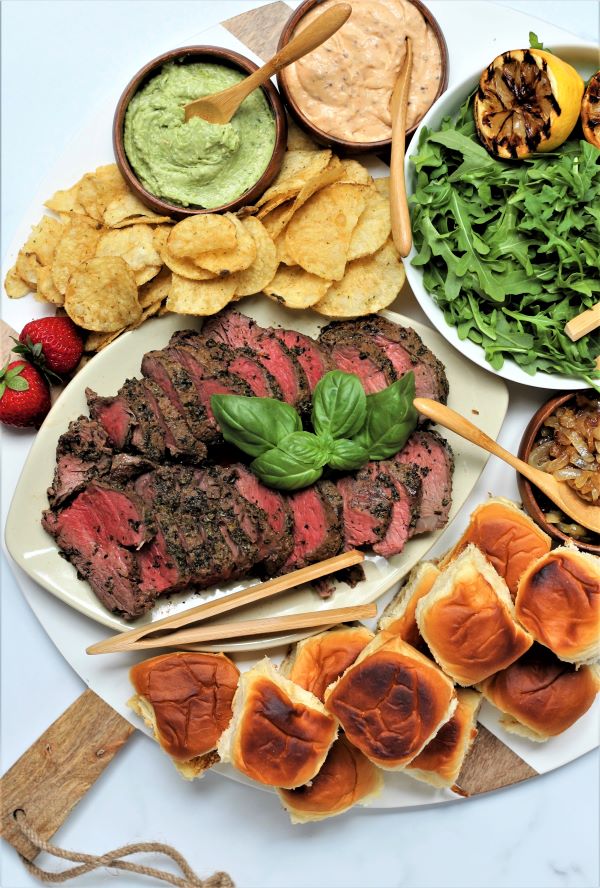 The Marinade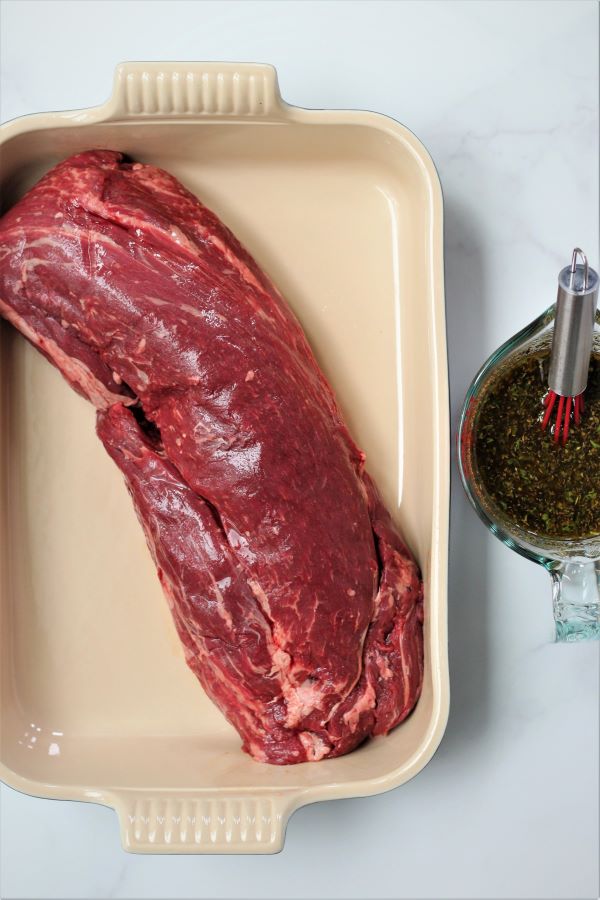 The marinade is made of simple pantry staples (at least for me). Soy sauce, Worcestershire, lemon juice, olive oil, and a few dry spices from the spice cabinet. It's so flavorful! I find my whole beef tenderloin from Costco. Obviously not everyone has access to a Costco, so I would check your local butcher shops, or call ahead and order a whole tenderloin. I like to marinade it as long as possible, about 6 hours, but 3-4 works great too.
The whole tenderloin can get a little pricy, so you could certainly try some other cuts of steak, and simply marinate and grill those up like you normally would. Then slice and serve the same way.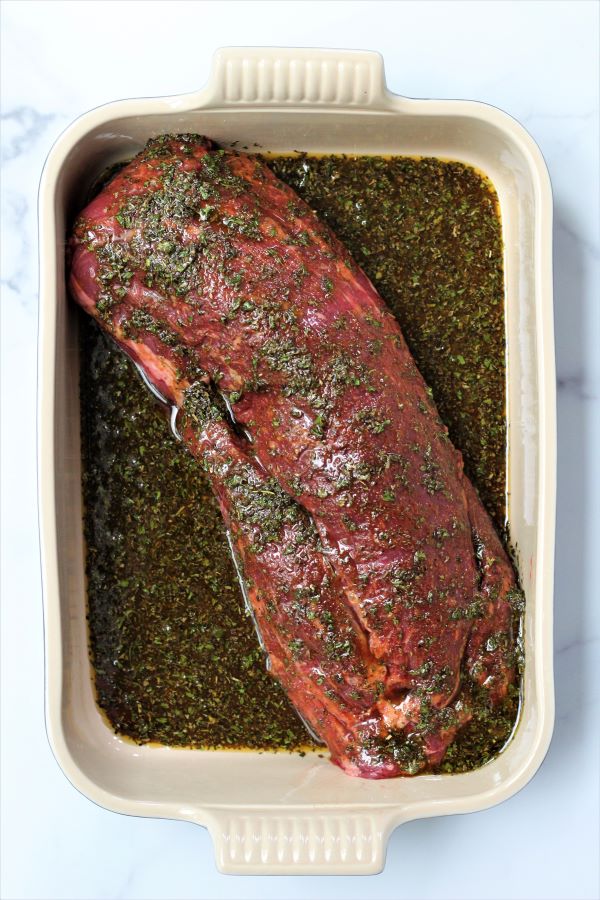 Marinate it in a deep baking dish, that way you don't have to transfer it when you go to roast. Just transfer the whole dish into the oven when ready to roast, marinade and all! Once it's in the oven roasting you can prep the rest of the slider board. Super easy, and mostly hands off in terms of the beef.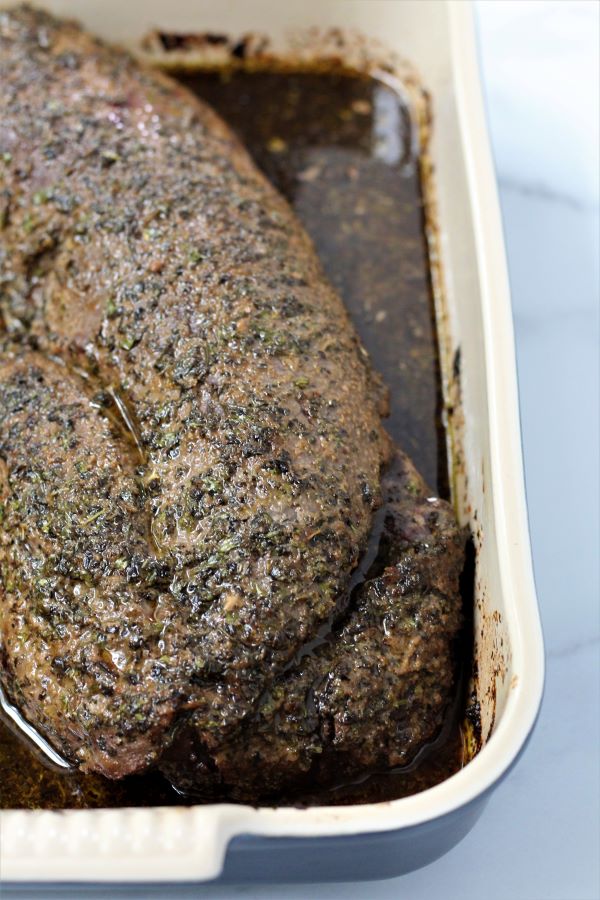 It's important to allow the tenderloin to rest, covered in foil for 20 minutes once you take it out of the oven. This allows the juices to distribute back into the meat, it will also continue to cook slightly while resting. Here's the breakdown for temperature and done-ness, also included in the notes section of the recipe. Make sure to use a meat thermometer.
Rare: 125 degrees internal temp
Medium-rare to Medium: 130 degrees to 135 degrees internal temp
Medium-well: 145+ degrees internal temp
Because this cut of meat is so tender, there's really no such thing as over-cooked. You can cook this meat to medium-well or well and it will still be incredibly tender, juicy, and perfect for sliders.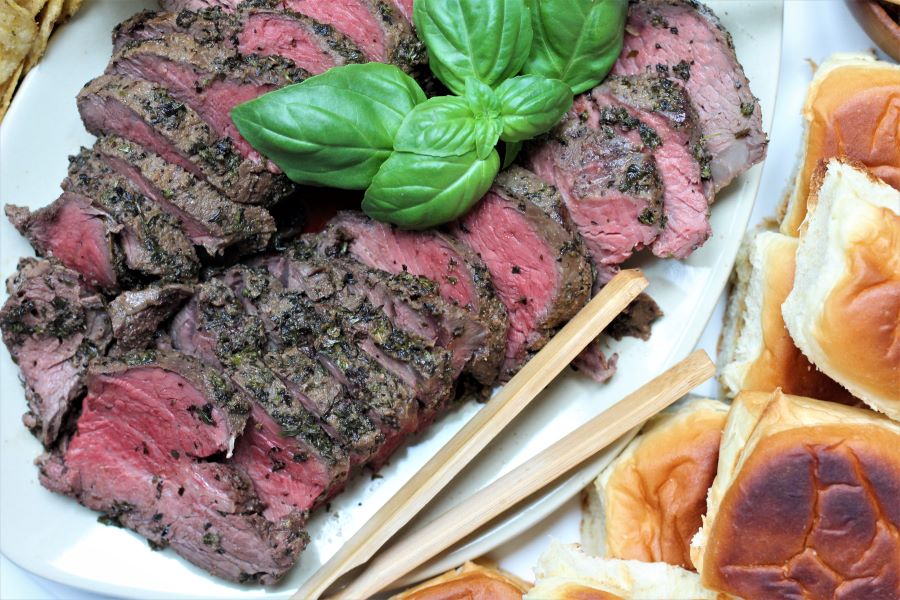 Use a large platter or cutting board to create your serving board. I set the sliced beef on a separate plate to catch all the juices, and then place that on the serving board with toasted slider buns, caramelized onions, arugula, and aioli. Fill in the gaps with potato chips and fruit.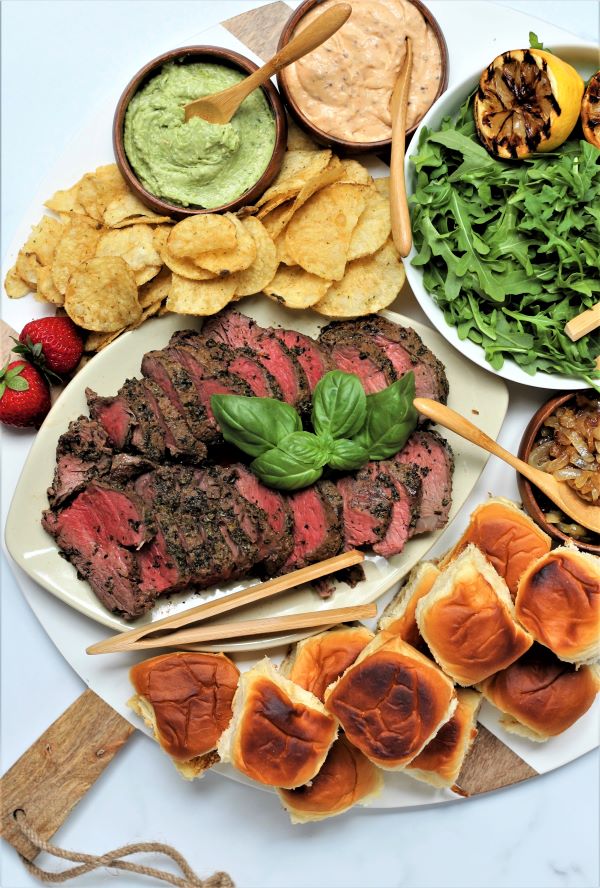 The Dijon aioli in this recipe is the same that I used in my Pork Schnitzel Sliders, so good! The other is simply mayo mixed with a prepared basil pesto, super easy and flavorful. Pesto mayo is awesome on BLTs too! Another reason I love this for parties: the beef is just as tasty served at room temp as it is when warm.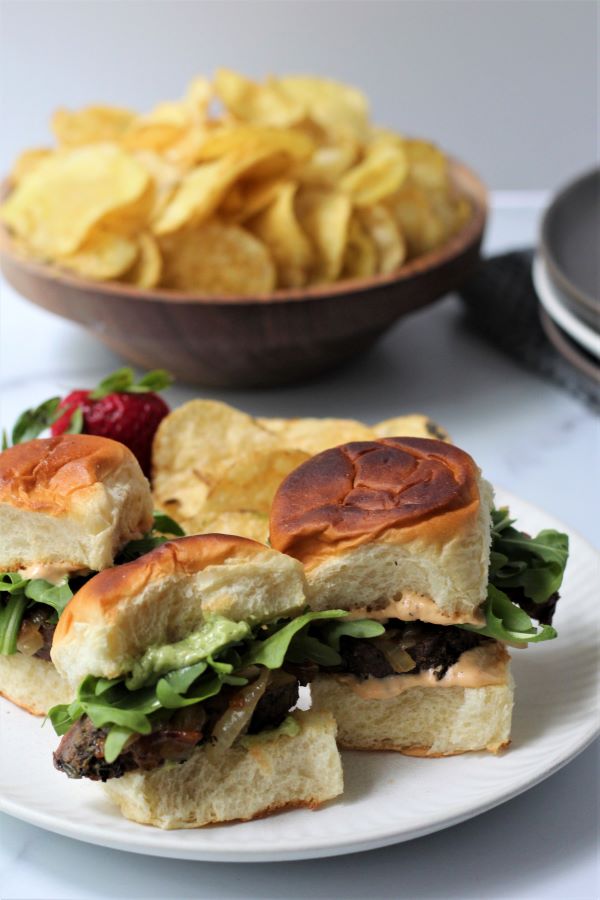 Re-heats to make DELISH leftovers too…I know from experience, wink wink.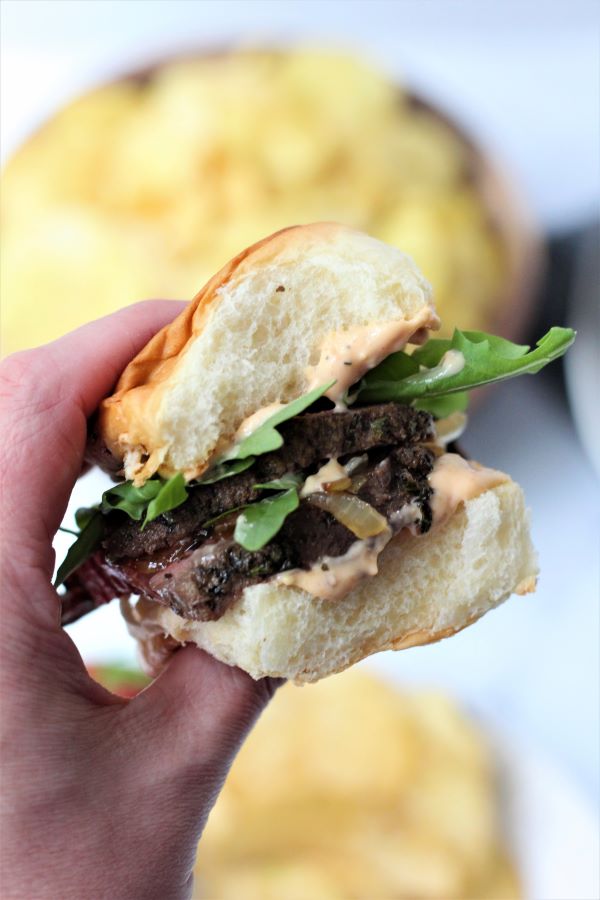 Let me know if you make these Beef Tenderloin Sliders, I'd love your feedback! Comment below!
Shop this post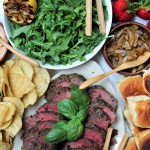 Build Your Own Beef Tenderloin Sliders Platter
The easiest crowd pleasing sandwiches with the most tender meat you'll ever have! The whole roasted tenderloin doubles as a fabulous holiday or dinner party served with mashed potatoes and veggies.
Ingredients
1

whole beef tenderloin

4-5 lbs

1+

tbsp

kosher salt
For the Marinade
1/3

cup

low sodium soy sauce

1/3

cup

Worcestershire sauce

1/2

cup

olive oil

1/3

cup

lemon juice

1

tsp

hot sauce

1 1/2

tbsp

garlic powder

3

tbsp

dried basil flakes

1 1/2

tbsp

dried parsley flakes

1

tsp

pepper
For the Pesto Mayo
1/3

cup

mayo

1/4

cup

prepared basil pesto
For the Dijon Aioli
2/3

cup

mayo

2

tbsp

coarse ground mustard

2

tsp

sriracha or hot sauce

2

tsp

honey

1/2

tsp

garlic powder

1/2

tsp

onion powder

Pinch

salt & pepper
For the Slider Board
Slider buns

toasted

Arugula

Sautéed onions

Chips

Fruit

Grilled Lemons
Instructions
Season the beef tenderloin generously with the kosher salt, and place in a deep baking dish. In a medium bowl combine all marinade ingredients together, whisk to combine. Pour marinade over tenderloin. Rotate tenderloin so all sides are coated in marinade. Refrigerate for a minimum of 3 hours, or up to 8.

While meat is marinating make the aioli. In a small bowl combine the mayo and pesto together for the pesto mayo. Cover and refrigerate until ready to serve. For the Dijon aioli, combine all ingredients in a small bowl, cover and refrigerate until ready to serve.

Preheat oven to 275°. Roast tenderloin (can leave in the marinade mixture) for 1.5 – 2 hours depending on desired temperature. 1.5 hours for medium with an internal temp of 135° is what I recommend. Use meat thermometer to check for desired doneness. Remove from oven and cover with foil, and allow to rest for 20 minutes. Beef will continue to cook slightly as it rests.

Slice the beef tenderloin into 1/2-inch thick slices. Arrange on a plate and place on a serving platter. Serve with toasted slider buns, fresh arugula with grilled lemon squeezed over top, sautéed onions, aioli, chips, and fruit. Can be served warm or at room temperature.
Recipe Notes
This marinated beef tenderloin can be served as is, without making it into sliders for a fabulous EASY dinner party. Serve with mashed potatoes and veggies.
Temperature Guide:
Rare: 125 degrees internal temp
Med-rare to Medium: 130-135 degrees internal temp
Med-well: 145 degrees internal temp
This post may contain affiliate links which won't change your price but will share some commission.