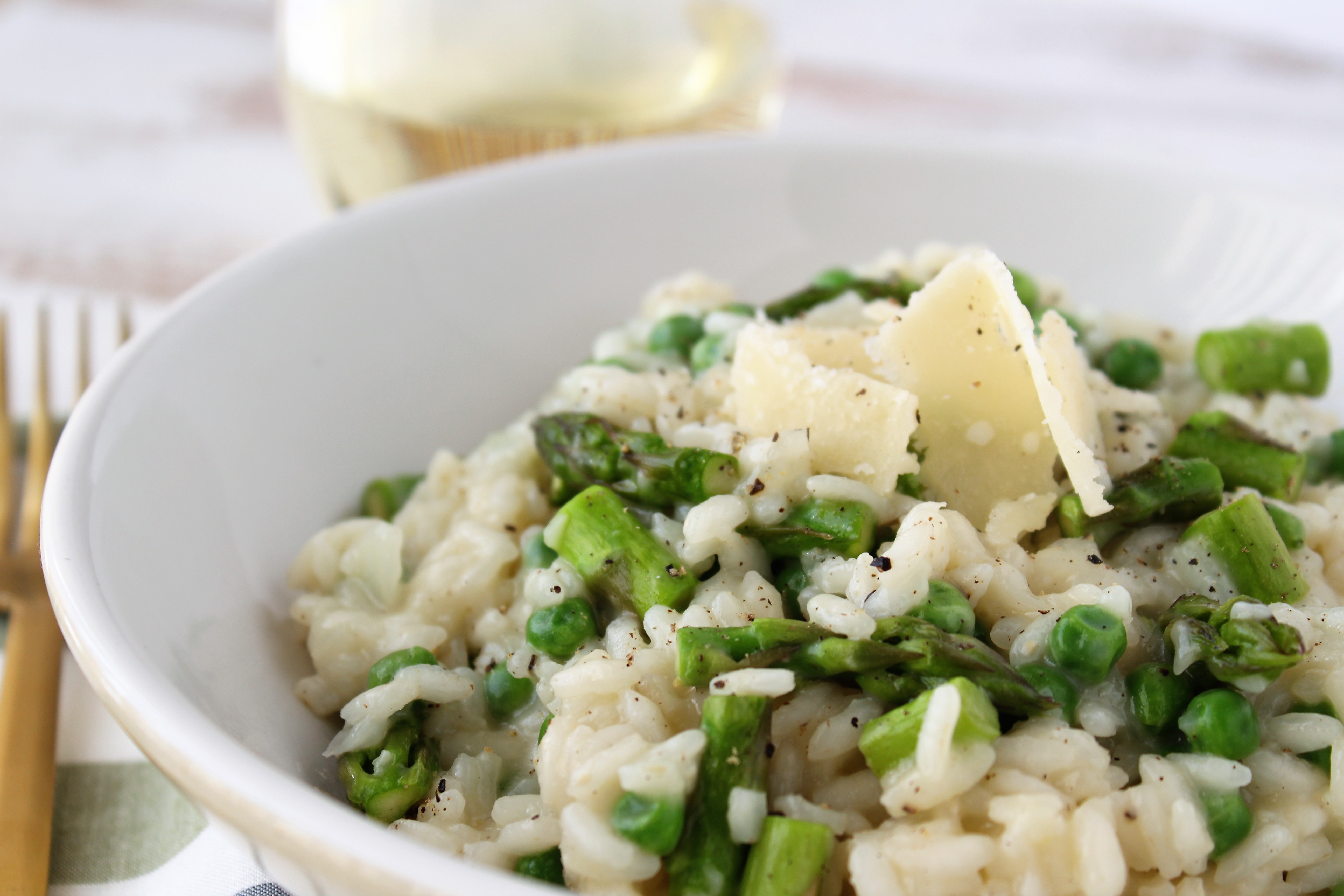 White Wine Risotto with Peas and Asparagus
I've had risotto on my "to make for the blog" list forever, and I really don't know why I waited so long. I tend to see it on a lot of restaurant menus…but with mushrooms…always with mushrooms. I know most people love mushrooms…I just can't get down with them. Trust me, I keep trying them every once and a while, in all forms, and my tastes are just not changing for them! I think people are maybe intimidated when they think about making risotto, but it's really truly simple. If you've got 30 minutes to stir and pour in liquid every once and a while, you can make risotto!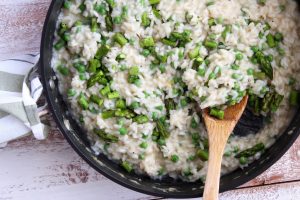 This risotto uses fresh asparagus and frozen peas, and although seems like a comfort food dish, it feels light and fresh. You really get the Sauvignon Blanc coming through, and of course the rest of the bottle pairs perfectly to serve along side…or drink while you stir, up to you! Make sure to check out my gal pal's post featuring this same recipe, a few words from me, and a little extra wine education! I was originally only going to add peas, but I have been loving crispy asparagus lately and it worked beautifully in this dish.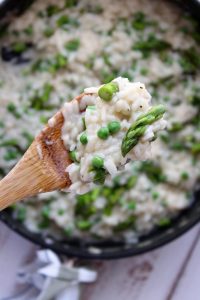 Lets take a moment to talk cheese. I've said it in all of my recipes that use Parmesan cheese…it is absolutely worth spending the extra money on the imported Italian Parmesan block, trust me! And if you're lucky enough to be a Costco member you can get it for half the price that I pay at my local store, jealous!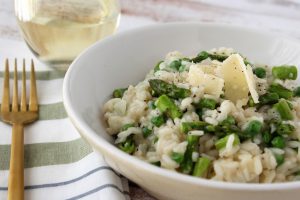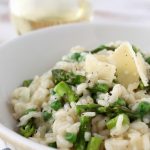 White Wine Risotto with Peas and Asparagus
Ingredients
1

tbsp

butter

1

tbsp

olive oil

1/2

yellow onion

diced

2

cloves

garlic

minced

2

cups

Arborio rice

1

cup

dry white wine

Sauvignon Blanc

4

cups

chicken broth

1+

cup

fresh grated Parmesan

1

cup

peas

1

cup

asparagus

chopped
Instructions
Remove the woody ends of the asparagus and chop into about 1 inch slices. Saute over medium heat with a drizzle of olive oil for about 5 minutes, remove from heat and set aside. Asparagus should still have crunch.

In a large skillet melt the butter and olive oil together on medium heat. Add the diced yellow onion and cook until translucent, about 3-4 minutes. Stir in minced garlic and cook for another minute.

Stir in the rice, coating it with the butter and onion mixture. Add the white wine and stir until all liquid is absorbed (still on medium heat). Add 1 cup of the broth, cook until liquid is absorbed, stirring occasionally.

Add the remaining broth in 1/2 cup increments, each time waiting until the liquid is absorbed before adding the next 1/2 cup, stirring frequently. This should take about 30 minutes.

Stir in fresh grated Parmesan, and season with salt and pepper. Taste for seasoning and adjust as needed. Stir in peas and asparagus. Serve with additional fresh grated Parmesan on top.
Recipe Notes
This can serve 6-8 people if you are serving it as a simple side, or could serve 4-6 as a light vegetarian meal. 
I highly recommend splurging and buying the imported Italian fresh block of Parmigiano Reggiano Cheese that you grate yourself. The flavors really come through in this dish, and I wouldn't make it any other way!
Any dry white wine would work great in this dish, definitely serve the rest of the bottle with the risotto! Cheers!