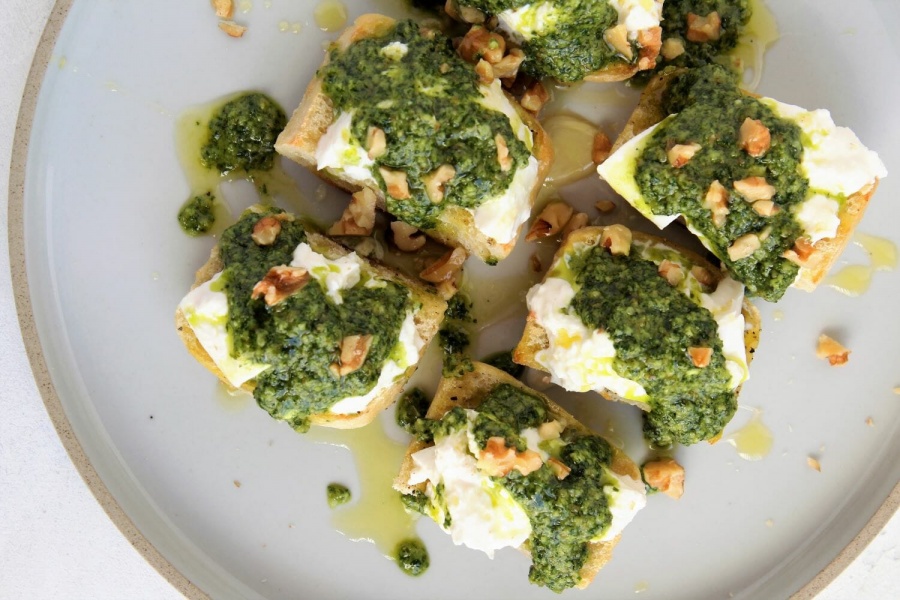 Walnut Pesto Burrata Toast
When I first tried walnut pesto burrata toast it was a date night at 112 Eatery, who at the time, had recently done a little renovation in the kitchen and added a few new items to the menu. You can probably guess why I created this at home…it was one of the best things I've ever eaten. Call me crazy, but there was just something so simple, but so flavorful about this dish that it was just one that I couldn't get out my head. The secret ingredient that really got my attention in this dish was honey. There's this hint of sweetness as the flavor profiles are coming through, and I think the honey really makes this dish.
It was just one of those dishes that when I took a bite, my eyes lit up with excitement, then I closed my eyes to savor every second of it. Just trust me, you're going to want to make this dish.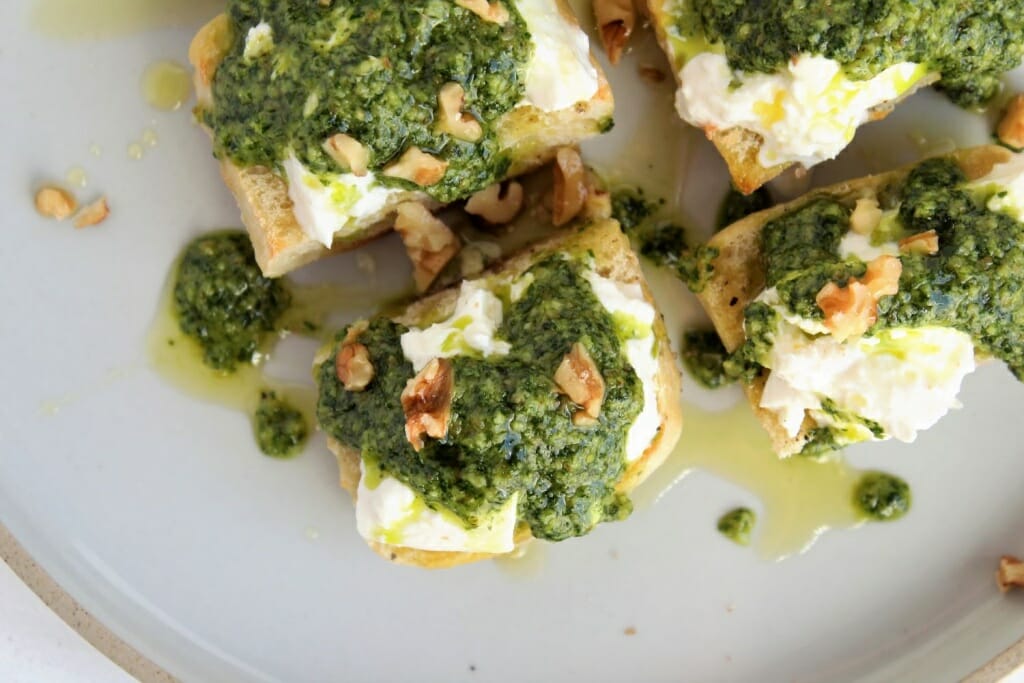 I highly recommend making your own fresh walnut basil pesto! Coming from the gal that always uses store bought pesto…please just make it from scratch just this one time for this dish! It is incredibly simple, and bursting with flavor! You'll have enough leftover to use in other great dishes! Did you know you can freeze pesto? If you don't think you'll use it in time, pop it in the freezer in portions you'll use, and it will be ready whenever you need it!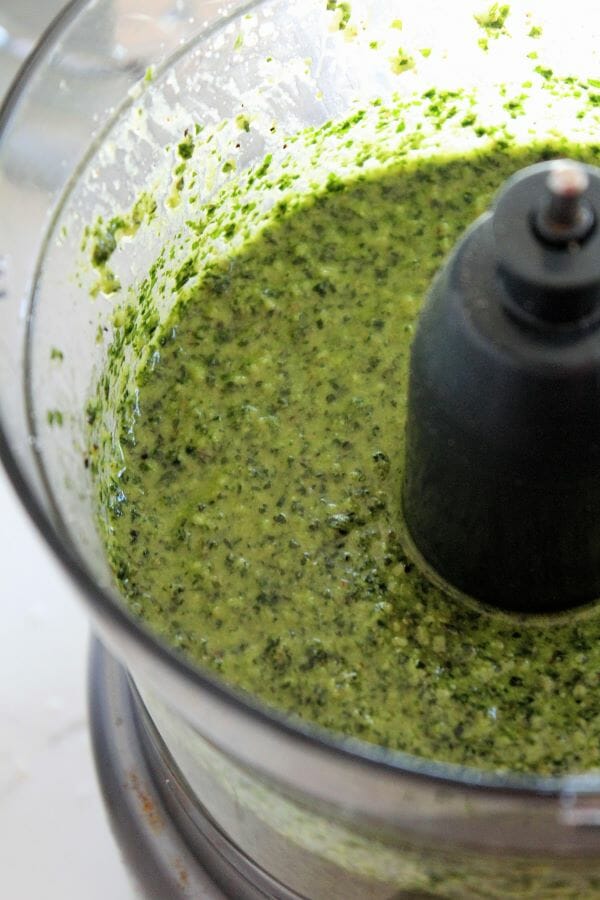 I used 'take and bake' ciabatta rolls in this because I thought that best mirrored what I had at the restaurant, but you can use other bread options like focaccia or French. The burrata cheese can be found in the specialty cheese area of your local grocery store (at least in ones near me). Burrata cheese is a ball of mozzarella that is stuffed with more creamy cheese, it's light, creamy, and so delicious!
You can easily modify this recipe to make more if you are serving these at a party, you'll already have enough pesto with the one batch, and you can just use more bread and cheese to assemble more. Your guests will absolutely LOVE this dish. I'll be making it for as long as I live!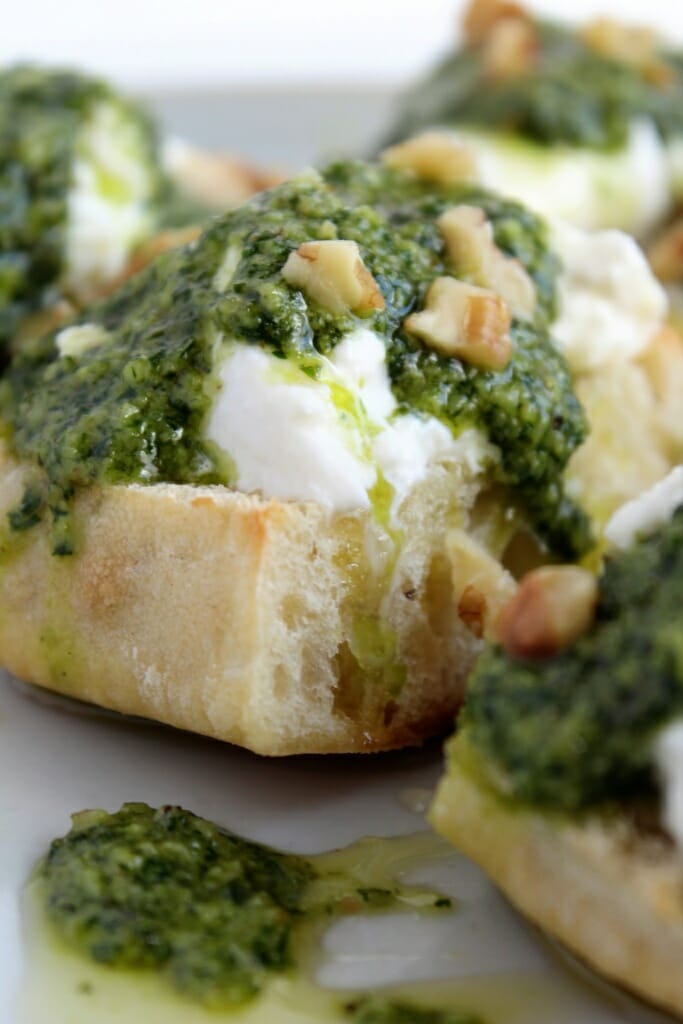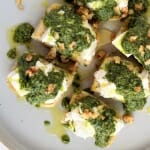 Walnut Pesto Burrata Toast
Ingredients
3

square

ciabatta or baguette

8

oz

burrata cheese

3-4

tbsp

honey

olive oil

salt and pepper
For the walnut pesto
3

cloves

garlic

1/4

cup

walnuts

plus extra for garnish

2

cups

fresh basil

packed

1

cup

fresh parsley

packed

1

small bundle

fresh chives

about 1/2 cup

1/4

cup

fresh grated Parmesan cheese

1

tbsp

lemon juice

1/2

cup

olive oil

salt and pepper
Instructions
Add all of the pesto ingredients into a food processor and blend until smooth. Taste for seasoning and adjust salt and pepper as needed. Leftover pesto can be stored in fridge for up to a week, or frozen for later use.

Preheat oven to 400 degrees.

Slice ciabatta rolls in half length wise as if you were making a sandwich. Then slice in half vertically so you now have 4 square/rectangle pieces per roll, totaling 12 pieces. Or slice baguette into 1/2-inch thick pieces. Place flat side up onto a baking sheet. Drizzle with good olive oil and season with salt and pepper. Bake or grill for 3-5 minutes, just to warm them through and soften, you don't want them too toasted or crispy.

Once ciabatta rolls are out of the oven, drizzle with honey (this is what makes the dish and makes everyone wonder where the hint of sweetness is coming from, don't skimp!).

Gently slice the burrata cheese ball, the filling will start to ooze out and you want to use the outer part and soft filling on each piece. Slice evenly and place on top of all 12 ciabatta rolls. Spoon some pesto over the cheese, and sprinkle with chopped walnuts and additional salt and pepper, and a drizzle of olive oil and additional honey if desired. 

Serve immediately, or at room temperature.
Recipe Notes
I found the take and bake ciabatta rolls in the bakery section of my local grocery store. Focaccia bread would also be really good. You just want to avoid a bread that would be too tough or chewy that makes it unpleasant and hard to chew. Toasted French bread also tends to get too crispy but could work as long as it is not over toasted.
You could use store bought prepared pesto, but fresh is really simple make, tastes amazing, and can be used on so many other things!