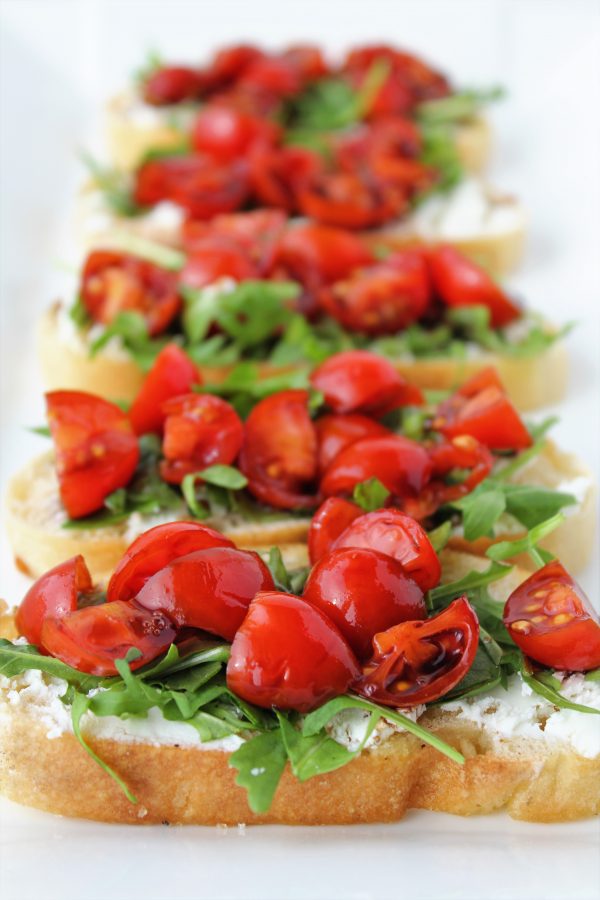 Goat Cheese Bruschetta
This little treat was inspired by an appetizer I had at my local golf course. Right when I had it for the first time I knew I had to re-create it for the blog! There is just something about goat cheese and balsamic glaze that makes me so happy. If you don't think you're a goat cheese fan I challenge you to try this recipe or my Blueberry Goat Cheese Salad, you may be pleasantly surprised! It's really amazing how my tastes have changed over the years; the more flavors I experience, the broader my vision and palate becomes for food.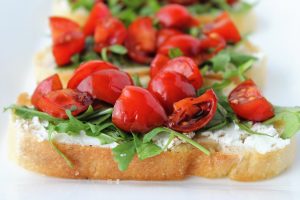 This appetizer is super simple to throw together, and will impress any guest at a dinner party or wine night! Just a few simple ingredients with bold flavors, and you have yourself a top notch app! Pairs well with your favorite wine, cheers!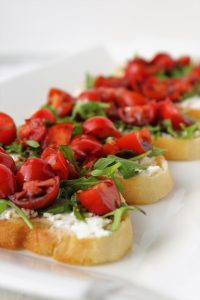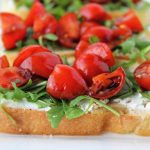 Goat Cheese Bruschetta
Ingredients
1

small loaf

french or ciabatta bread

sliced

olive oil

garlic powder

4

oz

goat cheese

2

cups

arugula

1

cup

cherry tomatoes

balsamic glaze

1/2

juice of lemon

kosher salt and fresh cracked pepper
Instructions
Preheat oven to 350 degrees. Slice bread into 1/2-1 inch slices and lay onto a baking sheet. Drizzle with olive oil and a dash of garlic powder. Bake in preheated oven for about 5-7 minutes or until edges become crispy.

Slice cherry tomatoes in half or quarters depending on size, set aside. Add the arugula to a bowl. Drizzle very lightly with olive oil and the juice of 1/2 lemon. Season with salt and pepper.

Once bread has heated through, spread each slice with about 1/2 tbsp of goat cheese. Top with dressed arugula and sliced tomatoes. Drizzle with balsamic glaze and season with fresh ground black pepper.
Recipe Notes
Pictured is ciabatta bread that I find in my grocery bakery section. It is a heat and serve type that I love and use all the time! A regular fresh baguette would also work. The reason I bake the bread and not broil it is because I don't like it overly toasted. I like it crisp on the edges while still being soft in the center.
Depending on how large your loaf of bread is, you may need to make your goat cheese go further, or just buy the next size up of goat cheese. You can easily adjust this recipe to make a smaller or larger batch.
I use the Trader Joes balsamic glaze but I know you can find other brands in the grocery stores these days, it may be labeled balsamic reduction.