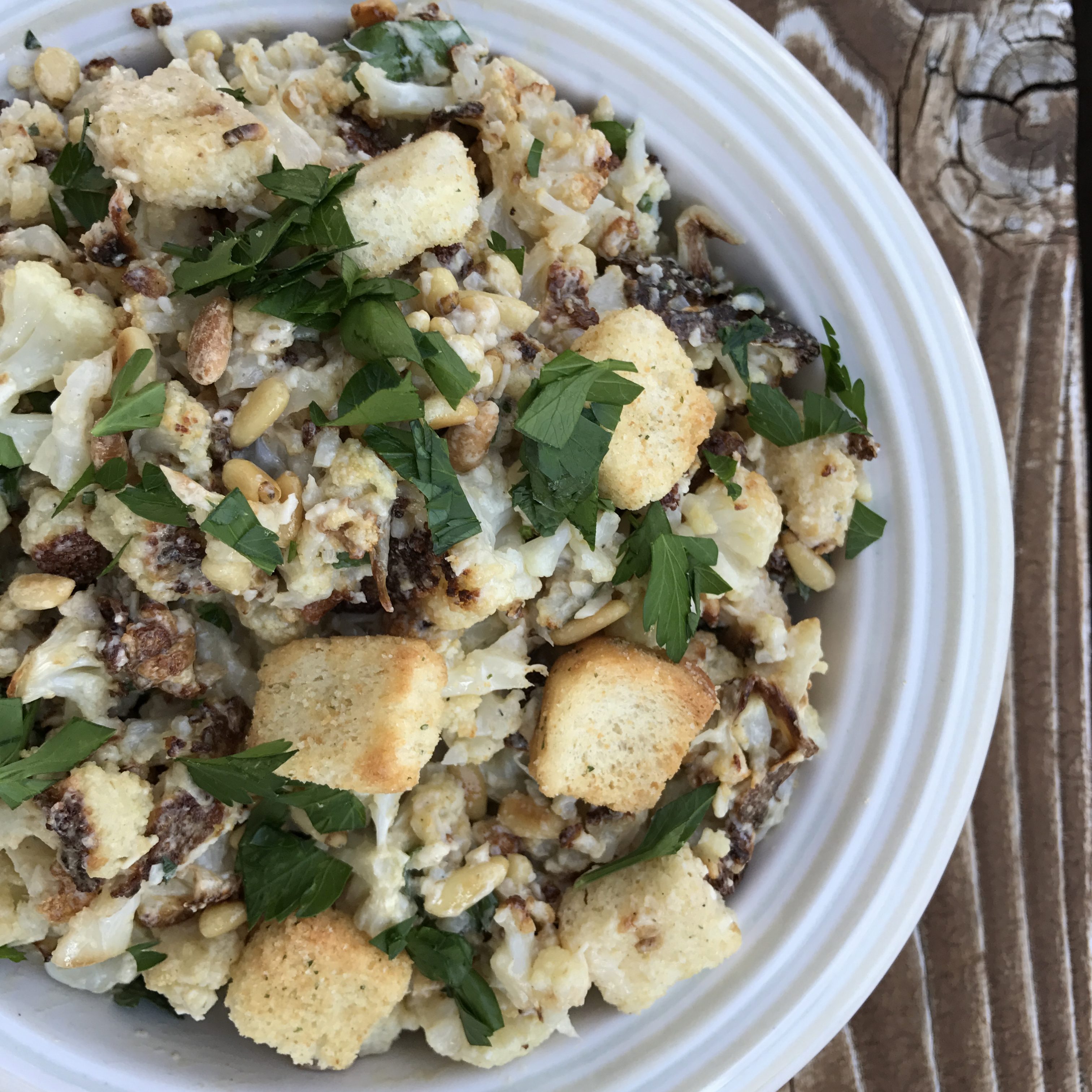 Cauliflower Caesar Salad
I have a thing for all things Caesar salad. The ingredients are rich yet simple. I still remember the flavors of my first chicken Caesar salad. I was at The Cheesecake Factory for the first time while in New Orleans on a youth trip for church; I was probably 13 or 14 years old.  I've remembered that salad ever since. The chicken was at the time the best marinated chicken I had ever had, ha! I should probably go back and see if I still love it; now that I think about it I don't think I've ever had it since…which is odd being that I only live about 15 miles from one. I'm totally going there for lunch soon…
Anyway, this recipe is from Food Network Magazine and it caught my eye for two reasons: Caesar salad, and roasted cauliflower. I was never a huge cauliflower fan until I started roasting it with olive oil, garlic, salt and pepper, YUM! I could just eat that for a meal! This was a surprising twist to a Caesar salad, I would have never thought to throw in roasted cauli.
The recipe is posted as it was listed in the mag (almost), however I would suggest actually adding in some chopped romaine for an added crunchy freshness. You could even serve it in a full romaine leaf or other lettuce cup.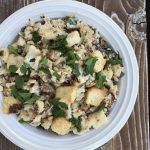 Cauliflower Caesar Salad
Ingredients
2

heads

cauliflower

3

tbsp

olive oil (for roasting)

1

clove

garlic

minced

1/3

cup

plain Greek yogurt

1/3

cup

olive oil (for the dressing)

1/2

cup

Parmesan cheese

grated

1

tsp

Worcestershire sauce

1

tsp

dijon mustard

juice of 1/2 large lemon

1

cup

croutons

1/4

cup

fresh parsley

chopped

1/4

cup

pine nuts

toasted

salt and pepper
Instructions
Preheat oven to 425 degrees.

Chop cauliflower into large florets. Toss with olive oil and minced garlic. Season with salt and pepper. Roast on a baking sheet (or 2 if needed) for about 35 minutes, until brown and just tender. Let cool completely.

In a small bowl whisk the yogurt, olive oil, Parmesan cheese, mustard, and the juice of 1/2 lemon. Season with salt and pepper.

Once cauliflower is cooled, transfer to a large mixing bowl. Drizzle with desired amount of dressing (I did not use it all), add in the toasted pine nuts, croutons, and fresh parsley. Season with more salt and pepper if desired. Transfer to serving bowl.
Recipe Notes
Make sure not to over roast the cauliflower or it will become mushy. 
For the dressing, taste test and adjust accordingly. I ended up adding more Worcestershire, some garlic powder, and a lot of black pepper. 
I think this salad would be VERY good with chopped romaine also tossed in to add some fresh crunch, with the roasted cauliflower being the add-in. Or, serve the cauli in a romaine leaf boat or other lettuce cup! Would be great as a side to some lemon pepper chicken, yummy!