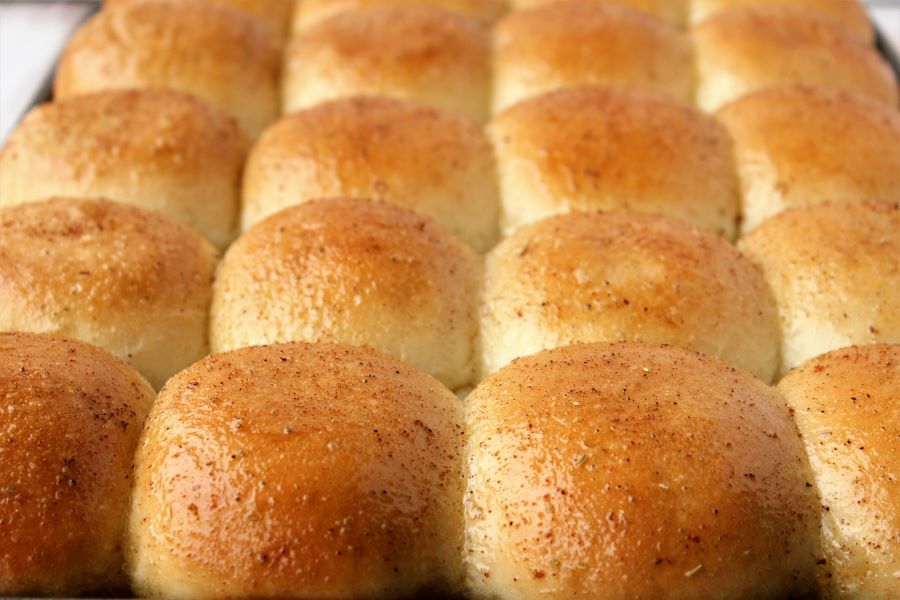 Browned Butter Sage Dinner Rolls
I get excited about a lot of my recipes…but these browned butter sage dinner rolls might be the best bread I've ever eaten. And that beats out top notch parker house rolls from Craftsteak in Las Vegas, and melt in your mouth DEEP FRIED rolls from a dive bar in Wisconsin that I don't remember the name unfortunately. So I apologize in advance for all the extra exclamation points you may see in this post…because I love these rolls!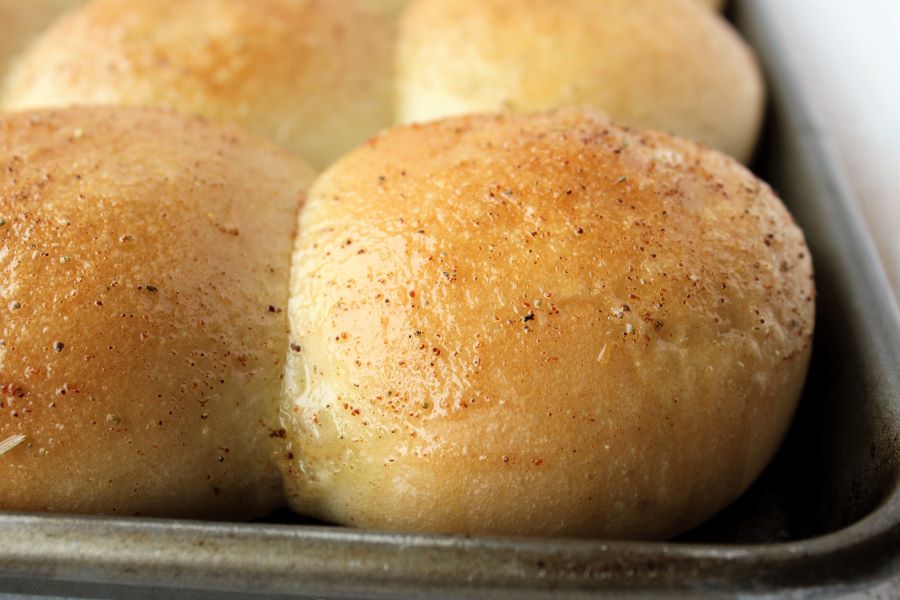 These browned butter sage dinner rolls are made using frozen dough. It's the only kind of rolls I ever use, and they're basically fool proof. Just allow to rise for a few hours, bake, and enjoy fresh, soft, warm dinner rolls! They're great on their own, but trust me, you're going to want to amp these little guys up with this recipe.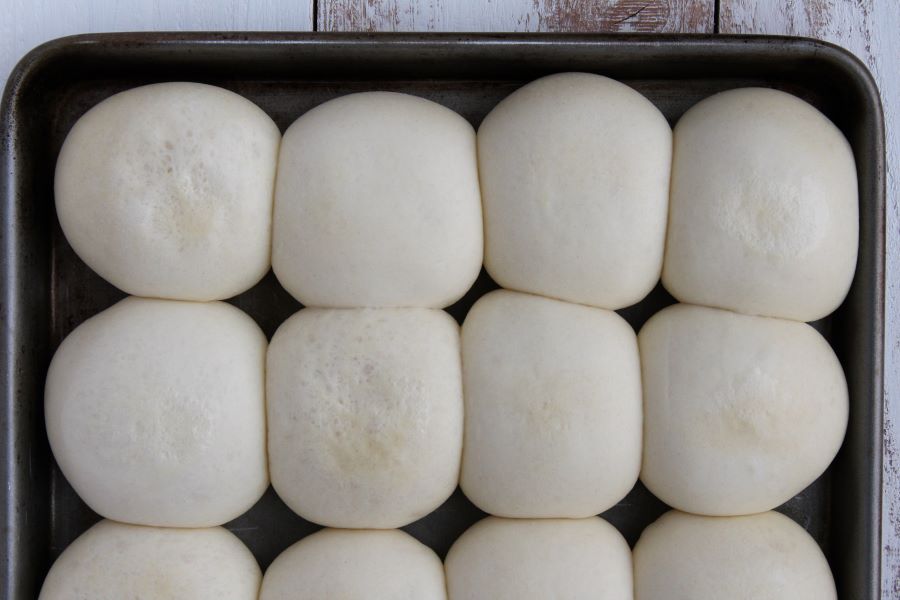 The dough balls will double in size after they have risen. Just follow the instructions on the back of the package for allowing to rise. There is a standard version, and a quick version and I've always done it the standard way. Even if it means hopping out of bed early to get them started!
How to make browned butter:
Making browned butter is simple, just melt butter over medium heat. It will bubble and foam, and then begin to brown in color with little nutty brown bits appearing on the bottom of the sauce pan, and that's it! Make sure to whisk and watch carefully to avoid burning. It's easy to go from perfectly nutty, to burned and down the drain!
You'll look for this golden brown color, and your nose will also tell you when it's done.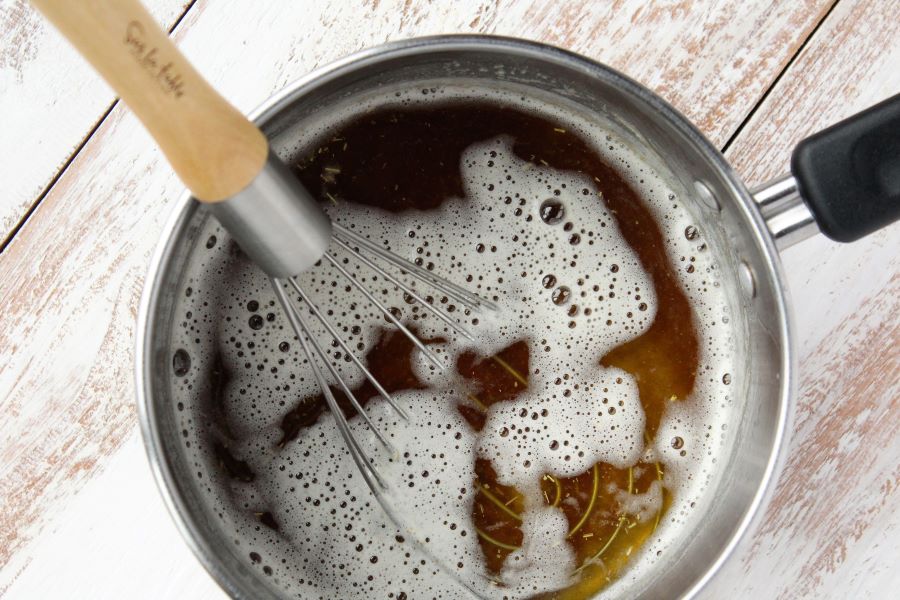 It only takes a few minutes for the butter to be ready, so you can make it just before you are ready to bake the rolls. You'll brush/pour about 2/3 of the butter over the risen dough before baking, and save the rest for after the rolls come out.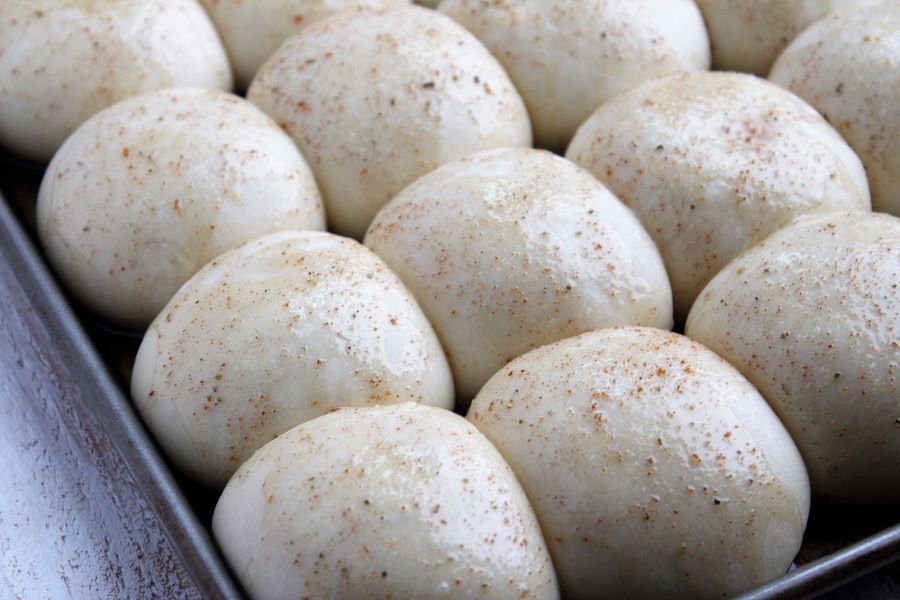 I used what is called rubbed sage in this butter, and can be found in the spice isle with all of the other herbs and spices. Since I used unsalted butter I went with garlic salt. It adds the perfect amount of savory, salty garlicky goodness to these rolls. Combined with the nutty butter, festive aromatic sage, these dinner rolls are simply addicting!
Once they come out of the oven, brush the remaining 1/3 browned sage butter onto the rolls and serve WARM. I repeat, SERVE FRESH AND WARM! They truly almost melt in your mouth, and there's no better time to enjoy them than when they are fresh from the oven, TRUST ME on this one, you will not be disappointed!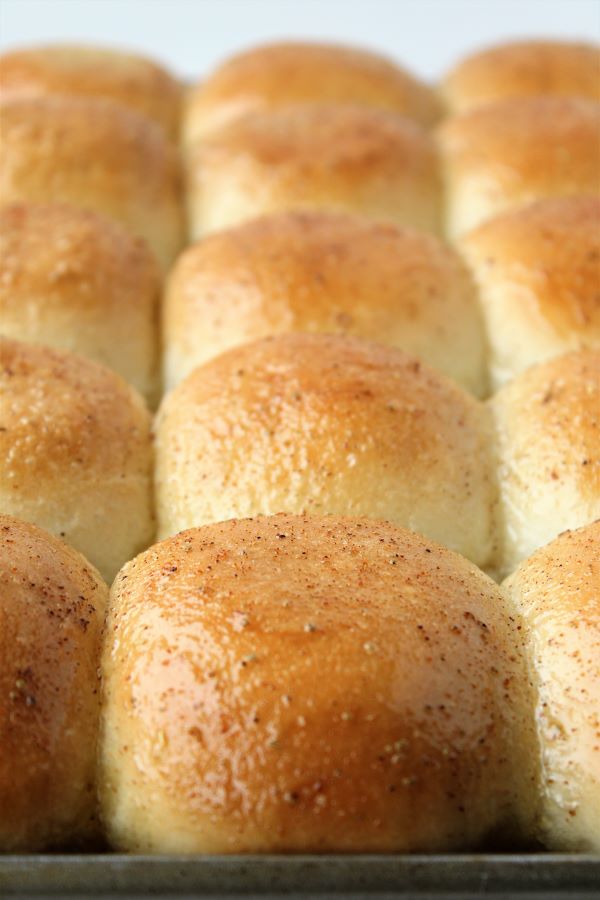 Hello beautiful buttery buns! Not sure about you, but I'm with Oprah on this one…I LOVE BREAD! I really hope you love them as much as I do!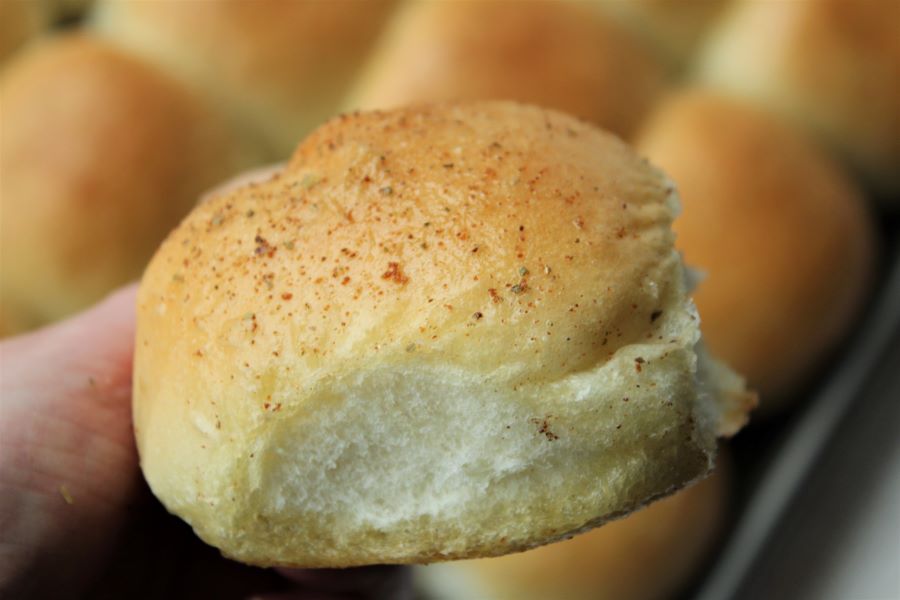 I'd love to hear from you if you make them! Rate and comment below, or tag and share on Facebook and Instagram!
If you love baking bread, try my savory biscuits, they make fabulous breakfast sandwiches!
Caramelized Onion Buttermilk Biscuits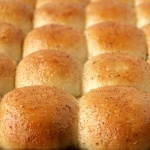 Browned Butter Sage Dinner Rolls
Ingredients
20

dough balls

Rhodes frozen dinner roll dough

(the thaw, rise, bake variety)

1 1/4

sticks

unsalted butter

1

heaping tsp

rubbed sage

1/2

tsp

garlic salt
Instructions
Arrange frozen dough balls on a greased baking sheet as directed on the Rhodes instructions. Gently cover with greased parchment paper or plastic wrap. Allow rolls to rise for about 4-5 hours prior to baking. The warmer the area the better.

When rolls are doubled in size and almost ready to bake, preheat oven to 350 degrees and prepare browned butter.

In a medium saucepan over medium heat, melt the butter. Butter will begin to bubble, boil, and foam. Whisk the entire time, be careful not to burn. After a few minutes (about 10) the butter will begin to turn brown, and you'll notice brown bits will develop on the bottom of the pan. Continue to whisk, butter should smell nutty and amazing, and be brown!

Remove from heat once you reach the nutty brown stage. Whisk in the sage and garlic salt. Allow to cool slightly. Gently brush about 2/3 of the butter generously and evenly over the risen dough balls. Bake for 14-17 minutes or until golden brown. Once removed from the oven, cool for 5 minutes, and brush with remaining sage butter.

Best enjoyed fresh and warm or within the same day (but seriously…best when warm!)
Recipe Notes
The Rhodes dinner rolls can be found in the frozen dough section of most grocery stores. Make sure it is the raw frozen dough.
I highly recommend serving these fresh and warm from the oven. Because they are baked in the butter, a really nice buttery crust forms on the bottom of the rolls from soaking in, and it's glorious. But in all fairness…they're amazing after they are cooled too!
They make AMAZING Thanksgiving leftover sandwiches.